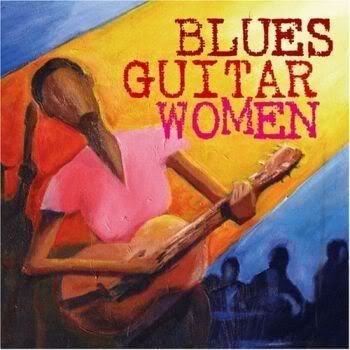 Various Artists - Blues Guitar Women - 2005 - Ruf
This wonderful album is a must have for blues lovers.These ladies produce some of the best blues you will ever hear.A brilliant album.Try and track down some of the artists individual albums.
TRACKS
Disc: 1
1. Can't Quit The Blues - Lara Price Band
2. Takin' It All To Vegas - Debbie Davies
3. The Man's So Good - Alice Stuart
4. Mediterranean Breakfast - Sue Foley
5. The River Wild - Deborah Coleman
6. Living On The Road - Joanna Connor
7. Navajo Moon - Ana Popovic
8. Judgement Day Blues - Carolyn Wonderland
9. Lonely Lonely Nights - Eve Monsees
10. It's A Blessing - Maria Muldaur & Bonnie Raitt
11. Dreamland Blues - Erja Lyytinen
12. Lynn's Blues - Barbara Lynn
13. Goin' Down - Tracy Conover
14. Baghdad Blues - Beverly 'Guitar' Watkins
15. Woke Up This Mornin' - Ruthie Foster
Disc: 2
1. Fool Me Good - Precious Bryant
2. Going Down This Road - Algia Mae Hinton
3. Doggie Treats - Sue Foley
4. Fixin' To Die - Rory Block
5. Dead End Street - Ellen McIlwaine
6. Rather Be The Devil - Alice Stuart
7. Streamline Train - Jessie Mae Hemphill
8. Nothing's Changed - Gaye Adegbalola
9. One Dime Blues - Etta Baker
10. Ain't Nothing In Ramblin' - JoAnn Kelly
11. Down The Big Road Blues - Mattie Delaney
12. Motherless Child Blues - Elvie Thomas
13. Skinny Legs Blues - Geeshie Wiley
14. In My Girlish Days - Memphis Minnie
REVIEWS
Ottawa-born Sue Foley took it upon herself to assemble and celebrate Women In The Blues. She did so in time honored fashion, by lifting performances from other albums, such that she compiled a wide sample of women from the wider world of Blues. Almost all of them guitar players, and highly competent ones at that: no overly decorated Blues Queens here!
The project, constructed to accompany a book Sue is writing on the subject of Women in Blues, was issued in 2005, and consists of two CDs. One portrays modern, electric blues women leading bands; the other, singles and duos playing acoustically (or picked up, but in any case, not playing Les Pauls or Strats). There is some overlapping personnel between the two; the second CD also imports some Music Maker recordings of Etta Baker, Bevery Watkins and Algia Mac Hinton, plus archival recordings of Jo Ann Kelly, Mattie Delaney, Elvie Thomas, Geeshie Wiley and Memphis Minnie.
Electric Blues isn't my thing, but CD #1 represents fine, intense work by a total of seventeen women. Many of them you may not have heard of, since they are European and wouldn't get much play over here: I don't think many blues fans over here have had their butts kicked by Erja Lyytinen (Finland) or Aria Popovic (Yugoslavia). Also represented are Joanna Connor, Bonnie Raitt and Maria Muldaur (together), Beverly "Guitar" Watkins (who was one of the Beatles' inspirations), Ruthie Foster and Alice Stuart, among others. The crucial question: Does this compilation stand up? Answer: most definitely. Blues fanatics may very well have some of it in their collections already; for newbies it's an excellent introduction. My only criticism is that producer Sue Foley didn't include Del Rey, Mary Flower, Judy Larson and Eleanor Ellis! Maybe I'll just do that one myself. © Andy Cohen http://findarticles.com/p/articles/mi_m1197/is_4_50/ai_n16912341 COPYRIGHT 2007 Sing Out Corporation COPYRIGHT 2006 Gale Group
Release Notes
"When a woman gets the blues, she hangs her head and cries.
When a man gets the blues, he catches a train and rides."
(Traditional blues verse, author unknown)
Those words reflect the reality of women in the deep south of the United States in the 19th century and they continue to ring true for many women today. However, there are exceptions to the rule and many of them are contained right here in this compilation.
The Blues Woman and more specifically the Blues Guitar Woman has blazed her own trail from the start. The guitar is the most versatile and popular instrument of our time. It is the weapon of choice for all modern troubadours and ramblers. Today, it seems more and more females are putting their hands to this instrument and bearing down on it because it offers them a means for powerful self-expression and the freedom to move, a kind of liberation not based on any preordained groups or labels.
Women like Memphis Minnie were light years ahead of the women's movement of the 1960's and '70's. From the 1930's until the end of her career, she was one of the most popular blues artists of the time, known to go head to head with any guitar player and outplay them. She was rough and tough and wild. Memphis Minnie was not one to be confined to the social conventions restraining women in her day. She left home at a young age, refusing to stay on the farm and work, traveled around America in the barren landscape of the depression, writing her own songs, more than 200 of them, many now blues standards and playing the hell out of her guitar while using a series of husbands as her backup musicians.
This CD compilation is populated by women like Memphis Minnie who possess that same kind of spirit, that same desire and drive to follow their own paths and write their own rules.
We've taken a slightly different approach with this compilation, deciding to begin with the present and work our way back, breaking it up into two CDs, one featuring contemporary women blues guitarists and the second, the traditional players. You'll find the odd artist who is represented on each CD. Some of these women are just as adept at playing modern electric blues as they are carrying the torch for old time country and acoustic blues-- Alice Stuart's contrasting versions of "Rather Be the Devil" from the traditional CD and "The Man is So Good" on the contemporary being a prime example.
The themes range from the traditional blues subjects of love and rambling to social consciousness and demands for change. Independence is also a running theme as women today are forced to be more independent than ever, and women who get into vans and drive thousands of miles with groups of guys are a pretty sturdy lot. The life of the blues is no picnic, not even for the men, but it seems they have always had that solidarity and we women are often on the outside looking in.
Here on these two CDs, we finally get together to share our stories and talents with each other. How else would we find the time to catch up? The demands of modern life and career building and looking after our households take all our time, not to mention the chaos of the road and the constant need for balance and order.
The fact that there is enough material to fill two CDs is quite alarming for even I didn't realize how many there were and are out there. But it seems the scene for women guitar players is vibrant and growing stronger all the time.
There may be more women guitar players in blues than any genre and the styles within the blues are incredibly diverse from the modern rock/blues of Joanna Connor and Ana Popovic to the beautiful simplicity of Etta Baker and Precious Bryant. The lives and backgrounds of these women are as unique as their music. From the hill country of Mississippi, through all corners of the US, Canada, Eastern Europe and beyond, it would seem that no place is safe from the power of the guitar heroine.
Putting the Blues Guitar Women compilation together was a pleasure for me. I enjoyed every discovery from the old wise blues women to the emerging young talent of today. I am really proud to be in such strong and inspiring company .© Sue Foley .© Ruf Records www.rufrecords.de/catalogue/1110_various_blues-guitar-women.html
This double disc set is divided into a contemporary disc, definitely more city and electric; and a traditional disc, more country blues and acoustic orientated. There are a number of gems on both discs and though all of the cuts have been released before on various discs there is nothing here that has been overplayed, and there are some great cuts by people who have not received the wide notice of a Rory Block, Memphis Minnie, or Bonnie Raitt; those who thoroughly deserve more notice such as; Alice Stuart, Precious Bryant, or Erja Lyytinen (from Finland). There are no weak cuts on the discs, and they hold together well as good sampler of the range of music these women are playing. You can range from the age and maturity of the great Memphis Minnie and her iconic styling on her rendition of In My Girlish Days, to barely out of her teen, Eve Monsees' sipping it up on Lonely Lonely Nights, and all manner of individuals in-between.
This is such a sweeping coverage, and the only unifying theme is woman who play blues guitar that it is difficult to summarize these discs until you change your focus and come at it from a different view. Use these discs as an introduction to a subgenre of the blues that doesn't quite get the publicity and may contain many undiscovered gems. All of the women have discs out or are on some other compilations, and yet I venture there are going to be names here you don't recognize, or recognize but have never heard. Some you might love and others you will disregard, but at least you now have heard what they can or can't do. For myself there were 9 artists on the 2 discs I hadn't heard of and 5 I had heard of and never heard; that comes to almost half of the 29 ladies here. No one was heard that I would not go to see if given the chance, and several that I would brave earthquakes to see, pretty good education for about 2 hours of listening. A great sampler that has good notes and some too underappreciated artists.. - A review written for the Folk & Acoustic Music Exchange © Bob Gottlieb www.acousticmusic.com/fame/p03694.htm