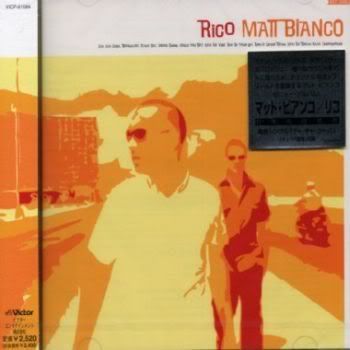 Matt Bianco - Rico - 2000 - Adin (Japan)
Great album from Matt Bianco. A fabulous blend of acid jazz and Cuban rhythms. Released exclusively in Japan (so far) the album was partially recorded at the Buena Vista Social Club in Cuba. Check out their classic jazz-pop album "Matt's Mood".
TRACKS
1. Cha Cha Cuba
2. Boogaido
3. Stake Out
4. Mood Swing
5. Could You Be?
6. Keep The Vibe
7. Time Of Your Life
8. Turn It Upside Down
9. Keep The Dream Alive
10.Underground
BIO
Matt Bianco is a UK band that was formed in 1983 and continues to exist to date. They are mainly known for their success in the mid 1980s and their jazzy, Latin-flavoured music. Hugely popular during the mid 1980s in continental Europe, Matt Bianco epitomised the new Jazz Pop genre that they shared with Working Week, Sade and The Style Council. Formed by the late Kito Poncioni (bass), Mark Reilly (vocals), and Danny White (keyboards) in 1982 out of the shards of the abandoned art poppers Blue Rondo A La Turk, for their first album Whose Side Are You On? they hired unknown Polish vocalist Basia Trzetrzelewska. Her vocal arrangements gave the album a jazzy dimension that Reilly and White couldn't anticipate but made good use of. Mixmaster Phil Harding applied what would become his signature style to the recordings. Hits like "Get Out of Your Lazy Bed" and "Half a Minute" (which Basia would feature live throughout her career) turned Matt Bianco into one of the biggest acts of Europe in 1984. Basia and Danny White left the group after the first album to pursue a lucrative solo-career with Sony under the name Basia on the Epic Label. They maintained their working relationship with Phil Harding, who would continue to work with Matt Bianco as well. Mark Reilly, now without a musical partner, found ex-Wham keyboarder and session musician Mark Fisher and recorded the next (self-titled) Matt Bianco album. Mark Reilly and Mark Fisher are now a duo and plan a new release in 2007.