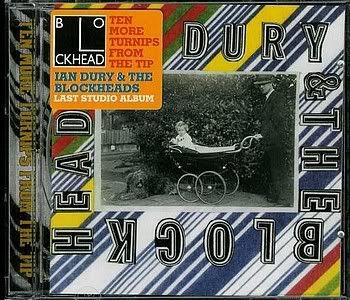 Ian Dury & The Blockheads - Ten More Turnips From The Tip - 2002 - Ronnie Harris Records

For the Dury devoteee this 'final studio album' could have been embarrassing. In lesser hands this collection of songs from an unfinished new album, unused session material from 1999's 'Mr Lovepants' and unreleased tracks from 1991, could have proved a sad, sorry, barrel-scraping epitaph. We needn't have worried though, for 'Ten More Turnips From The Tip' - Ian's title, found along with a proposed tracklisting on his ideas notepad shortly after his death from cancer in March 2000- is a fitting testament to one of this country's most charismatic voices and greatest wordsmiths. Compiled by Ian's friends and family and performed with obvious love by the hugely talented Blockheads, 'Ten More Turnips...' is blessed with a bunch of great tunes. All are laced with Dury's trademark rhyming Cockney couplets, all at once revealing that honest and upright, warm and open, amused and amusing, life-loving and life-affirming talent. The upbeat reggae opener 'Dance Little Rude Boy' - "your tricky spiels and your Cuban heels and the face of a carpetbagger" - the slick funky licks of and that touching spontaneous chuckle during 'I Believe' -"I believe in bob-a-job and life in outer space, I believe an open gob does nothing for your face" and 'The Ballad Of The Sulphate Strangler' the muscular yet loving tribute to late former roadie Pete Rush, are all prime Dury and The Blockheads - supreme musicianship topped with that cheeky husky delivery. The closing two tracks though are perhaps the album's most moving - old mate Jock Scott's poem and Robbie Williams -who met Ian through his work with UNICEF- popping in to sing the light and laid-back 'You're The Why' - the last lyric Dury completed- are the things lumps in the throat are made of. As Scott recites: "Such a swift departure, you left me clutching at a half pint of lager, I looked up and you were gone." Ian, you leave us all as suddenly sad and empty as closing time after a great night out with your mates. Cheers geezer! © Gary Crossing, © 2007 Dotmusic. All rights reserved

Combining streetwise humor with verbal cleverness, the late Ian Dury was a superb songwriter and a lyrical genius, who put his soul into his music. He was a giant of British Pub Rock and New Wave rock. Ian used a mock-threatening appearance on stage, looking like a street bum, and using his limp (resulting from having polio as a youngster), often in a humorously, menacing manner. He also had a shrunken arm. But his lasting popularity owed nothing to sickly sentimentalism—anyone seeking to patronise Dury would have been given short-shrift for indulging in such "a load of old bollo".Always able to laugh at himself, he will always be remembered, not only as a great rock musician, but also as a true "peoples' champion. Dury did an immense amount of work for people with special needs, and the underprivileged in society.Together with his totally brilliant back up band, The Blockheads, Ian recorded some classic albums. Buy his brilliant "Warts 'N' Audience Live" album. It has all his best songs, is full of atmosphere, and his rapport with the audience is great to listen to. His "New Boots And Panties" is one of the great seventies rock albums. In Autumn, 1999, he was inducted into Q magazine's songwriting hall of fame. His contribution to rock music is immeasuarable. Check out Ian's work with the great Kilburn And The High Roads band.

"Einstein can't be classed as witless. He claimed atoms were the littlest. When you did a bit of splitiness. Frightened everybody shitless." © Ian Dury, from his song "There Ain't Half Been Some Clever Bastards."

N.B: There are many Ian Dury/Kilburn & The High Roads albums referred to on this blog. If you find any broken links, and/or genuinely interested in the album please notify me.

TRACKS / COMPOSERS

"Dance Little Rude Boy" (Dury/Jankel) - 4:34
"I Believe" (Dury/Gallagher) - 4:24
"It Ain't Cool" (Dury/Rhys-Jones) - 5:46
"Cowboys" (Dury/Jankel) - 4:41
"Ballad of The Sulphate Strangler" (Dury/Jankel/Watt-Roy) - 5:59
"I Could Lie" (Dury/Jankel) - 4:35
"One Love" (Dury/Jankel) - 3:33
"Happy Hippy"" (Dury/Rhys-Jones) - 4:43
"Books and Water" (Dury/Jankel) / "Ian's Poem" (Jock Scott) - 6:36
"You're the Why" (Dury/Jankel) - 4:30

CREDITS

Ian Dury - Vocals
Chas Jankel - Guitar, Keyboards, Vocals on "I Could Lie"
Mickey Gallagher - Keyboards
Johnny Turnbull - Guitars, Banjo on "Cowboys"
Norman Watt-Roy - Bass
Dylan Howe - Drums
Gilad Atzmon - Saxophones
The Breezeblocks - Backing Vocals
Robbie Williams - Vocals on "You're The Why"
Steven Monti - Drums on "Ballad Of The Sulphate Strangle" and "Happy Hippy"
Davey Payne - Saxophones & flute on "Ballad Of The Sulphate Strangler" and "Happy Hippy"
p/w aoofc

ALBUM NOTE [ From http://www.iandury.co.uk/all_new.html#detail ]

Ronnie Harris Records and eastcentralone are proud to announce the release of 'Ten More Turnips From The Tip', the final studio album by Ian Dury and the Blockheads on 18th March 2002. The title is, of course, Ian's. It was found written on Ian's last layout pad (where he would write his lyrics and ideas), together with a proposed tracklisting, shortly after his death from cancer in March 2000. After discovering the blueprint for 'Ten More Turnips from the Tip', and having listened to the tracks, Ian's family were convinced that he would want The Blockheads to continue and that the songs should not remain unheard. They therefore gave its release their blessing. Ian's wife, Sophy, and her brother Jake, are responsible for the artwork. As the follow-up to 1999's 'Mr Lovepants', 'Ten More Turnips from the Tip' is the album that Ian was in the midst of recording when he died. Sessions began at RAK Studios, where three of the tracks were recorded - 'Dance Little Rude Boy', 'It Ain't Cool' and 'Books And Water'. In addition, two unreleased titles from the Lovepants sessions - 'Happy Hippy' and the 'Ballad Of The Sulphate Strangler'. During the final years of his life, Ian kept himself busy touring and recording with The Blockheads. His latter shows were extremely emotional affairs for band and fans alike, as all of the hits were belted out: 'Hit Me With Your Rhythm Stick', 'Reasons To Be Cheerful', 'What A Waste', 'Sex & Drugs & Rock'n'Roll' and the classic songs from 'New Boots And Panties'. Ian played his final show - 'New Boots And Panto'- at the London Palladium on 6th February 2000. Pianist Mick Gallagher says, 'As soon as Ian was diagnosed he couldn't stop working. We had a load of gigs booked in for the year 2000 but Ian was getting increasingly more ill. When I asked him if we should cancel the dates, he would say, 'it's too early to tell' and carried on relentlessly. As ever, his rhyming couplets were razor sharp. You'll search in vain for an expletive on 'Ten More Turnips from the Tip', but many of the songs contain the Dury wit and venom of old. The most graphic example is the 'Ballad Of The Sulphate Strangler', in which Ian's genius wordplay and vocal delivery recount the life of his former roadie and bodyguard, the late Pete Rush: "When we got to New York City, we had to let him go. Cos the dramas going on backstage were better than the show! I won't forget the Strangler, he's as volatile as wind. And if no-one's getting loopy, then no-one's getting chinned". 'You're The Why', by contrast, is quite mellow. It was the last lyric Ian wrote and the recording was completed after his death, with Robbie Williams singing lead vocal. Robbie, who had accompanied Ian on a number of overseas trips for UNICEF, first heard the song at Ian's funeral, sung by the Blockheads. Co-writer Chaz Jankel says, 'You're The Why' is very concise, a kind of love song. We didn't write many of those' To complete 'Ten More Turnips from the Tip', The Blockheads delved into the archive and discovered some great, unreleased material originating from recording sessions in 1991. 'We found three real crackers,' says Mick Gallagher. 'I Believe', 'Cowboys' and 'One Love'. Ian was so prolific.' With some additional overdubs by the Blockheads and a sympathetic mix from the group's loyal recording engineer, Laurie Latham, the older songs dovetail seamlessly with the newer material, resulting in a consistently brilliant album. 'At first I was reluctant to get involved,' says Latham, 'but when I heard 'Cowboys', it was one of Ian's great vocals! Ian loved the whole ritual of recording - he was a real studio animal.' 'Ten More Turnips from the Tip' includes a moving poem, written and recited by Ian's old mate, Jock Scot, especially written for the album: "Yes, such a swift departure. You left me clutching at a half pint of lager. I looked up and you were gone. Leaving the Blockheads and all your mates on the stage to carry on. The next generation - bring 'em on, bring 'em on, bring 'em on!"

IAN DURY BIO [ © Stephen Thomas Erlewine , All Music Guide ]

Rock & roll has always been populated by fringe figures, cult artists that managed to develop a fanatical following because of their outsized quirks, but few cult rockers have ever been quite as weird, or beloved, as Ian Dury. As the leader of the underappreciated and ill-fated pub-rockers Kilburn & the High Roads, Dury cut a striking figure -- he remained handicapped from a childhood bout with polio, yet stalked the stage with dynamic charisma, spitting out music-hall numbers and rockers in his thick Cockney accent. Dury was 28 at the time he formed Kilburn, and once they disbanded, conventional wisdom would have suggested that he was far too old to become a pop star, but conventional wisdom never played much of a role in Dury's career. Signing with the fledgling indie label Stiff in 1978, Dury developed a strange fusion of music-hall, punk rock and disco that brought him to stardom in his native England. Driven by a warped sense of humor and a pulsating beat, singles like "Hit Me With Your Rhythm Stick," "Sex & Drugs & Rock & Roll" and "Reasons to Be Cheerful (Part 3)" became Top Ten hits in the U.K., yet Dury's most distinctive qualities -- his dry wit and wordplay, thick Cockney brogue, and fascination with music-hall -- kept him from gaining popularity outside of England. After his second album, Dury's style became formulaic, and he faded away in the early '80s, turning to an acting career instead. At the age of seven, Ian Dury was stricken with polio. After spending two years in hospital, he attended a school for the physically handicapped. Following high school, he attended to the Royal College of Art, and after his graduation, he taught painting at the Canterbury Art College. In 1970, when he was 28 years old, Dury formed his first band, Kilburn & the High Roads. The Kilburns played simple,'50s rock & roll, occasionally making a detour into jazz. Over the next three years, they became a fixture on England's pub-rock circuit. By 1973, their following was large enough that Dury could quit his teaching job. Several British critics became dedicated fans, and one of them, Charlie Gillett, became their manager. Gillett helped the band sign to the Warner subsidiary Raft, and the group recorded an album for the label in 1974. Warner refused to release the album, and after some struggling, the Kilburns broke away from Raft and signed with the Pye subsidiary Dawn in 1975. Dawn released Handsome in 1975, but by that point, the pub-rock scene was in decline, and the album was ignored. Kilburn & the High Roads disbanded by the end of the year. Following the dissolution of the Kilburns, Dury continued to work with the band's pianist/guitarist, Chaz Jankel. By 1977, Dury had secured a contract with Stiff Records, and he recorded his debut with Jankel and a variety of pub-rock veterans -- including former Kilburn Davey Payne -- and session musicians. Stiff had Dury play the 1977 package tour Live Stiffs in order to support his debut album New Boots and Panties!!, so he and Jankel assembled the Blockheads, recruiting guitarist John Turnbull, pianist Mickey Gallagher, bassist Norman Watt Roy and drummer Charley Charles. Dury and the Blockheads became a very popular act shortly after the Live Stiffs tour, and New Boots and Panties!! became a major hit, staying on the U.K. charts for nearly two years; it would eventually sell over a million copies worldwide. The album's first single, "What A Waste," reached the British Top Ten, while the subsequent non-LP single "Hit Me With Your Rhythm Stick" climbed all the way to number one. Ian Dury had unexpectedly become a superstar in Britain, and American record companies were suddenly very interested in him. Arista won the rights to distribute Dury's Stiff recordings in the U.S., but despite overwhelmingly positive reviews, New Boots and Panties!! stiffed in America, and the label instantly dropped him. Despite his poor U.S. sales, Dury was still riding high in his homeland, with his second album, Do It Yourself, entering the U.K. charts upon its summer release in 1979. Dury supported the acclaimed album, which saw him delving deeply into disco, with an extensive tour capped off by the release of the single "Reasons to Be Cheerful (Part 3)," which climbed to number three. Once the tour was completed, Jankel left the band and Dury replaced him with Wilko Johnson, former lead guitarist for Dr. Feelgood. With Johnson, Dury released his last Stiff album, Laughter, which received mixed reviews but respectable sales upon its 1980 release. The following year, he signed with Polydor Records and reunited with Jankel. The pair flew to the Bahamas to record his Polydor debut with reggae superstars Sly Dunbar and Robbie Shakespeare. The resulting album, Lord Upminster, received mixed reviews and poor sales upon its 1981 release; the album was notable for the inclusion of the single "Spasticus Autisticus," a song Dury wrote for the United Nations Year of the Disabled, but was rejected. Following the failure of Lord Upminster, Dury quietly backed away from a recording career and began to concentrate on acting; 1984's 4000 Weeks Holiday, an album recorded with his new band the Music Students, was his last major record of the '80s. He appeared in several plays and television shows, as well as the Peter Greenaway film The Cook, the Thief, His Wife and Her Lover and Roman Polanski's movie Pirates. He also began to write jingles for British commercials. In 1989, he wrote the musical Apples with Mickey Gallagher, and he also appeared in the stage production of the play. Dury returned to recording in 1992 with The Bus Driver's Prayer and Other Stories. In May 1998, Dury announced that he had be diagnosed with colon cancer in 1995 and that the disease had spread to his liver. He decided to release the information the weekend of his 56th birthday, in hopes of offering encouragement for others battling the disease. For the next year, he battled the disease while keeping a public profile -- in the fall of 1999, he was inducted into Q magazine's songwriting hall of fame, and he appeared at the ceremony. Sadly, it was his last public appearance. Dury succumbed to cancer on March 27, 2000. He left behind a truly unique, individual body of work.

MORE ABOUT IAN DURY

Born on May 12, 1942, in Harrow, west London, England, and raised in Upminster, Essex; died of cancer on March 27, 2000, in London, England; married Betty, 1985 (divorced); married Sophie Tilson, a sculptor, c. 1996; children: (first marriage) Jemima and Baxter; (second marriage) Bill and Albert. Education: Graduated from Walthamstow Art College and the Royal College of Art.
Pop icon Ian Dury, the man responsible for coining the expression "Sex and drugs and rock 'n' roll," succumbed to cancer on March 27, 2000. His songs, including the innuendo-laden number-one hit "Hit Me With Your Rhythm Stick," were instantly memorable, combining streetwise humor with verbal cleverness. Paying tribute to the life and career of his close friend, Madness frontman Suggs, also known as Graham McPherson, called Dury "the people's poet laureate, one of the finest lyricists this country has produced," as quoted in the Mirror, "he was still giving it his all to the end." In addition to his contributions to pop music, Dury was equally regarded for his warmth, humor, and charitable endeavors, despite all his efforts to remain the naughty cockney rocker in the eyes of his fans. He always maintained a positive outlook about his own physical limitations, resulting from a bout with childhood polio, as well as his later struggles with depression and colon cancer. Even while performing a charity concert at the London Palladium just one month before his death he remained upbeat. "I believe in the power of positive thinking. I think 51 percent of it is down to spirit, whatever you're fighting," he told the Daily Express, speaking bravely and matter-of-factly about facing his own death. "The polio has made me fatalistic, able to laugh at most things--I'm a pretty cheerful person in most of my doings." Aside from music and later acting, Dury spent much of his energy campaigning for the disabled, working with those with mental illnesses, and helping others stricken with polio and cancer, and actively supported charitable causes like the United Nations Children's Fund (UNICEF), and Cancer BACUP. Born on May 12, 1942, in Harrow, west London, England, and later moving with his family to Upminster, Essex, Dury contracted polio at the age of seven, leaving him partially crippled. In a strange way, he later told the Daily Express, the polio actually helped him deal with cancer later on. As a boy, he grew accustomed to dealing with pain and coping with periods of incapacitation, but refused to feel sorry for himself or allow a disability to disrupt his life's plans. In spite of teasing, stares, and physical limitations, he would become one of Great Britain's most beloved rock stars, never letting the fact that his left hand and leg were lacking in muscle tone stand in his way. According to Dury, who always felt uncomfortable when people pitied him, he never saw any point in being bitter. Likewise with cancer, he decided, "I'm not here to be remembered. I'm here to be alive." After spending two years in a hospital recovering from polio, Dury attended a school for disabled children for many years, leaving at the age of 16 to study art at Walthamstow Art College in London. Subsequently, he won admittance to the Royal College of Art. Upon graduation in 1967, he took a position lecturing and teaching painting at the Canterbury Art College. Around the same time, Dury also began writing and playing songs. In 1971 at the age of 28, he formed his first band, Kilburn and The High Roads, and embarked on the pub/college circuit in London playing simple, '50s-style rock and roll with an occasional detour into jazz. Over the next three years, the band became a fixture on the pub-rock circuit as Dury honed his lyrical prowess with songs like "Billy Bentley" and "Upminster Kid."By 1973, the group's success allowed Dury to quit his teaching job. Among Kilburn and The High Roads' legion of dedicated fans were several British music critics, and one of them, Charlie Gillett, signed on as the band's manager, helping them to secure a record deal with the Warner imprint Raft Records. In 1974, the group presented Warner with an album that the label refused to release, though it was later issued under the title Wotabunch after Dury became popular. After some struggling, Kilburn and The High Roads broke away from Warner and signed with Dawn, a subsidiary of Pye Records, who released the Warner-rejected material as Handsome in 1975. By now, however, the pub scene was in decline, and the record went largely unnoticed. Thus, after one album and many line-up changes, Kilburn and The High Roads called it quits at the end of the year. Afterward, guitarist Keith Lucas formed the band 999, while an undeterred Dury concentrated on a solo career. Continuing to work with Kilburn pianist and guitarist Chaz Jankel to write new songs, Dury in 1977 secured a contract with Jack Riviera's new indie label, Stiff Records. Joined by Jankel, whose compositions now suggested a move away from solid rock toward a lighter, jazzy style, Dury gathered a variety of session players and pub-rock veterans for studio work. Many of the participants--including former Kilburn saxophonist Davey Payne, drummer Charley Charles, and bassist Norman Watt-Roy--would become The Blockheads. During the recording sessions, Jankel's musical sophistication, along with Dury's earthy delivery and a skilled backing band, resulted in a formula that was to produce some of the singer's biggest hits. In August of 1977, Dury released his first solo record, "Sex and Drugs and Rock and Roll," a single that became the definitive statement on the rock 'n' roll lifestyle that also appeared on New Boots and Panties, released in November. Widely hailed as a brilliant debut LP, New Boots and Panties demonstrated Dury's talent for writing punchy couplets and music-hall parodies ("Billericay Dickie" and "Clever Trevor"), showing his street smarts and rougher edge ("Blockheads" and "Plaistow Patricia"), and creating the ultimate rock tribute ("Sweet Gene Vincent"). The album went gold, reaching number five on the United Kingdom charts thanks in large part to a punishing touring schedule. By this time, Dury had added keyboard player Mickey Gallagher and guitarist John Turnball to the Blockhead lineup. After playing the inaugural 1977 Stiff Records package tour dubbed "Stiff's Live Stiffs" alongside Elvis Costello, Nick Lowe, and others, followed by a headlining slot with the "Dirty Dozen Tour," Ian Dury and The Blockheads traveled to the United States as the opening act for Lou Reed. However, audiences in America met The Blockheads--decidedly a very British band--with a mixed reception. While songs off New Boots and Panties did receive some airplay on college radio stations and eventually breached the United States album charts at number 168, most mainstream listeners found Dury's clever wordplay and inherent "Englishness" incomprehensible. Moreover, Stiff failed to organize adequate distribution for the U.S. market. Therefore Dury, like so many of his contemporaries, most notably Dave Edmunds and Nick Lowe, never really had a chance to establish much more than a cult following in the States. But back home, Ian Dury and The Blockheads had evolved into one of the most powerful bands in Britain, touring almost constantly throughout Europe. Their sets, usually lasting two hours or more and featuring Dury decked out in all the fancy trappings of a pop star, delighted audiences. The band never played the same list twice, and during Dury's peak years, it is said that no band could follow up The Blockheads' atmospheric performances, no matter how hard they tried. Whether clad as a pearly king, prince of darkness, used car salesman, or a cockney wildman, Dury commanded attention. The combination of his onstage alter-egos, riveting performances, and stark balance of cheerful and dark material always made an emotional impact. But on the downside, Blockhead gigs were exhausting affairs and would eventually prove detrimental to Dury's health. In the meantime, Dury and his band landed on the United Kingdom singles chart for the first time in April of 1978 with "What A Waste," which peaked at number nine. An even bigger hit followed in December of 1978 with "Hit Me With Your Rhythm Stick," which rose to the number one position in January and remained at the top of the charts for two weeks. It was Stiff's first number one hit and first million-selling record and set the scene for a second LP, Do It Yourself, released in May of 1979. Although it made less of a long-term impact than New Boots, Do It Yourself was an instant success, rocketing to number two on the U.K. album chart within weeks of its release and climbing to number 126 in the United States later that summer. In addition, Ian Dury and The Blockheads, despite their undeniably English style, enjoyed increasing popularity throughout Europe, especially in Germany. "Rhythm Stick" charted at number 24 in March of 1979, New Boots and Panties followed on the German album charts at number 29, and Do It Yourself sold steadily as well, peaking at number 23. In September of 1979, Dury and his group arrived with another hit, the jazzy stream-of-consciousness single "Reasons To Be Cheerful (Part 3)," which climbed to number three in the United Kingdom. But after another tour in support of Do It Yourself, Dury's fortunes began to wane. Upon its conclusion, Jankel decided to move on to solo work, feeling that his contributions to the band had not been fully appreciated. This would prove a devastating blow because Jankel had served as the musical inspiration behind Dury's lyrics. Former Dr. Feelgood guitarist Wilko Johnson stepped in as Jankel's replacement in time to play on the next single, "I Want To Be Straight," a reflection of Dury's concerns about his worsening health. Although it was a minor hit, the song only reached number 22 on the United Kingdom charts. A follow-up single a couple months later titled "Superman's Big Sister" only reached the number 51 position, while the band's first album without Jankel, Laughter, released in November of that year, peaked at a disappointing number 48 and was met with only modest approval. In 1981, Dury signed with a major label, Polydor, and released the upbeat single "Spasticus Austicus," a song he had written for "The Year of the Disabled," a cause he had devoted much of his energies to that year. However, radio stations, misunderstanding Dury's direct, in-your-face sense of humor, refused to play the song, perceiving it as being in bad taste. Polydor reacted by deleting the single soon thereafter, though it would resurface on Dury's first album for the label. For the new LP, Dury reunited with Jankel, creating a sense of optimism among fans. But despite Jankel's involvement and good reviews, Lord Upminster, released in October of 1981 and recorded with a top-drawer rhythm section team of Sly Dunbar and Robbie Shakespeare, only reached the number 51 slot on the United Kingdom album chart. After this disappointment, Dury made only brief returns to the recording business. His subsequent records were always met with a warm reception, although they were never big sellers. In 1984, he released the optimistic 4,000 Weeks Holiday, credited to Ian Dury and The Music Students, which featured some of the Blockheads and charted at number 53. His last significant hit, 1985's "Profoundly in Love With Pandora," the theme for the television show The Secret Diaries of Adrian Mole written and recorded with Jankel, reached number 45. By the late 1980s, Dury had returned to his first love, painting, and also forged an acting career. In addition to landing spots for radio and television commercials, he also appeared in numerous television productions, including King of the Ghetto, for which he played the title character, in 1986, and Night Moves, for which he also wrote the musical score, in 1987, and acted in plays, most notably Talk of the Devils in 1986, Road in 1987, and Apples, a musical co-written with Mickey Gallagher, in 1989. In 1985, Dury acted in his first film, Number One, opposite Bob Geld, followed by roles in several more big screen productions, among them Roman Polanski's The Pirates in 1986 and Peter Greenway's The Cook, The Thief, His Wife And Her Lover in 1989. Although Dury's musical career appeared at rest for good, he suddenly reformed The Blockheads at the end of 1990 to play some reunion benefit gigs in memory of Charley Charles, a victim of cancer. These shows proved so successful as well as enjoyable that the group continued to perform on occasion, and Dury began collaborating again with Jankel. Their efforts resulted in the 1992 release The Bus Driver's Prayer and Other Stories, Dury's first new LP in nearly ten years. Hailed as one of his best since Do It Yourself, the album featured many of the old Blockheads, including Jankel, Gallagher, Turnbull, and Payne. In 1996, Dury was diagnosed with colon cancer. After an operation, secondary tumors appeared on his liver, signaling that his condition was terminal. In addition to Charles, Dury's first wife, Betty, had also died of the disease in 1994. Though they had separated in 1985, Dury was greatly grieved by her death. Rather than dwell on what was to come, Dury instead chose to make the most of his situation. "I haven't shaken my fists at the moon," he said, as quoted by the BBC Online. "I'm not that sort of geezer. I'm 56 and mustn't grumble. I've had a good crack, as they say." Soon after his diagnosis, Dury married Sophie Tilson, a sculptor and mother of his two youngest children, then decided to record a new album. Mr. Lovepants, issued on Ronnie Harris Records in 1998, was met with praise from critics and fans alike. Dury maintained a high profile even while his condition worsened. His health progressively deteriorating, Dury toured in support of Mr. Lovepants beginning in the fall and made a trip with UNICEF, for whom he served as an official ambassador, to Sri Lanka promoting polio vaccination with pop star Robbie Williams. In 1999, he started recording material for a new album with The Blockheads. Sadly, however, Dury passed away on March 27, 2000, before the material saw the light of day. One of the songs, "You Are the Way," was played at his funeral. He was survived by Tilson, the couple's two young sons, five-year-old Bill and two-year-old Albert, and Dury's two grown children from his first marriage, 29-year-old Jemima and 26-year-old Baxter. In memory of Dury's contributions to the music business, The Blockheads, along with several celebrities including Robbie Williams, Madness, Neneh Cherry, The Clash, and others, played a special "Tribute to Ian" gig on June 16, 2000, at the Brixton Academy. Dury dies on March 27, 2000, at his home in London, England, at the age of 57 following a battle with liver cancer. © Laura Hightower, © 2007 Net Industries - All Rights Reserved