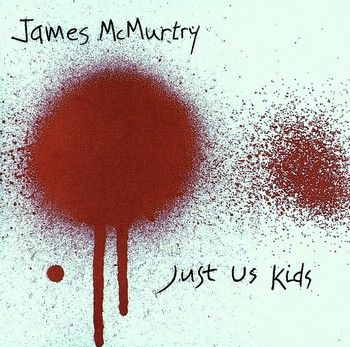 James McMurtry
-
Just Us Kids
-
2008
-
Lightning Rod Records

The further James McMurtry gets from the big leagues of the music business, the better it seems to be for his music. McMurtry was still finding his feet as a recording artist with his first three albums for Columbia, and just began hitting a groove when he signed with the independent Sugar Hill label. Now recording for a renegade start-up label called Lightning Rod Records, McMurtry has cut what may well be his best and most consistently interesting album to date, Just Us Kids, a dozen songs clearly informed by the American malaise of the first few years of the 21st century and the disillusion over the ongoing war in Iraq. While the war is rarely mentioned by name, there's no disguising the source behind the bitter, mordant wit of "Cheney's Toy" and "God Bless America," just as "Hurricane Party" captures the devastation of Katrina without belaboring what we've all seen on the news. Even when the specific tragedies of recent years don't figure into the songs, the aging rebels turned working stiffs of the title cut, the couple struggling to make their lives and relationship work in "Ruby and Carlos," and the drifter with a shaky sense of her own history in "Fire Line Road" are characters whose lives have been battered by the circumstances of the past seven years. As a performer, McMurtry still doesn't possess the most expressive voice in American music, but his lean, plain-spoken drawl has gained a wealth of nuance in recent years, communicating a laconic swagger, an ominous air of menace, or a simple acceptance of the quirks of fate with wisdom and clarity. McMurtry also produced Just Us Kids, and the spare, funky growl of this rootsy rock & roll is a perfect match for the tone of these songs, a sound that's thoroughly American while conjuring the dark clouds gathering on the horizon. Just Us Kids is an album very much of its time that also speaks to the larger ideas of life in America in an uncertain age, and it's brave, smart, and pithy music that captures James McMurtry at the top of his game. © Mark Deming © 2011 Rovi Corporation. All Rights Reserved http://www.allmusic.com/album/just-us-kids-r1316644/review
McMurtry's built a sizeable resume since his 1989 John Mellancamp-produced debut and his 1991 collaboration with Mellencamp, John Prine, Joe Ely and Dwight Yoakam. The influences of that latter work still reverberates through his music, with Mellencamp's heartland rock, Prine's writerly words and Ely's maverick stance all providing input. Unlike those three, however, McMurtry often sings in a dry, near-monotone style that crosses the tuneful tunelessness of Dylan or Lou Reed with the wry asides of Ben Vaughn. His flat delivery seems at first like it would wear thin at album length, but his songs compel you forward, his band hits some exceptional grooves, and in the end, his singing and lyrical voices are closely aligned. McMurtry confronts current political issues with the sort of disgust that is surprisingly rare in contemporary music. The heavy blues "God Bless America" casts an eye on America's warrior-junkie pursuit of fossil fuels and the corporate soldiers taking point, and "Cheney's Toy" lays out the broad-scale and intimate impacts of the Iraq war. His measured vocals work perfectly here, keeping the bitter emotions at a steady, contemptuous simmer. Isolation pervades both "Hurricane Party" and "Fireline Road," the former allegorically tying to a storm's aftermath, the latter starkly spoken in its story of abuse. John Dee Graham plays a haunting guitar solo on the latter, Ian McLagan adds a terrific piano solo to "Freeway View," and Pat MacDonald blows blue harp for the harrowing homicide of "The Governor." McMurtry's a passionate man who ably expresses strong opinions with lyrical dexterity. He's effective with a limited vocal range, making up in tone and dynamics (and characters, stories and well-crafted phrases) what he lacks in notes. [©2008 hyperbolium dot com]
With Steve Earle holed up in New York, decking about in the cultural melting pot, mixing country, folk, and not so hip, hop; John Fogerty wallowing in 'his legacy' with the self reverential (the last refuge of a scoundrel) Revival, a reactionary disappointment that was worthy of a name change to John 'old Fogy' ty. Bruce Springsteen is still lost in the stodge and bloat of Brendan O'Brian's production, and the old master Dylan moribund by the most inept lumbering road band he has ever employed. Dylan is now more skilled at playing records than making them and there is a huge vacancy waiting to filled: singer/poet required, must speak with the voice of the working man, must be resigned, angry and insightful, must be able to write memorable melodies and be able to scourge and flail them with twisted, barbed, wired, guitar, oh, and did I mention being able to write great choruses? Well, best get the 'no vacancy' sign out, because with Just Us Kids James McMurtry has filled the vacuum, building on the most overlooked back catalogue in what journalists call Americana, and Dave Alvin calls American Music, to challenge St Mary of the Woods as his career album. McMurtry wanted to title the album the Ruins of the Realm but was worried about the 'glazed look on peoples faces' when they found out the title. Ruins of the Realm might sum up the contents, but it is the people left trying to live their lives in the ruined realm that McMurtry portrays with such graphic compassion, and points out the reasons why: cause and effect that you can dance to. Musically this is McMurtry's finest hour, his whip smart road band enhanced by Ian McLagan who supplies avalanches of bar room piano that tumble over "Freeway View" his best work since the heyday of The Faces, and the evocative harp of Pat Macdonald. The opener, "Bayou Tortus" drops us neck deep, straight in the Green River of Bayou Country Creedence, swampy and threatening, lacerated by shards of CC Adcock's guitar, in fact there seems to be the ghost of the great Vietnam era C.C.R. all over this record, the howling harmonica and the graveyard train guitars of impending doom quashing any optimism or hope that McMurtry's characters might muster. The reflective title track "Just Us Kids," where the dreams of youth are vaporised in the quicksilver flash of a life passing, is told retrospectively from the view of somebody too old and too tired to do anything except get high: "Meanwhile I got a gram and a real good ride, don'tcha know I hurt way down inside". Then we arrive at "God Bless America," over the sledge hammer riff McMurtry intones a visceral dissection of corporate greed, and how it fires the rapacious foreign policy of the land of the free, fingering the utter futility in the strategy of the empire that will eat itself: "Take us to the land of milk and honey, sing and dance all night long, what you gonna do with all that money, what you gonna do when the moneys all gone?" The screw is tightened with "Cheney's Toy," which sees the war as embodying this quote "When old men barter young men for pride and profit, the resulting transaction is called war" while guitars brood and growl as McMurtry's sardonic deadpan delivery tells it like it is. "Freeway View" brings the tumbling virtuosity of Ian Mclagans piano to the fore front, a roadhouse rocker that lightens thing up before the three key songs that lie at the heart of this record take us back to the isolated, the dislocated, the injured and the excluded that inhabit these songs as emblems of a country that's hung itself at half- mast waiting for a wind of change. The mournful trumpet and skittering drums set the tone of the "Hurricane Party," the protagonist symbolic of the abandonment that is inescapable when "There is no one to talk to when the lines go down" the resignation summed up by a life where "the first cigarette is as good as it gets". "Ruby and Carlos" sees McMurtry at his lyrical peak, delivering storytelling that mixes a cinematic narrative and temporal dimensions worthy of "Blood on the Tracks" era Dylan with snatches of conversation "wasn't he barely half her age, that just how they do it these days" against a backdrop of Gulf War Syndrome, equine swamp fever, and economic desperation which result in a tortured, diseased relationship. Carlos has "Lately been staying high, ill all winter and he don't know why'. Accompanied by a groaning cello and an acoustic guitar that could have come of a Nick Drake album till the chorus arrives and breaks your heart: "Holding back the flood just don't do no good, you can't unclench your teeth to howl the way you should, So you curl your lips around the taste of tears and the hollow sound, that no one owns but you". Has there ever been a better exposition of anguish on a rock n roll record? If "Ruby and Carlos" show McMurtry's story telling abilities, then Fireline Road highlight his ability to write from a woman's point of view, not for the first time, as "Rachael's Song" speaks for the lone parent trying to cope with a troublesome son and the "Lights of Cheyenne" describes the life of an abused wife. I'm not sure how many hairy-assed Texan's choose this view point when songwriting, but I am sure none do it with the skill and conviction of McMurtry, Alice Walker the narrator of "Fireline Row" tells of incest, crank and abject misery in a cinder block cell. It's the empathy McMurtry brings to this misery that reinforces its impact " They've taken her babies and they won't give em back, I know she loves them and god knows she's tried, but when you're that far down you're gonna get high, its like eating or breathing to the rest of us, she can't even feel bad without the stuff" After all the claustrophobic sadness McMurtry pulls the camera back to detail local corruption in "The Governor," a tale of a murderous cigarette boat and the death of two fisherman, where money buys justice. The camera pulls completely back for the pointed history lesson that is "The Ruins of the Realm" as we get reminded how all tyrannical empires eventually crumble and fall, the chiming descending guitar chords and rolling banjo belie the poisonous parallels that are drawn with the current administration ("a fool and a madman at the helm" ) to the Roman Empire, the days of the Raj, the Confederate South, the fall of Saigon, the Third Reich. Their religious hypocrisy highlighted by "We got the ten commandments on the state house steps, thou shalt not steal, thou shalt not kill, dancing in the ruins of our own free will" is a telling indictment. The final song, "You'd Have Thought" is a lilting reflective coda closes the album, an album that opens up the America that the constantly touring McMurtry sees as: riven by poverty, ignorance, intolerance, fear and greed. He populates his songs with characters that give a revealing insight into contemporary America. He may have called it Just Us Kids, but for this reviewer, all I see when listening to this powerful dynamic record is the Edvard Munch painting 'The Scream' so go buy this magnificent record, embrace The Scream. - Article Author: © Nigel Simons © Technorati, Inc / Technorati Media / Technorati.com / Blogcritics / AdEngage http://blogcritics.org/music/article/music-review-james-mcmurtry-just-us/page-3/
A very underrated singer, musician and brilliant songwriter, James McMurtry from Fort Worth, Texas has written many great songs, most of which you will never hear on mainstream media.James has a voice that sounds like a cross between Johnny Cash, David Byrne, and Lou Reed. Lyrically, the guy is a great storyteller. Like Leonard Cohen, David Byrne, Mose Allison, Janis Ian, Tino Gonzales, Lou Reed, or the young Dylan, James writes songs often with a socio-political theme. Because of James' (controversial to some) right wing views, you are unlikely to hear his records played on mainstream radio. He writes concise and evocative lyrics, often cynical and dry, but never boring, and like the aforementioned artists he has the rare talent of writing great music for what often sounds like dull topics. The melodies wont hit you immediately, but when they do, you will want and maybe need to hear these songs again and again. His music is steeped in Americana, and he produces outstanding music. "Childish Things" is just one of a number of great Americana/country roots rock flavoured albums by this unsung musician.The great horror novelist Stephen King, has written about James McMurtry many times in his Entertainment Weekly column. In one of his articles Stephen described James as "the best songwriter in America". He also called James McMurtry "the truest, fiercest songwriter of his generation", and said that James' song "We Can't Make It Here" was the "best American protest song since Dylan's "Masters of War." "Childish Things" and "We Can't Make It Here" won the Americana Music Awards for album and song of the year, respectively. James "sees it like it is", and whatever your political views are, there can be no ignoring this man's extraordinary talent. The album is
VHR by A.O.O.F.C.
Buy his "Live in Europe" album, and support this great artist, and search this blog for more James McMurtry related releases
TRACKS
1 Bayou Tortous 4:50
2 Just Us Kids 5:08
3 God Bless America (Pat Macdonald Must Die) 5:01
4 Cheney's Toy 5:49
5 Freeway View 3:37
6 Hurricane Party 5:56
7 Ruby and Carlos 6:35
8 Brief Intermission 2:51
9 Fire Line Road 5:30
10 The Governor 5:10
11 Ruins of the Realm 4:25
12 You'd a' Thought (Leonard Cohen Must Die) 5:15
All songs composed by James McMurtry except "Brief Intermission" by James McMurtry, Daren Hess, Ronnie Johnson, and "Fire Line Road" by James McMurtry, Tim Holt


MUSICIANS
James McMurtry - Banjo, Guitar, Mando-Guitar, Mandolin, Vocals
C.C. Adcock - Guitar
Jon Dee Graham - Lap Steel Guitar
Ronnie Johnson - 8-String Bass, Guitar (Bass), Vocal Harmony, Vocals
Ian McLagan - Organ, Piano
Daren Hess - Drums, Conga, Percussion, Tympani [Timpani], Whistle (Human)
John Nelson - Conga
Chris Maresh - Bass Viol
Brian Standefer - Cello
Pat MacDonald - Harmonica, Vocal Harmony
Stuart Sullivan, Myra Spector, Lee Scott - Vocals
Harmoni Kelley - Vocal Harmony
BIO
(WIKIPEDIA)


James McMurtry (born March 18, 1962 in Fort Worth, is a Texas rock and Americana music singer, songwriter, guitarist, bandleader and occasional actor (Daisy Miller, Lonesome Dove). With his veteran bandmates and rhythm section The Heartless Bastards (Darren Hess and Ronnie Johnson) he tours regions of the United States and, increasingly, Europe, for parts of each year, performing in intimate and mid-sized venues, especially those with dancing room for his audiences. His father, novelist Larry McMurtry, gave him his first guitar at age seven. His mother, an English professor, taught him how to play it: "My mother taught me three chords and the rest I just stole as I went along. I learned everything by ear or by watching people." James spent the first seven years of his boyhood in Ft. Worth but was raised mostly in Leesburg, Virginia. He attended the Woodberry Forest School, Orange, Virginia. He began performing in his teens, writing bits and pieces. He started performing his own songs at a downtown beer garden while studying English and Spanish at the University of Arizona in Tucson. After traveling to Alaska and playing a few gigs, James returned to Texas and his father's "little bitty ranch house crammed with 10,000 books". After a time, he left for San Antonio, where he worked as a house painter, actor, bartender, and sometimes singer, performing at writer's nights and open mics. In 1987, a friend in San Antonio suggested he enter the New Folk songwriter contest. He was one of six winners that year. John Mellencamp was starring in a film based on a script by James's father, which gave James the opportunity to get a demo tape to Mellencamp. Mellencamp subsequently served as co-producer on McMurtry's 1989 debut album, Too Long in the Wasteland. McMurtry also appeared on the soundtrack of the film Falling from Grace, working with Mellencamp, John Prine, Joe Ely, and Dwight Yoakam in a "supergroup" called Buzzin' Cousins. McMurtry released follow-up albums in Candyland (1992) and Where'd You Hide the Body (1995). Walk Between the Raindrops followed in 1998 and 2002 brought St. Mary of the Woods. In April 2004, McMurtry released a tour album called Live In Aught-Three. In 2005, McMurtry released his first studio album in 3 years. Childish Things again received high critical praise, culminating in him winning the song and album of the year at the 5th Annual Americana Awards in Nashville, Tennessee. The album was perhaps McMurtry at his most political, as his working-class anthem "We Can't Make It Here" included direct criticism of George W. Bush, the Iraq War, and Wal-Mart. McMurtry released his follow up album to Childish Things in April 2008. Just Us Kids continued with the previous album's political themes and included the song Cheney's Toy, McMurtry's most direct criticism of George W. Bush so far. Like We Can't Make It Here from the previous album, Cheney's Toy was made available as a free Internet download. James McMurtry currently resides in Austin, Texas. When in Austin McMurtry and The Heartless Bastards play a midnight set at The Continental Club on Wednesday nights. He's usually preceded by another Austin roots rock legend, Jon Dee Graham.