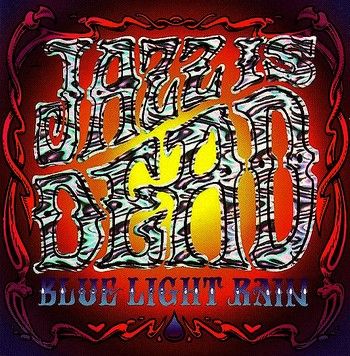 Jazz Is Dead
-
Blue Light Rain
-
1998
-
Zebra
This disk should appeal to deadheads and nondeadheads alike. It is somewhat of a super session. Members include Jimmy Herring (Aquarium Rescue Unit & The Allman Brothers Band) on guitar, Alphonso Johnson (Weather Report & Santana) bass guitar, Billy Cobham (Miles Davis & Mahavishnu Orchestra)drums, and T Lavitz (Dixie Dregs & Steve Morse Band) on keyboards. The idea was to have jazz fusion heroes to perform instrumental versions of Grateful Dead tunes. The result is highly effective. Though not a total deadhead I am a fan of some of their more progressive music (not the country/folk stuff). It is evident that this band is musically tighter and more technically proficient than the Grateful Dead ever could be. Jimmy Herring is an underrated guitarist. He makes an economical use of every note without being overblown. Herring also projects a sweet feeling to his playing at times. If you ever wondered what it would sound like if Duane Allman or Dickey Betts joined the Grateful Dead, it might sound like this. Billy Cobham is arguably the best jazz fusion drummer. His playing sounds sort of like a more controlled yet jazzy version of Keith Moon or Ginger Baker. Alphonso Johnson works well with Cobham. His popping bass gets your feet tapping. I wonder how long they had to rehearse before aquiring this sort of telepathy between each other. T. Lavitz is adventurous yet solid on keyboards. The best part of the disk might be the song selection. The disk includes many of my favorites like great versions of "Dark Star" and "Help On The Way/Slipknot/Franklin's Tower" and "Scarlet Begonias". The disk also contains a heated version of Cobham's "Red Baron" from his "Spectrum" album (one of the best early jazz fusion albums w/Tommy Bolin). The cover tunes provide a basic framework but serve as a springboard for jamming and progressive musical explorations. Occasional hints of reggae and funk are added to sections of some of the songs which make them more interesting. In summary fans of great musicianship, jazz fusion and/or deadheads will find this to be an essential purchase. - ***** By & © J. E FELL "boogaloojef" from "Great Jazz Fusion Tribute Disk to Grateful Dead, May 23, 2002" © 1996-2012, Amazon.com, Inc. or its affiliates
http://www.amazon.com/review/R3GZVPHVUL2LU0/ref=cm_cr_dp_title/184-5284442-2391601?ie=UTF8&ASIN=B000007SLB&nodeID=5174&store=music
With a rhythm section made up of two electric jazz legends, bassist Alphonso Johnson and drum god Billy Cobham, this quartet uses the Dead's music as a starting point, then takes off to places unimagined by most Deadheads. Dixie Dregs founder T. Lavitz sits in the organ and keyboard chair, while guitar wunderkind Jimmy Herring steps to the front to take fusion guitar to heights unreached since Al Di Meola left Return to Forever. Looking like the Allmans' little brother, Herring moves from looping lines reminiscent of Jerry Garcia and Dickey Betts to inspired improvisations out of the Larry Coryell/John McLaughlin/Al Di Meola playbook. Longtime Dead listeners will recognize most of the melodies, but the arrangements and solos by this amazing quartet transform the originals. And, while this album only hints at the phenomenal interplay Jazz is Dead achieves in concert, it is one of the most remarkable studio recordings to fall under the often-maligned jazz-rock fusion banner in many a year. Cobham's work with Mahavishnu Orchestra and Johnson's with Weather Report helped redefine the parameters of jazz and rock in the '70s. Through this project, they and their bandmates bring musical adventurousness, rhythmic complexity and instrumental virtuosity to a whole new generation, while rekindling the spark in those who were around for fusion's heyday 25 years earlier. With Blue Light Rain, Jazz Is Dead affirms that this music anything but. © Jim Newsom © 2012 Rovi Corporation. All Rights Reserved
http://www.allmusic.com/album/blue-light-rain-r352530/review
Jazz is Dead is an instrumental Grateful Dead cover band that interprets classic Dead songs with jazz influences. Although the group's composition has changed over time, with T Lavitz being the only constant member, the group is notable in featuring veterans of jazz and jazz fusion ensembles. In March 2006 this line-up set out for a month long tour featuring the music of "Blues For Allah" to coincide with its 30th Anniversary. In 2001, guitarist Jeff Pevar (Ray Charles, Joe Cocker, Crosby Stills & Nash) replaced Jimmy Herring. Little Feat's Kenny Gradney also played bass with the group at some shows. The group went through a few more line-up changes (mostly bassists and drummers) over the years including the addition of Dave Livolsi on bass in 2002 and the reinstated dual-drummer line-up of Sipe and Morgenstein in 2006. Most of the material on "Blue Light Rain" are jazz fusion covers of tracks from the Grateful Dead's "Blues For Allah", "Mars Hotel", "What a Long Strange Trip It's Been" albums, and a cover of Billy Cobham's "Red Baron" from his "Spectrum" album. A great album from four masters of the genre and
HR by A.O.O.F.C.
Listen to JID's "Great Sky River" album
[

All tracks @ 320 Kbps: File size = 120 Mb

]
TRACKS / COMPOSERS
1 Crazy Fingers - Garcia, Hunter 8:37
2 Unbroken Chain - Lesh, Peterson 6:32
3 Scarlet Begonias - Garcia, Hunter 4:58
4 Dark Star - Garcia, Hart, Hunter, Kreutzmann, Lesh, McKernan, Weir 9:07 5 Red Baron - Cobham 7:38
6 King Solomon's Marbles - Hart, Kreutzmann, Lesh 7:50
7 Blues for Allah Medley: a.Help On the Way (Garcia, Hunter), /b.Slipknot (Garcia, Godchaux, Lesh, Weir, Kreutzmann), /c.Franklin's Tower ( Garcia, Hunter, Kreutzmann), /d.Spiral Staircase (Cobham, Herring, Johnson, Lavitz) 11:53
MUSICIANS
T Lavitz - Guitar, Keyboards
Jimmy Herring - Guitar
Alphonso Johnson - Bass
Billy Cobham - Drums
ALBUM NOTES
"Something new is waiting to be born"-- so, appropriately enough, enter Jazz Is Dead. One feels a grateful camaraderie with these jazz-heads, who boast collective credits ranging from Bob Weir to Miles Davis, as they rejuvenate some of their favorite Dead tunes. While the use of jazz vocabulary and sensibility in Dead reinterpretations is hardly new-sprung, the jam factor in this venture is juicy. Guitarist Jimmy Herring (Aquarium Rescue Unit) makes an especially sweet contribution with a virtuosic fanfare that veers easily between blues, rock and jazz stylings (he really does play the changes, honest). Naturally drawn to the Dead's more complex material, the band draws mainly on tunes from BLUES FOR ALLAH and MARS HOTEL. "King Solomon's Marbles" is as frantic as ever, opening space for Herring's sizzling phrases and zesty group funk-outs. Throughout, Billy Cobham delivers lively drumming that combines power with thoughtful restraint. And yes, someone's finally done a groovy cover version of "Unbroken Chain," mellow organ grinding provided courtesy of T. Lavitz. While not exactly a jazz date, BLUE LIGHT RAIN certainly swings this music as it rips.
BIO
Tribute albums became very popular in the 1990s, but the members of Jazz Is Dead sidestepped the accompanying clichés of most tributes with their 1998 Grateful Dead concept CD Blue Light Rain. The four jazz fusion veterans -- bassist Alphonso Johnson (Weather Report), keyboardist T Lavitz (Dixie Dregs), guitarist Jimmy Herring (Aquarium Rescue Unit), and drummer Billy Cobham (Mahavishnu Orchestra) -- performed instrumental versions of Grateful Dead classics, at once showing the influence of jazz fusion on the Dead and the quartet's playing and arranging prowess. Cobham, Johnson, and Lavitz were known commodities through their previous band affiliations, but Blue Light Rain proved to be a coming-out party for Herring. A player of immense skill who had subbed for Dickey Betts in the Allman Brothers, Herring was nonetheless underrated through the relative anonymity of his primary groups, Aquarium Rescue Unit and Frogwings. On tracks like "Crazy Fingers," "Dark Star," and the closing, live "Blues for Allah Medley," Herring soars over Lavitz's tasty keyboard work and the rhythmic muscle of Johnson and Cobham. For their next CD, Jazz Is Dead chose to interpret the Grateful Dead's 1973 Wake of the Flood album in its entirety. Cobham's departure opened the door for two drummers -- Jeff Sipe and Rod Morgenstein -- who played separately and together during the four nights of recording. Vocalist Donna Jean Godchaux reprised some of her original vocal intros for the Dead; guest violinist Vassar Clements ("Sunshine Jam") and guitarists Steve Kimock ("Stella Blue") and Derek Trucks ("Row Jimmy") add icing to some of the Dead's most jazz-influenced pieces. With a near-endless Grateful Dead discography to pick from, Jazz Is Dead has the talent and material to become one of the world's most popular and original cover bands. © Bill Meredith © 2012 Rovi Corporation. All Rights Reserved http://www.allmusic.com/artist/jazz-is-dead-p294554/biography