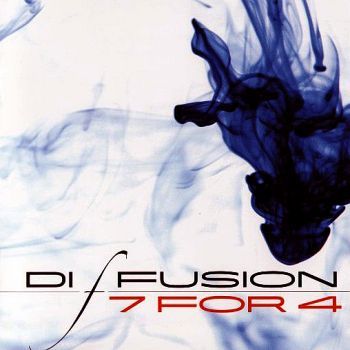 7 For 4
-
Diffusion
-
2008
-
MGI
The instrumental band 7for4 was founded in 1999 by guitarist Wolfgang Zenk. Since then 4 albums have been released. The 4 musicians stop for nothing: Whether Funk, Jazz, Metal or Country, they pack the best elements from most different styles into extraordinary but coherent compositions and perform their music with impressive virtuosity. Catchy melodies and spherical tunes alternate with full power passages, surprising the listener again and again with complex rhythms and virtuosic playing and soloing. © 2001-2014 | 7for4 http://www.7for4.de/about.html
Many of you may be familiar with Wolfgang Zenk's work with the progressive metal band Sieges Even. While drawing a few similarities, 7for4 can best be described as fusion that borrows heavily from many other genres. As the booklet best describes it: "Whether Rock, Funk, Jazz or even Country and Latin 7for4 pack the best elements from different styles into extraordinary and progressive compositions." With a majority of the influences coming from the metal, jazz and even shred. The first thing that becomes apparent is that almost this entire album is driven solely by the Wolfgang's guitar work. A few songs such as Emoctify and Cyclotron sound a lot like Premonition era Tony Macalpine with many harmonized guitar parts and even similar melodies. The amount of influences on this album was what really kept me coming back for more. Silent Flow is a slower, blues based song with excellent melody and very tasteful guitar playing. Spiral Dance has an initial flamenco vibe to it which then progresses nicely into a heavier section that retains the same feel. My favourite track by far is Mystic Mouse. There is a slow, syncopated, ominous feeling at first which then leads into a few Liquid Tension Experiment inspired riffs that wouldn't really be out of place on Biaxident or When The Water Breaks. A good thing to keep in mind about Diffusion is that, as opposed to a lot of other fusion type bands that have many bass and keyboard based sections as well as guitar, this is almost all based around Wolfgang Zenk. Even as a guitarist I have some reservations about music strictly based around guitar because I enjoy what the other musicians can bring to the table when given adequate room to play. This is one of the few cases where an album such as this made a huge impression on me. Not only does the style of music shift from song to song, it does so seamlessly within songs while remaining largely coherent. As with all music such as this, it does require some time to begin to hear to subtleties in compositions as opposed to a jumbled mess that it first sounded like to me. Highly recommended for fans of fusion, world and metal based instrumental music.
Conclusion: 8.5 out of 10 © CHRIS JACKSON © DPRP
What a treat, when every few years guitarist Wolfgang Zenk, and his quartet of fusion explorers consisting of: Klaus Engl on drums, Marlkus Grutzner on bass and Markus Froschmeier on keyboards, take on a new challenge to deepen the 7 for 4 discography. 2008 sees the release of the band's newest addition, with their third recording with the aptly named Diffusion, which in physics means, an intermingling of molecules, and yet another definition:To become widely dispersed; spread out. Which in regards to musical genres is very fitting of the bands' overall sound. Start with the vibe that is 7 for 4, they are all musicians that have spent a lifetime of dedication to their instruments, each player shares in the musical direction by injecting their personal touch to these elegantly written compositions. Granted, Wolfgang Zenk's guitar is at times the voice of the band so to speak, but each players is important to what the band achieves compositionally. Unlike many fusion bands that set up grooves or progressions for the sake of showcasing individuals' solo skills, these songs are much more intricate and cinematic in style. What they are creating are graceful songs that set a perfect backing for imaginary scenarios and would be cinema soundtracks. It's that rare marriage of talent and writing where progressive music meets fusion's high standard of musicianship, no ideas or styles are excluded, as this music can be soft or heavy, calm or stormy, contemplative or extravagant. It is the music of extremes, yet never dull or dispassionate. What I hear with 7 for 4 is the same feelings I had when hearing Return to Forever's - Romantic Warrior for the first time, not that the bands sound at all alike, but having four greatly skilled musicians creating composed music that mixes rock, jazz, metal, latin, etc, yet with such a natural chemistry that it all comes out sounding like only something 7 for 4 would do. That is what I love about the band so much. They have a personality, no cloning, no derivative comparisons really, but a band that has a gift that exists between them that allows the magic to sort of manifest without pretensions or formulas. My understanding is that this cd was over two years in the making, and as intricate as this music is, that is very understandable, as any great production should be, taking the time to perfect one's craft typically produces a desired result. 7 for 4 have yet to produce anything short of excellent, each of their cds is an adventure into the future of instrumental progressive fusion, this being the latest cd, I can hear some familiar sounds, and some new ideas, yet as always, launching the band boldly forward from where they were in 2004 with the release of Time. In this day and age of what seems like an endless array of musical clones, we have a band that has taken on an identity all of their own, the power of metal, the elegance of jazz, the sophistication of progressive music, and the flavor of various ethno rhythms, and a great presentation of these themes, paired with a fantastic production quality, and what you have is what is proving to be a frontrunner for my favorite cd of 2008, it will certainly be a hard one to beat. © MJBrady © ProGGnosis 2000 - 2015 where appropriate - All rights reserved. http://www.proggnosis.com/RELEASE_Detail.aspx?RID=25394
Wonderful instrumental prog metal and jazz fusion from this great German group. This band play a terrific blend of fusion with jazz rock, Canterbury, classical, and even Latin touches. The individual musicians are all virtuosos. The album is not a masterpiece by any means but the fabulous musicianship carries this album over the line.
HR by A.O.O.F.C
Check out the band's amazing "Contact" and "Time" albums on this blog and consider buying the band's "Splash" album released in 2014.
[
All tracks @ 320 Kbps: File size = 121 Mb
]
TRACKS
1 Diffusion 5:54
2 Indigo Dunes 5:55
3 Emoctify 4:50
4 The Winding Path 6:45
5 Silent Flow 7:43
6 Cyclotron 4:24
7 Spiral Dance 6:24
8 Hidden Depths 5:32
9 Mystic Mouse 5:11
All songs composed by Wolfgang Zenk
MUSICIANS
Wolfgang Zenk - Guitar
Markus Grutzner - Bass
Markus Froschmeier - Keyboards
Thomas Streck - Additional Keyboards
Klaus Engl - Drums
BIO
7FOR4 are four very talented guys from Munich/Germany. Maybe talented is not the right term here because all four dispose of experience and know-how. Wolfgang Zenk who impresses with his virtuos guitar playing was a member of the German prog metal band SIEGES EVEN (which can also be found in the Prog Archives) as well as leader and lecturer of MGI München (Munich), Germany's best known institute for professional guitar education. Markus Grützner played bass for several Jazz/Fusion bands and did so on several European tours of the well known Broadway musical "Hair". Klaus Engl also is a lecturer, he works for the drum-institute "Drummer's Focus" and played together with Markus Grützner in a Heavy-Rock band. The keyboard player Markus Froschmeier has his roots in the classical genre and adds some of his influences to the general sound of the band. Speaking about general sound I have to mention that it is quite difficult to find a term describing the style applicatively. Besides the fact that the music is all instrumental, you can say that it is a mixture of Prog Metal and Jazz Rock/Fusion, sounding as if LTE and the MAHAVISHNU ORCHESTRA get together. But nearly every song seems to have different influences so you can find tunes with a country, "gypsy music" or Brazilian samba flavour, most of it played incredibly fast. The band released two albums so far. The first one called "Contact" was released in 2001. Their current album is called "Time" and was released in 2004. Both albums are incredible and feature the quite unique sound I described above as well as awesome cover artwork. You can't say which of them is the better one. My suggestion is that you purchase both. With that said I can end with mentioning that I really recommend checking out this terrific band. If you have the chance to get one of their albums, don't wait and grape it. If you even have the chance to see them live, don't falter, I can tell you that it's really worth the effort, I've seen them and they really blew me away. © Martin Dietrich, GERMANY © Prog Archives, All rights reserved http://www.progarchives.com/artist.asp?id=1279