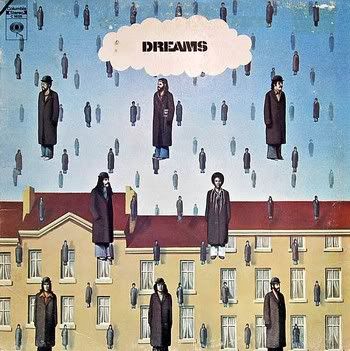 Dreams
-
Dreams
-
1970
-
Columbia
Before the Mahavishnu period Billy Cobham co-founded the funk jazz fusion outfit, Dreams, a band which barely lasted two years, and recorded two albums. Dreams featured great young musicians like Randy, and Michael Brecker, and John Abercrombie. The band shared the same label with the hugely popular "Blood, Sweat & Tears" and "Chicago" bands, and so they never got under the same spotlight as these two mega bands. Most of the musicians with Dreams went on to have very successful careers, and had the band stuck together, they would undoubtedly have improved, and produced better albums. This debut album was recorded nearly forty years ago, by very young musicians, and is a remarkably good debut album. It laid the foundation for many later great fusion albums. If you can find the band's other album,"Imagine My Surprise," give it a listen.
TRACK DETAILS
A1 Devil Lady (3:33)
Written-By - D. Lubahn* , J. Kent*
A2 15 Miles To Povo (3:01)
Written-By - D. Lubahn*
A3 The Maryanne (2:25)
Written-By - D. Lubahn*
A4 Holli Be Home (5:41)
Written-By - J. Kent*
A5 Try Me (5:08)
Written-By - J. Kent*
B1 a Dream Suite - Asset Stop
Written-By - J. Kent*
B1 b Dream Suite - Jane
Written-By - J. Kent*
B1 c Dream Suite - Crunchy Grenola
Written-By - B. Rogers* , D. Lubahn* , M. Brecker* , R. Brecker*
B2 New York (5:35)
Written-By - J. Kent*
MUSICIANS
Bass, Vocals - Doug Lubahn
Drums, Percussion - Bill Cobham, Jr.*
Guitar [Lead] - John Abercrombie
Keyboards, Guitar, Vocals - Jeff Kent
Producer - Dreams (4) , Fred Weinberg
Saxophone [Tenor], Flute - Michael Brecker
Trombone, Tuba [Wagna] - Barry Rogers
Trumpet, Flugelhorn - Randy Brecker
Vocals [Lead] - Edward Vernon
REVIEWS
A nice little funky fusion set by Dreams -- who were basically the Brecker Brothers, before they stepped out on their own and started calling themselves by that name! The fusion super group actually hews a little closer to the rock side of the fusion game at times, but there's no shortage of jazzy chord structures and some nice riffing and soloing going one -- not unlike Chase or some of the other groups that were grooving in a similar jazz rock vein at the time! Billy Cobham joins the Breckers on the set -- and titles include "Devil Lady", "15 Miles To Provo", 'The Maryanne", "Holli Be Home", "try Me", "Dream Suite" and "New York". © 1996-2008, Dusty Groove America, Inc.
To many jazz-rock fans, Dreams was almost better known as the main spawning ground for the Brecker Brothers, Billy Cobham and John Abercrombie than for its actual music, which blended rock with a good dose of improvisational jazz. In recent years, however, a fairer assessment has been developing. I own this album because it was popular as one of the earliest jazz-rock efforts. I have always found its music to be enjoyable, if uneven. Some of the lyrics and vocals seem out of place. Still, despite my reservations, the vocal tracks do have an innocent charm. They sound sort of like Broadway numbers from those days from such shows as Hair and Godspell. While the band sometimes seemed to be trying too hard to become pop stars, you have to stand back and admire what they were doing musically.The Tony Williams Lifetime has always been given well deserved credit for its place in fusion history. However, everyone acknowledges that Tony Williams's vocals on those records were tortuously awful. Yet that has not diminished the group's importance. I can say unequivocally the vocals from Dreams are light years better than Williams's. I can also say that Tony Williams wanted to be a pop star too. There was nothing wrong with that. The trick was to create pop songs that were full of jazz – an almost impossible task."New York" starts with what would eventually become the signature horn sounds of the Brecker Brothers. Lead singer Edward Vernon enters with backup singers. They develop a good soul sound that puts them on the cusp of the Top 200. The funk rhythms are laid down big-time by Cobham and bassist Lubahn. Randy Brecker uses his trumpet to punctuate. Randy Brecker plays his ass off. Abercrombie adds some distorted guitar that the engineer decided to pan between channels. The song ends in the din of musically created New York traffic. It is a pretty entertaining attempt at crossover that would make a good B-side to some hit from one of Dreams' more successful contemporaries such as Blood, Sweat & Tears, Chicago Transit Authority (later known simply as Chicago) or Chase. But those bands' arrangements were better thought out and structured. Dreams prided itself in going more "free-form," letting the music take them wherever it would through improvisation.Blood, Sweat & Tears and Chicago also offered listeners the vocals of great singers. The vocalists for Dreams were good, but not great. I believe if the band had stuck to instrumentals, which they were quite superior at, they would have had a stronger impact. There was also the little issue of creating a finely crafted pop tune. Dreams couldn't quite do that. But the fact is that, while some may credit Blood, Sweat & Tears and even Chicago in helping define jazz-rock, Dreams – as evidenced by the risks it took and the progeny (Breckers, Cobham. Abercrombie) it spawned – was far more important to fusion's development. © Walter Kolosky, www.jazz.com/music/2008/9/11/dreams-new-york
Although Dreams is a legendary pioneer jazz-rock group that included such young players as trumpeter Randy Brecker, guitarist John Abercrombie, drummer Billy Cobham and the 19-year old tenor Michael Brecker, its music has dated very badly. This CD reissue finds solos being de-emphasized in favor of erratic and often unlistenable vocals. While trombonist Barry Rogers had a feeling for jazz, the remainder of the group (singer Edward Vernon, keyboardist-guitarist-vocalist Jeff Kent and bassist-vocalist Doug Lubahn) weighs down the recording with mundane pop sensibilities. Only a spirited "New York" and the 14-minute "Dream Suite" allow the horns a chance to blow a bit and even there the results are quite forgettable and disappointing. © Scott Yanow, All Music Guide
BIO (Wikipedia)

Dreams was one of the original prominent jazz-rock bands in the period of the late 1960s and early 1970s and recorded for Columbia Records. They prevailed with other jazz-rock bands of the time such as Chicago, Blood, Sweat & Tears, Chase, Flock, and Soft Machine. Dreams was formed by Jeff Kent and Doug Lubahn, who together wrote and arranged all their original songs. The band began as a trio having no horns and evolved into a horn-based band over time. They were later joined by others such as Will Lee, Don Grolnick, Bob Mann, and Eddie Vernon. While Dreams did not achieve the commercial success of either Chicago or Blood Sweat & Tears, they did serve as a launchpad for eventually prominent jazz fusion artists Billy Cobham, Don Grolnick, and Randy & Michael Brecker (later known as the Brecker Brothers). Other prominent band members included guitarist John Abercrombie, trombonist Barry Rogers, guitarist Bob Mann (who later joined the band Mountain) and bassist Will Lee. The principal difference between Dreams and most of their fellow brass-led bands was, according to their album sleeve notes, that they didn't work from written arrangements but rather worked them out 'Trad' or 'New Orleans style' -- playing whatever came into their heads and waiting for something to gel. After the demise of Dreams, Grolnick, Lee, and Randy and Michael Brecker formed The Brecker Brothers Band, but this time working from very tightly controlled arrangements. Dreams contributed to the soundtrack of the cult 1974 film The Groove Tube with their theme for the "Dealers" skit.