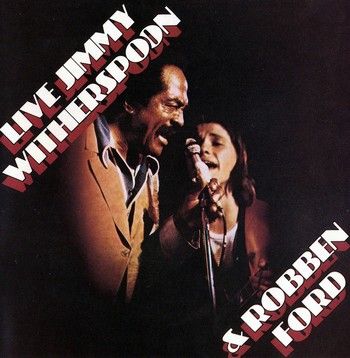 Jimmy Witherspoon
&
Robben Ford
-
Live:
Jimmy Witherspoon & Robben Ford
-
1993
-
Avenue Records
Very difficult to get definitive venues for this album. Possibly taken from gigs at the Ash Grove, Hollywood, California; the Golden Bear, Huntington Beach, California; and The Marquee Club, London, England in 1972. Stunning guitar from a young Robben Ford. Can anybody supply an exact venue list with dates?
TRACKS / COMPOSERS
1. Low Down Dirty Shame - Johnson, Turner
2. Goin' Down Slow - Oden
3. Kansas City - Leiber, Stoller
4. Past Forty Blues - Witherspoon, Roach
5. Times Are Getting Tough - Witherspoon
6. I'm Gonna Move to the Outskirts of Town - Razaf, Weldon
7. S-K Blues - Saunders, King
8. Around the Clock - Harris
9. Walkin' by Myself - Lane, Rogers
10. No Rollin' Blues - Jimmy Witherspoon
MUSICIANS
Jimmy Witherspoon - Vocals
Robben Ford - Guitar, Vocals, Sax
Stanley Poplin - Bass, Guitar (Bass)
Paul Nagle - Keyboards
Jim Baum - Drums
ABOUT JIMMY WITHERSPOON
One of the great blues singers of the post-World War II period, Jimmy Witherspoon was also versatile enough to fit comfortably into the jazz world. Witherspoon was born on August 8, 1920, in Gurdon, AR. As a child, he sang in a church choir, and made his debut recordings with Jay McShann for Philo and Mercury in 1945 and 1946. His own first recordings, using McShann's band, resulted in a number one R&B hit in 1949 with "Ain't Nobody's Business, Pts. 1 & 2" on Supreme Records. Live performances of "No Rollin' Blues" and "Big Fine Girl" provided 'Spoon with two more hits in 1950. The mid-'50s were a lean time, with his style of shouting blues temporarily out of fashion; singles were tried for Federal, Chess, Atco, Vee Jay, and others, with little success. Jimmy Witherspoon at the Monterey Jazz Festival (HiFi Jazz) from 1959 lifted him back into the limelight. Partnerships with Ben Webster or Groove Holmes were recorded, and he toured Europe in 1961 with Buck Clayton, performing overseas many more times in the decades to follow; some memorable music resulted, but Witherspoon's best 1960s album is Evening Blues (Prestige), which features T-Bone Walker on guitar and Clifford Scott on saxophone. As the '70s began, Witherspoon decided to take a short break from live performances, settled in Los Angeles, took a job as a disc jockey, and continued making records. In 1971 Witherspoon teamed up with former Animals vocalist Eric Burdon for the album Guilty. Unfortunately it sold poorly. By 1973 his short retirement from live performances was over. Witherspoon was ready to get back on the road and assembled an amazing band featuring a young Robben Ford on lead guitar. Those live shows had received positive reviews, rejuvenating Witherspoon's move toward a definite rock/soul sound. He traveled to London in 1974 to record Love Is a Five Letter Word with British blues producer Mike Vernon. Vernon had produced critically acclaimed British blues albums by John Mayall, Fleetwood Mac, and Ten Years After. By the early '80s, Witherspoon was diagnosed with throat cancer. Although he remained active and was a popular concert attraction, the effect of the disease on his vocals was obvious. Witherspoon passed away on September 18, 1997, at the age of 77. © Bob Porter, Scott Yanow & Al Campbell © 2010 Rovi Corporation. All Rights Reserved http://www.allmusic.com/cg/amg.dll?p=amg&sql=11:azfrxq8gldje~T1
ABOUT ROBBEN FORD
(WIKIPEDIA)
Ford was born in Woodlake but raised in Ukiah, California, and began playing the saxophone at age 10, picking up the guitar at age 13. Robben and his brothers Mark (mouthharp) and Patrick Ford (drums) had a band they named the Charles Ford Blues Band in honor of their father. Ford began playing professionally at age 18 when the Charles Ford Blues Band got a gig backing Charlie Musselwhite. The band also recorded two albums The Charles Ford Band and Discovering the Blues. Next Ford put together a band with Bay Area musicians that became Jimmy Witherspoon's backup band. Ford recorded two albums with Witherspoon, Live and Spoonful'. The Ford Blues Band reunites periodically, and released live albums in the 1980s and 1990s. In the 1970s, Ford began to branch out into Jazz fusion, and joined L.A. Express led by saxophonist Tom Scott in 1974. That same year they backed George Harrison on his American tour. In addition to recording fusion albums, they served as Joni Mitchell's backup band on Hissing of Summer Lawns and her live album, Miles of Aisles. After leaving L.A. Express in 1976, Ford recorded his solo album, The Inside Story with a band that was to become the Yellowjackets. He went on to play a starring role on the first two Yellowjackets albums, although he was listed as a guest artist due to recording contract arrangements. Ford worked briefly with Miles Davis in 1986; he can be heard on Davis' Montreux box set. Ford released his next album, called Talk to Your Daughter in 1988, a return to his blues roots. In 1989 he joined Philippe Saisse, Marcus Miller and J.T. Lewis in the cast of The Sunday Night Band for the second and final season of the acclaimed late-night NBC television musical performance program, Sunday Night. His best work in the 1990s include Robben Ford and the Blue Line, and Tiger Walk. In addition to recording and touring with his own blues band, Ford continued to tour and play with other bands/artists such as Jing Chi (his fusion band), Gregg Allman and Phil Lesh. He has received nominations for four Grammy Awards. Several Ford tribute bands exist, a statement to his artistry and popularity with the cognoscenti. Ford was named one of the "100 Greatest Guitarists of the 20th Century" by Musician magazine. Ford uses Dumble Amplifiers. When travelling abroad he tends to use rented Fender amplifiers along with a Zendrive overdrive pedal by Hermida Audio. Guitar manufacturer Fender used to make a Robben Ford signature guitar, although lately Ford tends to favour Gibson Les Pauls and a custom-made model by Sakashta Guitars. Ford is married to the cabaret singer, Anne Kerry Ford, and collaborated with her on various projects.