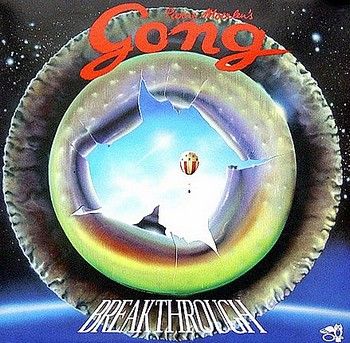 Pierre Moerlen's
Gong
-
Breakthrough
-
1986
-
Eulenspiegel
Pierre Moerlen's band released very few albums in the '80s. Breakthrough, recorded in 1986, is a disappointing, bland project that bears little resemblance to any previous incarnation of Gong. Aside from bassist Hansford Rowe, who struggles to be heard on this recording, the group is comprised of entirely new personnel, including Dag Westling, who is credited for acoustic guitar, although such an instrument fails to surface in the mix. A mostly instrumental affair, Breakthrough breaks no new ground. Like his compositions, Moerlen's performance is adequate but lacks innovation (for once). His best efforts are exhibited in the appropriately titled "Far East," and the CD's most flavorful composition, on which Moerlen and Zieden (on electric guitar) create an Eastern sound, a glorified, romantic journey through the incensed back alleys and city streets of Thailand. Most of the music on Breakthrough, though, seems unnatural and, at times, devoid of life; this is due in part to Moerlen's frequent and cursory use of synthesizers. Zieden's generic guitar solos, especially on the boring "Spaceship Disco," and Moerlen's spewing of L. Ron Hubbard's philosophies on the mundane "Road Out" lack much-needed inspiration. The pedestrian "Romantic Punk" sounds more like "New Age Disco," and Moerlen's robotic vocal delivery on "Children's Dreams" mars this otherwise blood-flowing tune. The latter piece and the following "Portrait" are solid, rhythmic tunes revealing, albeit briefly, the capabilities of Rowe and Moerlen. Diehard fans of Gong are relegated to savoring the title cut for its strains of Time Is the Key; however, the lukewarm, uneventful Breatkthrough ultimately leaves the listener with but one question: "Breakthrough to what?" © David Ross Smith © 2010 Rovi Corporation. All Rights Reserved http://www.allmusic.com/cg/amg.dll?p=amg&sql=10:fzftxq85ldhe
The late Pierre Moerlen created some wonderful progressive jazz rock/fusion. "Breakthrough" is regarded by many as his weakest album. Here is one review of the album which gives little praise; "Breakthrough" is, with the exception of one excellent track, an absolute disaster. It's commercial trash and Pierre Moerlen seems determined to determined to prove to the world that he can't sing".
A.O.O.F.C
would be very interested in your opinion of this album. Pierre Moerlen was a musical genius, and his expertise in the percussive field was unequalled. His music was innovative and futuristic, and as a member of the great Franco-British progressive/psychedelic rock band, Gong, he created some of the greatest prog. rock of the last forty years. Gong has many offshoots in the Rock tree, and it would take far too much details to elaborate on some of the great progressive rock work of Pierre Moerlen, Daevid Allen, and Gong on this blog. Listen to Pierre Moerlen's Gong's "Downwind", and "Gazeuse!" albums, and search this blog for other Pierre Moerlen/Gong related releases.
TRACKS
1 Breakthrough 6:00
2 Spaceship Disco 3:22
3 Rock In Seven 3:10
4 Six 8 4:05
5 Poitou 3:50
6 Children's Dreams 3:20
7 Portrait 4:18
8 Road Out 3:25
9 Romantic Punk 2:17
10 Far East 6:57
All songs composed by Pierre Moerlen, except Track 7 (Lyrics by Joëlle Kopf0, & Track 8 (Lyrics by L. Ron Hubbard)

MUSICIANS
Pierre Moerlen - Drums, Vibraphone, Timpani, Marimba [Xylo-marimba], Gong, Synthesizer, Vocals
Ake Zieden - Guitar
Dag Westling - Acoustic Guitar
Hansford Rowe - Bass
Chris Rhedin - Keyboards
Michaël Zilka - Chapman Stick
Sax, Vocals - Nina Andersson
Vocals - Lena Andersson
PIERRE MOERLEN'S GONG BIO
(WIKIPEDIA)

Pierre Moerlen's Gong is a jazz fusion outfit which is very different from the first incarnation of Gong, the psychedelic space-rock act led by Daevid Allen. It is notable for the prominent use of mallet percussion, such as marimba, xylophone, and vibraphone featured in a rock/jazz context, making for a very distinctive and unusual sound that could have been classified as warmer and more melodic than most typical fusion could be, and is comparable to the sort of fusion-influenced output many bands on the Canterbury scene were producing at around this time. Amid a flurry of lineup changes in the mid-1970s, including the departure of founding members Daevid Allen and Gilli Smyth, Gong drummer Pierre Moerlen found himself in charge of the band and with two albums remaining on their Virgin recording contract. Moerlen formed a new Gong lineup featuring his brother Benoit on mallet percussion, US-born bassist Hansford Rowe and a rotating cast of session guitarists, notably Allan Holdsworth, Mike Oldfield, ex-Rolling Stone Mick Taylor, and Bon Lozaga. They released two albums under the Gong moniker, Gazeuse! (called Expresso in North America) in 1977 and then Expresso II in 1978. Following the completion of the Virgin contract, Moerlen changed the name of the group to Pierre Moerlen's Gong, presumably to distance itself from its very different previous incarnation. In early 1979, the group released Downwind, which was a more rock/pop flavoured album that featured occasional lead vocals by Moerlen himself and a cameo by Steve Winwood. Later in 1979 they released another album, Time is the Key, that took the band further into pop/rock territory. The live album "PM's Gong Live" was released in 1980, followed later that year by another studio album Leave It Open. By this point, Pierre Moerlen's incarnation of Gong scaled back its activity greatly, not releasing another record until 1986's Scientology-inspired Breakthrough, featuring members of the Swedish band Tribute. The group quietly disbanded soon after. Lozaga, Rowe, and Benoit Moerlen went on to form Gongzilla in the early 1990s, releasing four albums to date which are very much an extension of the percussive fusion that the original group brought to the fold, and they perform a mix of new and old live material going back to the Gazeuse/Expresso II period. Moerlen joined them for their 2002 European tour. Pierre Moerlen died unexpectedly on May 3, 2005 of natural causes, while rehearsals for yet another line-up of PM's Gong were underway.
PIERRE MOERLEN'S BIO

Born : October 23rd, 1952 - Colmar (France). Died : May 3rd, 2005. Past Bands : Asthme Congélateur (1970-71), Gong (1973-78, 1997-99), Pierre Moerlen's Gong (1978-89), Mike Oldfield Band (1979-83), Magma (1981), Faton Bloom (1983-84), Tribute (1985-87), Biréli Lagrène Trio (1988), various musicals (1990-), Brand X (1997), Gongzilla (2002). One of the most accomplished musicians of the whole Canterbury scene, Pierre Moerlen, who died on May 3rd 2005 aged only 52, was certainly a world-class drummer, whose work with Gong and Mike Oldfield, not to mention his 'solo' albums as Pierre Moerlen's Gong, has attracted wide critical praise. Pierre Moerlen was born in Colmar into a very musical family, his father being the resident organist of the Strasbourg cathedral as well as a piano and organ teacher, and his mother a school piano teacher. His three sisters and his brother Benoît are also musicians, although not all play music professionally. Moerlen started playing piano until he turned to percussion while a teenager. In 1967, he entered the Conservatoire Régional in Strasbourg to learn classical percussion under the guidance of Jean Batigne, founder of the famed Percussions de Strasbourg. While studying strictly classical music at the Conservatoire, Moerlen also developed an interest for more contemporary musical genres, and soon found himself involved in rock and fusion groups. The most notable was called Asthme Congélateur and featured future Magma guitarist Gabriel Fédérow, and its main claim to fame was appearing on a regional television programme alongside Belfort progressive rockers Ange and an even more obscure band featuring the Lemoine brothers, Jean-Sébastien and Patrice. The latter joined Moerlen in Gong around the time of Shamal. Around that time, Moerlen began to feel the urge to write and perform his own music, based on the use of the various tuned and untuned percussion instruments at his disposal. He rehearsed his pieces with Mireille Bauer, a fellow Conservatoire student and his girlfriend at the time (and coincidentally a cousin of Jean Batigne). One interesting anecdote on this period is that sometime in 1972, Moerlen and Bauer both attended a Gong concert in Strasbourg, and neither was too enthused about the gig. Certainly not the shape of things to come! As a matter of fact, while on a visit to Paris to try and find work in classical music, an idea he was not too keen on, he met Patrice Lemoine on the station platform where he was waiting for his train back to Strasbourg. Lemoine told him that Gong were looking for a drummer after the band had broken up during the tumultuous sessions for Flying Teapot. Although reluctant at the start, one listen to the just completed record convinced him that there was potential in the band and Daevid Allen's musical concept. He joined the band in its Voisines headquarters. In the Spring of 1973, with Allen and Gilli Smyth resting in Mallorca, the rest of Gong toured under the name of Paragong in French youth centres, and when the pair came back, the new consolidated line-up went into the studio to record the second volume of Allen's Radio Gnome trilogy, Angels Egg. In the meantime, Moerlen had been recruited by Mike Oldfield to appear, alongside an impressive cast of Canterbury scene musicians like Steve Hillage, Mike Ratledge, Fred Frith, Kevin Ayers, John Greaves and David Bedford, at a live performance of Oldfield's just-released Tubular Bells at the Queen Elizabeth Hall. Moerlen's time in Gong was one of constantly leaving the band, then joining in again, which led to using a lot of replacement drummers. But he was unsure whether this was the right place for him to be, and he kept returning to Strasbourg to work and tour with the Percussions de Strasbourg, as well as continuing work on his own percussion music. He came back to the Gong fold during the Summer of 1974 to work on the You album, but left again once it was completed. It was in the subsequent period that he wrote pieces like "Mandrake" and "Expresso". Then in July 1975, Moerlen received a phonecall from Virgin, asking him if he would agree to rejoin Gong and lead the band with Didier Malherbe : Allen, Smyth and Tim Blake had all left the previous Spring. This offer came as a replacement for the solo project that Virgin had accepted to release, so it was a tough decision to take, but finally Moerlen agreed and brought with him both Mireille Bauer (who in the meantime had guested on both Angels Egg and You) and Patrice Lemoine (who had sat in with Gong at a gig in Strasbourg in 1973). At first, the new Gong tried to maintain a continuity with the concepts created by Daevid Allen, with Hillage and his girlfriend Miquette Giraudy taking on Allen and Smyth's roles, but this approach proved a failure. By the time work started on Shamal in late 1975, after an extensive British tour with Clearlight opening, a new direction had been defined, and Steve Hillage was not too enthusiastic about it. Having enjoyed reasonable success with his first solo album, Fish Rising, he decided to concentrate on a solo career. Recruiting Clearlight violinist Jorge Pinchevsky as replacement, Gong finished the album and embarked on a long European tour. But the line-up didn't last long, and by the Summer of 1976 only Moerlen, Bauer and Malherbe were left. The latter recruited guitarist Allan Holdsworth, while Moerlen decided to further increase the percussive dimension of Gong, adding his brother Benoît to the line-up. Bassist Francis Moze, late of the Flying Teapot line-up, came back to the fold, alongside his friend Mino Cinélu, a promising young conga player. This new team toured Europe in the Summer of 1976, then headed to the studio, recording Gazeuse! before splitting up again soon after its completion. Following the split, Pierre Moerlen went to live in New York for a few months and met bass player Hansford Rowe, aged 22. 'Hanny' was involved in a band whose drummer had to leave to join the army, so Pierre replaced him for a few weeks and the pair forged a very special musical relationship. Back in his hometown of Strasbourg, France, in the late winter of 1976/77, Moerlen decided to form a new line-up of Gong with Rowe, and recruited former members Mireille Bauer (vibes and percussion), Jorge Pinchevsky (violin) and Benoit Moerlen (vibes), his younger brother, along with a youthful newcomer, François Causse (on percussion also). During the following months, this line-up often toured under the name Gong-Expresso, making its debut performance at the Gong family gathering of Paris, Porte de Pantin, May 1977, which witness the reformation of the 'classic' Gong line-up. Following Pinchevsky's departure (he subsequently vanished from the surface of the earth), several lead players guested on album and gigs (although at times only the basic percussion-led quintet performed), including Didier Malherbe, Darryl Way (violin player of Curved Air), Bon Lozaga, Allan Holdsworth and Mick Taylor. The latter four guested on the Expresso II album which, although recorded in the summer of 1977, only came out the following spring. This was the band's final release for Virgin and its release coincided with the name change to Pierre Moerlen's Gong. This period saw the departure of Mireille Bauer to the jazz-rock band Edition Speciale. Her relationship with Moerlen had by then become a purely musical one (she now lived with ex-Gong bass player Francis Moze while Moerlen was married with a child) and she felt she needed a bit of fresh air. She was not replaced, although a permanent guitarist, Ross Record, was recruited to fill the gap, and appeared on the subsequent album Downwind, which again was graced with superb guest appearances by Didier Lockwood (of the French bands Magma, Zao and Clearlight, not to mention his own Surya), Mike Oldfield (who co-produced the title-track), Steve Winwood and Didier Malherbe. After a few gigs with the new line-up, it became apparent that Ross Record was suffering from severe stagefright, so Moerlen summoned back Bon Lozaga, who in the meantime had gone back to live in the States. The trio of Lozaga, Rowe and Moerlen would be the mainstay of PMG until its demise in 1981. The band kept touring, but it had to be put on hold for a couple of months while the Moerlen brothers were touring Europe with Mike Oldfield. This marked the end of Benoït's involvement in the band, and for subsequent tours François Causse came back. Exhausted from incessant touring, Moerlen rented a house in Ireland with his wife and son, and wrote a complete album there, which would surface as Time Is The Key, considered by Pierre to be his best. It was recorded by Moerlen, Bon and Hanny with help from Peter Lemer on keyboards and various guests (Allan Holdsworth, Darryl Way, Nico Ramsden). This effort highlighted Moerlen's talents on a variety of tuned percussion instruments, making good use of overdubbing facilities. Of particular note was the superb introduction, "Ard Na Greine", with its intertwined vibraphone, glockenspiel, marimba and tympani over layers of synthesizers. During the following months, both Moerlen and Hansford were employed by Mike Oldfield for session work and touring, so there was no new album from Pierre Moerlen's Gong until 1981's Leave It Open. This final effort carried on in a similar vein to its predecessor, albeit a more inconsistent one. Following a change in the management of the band's label, Arista, PMG were dropped and forced to split up. There followed a period of uncertainty for Moerlen. After failing auditions for a couple of French pop singers, he briefly joined Magma but didn't get on well with Christian Vander (who does?) and preferred to turn to drum teaching in his native Strasbourg. In 1982 and 1983, he also worked again with Mike Oldfield, mainly in a live setting (although he does appear in the video of "Moonlight Shadow", miming to Simon Phillips' drum parts!). Then in the spring of 1985, Moerlen received a call from Tribute, a Swedish band he'd already been in touch with three years previously. At the time, the band wanted to hire him to play drums on an album but had to give up the idea. Now Tribute was a well-established gigging band and had both a Swedish and European tour in sight. This sounded good to Moerlen who joined Tribute, ultimately staying for two years and playing on two albums : the studio effort Breaking Barriers (1986), to which he contributed the beautiful closing piece "I Felt Like It"; and the live album Live - The Melody, The Beat, The Heart (1987). While in Sweden, he also recorded an album of his own compositions (one of which, "Far East", was played live at Tribute gigs) with the help of Tribute musicians. However, he asked Hansford Rowe to add bass parts to the tapes, and thus released the album under the Pierre Moerlen's Gong name. In 1987, Tribute ground to a halt (it later reformed under Gideon Andersson's sole guidance) and Moerlen formed a new PMG line-up back in France, with Hansford Rowe, Benoît Moerlen, ex-Tribute guitarist Ake Zieden and new members Frank Fischer (keyboards) and Stefan Traub (vibraphone). That line-up would tour Germany twice between 1987-89 (as documented on a forthcoming live CD), and record yet another album, Second Wind (1989), the band's most democratic effort to date, and one of their best. Unfortunately, things weren't as great from a financial point of view, and PMG broke up for good during 1989. Both Moerlen and his brother Benoît returned to teaching, while Rowe crossed the Atlantic again to settle in Montreal. Eventually, Moerlen began to work as resident drummer in several big musicals (Evita, Les Misérables etc.) and toured in Europe and the US with them, while Rowe formed Bon with Bon Lozaga, who in the meantime had quit the music scene to run a restaurant. There was talking of reviving PMG in 1994, but eventually the project became Gongzilla, a band featuring Lozaga, Rowe and Benoit Moerlen, but not Pierre, who did however join the band on a temporary basis in 2002 for a European tour. In March 1997 it was announced that Moerlen was joining Brand X for a tour of Japan, which regular drummer Frank Katz had declined to do. This series of gigs proved successful and he stayed for a further tour of Europe in May and June. In the meantime, he had also agreed to rejoin Gong following Pip Pyle's departure, in August 1997. He stayed on for a further French tour in 1998, but left two dates into the spring 1999 European tour under controversial circumstances. After leaving Gong, Moerlen resumed teaching and worked on compositions for a new album and a new incarnation of PMG. Spring 2000 saw a couple of live appearances which proved unsatisfactory. He had just begun rehearsing a new group, when the tragic news of Pierre's sudden death was released. © http://calyx.perso.neuf.fr/mus/moerlen_pierre.html