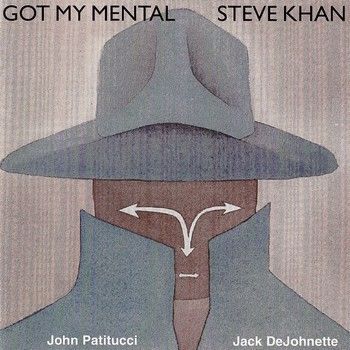 Steve Khan
-
Got My Mental
-
1997
-
Evidence
Steve Khan began playing guitar when he was 19, after discovering that drumming was not his forte. As well as a considerable solo output, he is now regarded as one of the great session jazz guitarists, and a giant of progressive jazz and jazz fusion. He has performed with jazz and rock artists like Donald Fagan, (appearing on Steely Dan's Aja and Gaucho albums), Miles Davis, James Brown, Aretha Franklin, Chaka Kahn, Lou Rawls, and Quincey Jones. "Got My Mental" brings Steve together for the first time with John Patitucci on acoustic bass and Jack DeJohnette on drums. Once again Steve uses his unique playing style to interpret the works of Wayne Shorter, Ornette Coleman, Lee Morgan, Eddie Harris, and standards by Rodgers & Hammerstein as well as Steve's father with Jimmy Van Heusen. The latter is a remarkable and beautiful cover of the Sinatra classic "The Last Dance." On four of the eight tracks, the trio is joined by percussionists Bobby Allende, Marc Quiñones, and Don Alias. The Brazilian percussionist Café also plays brilliantly on "I Have Dreamed." Steve Khan has always tried to bring something new to all his recordings, and he doesn't disappoint here. He is an intense and creative player who loves exploring new challenges in jazz. Read any article about great contemporary jazz guitar and you will nearly always find Steve Khan's name mentioned regarding the innovative qualities and freshness that he brings to the genre. The album is
HR by A.O.O.F.C.
If you like this album, you should give his "Eyewitness" album a listen.
[

All tracks @ 192 Kbps: File size = 98.5 Mb

]
TRACKS / COMPOSERS
1. R.P.D.D. - Ornette Coleman 7:29
2. Paraphernalia - Wayne Shorter 8:33
3. Common Mama - Keith Jarrett 6:31
4. Got My Mental - Steve Khan 9:40
5. The Last Dance - Sammy Cahn, James Van Heusen 8:41
6. Sham Time - Eddie Harris 8:25
7. I Have Dreamed - Richard Rodgers, Oscar Hammerstein 9:20
8. Cunning Lee - Lee Morgan 9:06
MUSICIANS
Steve Khan - Guitar
John Patitucci - Bass
Jack DeJohnette - Drums
Don Alias -Timbales on Tracks 3,6: Shekeré on Track 2
Marc Quiñones - Timbales on Track 2
Bobby Allende - Congas, Guiro on Tracks 2,3,6
Café - Berimbau, Percussion, Voice on Track 7
ABOUT
STEVE KHAN
In a special issue of Japan's "JAZZ LIFE" magazine, they selected the 22 All-Time Greatest Jazz Guitarists. Of course, legends like Charlie Christian, Django Reinhardt, Wes Montgomery, Kenny Burrell, and Jim Hall were included alongside more recent giants George Benson, Pat Martino, Larry Coryell, and John McLaughlin. But right there amongst contemporaries John Abercrombie, Pat Metheny, John Scofield, Mike Stern and Bill Frisell was Steve Khan! Testament to a large body of work which now spans more than 30 years. Hard to believe this dream began at a rather late age with Wes Montgomery held as the model to which to aspire. Steve admits that, when he was a teenager, "I was a terrible drummer with no musical training. I had developed a love for the guitar, and when I was 19 I switched instruments. I decided that I would not make the same mistakes I had made with the drums and studied hard in college along with private lessons from Ron Anthony." During these years, Khan always found himself in fast company and, from such situations he learned, developed and survived. By the time he graduated from U.C.L.A., in 1969, he felt ready to make the move to New York City. From this point forward, so much of Steve's career is well documented. In 1974, he performed in one of the first contemporary jazz guitar duos with Larry Coryell. During this same period, he became a key member of the Brecker Bros. Band. His first recordings as a leader were a trio of well-received albums for Columbia Records titled: "TIGHTROPE"('77), "THE BLUE MAN"('78), and, "ARROWS"('79). These recordings featured Michael and Randy Brecker, David Sanborn, Don Grolnick, Will Lee, Steve Gadd, Mike Mainieri and others. In 1994, Sony Music/Columbia released a CD compilation drawn from these three LPs titled, "THE COLLECTION."
In 1980, Steve began a great transition when he recorded a brilliant solo acoustic guitar album, "EVIDENCE," which paid tribute to his earliest jazz inspirations and served to establish him as one of the great interpreters of the music of Thelonious Monk. Between 1981 and 1985, he worked and recorded steadily with his quartet, Eyewitness, which included Anthony Jackson, Manolo Badrena, and Steve Jordan. Together they made three recordings: "EYEWITNESS"('81), "MODERN TIMES"/"BLADES"('82), and "CASA LOCO"('83). This groundbreaking group, and its recorded work, would come to be regarded as among the most innovative of its time! During 1984, Steve teamed with Steely Dan's Donald Fagen to interpret Thelonious Monk's "Reflections" for the "THAT'S THE WAY I FEEL NOW" recording which was a tribute to Monk and his compositions. When Eyewitness needed a break, Khan joined Joe Zawinul's WEATHER UPDATE for its one and only tour in '86. This was followed by an innovative duet recording with keyboardist Rob Mounsey. The Grammy-nominated CD was titled "LOCAL COLOR" and was released in '87. In 1989, Eyewitness was resurrected with Dave Weckl replacing Steve Jordan for the "PUBLIC ACCESS" ('90) CD. Since that time, Steve has added two highly acclaimed straight-ahead jazz recordings featuring Ron Carter and Al Foster. "LET'S CALL THIS" and "HEADLINE" were released in '91 and '92 respectively. In '94, Steve found himself back in the company of Anthony Jackson and Manolo Badrena, adding Dennis Chambers and Michael Brecker for "CROSSINGS," which is dedicated to the memory of Steve's late father, lyricist Sammy Cahn. Steve has contributed his talents to several special projects. His unique medley of two George Harrison tunes graced Mike Mainieri's NYC Records "COME TOGETHER," A Guitar Tribute to the Beatles. Here Steve was accompanied by Marc Johnson, Peter Erskine, and Nana Vasconcelos. Special Olympics and the Holiday Season brought Steve together with the Brecker Bros. for a Salsa-styled interpretation of his father's one Christmas song, "The Christmas Waltz," which appeared on the "JAZZ TO THE WORLD" CD. 1996 saw Steve teamed with Argentine vocalist Gabriela Anders, Rob Mounsey, and, New York Salsa All-Stars Rubén Rodríguez, Marc Quiñones, and Papo Pepin to contribute "Don't Worry Baby"("No Te Preocupes Nena") to "WOULDN'T IT BE NICE." a tribute to Brian Wilson. Recorded in 1996, "GOT MY MENTAL" brings Steve together for the first time with John Patitucci on acoustic bass and Jack DeJohnette on drums. The CD once again finds him using his unique playing and arranging perspective to interpret the works of Wayne Shorter, Ornette Coleman, Lee Morgan, Eddie Harris, and standards by Rodgers & Hammerstein as well as Steve's father with Jimmy Van Heusen. The latter is a stunningly beautiful rendering of the Sinatra classic "The Last Dance." On four of the eight tracks, the trio is joined at times by percussionists Bobby Allende, Marc Quiñones, and Don Alias. Brasilian percussionist Café lends his special talents to Steve's romantic journey through "I Have Dreamed." The intensity and creativity brought to the sessions shows Steve's unfailing desire to meet new challenges and explore them. These qualities cause his name to always be mentioned when discussions of contemporary jazz guitar are carried on. 1997 saw Steve reunite with Rob Mounsey to record "YOU ARE HERE." It had been nearly 10 years since the release of "LOCAL COLOR" and the duo was anxious to get back at it again. Like the prior CD, when these two tremendous musicians get together the music tends to defy categorization, but the new recording seemed to sit somewhere between a contemporary version of Latin jazz and World Music jazz. Also in keeping with their previous work, Steve is again heard on only acoustic guitars. Reminding us all, that he is one of the instruments most unique stylists, playing melodies and solos with a touch and phrasing all his own. One brand new dimension for "YOU ARE HERE" was the presence of Latin percussion virtuoso Marc Quiñones. Marc brought his spirit and power to signature compositions by Khan-Mounsey like "Clafouti," "Platanos Maduros," and "Peanut Soup." Released in September of 1998, the recording leaves little doubt that Steve and Rob are blazing a trail of their own making. August of '98, Steve toured Japan as part of Dave Samuels' "Tribute to Cal Tjader" Group. Apart from the tremendous reaction the group received, the tour was to have more far reaching consequences as it was here that plans were made for Steve, Dave Samuels and Dave Valentín to become the co-leaders of the reformed Caribbean Jazz Project. Together, the group recorded "NEW HORIZONS"(2000) was released on Concord Picante "PARAÍSO"(2001) both were released on Concord Picante and served to redefine just what the role of the guitar could be in Latin Jazz. However, in January of '02, citing conflicts over the group's direction, Steve chose to leave the group, and pursue other interests. After a nine year absence from recording as a leader, Steve entered Avatar Studios in May of 2005, accompanied once again by John Patitucci and Jack DeJohnette to record "THE GREEN FIELD." The return of longtime colleague, Manolo Badrena on percussion was most welcomed by all fans who appreciate his unique presence. The 18:05 title track is one of the absolute highpoints in Steve's long recording career. In addtition to the 6 quartet pieces, the basic "trio" was joined by Ralph Irizarry(timbal) and Roberto Quintero(conga & percussion) for Latin treatments of tunes such as: "Riot"(Herbie Hancock); the standard, "You Stepped Out of a Dream"; "Nefertiti"(Wayne Shorter) and, a special tribute, composed by Steve, and dedicated to both Tito Puente and Willie Bobo, which features incredible solos from Roberto, Ralph, and Jack, and is titled, "Cosecha lo que has sembrado." 2007 saw the release of the Grammy nominated "BORROWED TIME" and, for the first time since "CROSSINGS," the cover featured the beautiful artwork of the late Jean-Michel Folon. The recording is an extension of Steve's work with both John Patitucci and Jack DeJohnette and attempts to fulfill the promise of "THE GREEN FIELD." Manolo Badrena is on hand again, as are Ralph Irizarry(timbal) and Roberto Quintero(conga & percussion). All these players were joined by Bob Mintzer(bass clarinet) and tabla master Badal Roy for Steve's very original "El Faquir" which seeks to blend Jazz; Indian and Latin genres in a most surprising way. Steve was also able to present arrangements of "Have You Met Miss Jones?" and his own "Face Value" in tribute to Clare Fischer's harmonies. These spectacular tracks feature old friends: Randy Brecker(flügelhorn), Rob Mounsey(keys.), Rubén Rodríguez(baby bass & elec. bass) and, Marc Quiñones(timbal) & Bobby Allende(conga). After years of bootlegs and illegal downloads, 2008 brings with it the release of the 2-CD set, "THE SUITCASE." As was the case for the prior two CDs, the initial releases were on: 55 Records(Japan); Tone Center Records(USA) and ESC Records(Germany/Europe). Alongside longtime bandmates, Anthony Jackson and Dennis Chambers, the trio was originally recorded by WDR for a live radio broadcast from Köln, Germany in 1994. With the superb sound quality and the spectacular performances, this CD is already being hailed as: "One of the greatest live recordings of all-time!!!" Throughout his long and distinguished career, Steve has found time to lend his talents to recordings by such diverse artists as: Miles Davis, Steely Dan, James Brown, Aretha Franklin, Chaka Khan, Quincy Jones, Lou Rawls, Eddie Palmieri, Gil Evans, Freddie Hubbard, the Brecker Bros., Steps Ahead, among others (too numerous to list). He has also produced recordings for fellow guitarists Larry Coryell, Mike Stern, Biréli Lagrène, and Bill Connors, as well as pianist Eliane Elias. In addition, he has published five highly-regarded books: "WES MONTGOMERY GUITAR FOLIO", "PAT MARTINO-The Early Years", "GUITAR WORKSHOP SERIES-Steve Khan"(this book really functions as an Eyewitness Songbook), and most recently, "CONTEMPORARY CHORD KHANCEPTS." 2002 saw the long-awaited publication of Steve's "PENTATONIC KHANCEPTS" which is intended to serve as the linear adjunct to its chordal predecessor. While continuing to perform in clubs and concert halls throughout the U.S., Europe, Central and South America, and Japan, Steve has also become one of the most in-demand music clinicians and teachers. © www.stevekhan.com/khanbio.htm