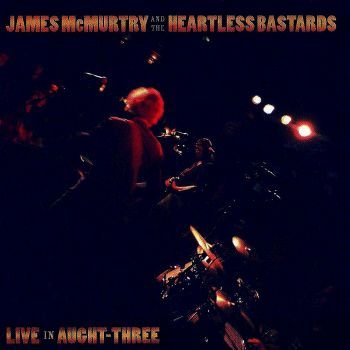 James McMurtry
&
The Heartless Bastards
-
Live In Aught-Three
-
2004
-
Compadre Records
In his regular column for Entertainment Weekly, noted author (and passionate rock 'n' roll enthusiast) Stephen King cited McMurtry as "the truest, fiercest songwriter of his generation." A very underrated singer, musician and brilliant songwriter, James McMurtry from Fort Worth, Texas has a lot of great songs under his belt. Lyrically, the guy is a great storyteller. Like Leonard Cohen, Mose Allison, Janis Ian, Tino Gonzales or the young Dylan, James writes songs often with a socio-political theme. He writes evocative lyrics, often cynical and dry, but never boring, and like the aforementioned artists he has the rare talent of writing great music for what often sounds like dull topics. His music is steeped in Americana, and with a small band he produces brilliant music. "Live In Aught-Three" is
HR by A.O.O.F.C.
Buy James' great "Just Us Kids" album. Support real music and real talent
[
All tracks @ 320 Kbps: File size = 175.1 Mb
]
TRACKS
1 Saint Mary of the Woods - Flash/Hess/Johnson/James McMurtry
2 Fraulein O.
3 Red Dress
4 No More Buffalo
5 60 Acres
6 Rachel's Song
7 Out Here In The Middle
8 Choctaw Bingo
9 Lights of Cheyenne - Johnson/James McMurtry
10 Levelland
11 Max's Theorem
12 I'm Not from Here
13 Too Long in the Wasteland
14 Rex's Blues - Townes Van Zandt
All songs composed by James McMurtry except where stated
MUSICIANS
James McMurtry - Guitar, Vocals
Ronnie Johnson - Guitar (Bass), Vocal Harmony
Daren Hess - Drums
Tim Holt - House Sound
RECORDING INFO.
12th & Porter, Nashville, TN (05/16/2003-11/15/2003); John Barleycorn's, Wichita, KS (05/16/2003-11/15/2003); The Orange Peel, Asheville, NC (05/16/2003-11/15/2003); Zephyr Club, Salt Lake City, UT (05/16/2003-11/15/2003).
REVIEWS
James McMurtry's written plenty of great songs, but he's never made a great album. His character sketches and stories have always rung true, and he's as perceptive a chronicler of the disaffected and alienated as you'll find, but his limited vocal range and sometimes almost-indifferent delivery have made even his best discs, Too Long in the Wasteland and Where'd You Hide the Body a struggle to get through. Live in Aught-Three isn't a great album, but the live setting lets McMurtry and his backing group, the Heartless Bastards, breathe real rock & roll life into many of these songs for the first time. "Levelland," an account of stasis in the fly-over land, aches with a longing for something, anything, that's more exciting than high-school football games and farms, and "Red Dress" burns with an angry intensity that you'd never have guessed McMurtry had in him. We also get a dose of McMurtry's deadpan humor on a few between-song asides ("I used to think I was an artist. Come to find out I'm a beer salesman") and a hilarious delineation between intellectuals and good ol' boys. In fact, the strongest material here — and McMurtry's best work overall — are the ones in which he finds both the humor and the pathos in quirky, nasty characters like the ticked-off heir to the worthless farmland of "60 Acres," or the twisted crew at a family reunion in "Choctaw Bingo." If McMurtry's albums haven't caught your attention before, Live in Aught-Three is a perfect opportunity to reassess him. © Eric Schumacher-Rasmussen © 2010 Rovi Corporation. All Rights Reserved http://www.allmusic.com/cg/amg.dll?p=amg&sql=10:0nfqxqqaldae
Though he's rightly revered as a pungent, literate songsmith, McMurtry would be just as happy to go down in history as a rocker, a scathing guitar-slinger equal parts Keith Richards and Neil Young. For the most part, McMurtry's first live recording (drawn from four separate gigs in Salt Lake City, Nashville, and Asheville, N.C.) slams that point home with droning fuzz-tone guitar jams and a rhythm section that measures up to Crazy Horse's pounding gravity. Even Townes Van Zandt's gorgeous "Rex's Blues" roars without compromise. With the exception of the relatively understated "Rachel's Song," "Out Here in the Middle," and one of his best new lyrics in years, "Lights of Cheyenne" (previously unreleased and rendered solo here), the trio find a slash-and-burn sonic equivalent to the songwriter's withering social commentaries, often trumping their original versions. © Roy Kasten © 1996-2010, Amazon.com, Inc. or its affiliates http://www.amazon.com/Aught-Three-James-Mcmurtry-Heartless-Bastards/dp/B0001HAI72
When you think of a James McMurtry character, you envision someone staring out over the plains or the water or the highway. Nevermind that the plains are filling up with strip malls, or that the water's banks are infested with lake houses, or that, for all the highway stretched out like the future, there's a good bit that's already been traveled like the past. It's tempting to think of McMurtry as a high-plains drifter version of John Mellencamp, but when McMurtry sings from the perspective of someone who inherits farmland, they're usually moaning that it isn't suitable for a WalMart. Nevertheless, McMurtry's characters can be a contemplative bunch, using those wide open vistas and changing horizons to create keen observations. As the son of writer Larry McMurtry, James McMurtry gets it honest. In fact, the younger McMurtry took a few knocks early in his career for the writing advice his father supposedly provided. I don't know about you, but if I had the author of Lonesome Dove for a dad, I'd kidnap him and bring him on tour just for the chance to sit at his feet while he doled out character development wisdom. James McMurtry, though, has come into his own -- quietly since he debuted with some fanfare with 1989's Too Long in the Wasteland. Typically alternating between two tempos -- a dusty plains boogie and Texas-hewn acoustic balladry -- McMurtry's tales are often sad, occasionally wry, and more often than not, spot-on evocations of inner thoughts. Live in Aught-Three brings those abilities into sharp focus. Recorded over two nights at Nashville's 12th & Porter and one night at The Orange Peel in Asheville, North Carolina, the disc finds McMurtry and his crack band, the Heartless Bastards, trolling through his catalog and confirming his status as a songwriting force worth noticing. The song selection stretches across his career (although "Too Long in the Wasteland" is the only song to make the cut from his excellent debut), and the sound is typically lean, even snarling in places. The Heartless Bastards don't try to be a roadhouse band, but there's a remarkable absence of fat in the arrangements, which is fitting given McMurtry's customary economy with words. Live in Aught-Three really gets going about 1/3 of the way in, when McMurtry settles into a batch of songs that examines the juxtaposition of old-fashioned purity and modern encroachment in rural America. "No More Buffalo" teems with "ah hell" realizations, while "60 Acres" explores the more pragmatic side of inheritance. Nimble guitar and a solemn drum beat attempt to pull "Rachel's Song" in two different directions, befitting the ambivalence of the lyrics. Equally uncertain but more sardonic is "Out Here in the Middle", which works up to a soaring chorus full of McMurtry's trademark wryness. The narrator's pride that you can leave your doors unlocked mixes with the bittersweet observation that Starbucks has come to town. He observes that the area contains "amber waves of grain and bathtub speed", states ominously that "applicants are screened with a fine-toothed comb", and that it's a place "where the center's to the right and the ghost of William Jennings Bryant preaches every night". Following that is a head-first dive into "Choctaw Bingo", a meth-cookin', arms-hoardin', Asian-bride-orderin', 2nd-cousin-lustin' tale that rides a locomotive riff for all it's worth. The unreleased live favorite "Lights of Cheyenne" drops things down to a personal, but no less wistful, level, with the lights of the title acting as a beacon of different sorts for the song's characters. "Levelland" sets its tone early with the line "Flatter than a tabeltop / Makes you wonder why they stopped here / Wagon must have lost a wheel / Or they lost ambition, one". McMurtry ends the disc on an uptemp note, with the briskness of "I'm Not From Here", followed by a gasoline-soaked bluesy take on "Too Long in the Wasteland" and a nod to Townes Van Zandt with "Rex's Blues". All in all, Live in Aught-Three is a decent introduction to McMurtry, and it definitely works as a snapshot of where McMurty is now. All those songs of adult restlessness and of finding little personal patches of freedom mark McMurtry as a legitimate inheritor of the Texas songwriting tradition. Over the course of his career, McMurtry's settled into his niche so comfortably that it's easy to take him for granted; Live in Aught-Three, though, goes a long way towards shining a proper spotlight on a songwriter who some people may have forgotten. © Andrew Gilstrap PopMatters Associate Music Editor 19 March 2004 © 1999-2009 PopMatters.com. All rights reserved http://www.popmatters.com/music/reviews/m/mcmurtryjames-livein03.shtml
BIO
Texas singer/songwriter James McMurtry, known for his hard-edged character sketches, comes from a literary family; his father, novelist and screenwriter Larry McMurtry, gave James his first guitar at age seven, and his mother, an English professor, taught him how to play it. McMurtry began performing his own songs while a student at the University of Arizona and continued to do so after returning home and taking a job as a bartender. When it transpired that a film script McMurtry's father had written was being directed by John Mellencamp, who was also its star, McMurtry's demo tape was passed along, and Mellencamp was duly impressed, serving as co-producer on McMurtry's 1989 debut album, Too Long in the Wasteland. McMurtry also appeared on the soundtrack of the film (Falling from Grace), working with Mellencamp, John Prine, Joe Ely, and Dwight Yoakam in a one-off supergroup called Buzzin' Cousins. McMurtry has continued to record, releasing albums in 1992 and 1995. Walk Between the Raindrops followed in 1998, and 2002 saw the release of Saint Mary of the Woods, his last for the Sugar Hill label. He signed with Compadre the following year, releasing Live in Aught-Three in 2004 and Childish Things in 2005. Just Us Kids appeared in 2008 on Lightning Rod Records, with another concert album, Live in Europe, arriving in 2009. © Steve Huey, Rovi © http://www.answers.com/topic/james-mcmurtry#Discography_d
BIO
(WIKIPEDIA)
James McMurtry (born March 18, 1962 in Fort Worth, is a Texas rock and Americana music singer, songwriter, guitarist, bandleader and occasional actor (Daisy Miller, Lonesome Dove). With his veteran bandmates and rhythm section The Heartless Bastards (Darren Hess and Ronnie Johnson) he tours regions of the United States and, increasingly, Europe, for parts of each year, performing in intimate and mid-sized venues, especially those with dancing room for his audiences. His father, novelist Larry McMurtry, gave him his first guitar at age seven. His mother, an English professor, taught him how to play it: "My mother taught me three chords and the rest I just stole as I went along. I learned everything by ear or by watching people." James spent the first seven years of his boyhood in Ft. Worth but was raised mostly in Leesburg, Virginia. He attended the Woodberry Forest School, Orange, Virginia. He began performing in his teens, writing bits and pieces. He started performing his own songs at a downtown beer garden while studying English and Spanish at the University of Arizona in Tucson. After traveling to Alaska and playing a few gigs, James returned to Texas and his father's "little bitty ranch house crammed with 10,000 books". After a time, he left for San Antonio, where he worked as a house painter, actor, bartender, and sometimes singer, performing at writer's nights and open mics. In 1987, a friend in San Antonio suggested he enter the New Folk songwriter contest. He was one of six winners that year. John Mellencamp was starring in a film based on a script by James's father, which gave James the opportunity to get a demo tape to Mellencamp. Mellencamp subsequently served as co-producer on McMurtry's 1989 debut album, Too Long in the Wasteland. McMurtry also appeared on the soundtrack of the film Falling from Grace, working with Mellencamp, John Prine, Joe Ely, and Dwight Yoakam in a "supergroup" called Buzzin' Cousins. McMurtry released follow-up albums in Candyland (1992) and Where'd You Hide the Body (1995). Walk Between the Raindrops followed in 1998 and 2002 brought St. Mary of the Woods. In April 2004, McMurtry released a tour album called Live In Aught-Three. In 2005, McMurtry released his first studio album in 3 years. Childish Things again received high critical praise, culminating in him winning the song and album of the year at the 5th Annual Americana Awards in Nashville, Tennessee. The album was perhaps McMurtry at his most political, as his working-class anthem "We Can't Make It Here" included direct criticism of George W. Bush, the Iraq War, and Wal-Mart. McMurtry released his follow up album to Childish Things in April 2008. Just Us Kids continued with the previous album's political themes and included the song Cheney's Toy, McMurtry's most direct criticism of George W. Bush so far. Like We Can't Make It Here from the previous album, Cheney's Toy was made available as a free Internet download. James McMurtry currently resides in Austin, Texas. When in Austin McMurtry and The Heartless Bastards play a midnight set at The Continental Club on Wednesday nights. He's usually preceded by another Austin roots rock legend, Jon Dee Graham.