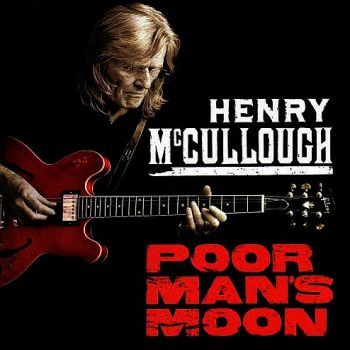 Henry McCullough
-
Poor Man's Moon
-
2008
-
Silverwolf
Our old friend Henry McCullough is at it again with his 2008 album Poor Man's Moon, just released in the U.S. The subtle electric guitar master — best known for being the infamous lead on Paul McCartney & Wing's "My Love" — has released a spectacular 11-song electric blues-based rock album that features perfect playing, subtle intricate songwriting and McCullough's truly inspired guitar playing. The album opens with "Burial Ground," a slow dirge-like song with a double great bass from Nicky Scott, McCullough's snappy vocals and super sad slide and Enda Walsh's perfect piano. As Henry told me about this opener: "I have had people sit in me own house and know of people who sit in their own house and listen to Burial Ground and even before the end of it they were in tears." "Big Old River" follows with some chunky electric guitar and rockabilly-like snare; this one is so fun that it almost sounds like Henry McCullough is laughing at times during the vocal. "I've Got A Secret" has some great tickling piano, with McCullough channeling his inner Keith Richards on the vocals with the full complement of Peter McKinney's drums and Roe Butcher's bass. The slower "Walk With Me" features a great lived-in lyric (I so appreciate guys writing from their experience and age), plus a beautiful Percy Robinson steel. The best of the lot as far as middle-rolling solid electric blues is "Belfast Train" with its biting layback feel featuring the players as best they sound throughout the entire CD. With Aidey McIlduff on drums, James Delaney on piano, Roe Butcher on bass and lyrics from McCullough — "I got a suitcase full of nothing except memories and regrets" — how can you really go wrong? Enjoy some great acoustic picking from McCullough in "All Gone Crazy," a sprite-y swirling almost-instrumental tune. It's the perfect length with a spot-on track placement, followed by the great blues rumbling "Time To Put The Snakes To Bed," which sees a great use of slide guitar on acoustic and Henry's players flipping along nicely behind him. The title track (which appears as track 12 here) is commercially snappy, knocking up against John Fogerty territory even. A great overall album, what I can really appreciate about Poor Man's Moon is that McCullough plays as much lead himself as he sits back and lets his fantastic players. ~ Ralph Greco, Jr. © Copyright 1997, 2014 Vintage Rock http://www.vintagerock.com/index.php?option=com_content&view=article&id=1323:henry-mccullough-poor-mans-moon-cd-review&catid=8:new-studio-releases&Itemid=38
Henry McCullough is the legendary guitarist who played in the Grease Band with Joe Cocker at Woodstock and picked the stellar solo on "My Love" during his tenure with Paul McCartney's Wings. Henry returned to Ireland after leaving Wings and now plays all over Europe with his band. He is also a songwriter, and wrote the song "Failed Christian" which has been recorded by Nick Lowe among others. Poor Man's Moon shows the gentler side of Henry's music, with an easy rolling JJ Cale feel. There are Celtic and country tinges to the music, but the prevailing atmosphere is soulful and bluesy. On "Fix Me Up Jesus", Henry softens his arguments with the Church on the earlier classic and stinging "Failed Christian". "Sometimes I wonder what I've become, It's not what I thought when I was young, Tear it all down and start again, You say the word and I'll say Amen". There ia a lived in feel to this music that comes with a lifetime of experience. The songs are beautifully crafted little gems that repay repeated listening and improve every time you hear them. I have had this album in my truck for weeks and it just gets better. Henry's guitar is mostly tastefully restrained within the song structures, but when he lets his Gibson 335 off the leash, he still has some devastating chops. But Henry doesn't show off, he's an old master, a Rembrandt glowing deep shades of gold and silver, a treasure to discover. – from ***** "Celtic guitar god & true master musician" By & © Michael C. Stephens on November 12, 2012 © 1996-2014, Amazon.com, Inc. or its affiliates http://www.amazon.com/Poor-Mans-Moon-Henry-Mccullough/dp/B007FQUHOG
During the fade - out of Pink Floyd's Money, a voice nonchalantly states, "I don't know; I was really drunk at the time". These words were spoken by the late, great Irish musician, Henry McCullough, one-time member of Paul McCartney's Wings, and session guitarist to artists that include Joe Cocker, Jimi Hendrix, Marianne Faithful, Leon Russell and many, many more. "Poor Man's Moon" is a relatively obscure but beautifully constructed album of rock, and blues rock with a nice Celtic touch. Check out Henry's great "Get In The Hole" album.
[
All tracks @ 320 Kbps: File size = 93.5 Mb
]
TRACKS
1 Burial Ground 4:42
2 Big Old River 2:36
3 I've Got a Secret 4:22
4 Too Late to Worry 2:18
5 Poor Man's Moon 5:27
6 Walk With Me 3:55
7 Belfast Train 5:25
8 Skin & Bone 3:06
9 Fix Me Up Jesus 4:32
10 All Gone Crazy 1:37
11 Time To Put the Snakes To Bed 3:01
12 Poor Man's Moon (Reprise) 1:53
All tracks composed by Henry McCullough except Track 6
MUSICIANS
Henry McCullough - Guitars, Vocals
Declan Murphy, Paddy Goodwin - Electric Guitar
Percy Robinson - Dobro, Pedal Steel Guitar, Dobro
Nicky Scott - Double Bass, Bass (electric)
Roe Butcher - Bass
James Delaney, Enda Walsh - Keyboards
Aidey McIlduff - Drums
Peter McKinney - Drums, Sequencing
BIO
(WIKI)
Henry Campbell Liken McCullough (born 21 July 1943, Portstewart) is a Northern Irish guitarist, vocalist and songwriter, who has played guitar in such bands as Sweeney's Men, Spooky Tooth, Paul McCartney & Wings, andThe Grease Band. He turned up in many different places as sideman or a performer in his own right. In 2008, he recorded Poor Man's Moon, featuring the single, "Too Late to Worry." McCullough first came to prominence in the early 1960s as the teenage lead guitarist with The Skyrockets showband from Enniskillen. In 1964, with three other members of The Skyrockets, he left and formed a new showband fronted by South African born vocalist Gene Chetty, which they named Gene and The Gents. In 1967 McCullough moved to Belfast where he joined Chris Stewart (bass), Ernie Graham (vocals) and Dave Lutton (drums) to form the psychedelic band The People. Later that year the band moved to London and were signed by Chas Chandler's management team, who changed the group's name to Éire Apparent. Under Chandler's guidance, despite only having one single released, they toured with groups such as Pink Floyd, Soft Machine, The Move and The Jimi Hendrix Experience, as well as Eric Burdon and the Animals. Things went well until, in Vancouver, Canada in mid February 1968, while the band was touring with The Animals, McCullough was busted for possession of marijuana and sent back to The United Kingdom (officially because of 'visa problems'), and Mick Cox flew out to take his place in the band. Back in Ireland McCullough joined what was primarily a folk group called Sweeney's Men, by May 1968. Under his influence, however, they soon began to mix folk and rock, and are often regarded as the innovators of the folk/rock genre. After a year in Ireland, McCullough returned to London to work with Joe Cocker as a member of his backing group, the Grease Band. With Cocker he toured the U.S. and performed at the Woodstock Festival. McCullough played on The Grease Band's eponymous album after splitting with Cocker, and during his time with the band he also appeared as lead guitarist on the original 1970 recording of Andrew Lloyd Webber and Tim Rice's rock opera Jesus Christ Superstar and on the progressive Spooky Tooth album The Last Puff. In 1971 Paul McCartney asked McCullough to join his new band, Wings, alongside Denny Laine and Denny Seiwell. His guitar solo on "My Love" has been described as one of rock music's greatest solos. Musical differences with McCartney, however, saw McCullough move on the eve of the Band on the Run sessions. He spent two years in the band, playing lead guitar on "Hi, Hi, Hi", "Live and Let Die" as well as "My Love". McCullough's spoken words "I don't know; I was really drunk at the time" can be heard on the Pink Floyd album The Dark Side of the Moon, at the end of the song "Money". He was recalling a fight he had the night before with his wife. McCullough landed from his Wings experience into another two year gig alongside his friend Chris Stewart, keyboard player Mick "Wynder K. Frog" Weaver and drummer Stu Perry into the ironically very Joe Cocker sounding Frankie Miller Band. Miller's "Ain't Got No Money" featuring McCullough's guitar work inspired Bob Seger to write and record "The Fire Down Below". (cited Frankie Miller Band, "The Rock", Chrysalis Records 1975), Bob Seger (countless interviews, Capitol Records Publicity Department 1977-1979) In 1975, McCullough released Mind Your Own Business, his only album on George Harrison's Dark Horse label. McCullough then did some session work, and played concerts with Roy Harper, Frankie Miller, Eric Burdon, Marianne Faithfull, Ronnie Lane and Donovan. In 1977 he temporarily joined Dr. Feelgood, following the departure of Wilko Johnson. Recovering from an injury to his hand while visiting his family in 1980, McCullough decided to stay in Ireland. He began to sit in with some old friends, The Fleadh Cowboys, at their Sunday afternoon residency in The Lower Deck in Dublin, and soon decided to move back to Portstewart and put a new band together. He was joined by Percy Robinson on pedal steel guitar, Roe Butcher on bass and Liam Bradley on drums. In 1998 McCullough went to Poland, where he rehearsed with a band of Polish musicians for an upcoming tour. After the tour, they went into a recording studio and recorded a 'live' album which was released as Blue Sunset. This was followed by a further Polish tour. On returning home, McCullough recorded and released "Failed Christian", a song that has since been covered by Nick Lowe on his album, Dig My Mood. McCullough continued to record and perform and released solo material, including Belfast To Boston (2001) and Unfinished Business (2003). The latter contained his 1998 single, "Failed Christian". McCullough performed at concerts in Northern Ireland and Scotland, playing with a backing band (featuring Stephen Quinn on drums and Sean McCarron on saxophone). McCullough contributed guitar on and organized the band for the Alaskan musician, The Rev Neil Down's, 2003 release, When A Wrong Turns Right. The Henry McCullough Band - FBI Live was released in 2007 on Mundell music, from a recording at The Famous Bein Inn in 2006.In 2007, Over the Rhine covered "Failed Christian" on their album, Live from Nowhere, Vol. II. In late 2007, McCullough teamed up with Dave Sharp (ex Alarm) and together they enlisted Zoot Money on keyboards; Gary Fletcher on bass guitar; and Colin Allen on drums. In January 2008 The Hard Travelers performed their debut gig at The Cellars, Portsmouth. In 2008 McCullough recorded Poor Man's Moon at Amberville Studios and it was released in Ireland only on 5 September 2008. It featured new McCullough compositions, and a number of songs co-written with poet Eamon Carr (of Horslips) including the single, "Too Late to Worry". Among the musicians featured on the album were James Delaney on keyboards; Roe Butcher on electric bass guitar; Nicky Scott on double bass and electric bass guitar; Enda Walsh on keyboards; Adie McIlduff on drums; Percy Robinson on dobro and pedal steel guitar and Peter McKinney on drums/sequencing. In 2007/8 Henry teamed up with USA/Ireland Singer Songwriter and friend Jeff Greene of Acashic/Aurora Records to Record Greene's "Dark Nite of the Soul" album and other musical collaborations at Wind-Mill Lane Studios Dublin Metropolis Studios London and The Sound Kitchen Nashville. McCullough attended Paul McCartney's concert at the O2 in Dublin on 20 December 2009. McCartney publicly acknowledged McCullough's contribution to Wings. On 13 March 2010, McCullough played the Fifestock Festival at the Inn at Lathones, Scotland. This festival was the last one undertaken at that venue, and McCullough's band headlined the event. Henry McCullough was active in the European music scene. He played regular live gigs with artists such as Ed Deane, James Delaney, Noel Bridgeman, and John Quearney, among others. In 2011 Henry collaborated with songwriter Paul Doherty and The Vals on the track 'Look to the One'. The song was a success, gaining much airplay worldwide. Henry contributed backing vocals and his signature guitar sound. Henry suffered a heart attack in November 2012 leaving him in a critical condition. His death was mistakenly reported on Ronan Collins's RTÉ Radio 1 show on 7 November. The BBC was forced to apologise after prematurely reporting his death. In an interview with website Something Else Denny Seiwell a former Wings drummer who played with McCullough in the Paul McCartney-led group, says it's doubtful McCullough will make a complete recovery.