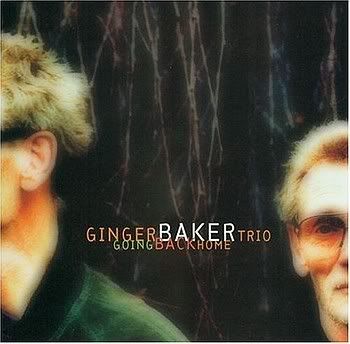 Ginger Baker Trio - Going Back Home - 1994 - Atlantic (USA)
Give Ginger Baker this: He sure knows how to choose his sidemen. In fact, there is a certain pleasant symmetry to his recording career between the mid-'60s and the mid-'90s. It is a career bookended by power trios, first with his partnership with fellow virtuosos Eric Clapton and Jack Bruce in Cream, and then, almost 30 years later and well after most would have written him off as a relic from a bygone era, this trio with Charlie Haden and Bill Frisell. More surprising even than this unlikely partnership is the fact that the album actually works. Most memorable are the Baker-penned compositions, which sport melodies that seem to have more in common with British or Arabic folk music than bebop. As a jazz drummer, Baker is surprisingly convincing on most of the material. The timbre of his drums, unusual for a jazz album, adds a pleasing earthiness to the proceedings, and intersects well with Haden's rich bass. Everything Frisell touches turns to gold, and this album is no exception. Here he is at his quirky, impressionistic best, tossing off Monk quotations as effortlessly as he sculpts darkly ambient textures. Despite these fine achievements, Going Back Home is not perfect. On some of the material, Baker's heavy rock hand shows a bit too much, as on "Straight, No Chaser." The results are charming in their own way, but one wishes that Baker could ease up on the "Sunshine of Your Love" tom-tom fills once in a while. Also, the closer, "East Timor," features an annoying voiceover by Baker that ends the record on an off note. However, the "rockisms" work more often than they don't, and even when they don't, the groove never suffers, and the trio members always sound like they're having fun. By turns hauntingly melancholy and fearlessly experimental, this record is sure to please Frisell and Haden fans, and likely to pleasantly surprise those who enjoy Baker's work with Cream. © Daniel Gioffre, All Music Guide
Inducted into Rock 'n' Roll Hall of Fame for work with Cream, 1993, Ginger Baker has received several gold and platinum records with Cream and Blind Faith. Check out " Fresh Cream ", 1968, " Blind Faith ", Atco, 1969, " Air Force, " Atco, 1970, & " Baker-Gurvitz Army ", Janus, 1975. This album is just another example of the great Ginger Baker's talents. A marvellous jazz blues album.
TRACKS
1. Rambler
2. I Lu Kron
3. Straight No Chaser
4. Ramblin'
5. Ginger Blues
6. Ain Temouchant
7. When We Go
8. In The Moment
9. Spiritual
10. East Timor
BAND
Ginger Baker (drums, spoken vocals);
Bill Frisell (electric guitar);
Charlie Haden (acoustic bass).
All music written by members of the Ginger Baker Trio except "Straight No Chaser" (Thelonious Monk) and "Ramblin'" (Ornette Coleman).
Recorded at Ocean Way Studio A, Hollywood, California, from March 2-5, 1994. Includes liner notes by Chip Stern.
REVIEWS
Ginger Baker of Cream fame gathers together with virtuoso bassist Charlie Haden and guitarist Bill Frisell to produce a jazz album that should appeal to fans of both rock and jazz. Baker's drumming is as good as ever on this album, and accompanied by Haden and Frisell, the trio takes on eight of their own compositions supplemented by Thelonious Monk's "Straight No Chaser" and Ornette Coleman's "Ramblin.'"
Among the most appealing songs are Haden's compositions, in particular "Ginger Blues" has a catchy melody, making it stand out from the rest of the tracks. Haden really seems at home composing jazz for the trio. "East Timor," a track by Baker is hauntingly powerful, mainly because of his spoken narrative lamenting the destruction of this country with the support of outside governments. On "Straight No Chaser," Frisell's guitar admirably performs the piano and sax parts while Haden makes it in there for a solo himself. One might ask why we need yet another version of "Straight No Chaser," while others say that you can never get enough of a good thing. This version is definitely a good thing. Baker's "I Lu Kron" and "Ain Temouchant" have a touch of a Middle Eastern sound. They sound like classic rock at times, but more in the way of mellow jam mode rather than blistering heat. "In the Moment" bends music almost to the breaking point, doesn't quite shatter it--outstanding work by Haden!
This is a solid album that may give some folks a fresh look at Ginger Baker and introduce others to first-rate bassist and jazz composer Charlie Haden. I recommend it to those Cream fans who want to see Baker in a different light and those jazz fans who like Haden but thought that perhaps his recent offering, Now is the Hour, was a bit overly lush at times. This album presents an uncluttered performance by a trio of skillful musicians. This review was written 17 February 1997. © 1997, Leslie Carl Seiler. All rights reserved. http://ourworld.compuserve.com/homepages/lcseiler/baker.htm
For legendary drummer Ginger Baker and his master collaborators (acoustic bassist Charlie Haden and electric guitarist Bill Frisell), music is an open door. Animated by the spirit of jazz improvisation, GOING BACK HOME is an historic super-session, a dancing celebration of diversity--an innovative hybrid of jazz, blues, country, rock and ethnic sources. GOING BACK HOME captures the rich melodic dynamics of Baker's drums and the gut string nuances of Haden's bass--because the rhythm is recorded out front, and bears the weight of each improvisation. So on the guitarist's "Rambler" and "When We Go," Frisell is free to float weightlessly above their throbbing backbeats, evoking facets of Tex-Mex blues, New Orleans second lines, and Hawaiian dances. And if Haden's poignant hymn "Spiritual" and Monk's bluesy "Straight No Chaser" betray a pronounced country air, well, even Ornette Coleman's "Ramblin" comes off like a Hendrixian hoedown. Baker's brief, thundering solo on Haden's tumultuous "In The Moment" is a nod to the spirit of Big Sid Catlett, yet he plays with airy, nuanced delicacy on "Ginger Blues." But most surprising is the quality of Ginger's writing. "Ain Temouchant" is all Arabic mystery, while his chanting theme on "I Lu Kron" inspires a rousing Coltraneish catharsis in only 2:39. But it's Baker's "East Timor," with its Afrocentric rhythm figures, dramatic spoken narrative and wild psychedelic blues jam (shades of Clapton and Cream), that hints at the drummer's true potential as arranger. Which makes GOING BACK HOME one of the great musical surprises of 1994. © 1996 - 2007 CD Universe, www.cduniverse.com/search/xx/music/pid/1097424/a/Going+Back+Home.htm
A rock musician unites with two jazz-oriented players, and the result is a work so deliciously free of fusion that it practically signals a new era of crossgenre interaction. Drummer Ginger Baker, guitarist Bill Frisell and acoustic bassist Charlie Haden make instrumental music that draws on a mutual love of the swing of jazz, the sonic effusiveness of rock and the lyricism of the blues. There's no pretense here: Baker isn't a jazzman, and Frisell and Haden aren't rockers. They find common ground on a bedrock of American vernacular music – rather than in the world music that Baker has explored in the past.
The success of Going Back Home lies in the attention paid to composition and arranging – details that supersede improvisational grandstanding. The tunes are downright catchy, among them Baker's easeful blues songs "Ain Temouchant" and "I Lu Kron," Haden's gospel-soaked "Spiritual" and Frisell's lovely anthem "Rambler." The trio also takes on two durable jazz standards, offering a respectful stab at Thelonious Monk's "Straight No Chaser" and transforming Ornette Coleman's Southwestern-tinged "Ramblin'" into a glorious, jostling romp.
The three men are uniquely suited to one another: Frisell, the so-called guitar nonhero, his eccentric phrasing conveying mood rather than ego; Haden, a lyrical player whose every measured note speaks of deeply felt passion; and Baker, with his loose, swinging cross-rhythms. The united-mind groove of the Baker-Haden rhythm section frees Frisell to contribute the most spirited playing of his recorded career. On "East Timor" (the only piece that specifically invokes Cream with its use of the vamp from "We're Going Wrong" and Baker's time-warp recitation à la "Pressed Rat and Warthog"), Frisell's playing takes on a slamming, near-ecstatic vigor.
Going Back Home signals Baker's evolution from a rock footnote to a vital musician. More than a quarter century after Cream called it a day, Baker has delivered his masterwork. (RS 693), © STEVE FUTTERMAN, (Posted: Oct 20, 1994), © 2007 Rolling Stone
BIO
Born Peter Baker, August 19, 1939, in Lewisham, England; son of a bricklayer; married twice (divorced); children: Ginette, Leda, Kofi (son). Addresses: Home--Colorado. Record company--Atlantic Records, 75 Rockefeller Plaza, New York, NY 10019.
Ginger Baker found his way into the Rock 'n' Roll Hall of Fame by playing the drums with a degree of proficiency and expression matched by few others. He first gained fame in the late 1960s with Eric Clapton and Jack Bruce as Cream, a now-legendary band that infused blues and jazz into rock and roll, producing an original and deeply textured sound. In its two-year existence, the English trio sold over 15 million records and played to adoring crowds and critical acclaim. Baker had much to do with the band's success--and likewise much to do with the band's demise.
Baker began as an aspiring jazzman and found himself a rock demigod. His brisk, purely businesslike approach caused him problems with his fellow musicians, and drug dependency cast a dark shadow over his career and his relationships. But since the late 1980s, the 50-year-old-plus father of three has straightened out his personal life, rekindled his interest in jazz, and enjoyed several successful solo and ensemble projects.
Born the son of a bricklayer, Baker dreamed as a youth of athletic rather than musical greatness. At the age of 15, he was a champion cyclist, winning a club title and courting aspirations of further success. But music eventually captured his attention. His first instrument, the trumpet, was soon replaced by a pair of drumsticks. Early on, Baker hoped to become a jazz drummer, playing on London's traditional jazz scene in the late 1950s and early 1960s.
Baker's after-school hours were spent jamming with noted jazz musicians Acker Bilk and Terry Lightfoot, as well as sitting in with several others. The bebop sound was his early focus. "When I was at school, I was listening to Max Roach, Philly Joe Jones, Art Blakely, Elvin Jones. Then I was in a trad jazz band, and they wanted me to play the Baby Dodds parts, so they gave me all these records to listen to. That was a complete revolution to me, 'cause all of a sudden you can see where Max and these guys came from. That had an enormous effect, which still comes out," Baker told Musician.
Baker's early experience with bebop and traditional jazz honed his technique and helped him acquire an impeccable sense of rhythm. His energetic phrasing makes him more than a timekeeper, giving him more creative impact than many drummers--jazz or otherwise. He told Down Beat, "When Philly Joe Jones heard me play in London, he came up to me and said, 'Man, you really tell a story when you play.' That's the biggest compliment I've ever had, because I loved Philly Joe Jones. Playing drums is the same as playing a horn. You're saying something musically."
After several stints drumming with London jazz outfits, Baker joined Alexis Korner's Blues Inc. The offer was extended following the departure of Charlie Watts, who left to join Mick Jagger, Keith Richards, Bill Wyman, and Brian Jones of the Rolling Stones in 1962. With Blues Inc., Baker played with bassist Jack Bruce. The two eventually joined the Graham Bond Trio and then merged with Clapton to form Cream.
Baker's experience with jazz and R&B brought Cream to unknown levels of musicianship and technical ability in the rock world. Baker and Bruce provided an intricate, blues-oriented rhythm for Clapton's guitar work. Of Clapton, Baker commented in Musician, "Man he used to just go for it. Incredible things were happening, time-wise. The first time we got together, we played for hours and hours. No two gigs were ever the same." Though the band formed in 1966 with immediate success, tension between members would force their split-up just two years later.
Baker developed a fondness for heroin early in his career, and this mounting addiction expedited Cream's end. "I was an evil person back then.... I was a junkie and didn't know fear," Baker told People. Jack Bruce and lyricist Pete Brown wrote most of Cream's material, while, much to Baker's chagrin, Clapton was generally regarded as the band's frontman. "What really riles me is that most people thought that Cream was Eric Clapton's band. Not only do I not get much financial reward for the whole thing, I don't get any credit from either of the other two, which is really why I don't speak to them very much," he noted in Down Beat.
Clapton and Baker remained together for another project, Blind Faith. Together with Steve Winwood (guitar, vocals, and keyboards) and Rick Grech (bass), Blind Faith formed in 1969, debuting before 100,000 fans in London's Hyde Park. A huge-selling album prompted European and American tours. Dissension in the band and Baker's growing substance abuse problems caused a split that same year, though not before the group scored two hits in the States, "Can't Find My Way Home" and "Presence of the Lord." Concerning the demise of Blind Faith, Baker explained to People, "I got messed up with drugs again and had a long holiday to get straight. When I got back to England, Steve told me Eric had run off to form Derek and the Dominos."
After Blind Faith, Baker formed Ginger Baker's Air Force, a big band complete with horns, percussion, and a few woodwinds. The jazz-rock ensemble recorded two albums with various lineups and limited success. Notably, the band showcased Baker's growing interest in African music; he even invited African percussionists to join them for guest performances. Ginger Baker's Air Force disbanded when acclaim and interest waned. In the wake of his musical setbacks, the drummer once again struggled with his addiction to heroin and his ongoing business troubles.
Chief among Baker's financial downturns was a recording studio he financed near Lagos, Nigeria, the first professional recording studio in West Africa. Baker moved to Nigeria and opened the studio after visiting Africa with Air Force percussionist Remi Kabaka. The venture turned sour, and Baker returned to England, though not before Paul McCartney recorded his hit album Band on the Run there in 1973.
Back on British soil, Baker joined up with the Gurvitz brothers, Paul and Adrian, to form Baker-Gurvitz Army. The group put out two jazz-rock records before disbanding. Though Baker worked on several projects with other musicians, including Atomic Roosters, Hawkwind, and Ginger Baker's Nutters, results were generally discouraging.
A downward spiraling career and personal misfortunes sent Baker deeper into heroin addiction. Tax troubles with the English government combined with drug use sent him to Italy in 1982 to recuperate. After settling in a small village in southern Italy, Baker worked on an olive farm and rarely played the drums. Music became less important while he shook his heroin habit. "I had to get out," he told the Boston Globe of the London scene. "All the people I knew were junkies. If I had stayed I was going to wind up dead." Two years passed while Baker learned to live drug-free. His recovery was not easy--with as many as 29 relapses by his own count--but it was ultimately successful.
While in Africa, Baker picked up the sport of polo and has since been an avid practitioner. His love for the game was a significant factor in his decision to leave Italy, where polo was not a popular sport. After a brief stay in England, Baker left for the United States in the mid-1980s. His first stop was Los Angeles, where he operated a drum school and pursued music for the first time in nearly a decade. Since he had arrived on American shores without strong musical contacts, Baker's agent suggested he place an ad in the music section of a trade journal to meet other musicians. While Baker himself was wary of the plan, it proved a success. Baker returned to the studio and appeared on Album by Public Image Ltd. in 1985 at the insistence of producer Bill Laswell.
Baker rejoined forces with ex-Cream bassist Jack Bruce in 1989. Their jazz-rock collaboration was capped by an album and a tour. In addition to guest appearances with alternative acts such as Primal Scream, Baker brought new vigor to a career in jeopardy with solo efforts such as Horses and Trees and Middle Passage. Also at this time, Baker began to work with bassist Chris Goss and guitarist Googe under the name Masters of Reality. Going Back Home, a jazz record released in 1994 with Bill Frisell and Charlie Haden together as the Ginger Baker Trio, confirmed his mastery of the drums.
Baker's notoriety was cemented in 1993 with Cream's induction into the Rock 'n' Roll Hall of Fame. The ceremony including a much-anticipated reunion with Clapton and Bruce to play "Sunshine of Your Love" and other legendary Cream songs, the first and only Cream reunion as of 1995. Baker has since relocated to Colorado, competing in polo matches whenever possible and tending his horses on a small farm outside of Denver.
Musically, Baker engaged in a project with Jack Bruce known as BBM (Baker, Bruce, and guitarist Gary Moore), while furthering his jazz interest with the Ginger Baker Trio. Free from drugs, he has become an in-demand musician, surprising his critics--many of whom predicted he would die an early death. With respected recordings deftly showcasing his jazz sensibilities, he reentered the spotlight in the early 1990s. © Rich Bowen, Copyright © 2007 Net Industries - All Rights Reserved