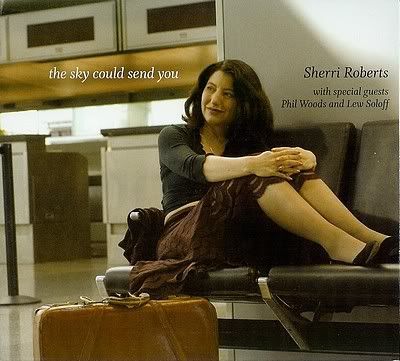 Sherri Roberts -
The Sky Could Send You -
2006 -
Pacific Coast Jazz
A stylish set of laid-back, jazz vocalizing from the Native Georgian cum San Franciscan. The album includes a couple of Caribbean calypso influenced tunes, some Rodgers and Hart tunes, and a slinky Latin tune by Antonio Carlos Jobim. Sherri Roberts has a perfectly balanced voice, well suited to the hot and spicy Caribbean influences on this album. The album features some great saxophoe playing from the great Phil Woods. This is an outstanding jazz vocal recording. Check out her 1998 album, " Dreamsville."
TRACKS / COMPOSERS
1. You're Looking At Me
Bobby Troup
2. Jamaica Farewell
Irving Burgie
3. Before
Harvie S / Sherri Roberts
4. Let Me
Baden Powell/Norman Gimbell
5. Tell Me My Name
Roger Kellaway/Gene Lees
6. The Moon Is A Harsh Mistress
Jimmy Webb
7. Return To Paradise
Dimitri Tiomkin/Ned Washington
8. You're Nearer
Richard Rodgers/Lorenz Hart
9. Do It The Hard Way
Richard Rodgers/Lorenz Hart; Vocalese:Chet Baker/Sherri Roberts
10. Slow Hot Wind
Henry Mancini/Norman Gimbel
11. Far From New York
Larry Baskett
12. Por Toda Minha Vida [For All My Life]
Antonio Carlos Jobim/Vinicius de Moraes
MUSICIANS
Sherri Roberts (vocals),
John Hart (guitar),
David Udolf (piano),
Pablo Vergara (piano trk #4),
Harvie S (bass),
Vince Cherico (drums),
Phil Woods ( saxophone),
Lew Soloff (trumpet),
Tim Collins (vibraphone),
Daniel Sadownick (percussion),
Renato Thoms (percussion),
Skyler Jett, Daria, Sherri Roberts (background vocals on trk #2).
Bio
When you listen to Sherri's thoughtful way with a vocal line, or her vibrant sense of swing, or her effortless embodiment of a song's emotion, it's hard not to notice the extent of her affection for her songs.
Sherri Roberts was raised in Atlanta, Georgia and received a B.A. in theatre from Antioch College in Ohio. It was there she was first introduced to jazz studies - its history and repertoire - as well as early Renaissance choral music and the 20th Century avant garde. Upon relocating to San Francisco, she became involved in both theatre performance and management, while never abandoning her love of singing and her growing interest in jazz. At a transitional point in her life, she recognized that exploring the rich emotional life of a character through story could be done far more economically in a four minute song than a two hour play; that a well written song is like a miniature play, distilled down to it's musical essence; and that singing, like acting, offers the means to externalize the deeper internal self. She walked away from the theatre and onto the bandstand and never looked back.
Drawing from this diverse training and experience, Ms. Roberts blurs the line between cabaret and jazz singing. She performs the tunes of Broadway and Tin Pan Alley in modern jazz settings, while her great affinity for Brazilian music and the lyricized compositions of contemporary artists such as Dave Brubeck, Marian McPartland and Bill Evans keeps her song choices personal and exciting. She takes her innate feeling for melody and rhythm and mates it with an attraction for less-known and wrongly-neglected songs.
Ms. Roberts' interpretation of this repertoire draws inspiration from the Vo-Cool jazz era. Her velvet voice, laidback phrasing, impeccable diction, and subtle understated delivery have invited favorable comparisons to June Christy, Chet Baker and Helen Merrill. Yet her pillowy sound and intimate approach are all her own. The Sky Could Send You, her latest recording is produced and arranged by bassist Harvie S with special guests, legendary saxophonist Phil Woods and trumpet virtuoso Lew Soloff. "Sweet, sensitive, and sassy" is how Jesse "Chuy" Varela of the Bay Area's KCSM FM describes Sherri's vocals on this outing." Sky", to be released in February of 2006 on the Blue House Recordings/Pacific Coast Jazz labels, marks Sherri's third collaboration with Harvie S (formerly Harvie Swartz) following their critically acclaimed recordings on the Brownstone label: Twilight World (1996) and Dreamsville (1998). . Twilight World, was called "an impressively warm and lyrical debut" by the San Francisco Bay Guardian.
Dreamsville followed, garnering even greater critical response . JazzTimes said "Everything works here. Encore Ms. Roberts." Cadence Magazine effused "Her voice is beautifully expressive and rhythmically fluent. And the intelligence behind each lyric interpretation is manifest." And the Los Angeles Times called Roberts "A superior bop and standards vocalist (who) puts plenty of feeling and swing into her music." Dreamsville, distributed internationally, also received significant radio airplay on over 100 jazz stations throughout North America. It charted on the prestigious Gavin Report where it remained for a full seven weeks.
Sherri has recorded or performed with Harvie S, Mark Soskin, Danny Gottlieb, Chris Potter, Eric Friedlander, Kieth Underwood, Joe Le Barbera, John Hart, Vince Cherico, and many top Bay Area musicians.
Ms. Roberts is a true scho lar of popular music with a deep appreciation for its heritage and freely sites such diverse influences as Ella Fitzgerald, Carol Sloane, Irene Kral, Chet Baker and Shirley Horn. She was priveleged to study with jazz master Sheila Jordan and also with the late Jeri Southern, as well as with Mark Murphy, Jovino Santos Neto, and Dr. Billy Taylor.
She performs regularly in the Bay Area and has toured to major jazz venues both in the states and abroad. © 2007 All About Jazz
REVIEWS
"This recording elevates Sherri Roberts to another level within the jazz vocalist galaxy of stars. Her evocative expressions and poetic lyricism envelop the listener in a warm cocoon of sound that you're sure to enjoy."
© Paula Edelstein, All About Jazz
"...A picture of relaxed professionalism. Roberts swings so warmly and gently that the listener's tender side will reach out to her...this is clearly a stunner."
Richard Bourcier, Jazz Review.com
"She's a breath of fresh air...pure and unaffected."
© Kirk Silsbee, Jazz Critic's Choice, Los Angeles City Beat
"A welcome return to recording after seven years for Sherri Roberts."
© Scott Yanow, All Music Guide
"Ms. Roberts' voice is expressive, distinctive and stylish... It's got that great West Coast sound...Perfect for a lazy Saturday afternoon.
Keep an eye out for this one. It's a keeper."
(rating: Three and one-half microphones out of four)
Doug Boyton, Girl Singers.org
"Stylistically, Roberts bears a significant resemblance to gin 'n' satin seductress Julie London. But where London's voice was distant as a winter moon, Roberts' is all dappled sunshine...shimmering delicacy...Enchanting."
Christopher Loudon, JazzTimes "Tender...inviting...sultry...A romantic and warm addition to any moonlight rendezvous."
Karl Stober, E Jazz News.com
"Interpreting from the heart with genuine expression, ... Roberts proves that vocal jazz still holds surprises without letting go of tradition... Her program signals that vocal jazz
has not yet stalled on it's long and creative journey."
Jim Santella, L.A. Jazz Scene
"Phil Woods adds his surging alto to Sherri's ardently incisive reading of the Rodgers and Hart love psalm, You're Nearer, and together they generate as much heat as light."
© Alan Bargebuhr, Cadence Magazine
"The Sky Could Send You demonstrates the synergy two empathetic artists (vocalist Roberts and producer/bassist Harvie S) can share when the stars are in line.
This is a wonderful vocal outing."
© C. Michael Bailey, AllAboutJazz.com
"Roberts' solid technique and spirited élan make a naturally gifted voice into a true work of art...This is a singer who has mastered the form, and her new album is a joy to listen to."
Jim Trageser, Turbula.net "A chance to hear singing perfectly integrated with instrumentation...
This release tracks well from start to finish, has the potential to be a classic,
and should create a buzz amongst jazz listeners."
© Chris Walker, California Tour and Travel
"I get more CDs by singers than you can shake a stick at... I've come to the conclusion after listening to so many over the years, that unless a singer's voice touches you, and puts its hand in your hand, you're not really going to want to listen to that voice for very long. Sherri Roberts has a voice that does touch me.
I hope her voice will touch you, too."
© Katie Malloch, Host, Jazz Beat, CBC Radio (Canadian Broadcasting Corporation)