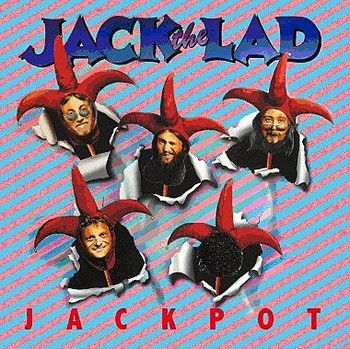 Jack the Lad
-
Jackpot
-
1976
-
United Artists
Jack the Lad were one of the big hopes of the early '70s but, by the time they cut 1976's Jackpot, the excitement had very much fallen away — which was a shame, because the group remained as exhilarating as it ever was. Naturally reminiscent of parent band Lindisfarne but without the crash in quality that hallmarked that band's later, saddest years, Jackpot is an effervescent folky feast, stuffed full of singalongs and spontaneous madness, a treat that this reissue amplifies via the inclusion of seven sterling bonus tracks. It begins with four songs from the original pre-LP demos: the album-opening "Eight Ton Crazy" (which itself is a classic slice of Andy Fairweather Low songwriting), Billy Mitchell's "Trinidad" and "Amsterdam," and — most impressive of all — Simon Cowe's "See How They Run." Cowe quit the band shortly before the album sessions themselves kicked off, leading to the loss of both this delightful number and the ramshackle excitement that he naturally contributed to the music. This cut reveals what listeners missed out on, although it's to Jack the Lad's credit that they never allowed the album to suffer unduly. It remains a remarkable set. The final three cuts on the reissue were recorded live in Plymouth, England, on the tour that followed the album's release and never made it onto vinyl: Woody Guthrie's "Will You Miss Me," a rocking rendition of Johnny Kidd's "Hungry For Love," and a folky medley that takes listeners all the way back to Lindisfarne's own early days on the folk circuit. In fact, the only regret here is that the reissue doesn't include the rest of the show — on a good night, Jack the Lad were a terrific live act, and this sounds like a very good night indeed. © Dave Thompson © 2010 Rovi Corporation. All Rights Reserved http://www.allmusic.com/cg/amg.dll?p=amg&sql=10:fxfexql5ld0e [N.B: Review based on bonus CD issue].
Founded in Tyneside, N.E England in 1973 by Rod Clements, Simon Cowe, Ray Laidlaw and Billy Mitchell, after the disbandment of the original folk rock band, Lindisfarne, Jack The Lad released three successful albums for United Artists, and although "Jackpot" did not include Rod Clements and Simon Cowe, Hedgehog Pie's Ian Fairbairn and Phil Murray play on this final album. More in the pop rock vein than the band's previous albums, Andy Bown (ex-Herd, Status Quo) play keyboards on some tracks, and some songs also feature a brass section. Andy Fairweather Low's "Eight Ton Crazy" is covered well here, but many of the other tracks do not measure up to this standard. Really an interim band between the fall and rise of Lindisfarne, Jack The Lad's "Jackpot" is quite a good album and worthy of a listen. The music should not be compared to Lindisfarne's folk rock sound. Try and hear the band's 1974 "The Old Straight Track" album
TRACKS / COMPOSERS
1. Eight Ton Crazy (Fairweather Low)
2. Amsterdam (Mitchell)
3. Steamboat Whistle Blues (Hartford)
4. Walter's Drop (Trad arr. Jack The Lad)
5. We'll Give You The Roll (Mitchell)
6. Trinidad (Mitchell)
7. You, You, You (Mitchell)
8. Let It Be Me (Mitchell)
9. The Tender (Trad arr. Jack The Lad)
10. Take Some Time (Mitchell)
MUSICIANS
Billy Mitchell, Walter Fairbairn - Guitar, Vocals
Phil Murray - Bass, Vocals
Andy Bown - Keyboards
Ray Laidlaw - Drums
The Howdon on Tyne Illegal Immigrants Club - Steel Drums
Chris Mercer, Steve Gregory, Bud Beadle - Horns
Ray Jackson - Harmonica
BIO
(WIKIPEDIA)

Jack the Lad were a folk-rock group from north-east England formed in 1973 by three former members of Lindisfarne - Rod Clements (bass, violin, guitar, vocals), Simon Cowe (guitar, mandolin, banjo, vocals), and Ray Laidlaw (drums), with Billy Mitchell (guitar, banjo, vocals). They had originally thought of calling themselves The Corvettes, but decided it would make them sound too much like a rock'n'roll revival outfit, and instead took their name from a phrase that Status Quo had used when they and Lindisfarne were touring Australia together earlier that year. The first line-up of Jack the Lad recorded one album, 'It's Jack the Lad', released in 1974, and two singles, 'One More Dance' (1973), and 'Why Can't I Be Satisfied' (1974). Neither charted, though they received positive reviews for their records and live performances. While Lindisfarne without them had become a harder rocking outfit, Jack the Lad retained much of the folksy spirit, warmth and good humour of the original group. Though his talents had previously been overshadowed by the more prolific songsmith Alan Hull, Clements, who had penned Lindisfarne's first hit single 'Meet Me On The Corner', continued to write most of their material, which in the view of some fans and critics was the equal of anything Lindisfarne produced at around the same time. They also remained more true to their traditional influences, not least by including an 8-minute medley of traditional jigs, reels and polkas on their first album, which staked a claim to their being in part a Geordie answer to Fairport Convention and others of that ilk. Clements left in late 1974 and was replaced by two former members of folk-rock band Hedgehog Pie, Ian 'Walter' Fairbairn (guitar, mandolin, violin, banjo, vocals) and Phil Murray (bass, vocals). The second album 'The Old Straight Track' (1974) was voted Folk Album of the Year by Melody Maker. The third album 'Rough Diamonds' and single 'Gentleman Soldier' (both 1975) were both produced by Fairport Convention stalwart Simon Nicol. The latter, which featured John Kirkpatrick on button accordion, was a gem - a new arrangement of a traditional song which borrowed the vocal four-part harmony break from 'Twist And Shout' for the introduction, and featured a Scottish accordion reel back to back with a mock-heavy rock guitar solo. Presenter John Peel chose it as one of his favourite singles of the year. Cowe left shortly before the group recorded their final album, 'Jackpot', (1976). Closer to pop and rock territory than its predecessors, it featured Andy Bown on keyboards, and a brass section on some tracks. But chart success still eluded them, and they disbanded soon afterwards. Lindisfarne had split in early 1975 but Clements, Cowe and Laidlaw continued to join founder members Alan Hull and Ray Jackson to play Christmas concerts in their native Newcastle-on-Tyne each year, and the response was so positive in 1977 that the original five reformed the following year. Cowe left Lindisfarne in 1993, while Mitchell joined the band in 1996 after the death of Hull. He, Clements and Laidlaw remained members until they disbanded for the last time in 2003.
MORE ABOUT JTL
The success of the Newcastle-spawned folk-rock group Lindisfarne -- which had enjoyed a pair of hit albums and a string of U.K. hit singles over the previous two years -- came to a crashing halt in 1973, when the band decided to split. Alan Hull and Ray Jackson hung onto the name Lindisfarne, while bassist/violinist Rod Clements, drummer Ray Laidlaw, and guitarist Simon Cowe were left to their own devices. Among the first things they did was get guitarist/singer Billy Mitchell -- who'd played in an early incarnation of Lindisfarne -- back from Canada to rejoin his former bandmates. According to Laidlaw, they'd thought of calling themselves the Corvettes, but it sounded too much like a name that went with a rock & roll revival band, which they were not -- they ran through Larry the Lamb and Atilla the Hun, when they remembered a phrase they'd heard from Status Quo when they'd toured together, and the group settled on Jack the Lad. The resulting quartet was a lot more rootsy than Lindisfarne had been, much less a progressive folk-rock outfit, mixing blues and elements of jazz. Charisma Records kept them under contract, hoping that the Lindisfarne split might yield two successful groups, and Jack the Lad ended up cutting three LPs for the label. But those were mere shadows of what the group was about -- starting out working in small pubs and moving up to larger venues and finally to festivals, they became known for their wild and woolly stage act, which included ludicrously funny monologues explaining their songs as well as antics in their playing that made their performances seem like theater-of-the-absurd. They made it to television showcases such as The Old Grey Whistle Test, and their on-air presentations were even more elaborate and seemingly anarchic, only with an overarching wit that was as pronounced as their musicianship was serious and virtuoso in quality. Clements departed in 1974, the demand for his violin playing leading him into session work for the next few years. He was replaced by two new members, Phil Murray (bass, vocals) and Walter Fairbairn (guitar, vocals), both of whom had previously played in the folk revival outfit Hedgehog Pie. The group split up in 1976, after four tries with LPs and a string of singles that failed to chart. Laidlaw returned to working with Alan Hull, first in a band called Radiator and then in a revived Lindisfarne, which Clements and Cowe also joined. Murray became a member of the Doonan Family Band, while Billy Mitchell became half of the comedy duo Maxie and Mitch, while Fairbairn became a journeyman player on the English folk circuit. Lindisfarne went on to draw audiences in England -- and especially their native Newcastle -- for the next 30 years, even outliving Alan Hull (who died very suddenly in 1996). Although it took some time to respond to what demand there was, Virgin Records, which had acquired the Charisma library and later became part of EMI, eventually reissued the three Jack the Lad albums in their vaults on CD. © Bruce Eder, All Music Guide © 2010 Answers Corporation http://www.answers.com/topic/jack-the-lad