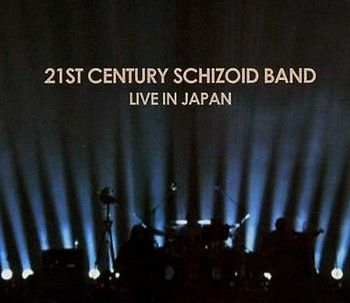 21st Century Schizoid Band
-
Live
In Japan,
6 November 2002
-
2005
-
Iceni
The 21st Century Schizoid Band isn't doing badly for a group that's never come close to charting a record anywhere, getting out two releases in a single year, a self-titled debut plus this double-disc combined CD/DVD package from a November 2002 concert. To call this the fulfillment of a dream would be putting it mildly on several counts -- for starters, anyone who missed the original King Crimson on tour in 1969 at last has a chance to see as well as truly hear drummer Michael Giles playing in concert (welcome as the Crimso historical releases from 1969 are, they're not remotely state of the art in quality) and even bringing a new song, "Progress," to the table; Giles' more enigmatic brother Peter Giles on bass; Mel Collins, a saxman's saxman, playing this repertoire live; and Ian McDonald, the original jack of all trades in the Crimso lineup, doing what he does best (i.e., a little bit of everything). Everyone in this band plays like they're at the top of their form and having the time of their lives -- Collins is clearly the heavier-weight reedman in comparison to McDonald, but the latter gets his embellishments in as well, even on the numbers where they're both blowing sax. "In the Court of the Crimson King" is fascinating to watch just to see the amount of switching off that McDonald does between flute and keyboards. The band also does slightly later Crimso repertoire, such as "Formentera Lady," which is stretched out with a lyrical opening on bass and flute and a newly melodic treatment in the main body of the song -- the song is mostly Collins' showcase on flute and sax, while McDonald moves between various keyboards and reed instruments in support. McDonald and Michael Giles each get lead vocal showcases, the former on a newer song called "If I Was," which is a good match for the older material, although perhaps a little more obviously pop-oriented -- they also resurrect two McDonald & Giles songs, "Tomorrow's People" and "Birdman." Strangely enough, one doesn't miss Robert Fripp at all -- Jakko Jakszyk knows the sound and the style (he grew up with it) and it's his natural musical language. In addition to the 96-minute performance, which is beautifully lit and benefits from highly mobile camera work, the disc contains fairly extensive interview material totaling about 20 minutes; each of the members explains his involvement with the band and the meaning of the material. Strangely enough, Jakszyk may have had the biggest percentage of his life involved with the music of anyone present, as he discovered King Crimson when he was 11. The CD is a cut-down version of the same concert with excellent sound and perhaps a punchier mix courtesy of Jakszyk, and plays back beautifully in two-channel stereo; the DVD offers 5.1 Surround Sound, which brings out every nuance of the playing. The notes are mostly in Japanese, which is not a drawback as the music mostly speaks for itself. © Bruce Eder © 2011 Rovi Corporation. All Rights Reserved http://www.allmusic.com/album/live-in-japan-cd-dvd-r672393/review
[

N.B:

Review refers to the CD/DVD version

]
"Live in Japan" is the second "Official Bootleg" release by the 21st Century Schizoid Band, recorded on 6th November 2002 at the Shinjuku Kouseinenkin Hall in Tokyo. It was also released on CD and DVD. The DVD contains the extra tracks "Tomorrow's People" and "If I Was", plus bonus features.The band is essentially a King Crimson alumnus group formed in 2002. The name derives from the famous song "21st Century Schizoid Man" from the first King Crimson album, "In the Court of the Crimson King". The initial band featured Mel Collins on saxophones, flute and keyboards, Michael Giles on drums, Peter Giles on bass, Ian McDonald on saxophones, flute and keyboards, and joined by 'new guy' (and Michael Giles' son-in-law) Jakko Jakszyk on guitar and vocals. This live album contains songs from the first four King Crimson albums, plus songs from individual solo albums
This is a great album, with many King Crimson classics played in an authentic style by former members of the great band, and
HR by A.O.O.F.C.
Try and listen to the band's amazing "Pictures of a City: Live in New York" album, and also the mighty King Crimson's "Beat" and "Live Groove" albums
[

All tracks @ 256 Kbps: File size = 137 Mb
]
TRACKS / COMPOSERS
1 Schizoid Intro - Jakko Jakszyk
2 A Man A City - Lake, McDonald, Giles, Sinfield, Fripp
3 Catfood - McDonald, Sinfield, Fripp
4 Let There Be Light - McDonald, Sinfield
5 Progress - Giles
6 In The Court Of The Crimson King - McDonald, Sinfield
7 Formentara Lady - Sinfield, Fripp
8 Ladies Of The Road - Sinfield, Fripp
9 I Talk To The Wind - McDonald, Sinfield
10 Epitaph - Lake, McDonald, Giles, Sinfield, Fripp
11 Birdman - McDonald
12 21st Century Schizoid Man - Lake, McDonald, Giles, Sinfield, Fripp
BAND
Jakko Jakszyk - Guitar, Flute and Keys, Lead Vocal
Peter Giles - Bass Guitar, Backing Vocals
Michael Giles - Drums, Percussion, Vocals
Mel Collins - Baritone, Tenor and Alto Sax, Flute, Keys, Backing Vocals
Ian McDonald - Alto Sax, Flute, Keys, Grand Piano, Percussion, Vocals
SHORT BIO
21st Century Schizoid Band is a five-piece band comprised of ex-King Crimson members Ian McDonald (keyboards, saxes, vocals), Mel Collins (keyboards, saxes), Peter Giles (bass, backing vocals), and Michael Giles (drums), with Jakko Jakszyk (guitars, vocals). In essence, this is a King Crimson all-star team sans the obvious stars Robert Fripp and Greg Lake, and it has a surprisingly large amount to offer. More artistically valid than, say, Creedence Clearwater Revisited or the incarnation of "the Byrds" led by Michael Clarke, this lineup is what Crimson might have become had it splintered in a different direction or two after 1969. The group possesses of a lot talent and is still inventive on the old repertory, even Peter Giles, who left professional music back in 1970. © Bruce Eder © 2011 Rovi Corporation. All Rights Reserved http://www.allmusic.com/artist/21st-century-schizoid-band-p577867/