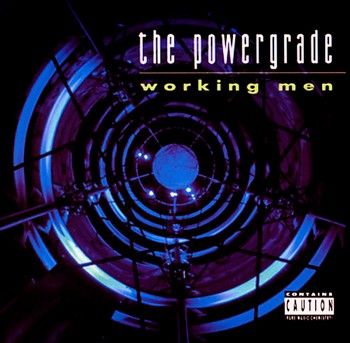 The Powergrade
-
Working Men
-
2001
-
G-Tone
Some albums require more listening than others to gain a sense of where the musicians are coming from. Working Men by Austrian fusion group, The Powergrade, is one of those albums. Part of this need for longer absorption latency, I think is due to the lack of inhibition that European musicians have toward stylistic boundaries which allows them to encompass a sometimes unusual scope, such as is exhibited on Working Men. This album covers a range of styles and influences, but could probably best be described as jazz fusion that has a tendency towards the more hard-edged end of the fusion spectrum, though it is tactfully balanced with more sublime, straight-ahead jazz. The rhythms and backdrops are a mix of clean-toned, jazzish tonality progressions and hard-edged, grinding, aggressive riffing. It makes for an interesting combination that does not allow the listener to get to complacent with one type of sound or feel. The title "Working Men" gives a clue to the perspective this music comes from. This album is a working man's fusion that is aimed at a gut level response from the listener and does not get lost in the wilderness of abstract jazz. (This reminds me of Dire Straits relative to rock, though this album is relative to fusion and bears no real resemblance in sound to Dire Straits.) The tonality and composition offers some well-developed fusion-oid thinking, but does not lose site of listener accessibility (which suits me just fine!). Interested fretmasters should take note that the playing on this album is solid, both in polish and proficiency, though I'm not sure if I'd compare the playing to the world class speed/shred-oriented fusion players. The playing on this album is more oriented toward creating comprehensive music rather than guitar stunts (and I like this). And, this is not to say that there is an absence of speedy playing altogether from this album, but rather speed is not the objective, but it is rather one tool in an array that is used with moderation rather than excess, striking an appealing balance in the overall scheme of the musical concept. But do not despair, because there is definitely some ear-catching playing on this album. There are also a number of accessible musical themes, melodies, harmonies, and riffs that are provided for the listeners' auditory pleasure. Working Men marks a shift towards a more aggressive, fusion type style than Gradwohl demonstrates on some of his earlier releases. But, don't take this to mean that the entire album is aggressive fusion, only that there is a shift in the center. Gradwohl demonstrates a raw energy in places that had been restrained for the most part on some of his earlier works with Threeo and Cats & Camels. Well, overall, I would have to say that The Powergrade makes the grade. The combination of purist jazz tones and progressions coupled with aggressive, hard-edged riffing that is highlighted by the talented lead guitar work and is packaged in a very accessible format that also offers depth in composition is enough to make it into my listening rotation. It took a number of listenings for me to acclimate, and though there are a few tracks that I might skip over, I'd say that this is a pretty solid effort with a great variety of ideas that keeps it from getting redundant or stagnant. There are definitely a number of tracks that hit the groove and I'm thinking that most fusion-heads will "Dig It"! There is a gut level accessibility in this music that may make this album even further accessible into a mainstream listening audience. I would think that this would be a great band to catch in the nightclub on a Friday night! (if you could be so lucky to catch a band this good in your local nightclub!) © 2001 - 2003 Christopher Ruel. All Rights Reserved. http://www.chrisruel.com/ChrisRuel.com/MusicReviews/GeraldGradwohlReviews.htm#WorkingMenReview
A great 16 track prog.rock/fusion album from the Austrian band, The Powergrade. Guitarist Gerald Gradwohl was a member of the great German electronic band, Tangerine Dream. He has also released many good solo albums. The tracks here are varied, and range from funked up Tech, to jazz fusion, aggressive funk, and instrumental rock. Great music, and never dull. The Powergrade have described their brand of guitar based fusion and progressive rock as "Contemporary Power Funk". Buy Gerald Gradwohl's "Tritone Barrier" album, and support great modern guitar fusion. If you can find it, listen to Cats & Camels' "Face To Face" album featuring Gerald Gradwohl on guitar. Tangerine Dream's "Goblin's Club" featuring Gerald on lead and rhythm guitar is also a good album.
[

All tracks @ 320 Kbps: File size = 132 Mb
]
TRACKS
1 Radio Days 4:12
2 Funk It 6:19
3 Oh! Janet 3:32
4 Interlude 1:12
5 Razor's Edge 4:57
6 The Cat Is Back 6:36
7 42nd Street 4:23
8 The Sweeper 3:07
9 Savannah Breeze 2:31
10 Dig It 3:43
11 Do The Guitar Jungle 0:59
12 Notes Of Farewell 7:48
13 Gero's Boogie 3:48
14 The Gambler 1:07
15 Fear (Special Metal Bonus Track) 5:37
16 Home Groove 7:18
All tracks composed by Gerald Gradwohl except "Oh! Janet" by G. Gradwohl & J. Janoska, "42nd Street" by G. Gradwohl & N. Berhardt, and "Fear" by G. Gradwohl, J. Janoska, N. Berhardt
MUSICIANS
Gerald Gradwohl - Guitars, Guitar Synth, Additional Percussion
Benjamin Gradwohl - Guitar & Vocals on the Intro to "Razor`s Edge"
Harald Weinkum, Wolfgang Wograndl - Basses
Nico Bernhardt - Drums, Percussion
Gustavo Aguilar - Congas on "Radio Days"
Thomas Faulhammer - Sax on "Funk It"
Manfred Holzhacker - TP on "Dig It"
Juci Janoska - Vocals on "Oh Janet" and "Fear"
ABOUT
GERALD GRADWOHL
Gerald Gradwohl is a serious, progressive jazz guitarist who spans a range of styles and influences within multiple jazzish genres from silky smooth jazz to rip-roaring fusion, always with intensive guitar work. One of the aspects of Gradwohl's musical style that really strikes me (in a good way) is that he has a lack of inhibition to indulge in the different styles and feels of jazz that appeal to him. He covers a wide scope of musical style and feeling from smooth, intricate, and sentimental to aggressive, driving, and high-energy. It is entertaining because you can get a wide range of musical diversity from just a single artist. The authenticity that he has in his passion for the many shades of jazz that he embraces is apparent in his music and takes the form of a mind-stretching style of music that is highly entertaining and easily accessible. Gradwohl is one of the few players who can venture out into the vast complexities of progressive jazz while keeping a solid perspective on musicality and accessibility. You can listen to some of his chordal voicings and think to yourself that sounds really nice and digestible, but when you listen closer to the harmonization that he is exploring, you will also realize that there is a little more depth and complexity there than a cursory listening might impart. And, that is the real trick to good jazz! Gradwohl's soloing can be deceptive, as well. Sometimes, his smooth fretwork masks some very nimble phrasings and complex harmonization that could easily be missed by a listener that was lulled into complacency by his finesse. Other times, Gradwohl comes straight ahead with gut-wrenching, aggressive playing whose attack won't miss its target, though the finesse is still there. But, Gerald's guitar work is not dominated by an aggressive attack, and is instead well-balanced with diverse dynamics that span a wide range. And, Gradwohl is smart to find first-rate accompaniment with the savvy sax work of such world class players as Bob Berg and Rick Moritza. I hesitate to compare Gradwohl to the modern greats that are among his influences, such as Scott Henderson, Mike Stern, and Frank Gambale, and only because I wouldn't want to plant expectations in the minds of new listeners. But, once you have taken a listen, the influences are discernable, but there is so much more to it than that! You just have to check it out for yourself. Gradwohl has a compelling style that will make your thoughts fleet in many directions and set off internal debates in your mind. But, in the end, I think you will resolve it the same as I, and just smile and say "ya, he's alright!" 2001 - 2003 Christopher Ruel. All Rights Reserved. © http://www.chrisruel.com/ChrisRuel.com/MusicReviews/GeraldGradwohlReviews.htm#WorkingMenReview