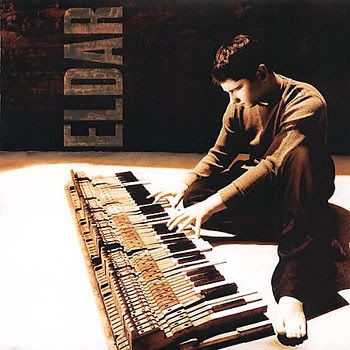 Eldar Djangirov -
Eldar -
2005 -
Sony Classical
Eldar Djangirov is an incredibly gifted jazz pianist, relatively new to the jazz scene. This album is astonishingly good. Born in former Soviet Kyrgyzstan to a musically talented family, this 21 year old guy began playing piano at the age of three, and even then was playing note for note creations of recordings that he heard. He began to study in earnest at the age of 5 and played his first jazz festival at 9. An amazing album with four of his own original compositions. Watch this guy's career. He is going places, and someday he may be on that pedestal with Brubeck and Silver.! VHR by
A.O.O.F.C.
Buy his 2006 album, "Live at the Blue Note," which is pure class.
TRACKS
1. Sweet Georgia Brown (3:21) Composed by Ben Bernie and His Orchestra
2. Nature Boy (5:30) Composed by Eden Ahbez
3. Moanin' (7:38) Composed by Bobby Timmons
4. Point of View (6:55) Composed by Eldar
5. Raindrops (2:46) Composed by Eldar
6. Lady Wicks (5:00) Composed by Eldar
7. Maiden Voyage (6:57) Composed by Herbie Hancock
8. 'Round Midnight (6:22) Composed by Cootie Williams
9. Ask Me Now (4:16) Composed by Thelonious Monk
10. Watermelon Island (5:39) Composed by Eldar
11. Fly Me to the Moon (3:23) Composed by Bart Howard
MUSICIANS
Michael Brecker - Guest Appearance, Sax (Tenor)
John Patitucci - Bass, Bass (Acoustic), Bass (Electric)
Todd Strait - Percussion, Drums
Eldar - Arranger, Main Performer
REVIEW
Eldar Djangirov, who was already a promising pianist at a very tender age, was able to immigrate along with his parents to the United States in order to better develop his amazing talent. After he appeared on the nationally syndicated radio program Marian McPartland's Piano Jazz at the age of 12, he was already displaying formidable chops for one so young. After two earlier releases for the small DD label, he recorded his major label debut in early 2004 for Sony Classical. Already able to play at furious tempos normally associated with greats like Oscar Peterson and the late Art Tatum, especially in the stunning opening rendition of "Sweet Georgia Brown," he sometimes has trouble restraining his ability to show off his technique, nearly overwhelming Bobby Timmons' soulful "Moanin'" at times. Better are his reserved but refreshing approach to "Nature Boy" and the superb original ballad, "Lady Wicks." Bassist John Patitucci and drummer Todd Strait provide excellent support for the young man on the trio tracks (especially in the introspective take of "'Round Midnight"). Tenor saxophonist Michael Brecker is added on the Latin-tinged original "Point of View." Like all players who demonstrate tremendous technique at a young age, critics will be watching Eldar Djangirov with great interest to see if he successfully builds upon his amazing gifts. © Ken Dryden, All Music Guide
BIO (Wikipedia)
Eldar E. Djangirov, most commonly known only as Eldar, is a jazz pianist. He was born on January 28th 1987 in Kyrgyzstan (ex-Soviet Union) and then moved to Kansas, United States. He currently resides in New York City. He began playing the piano when he was 3 years old, learning from his Russian parents. The first thing he remembers learning was C Jam Blues. He later took classical lessons and was "discovered" at age 9 by the late New York City jazz aficionado Charles McWhorter, who saw him play at a festival in Siberia. The family moved to Kansas City, drawn there in large part by the city's jazz history. During his Kansas City years, even before reaching his teens, Eldar already started building a reputation as a true child prodigy, appearing on Marian McPartland's award-winning NPR show, Piano Jazz, when he was only 12 years old, being the youngest performer to ever appear on her show. Eldar attended St. Elizabeth's grade school in Kansas City, Missouri. Eventually, the family moved to San Diego where he attended the Francis W. Parker School, and then to the Los Angeles area where he attended University of Southern California's Thornton School of Music. Eldar has three albums released by Sony Classical, his debut album Eldar in March 2005, his album Live at the Blue Note in May 2006, and his latest album, re-imagination in June 2007.
MORE ABOUT THE ARTIST
Hard bop/post-bop pianist Eldar Djangirov has accomplished something that the vast majority of jazz artists -- pianists or otherwise -- will never accomplish: he landed a contract with a major label (Sony Classical) when he still wasn't old enough to vote. It is not uncommon for people to learn to play jazz during their adolescent years (especially in Western Europe), but most of them won't record an album as a leader until they are in their twenties; many won't even be recorded as sidemen until after they reach their twenties. Djangirov, however, started recording as a leader when he was in his mid-teens, and had recorded three albums before his 18th birthday. Djangirov, an immigrant from what used to be the Soviet Union, brings an intriguing variety of bebop, hard bop, post-bop and swing influences to his work. The acoustic pianist (who also plays electric keyboards but is essentially straight-ahead in his approach) has been greatly affected by the clear, crystalline playing of Bill Evans, Dave Brubeck, Keith Jarrett, and Ahmad Jamal; like those musicians, he can be quite lyrical (sometimes in an impressionistic way). But he has also shown his appreciation of Oscar Peterson and Red Garland's funkiness at times, and his other influences range from McCoy Tyner to Bud Powell to pre-bop master Art Tatum. A Djangirov solo might acknowledge anything from Thelonious Monk's angularity to Garland's use of what musicians refer to as "block chords" (a technique that is easy for jazz listeners to recognize even if they don't understand the exact technical meaning of the term). Despite having recorded for Sony Classical, Djangirov is not a classical-oriented musician -- straight-ahead jazz is definitely his main focus. But like many jazz musicians, he has been influenced by the European classical tradition and can bring some of the Euro-classical vocabulary to his improvisations. Djangirov was born on January 28, 1987 in Kyrgyzstan in the former Soviet Union, which did away with communism when he was only a child. At the age of five, he began studying the piano with his mother Tatiana Djangirov (who was a music teacher in Bishkek, Kyrgyzstan). In 1996, a nine-year-old Eldar Djangirov performed at a jazz festival in Novosibirsk, Russia, where a visiting American jazz supporter named Charles McWhorter heard him for the first time. Feeling that the young pianist had a great deal of potential, McWhorter arranged for him to attend a summer camp at the Interlochen Center for the Arts in Michigan. Djangirov ended up staying in the United States; after leaving Michigan, he lived in Kansas City before making San Diego, CA his home. The improviser's first album, Eldar [D&D], was released in 2001, when he was 14; that disc was followed by the release of his sophomore disc, Handprints, in 2003. In 2004, Djangirov signed with Sony Classical and recorded his third album, which is also titled Eldar [Sony]; the album boasts John Patitucci on bass and Michael Brecker on tenor sax and was given a March 2005 release date. Two years later Eldar released Re-Imagination, which saw the pianist stretching out into solo acoustic piano and even electronica territory. © Alex Henderson, 2008 All Media Guide, LLC