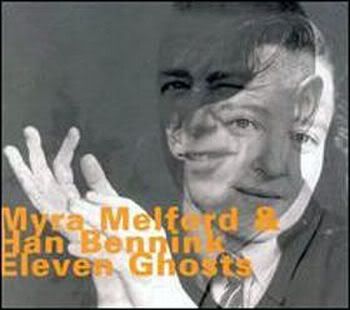 Myra Melford -
Eleven Ghosts -
1994 -
hatOLOGY
Pianist Myra Melford and percussionist Han Bennink splash about in blues and — of all things! — the blandly iconic "Maple Leaf Rag," as well as in their own, allusion-free interactions, in such a way as to give postmodernist importation the very best possible name. In a word, they're that good. Give it a listen and don't be put off by any mental images of free or rambling avant garde jazz. This album is very accessable. Give it a fair hearing, and see what you think. Many of these type of jazz albums are discounted by critics, because they do not conform to certain structures, and are inclined to "go off at a tangent." Myra Melford's percussive melodies, highlighted by Bennink's jovial sonic booms make this recording most enjoyable. Lots of fun (2, 7, 8, 11) and some serious noise (5). Bennink does spectacular drumming alone on 3. The two converse very well as they explore all elments of the music. An excellent jazz album. Buy her great album "Alive in the House of Saints."
TRACKS / COMPOSERS

The First Mass - Han Bennink, Myra Melford
How Long Blues - Leroy Carr
Frank Goes To - Myra Melford
Another Mess - Han Bennink
Which Way Is That? - Myra Melford
Three Ghosts - Han Bennink, Myra Melford
Some Relief - Han Bennink, Myra Melford
And Now Some Blues - Myra Melford
Now - Myra Melford
And Now - Myra Melford
The Maple Leaf Rag - Scott Joplin
Recorded at Radio DRS, Zürich on 11/12 February 1994
MUSICIANS

Han Bennink (Drums)
Myra Melford (Piano)
REVIEW
Supreme musicians Myra Melford and Han Bennink join together for a duo recording as blues progressions, boogie-woogie, and Harlem stride become the trampoline from which they jump. It's free, free, but far less cryptic -- and more accessible -- than one might expect. Melford is a very accomplished pianist: straight and outside, serious and silly -- she's done it, and done it well. Bennink has a wide repertoire of percussive creativity. He's a light-hearted master who can re-create the sounds of a kitchen's ride through an earthquake. Rising uniquely to any level of playing -- abstract, straight, or wack -- he can play like three drummers at once. These two musicians play musical strands that run parallel, complementing each other nicely. The piano softly twinkles up and down the scales; gossamer strings connect Melford's hands to old barrelhouse tunes. Meanwhile, the drums unravel any hope of 4/4 time and get happily tangled up in the string. Melford bangs cluster punches while Bennink scrambles up one side of a song, only to roll down the other side, arms flapping. Playful, they twirl around each other. Masterful, they create an off-the-wall pair who surprise and delight. The longest piece, "Which Way Is That?," twists its own focus lens, alternately smearing the tune's structure until it's all blurred together and putting it back into focus until it's explicitly restated. "Some Relief" is a brief intermission, a straight little ditty as respite. "And Now Some Blues" sometimes allows the piano blues to roll, but often deconstructs it, and their take on "The Maple Leaf Rag" is quite excellent and an appropriate closer for this album. Although grouped in the more avant-garde end of jazz, Eleven Ghosts won't scare the audience off. Even people who stiffen at the words "outside jazz" will relax their shoulders while listening to this album. ~ Joslyn Layne, All Music Guide
BIO (Myra Melford) - Wkipedia

Myra Melford (born January 5, 1957 in Illinois) is a jazz pianist and composer. In recent years, Melford has begun playing the harmonium as well as piano. Melford grew up in the Chicago area. Based in New York City since the mid 80s, Melford has played as a side-person with Henry Threadgill, and has led her own bands including players such as trumpeters Dave Douglas and Cuong Vu, reed players Marty Ehrlich and Chris Speed, bassists Lindsey Horner and Stomu Takeishi, drummers Michael Sarin and Kenny Wolleson, and cellist Erik Friedlander. In addition she has played in a leaderless trio called Equal Interest which includes Joseph Jarman of the Art Ensemble of Chicago and AACM violinist Leroy Jenkins, and has played in duos with Marty Ehrlich, Dutch percussionist Han Bennink and flutist Marion Brandis. She is currently teaching at the University of California, Berkeley.
BIO (Myra Melford)

An ambitious composer/pianist with a taste for adventure, Myra Melford emerged in the late '80s and early '90s as one of the more highly acclaimed young jazz pianists of the day. Melford's early work reflected her primary musical mentors/influences: on piano, Don Pullen, whose percussive mannerisms she successively adapted; and, as a composer, Henry Threadgill, whose formal techniques she obviously studied. Melford professes an affinity to the blues styles she heard and studied as a youth in Chicago (she grew up in nearby Evanston, IL), which she incorporates into her avant-garde-tinged musical sensibility. As a youth she studied boogie-woogie piano with Erwin Helfer. Melford attended college at Evergreen State in Washington State, where she studied with the pianist Art Lande and developed an interest in jazz. She went on to also attend the Cornish Institute in Seattle. In 1984 she moved to New York, where she would play in the bands of Threadgill, Leroy Jenkins, and Butch Morris, among others. She also studied privately with Pullen. In the mid- to late '80s she performed and recorded in a duo with the flutist Marion Brandis. She formed a trio with bassist Lindsey Horner and drummer Reggie Nicholson, with which she recorded a pair of albums -- Jump (1990) and Now & Now (1991) -- for the rock-oriented Enemy label, which helped establish her reputation. As the '90s progressed, Melford added horns to her sound; the trumpeter Dave Douglas is a member of her Same River, Twice band, which has recorded albums for the Gramavision and Arabesque labels. She has continued to perform with bands led by Jenkins and Threadgill; she is also a member of one of Douglas' many ensembles. In 2000, Melford received a Fulbright Scholarship to study North Indian music on the harmonium with Sohanlal Sharma in Calcutta. © Chris Kelsey, All Music Guide
BIO (Han Bennink)

In the niche-oriented world of major-league jazz, it's almost unfashionable to be so multi-faceted a player as Han Bennink. Bennink is one of the unfortunately rare musicians whose abilities and interests span the music's entire spectrum, from Dixieland to free. His straight-ahead playing is absolutely convincing -- his time is solid, his sense of swing strong, and his technique flawless. He also possesses the requisite qualities of a free jazz virtuoso; Bennink's ability to interact quickly and creatively with horn players and pianists is great, as is his ear for timbral contrasts. What ultimately makes Bennink special is his manifest love for the music, a love that inclines him to tear down the cardboard walls that too often separate different schools of jazz. At his best, with colleagues who share his all-encompassing stylistic embrace, Bennink plays the continuum of jazz as an instrument unto itself. Bennink began playing drums while in his teens under the influence of his father, a classical percussionist. He played with hometown musicians in the early '60s. Between 1962 and 1969, Bennink backed local American jazz greats like Dexter Gordon, Sonny Rollins, and Eric Dolphy on their visits to Holland (he was the drummer on Dolphy's Last Date album, from 1964). In 1963, he formed a quartet that included pianist Misha Mengelberg, which played the 1966 Newport Jazz Festival. In the mid-'60s, Bennink began to play free jazz with the likes of Mengelberg and Willem Breuker. In 1967, those three founded the Instant Composer's Pool, a not-for-profit organization designed to promote the Dutch jazz avant-garde. Around that same period, Bennink began continuing associations with the saxophonist Peter Brotzmann, guitarist Derek Bailey, trombonist Alex Schlippenbach, trumpeter Don Cherry, and the Globe Unity Orchestra. In the '70s and '80s, Bennink led and played as sideman on a number of sessions on the FMP, Incus, and Soul Note labels; he made a notable contribution to Steve Lacy's Herbie Nichols tribute album, Regeneration, with Mengelberg, bassist Kent Carter, and trombonist Roswell Rudd. In the late '80s, Bennink started, with cellist Ernst Reijseger and saxophonist Michael Moore, the Clusone Trio, which has since become perhaps the percussionist's most ideal performance vehicle. Both Reijseger and Moore share Bennink's extraordinarily wide range of musical interests, to say nothing of his absurdist sense of humor. It is, in fact, Bennink's rather whimsical theatricality that mitigates -- for some, at least -- the seriousness and depth of his art. © Chris Kelsey, All Music Guide