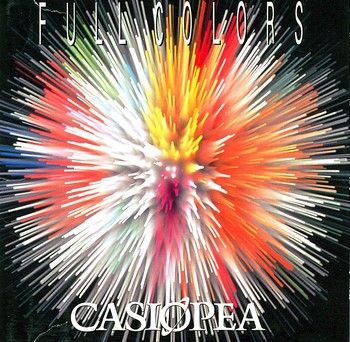 Casiopea
-
Full Colors
-
1991
-
Pioneer LDC
The Japanese outfit, Casiopea are huge in the Australasian and S.E Asia area , but are not as well known in the West as they should be, despite having toured globally, and with artists like Randy and Michael Brecker, and members of Fourplay, including Lee Ritenour, Harvey Mason, Nathan East and Don Grusin. If you like jazz fusion, expertly played, then you may like "Full Colors". The album may be a bit more "lightweight" than other Casiopea releases, but the superb musicianship is still here. Listen to ""Fightman", a great track, and one of the band's biggest hits. Casiopea have released many albums, many of which are only available as ovepriced Japanese imports. If you can find it , at a reasonable price, buy their 1981 album, "Eyes of the Mind", one of the best fusion albums of the early 80's.
N.B
:
Akira Jimbo and Tetsuo Sakurai are mot playing on this album, having departed the band in 1989. This album was later released in a remastered version, with fantastic sound quality. However, the album posted here is ok, audiowise, and is very enjoyable.
For more great jazz fusion, check out the following albums, :- The Yellowjacket's "Four Corners", Weather Report's "Black Market", Fourplay's "Between the Sheets", Michael Franks and Crossfire "Live", Spyro Gyra's "Down the Wire", John McLaughlin and Chick Corea's "Five Peace Band Live", and Brand X's "Morrocan Roll". Casiopea's "Made In Melbourne" album can be found @
CSPEA/MIM
TRACKS / COMPOSERS
1. "Fight Man" Issei Noro 3:17
2. "The Sky" Issei Noro 4:03
3. "Passionate Voltage" Issei Noro 2:47
4. "Purple Hours" Issei Noro 4:00
5. "Final Chance" Minoru Mukaiya 3:23
6. "Akappachi-ism" Yoshihiro Naruse, Issei Noro 3:03
7. "Private Sunday" Issei Noro 3:55
8. "Search My Heart" Minoru Mukaiya 4:40
9. "Street of Dreams" Issei Noro 4:22
10. "Navigators" Issei Noro 3:49
11. "Once In A Blue Moon" Minoru Mukaiya 3:37
12. "Top Wind" Issei Noro 4:12
MUSICIANS
Issei Noro - Electric guitar, Acoustic guitar
Yoshihiro Naruse - Electric Bass
Minoru Mukaiya - Keyboards
Masaaki Hiyama - Drums
Gen Ogami(Orquesta de la Luz) - Timbales & Percussions
Carlos Kanno(Orquesta de la Luz) - Bongo & Percussions
Gen Date(Orquesta de la Luz) - Conga & Percussions
BIO
Casiopea was formed in the late 70's by guitarist Issei Noro, keyboardist Minoru Mukaiya, bassist Tetsuo Sakurai, and drummer Takashi Sasaki, and the quartet released its first, self-titled album in May of 1979. Containing high-energy, yet melodic contemporary jazz and fusion and featuring arrangements fleshed out by a horn section consisting of Michael Brecker, Randy Brecker, and David Sanborn, the album set the tone for the band's many future releases and remains one of their best. The song "Midnight Rendezvous" is still a concert staple.
The band's follow-up, Super Flight, was released only six months later, the short gap between the albums being characteristic of the band's prolific output. Thunder Live, the first of several live albums to be put out by the group, followed in 1980. This album marked the first apperance of drummer Akira Jimbo, who replaced Sasaki after the first two studio albums. Jimbo, a world-class fusion drummer renowned for his mastery of 4-way independence (independent movement of the four limbs), completed a line-up that would remain stable for most of the decade. Several albums followed in rapid succession. 1981 saw the band seeking outside help to handle the production chores and turned to ace drummer Harvey Mason (today perhaps best known to smooth jazz fans as a member of Fourplay) for the album Eyes of the Mind, recorded in L.A. Mason's influence lent the group's music a more American sound, and his and Paulinho da Costa's percussion work contributed to making this one of the quartet's best releases. The album was recorded on 32-track digital equipment, practically unheard of in those days. Mason also acted as executive producer on the band's next album, Cross Point. In 1982 followed Mint Jams, a live album recorded in Japan and containing first-rate examples of the band's live performances at this stage in their career. For their next studio album, the band once again turned to guest players. 4x4 - Four By Four, released in late 1982, features Lee Ritenour, Don Grusin, Nathan East, and Harvey Mason, and contains some very interesting arrangements with two players on each instrument. Ritenour also contributed a song and did some of the arrangements, including the surprising choice of Ravel's "Pavane Pour Un Infante Défunte". By this time, Casiopea's reputation was starting to spread outside Japan, and in 1983 the band performed live in England for the first time. Later that same year, they recorded their tenth album, Jive Jive, in London. The year 1989 turned out to be a watershed in Casiopea's career. After a few years of tension within the band, drummer Akira Jimbo and bassist Tetsuo Sakurai left to pursue solo careers (to be covered in future editions of this column), and the two remaining members came close to calling it quits. It is the only year in the band's history that did not see the release of a studio or live album from the fusion foursome. A laserdisc was released, but no album. However, replacements were found, and in 1990, Casiopea returned with The Party, the first album to feature new members Yoshihiro Naruse and Masaaki Hiyama. With his energetic stage presence, Naruse seemed to inject some new energy into the band, and the quartet was set to enter the 90's with a more aggressive and slightly more hard-edged sound. One of Japan's premier bass players, Naruse has a distinct style (partly due to his frequent use of double strings), and like Sakurai before him, is a master slapper. With this new line-up, Casiopea recorded two more studio albums, 1991's Full Colors and 1992's Active, as well as another live album, We Want More. In late 1992, Hiyama was replaced by Noriaki Kumagai on drums, and with him on board, the band recorded Dramatic, released in 1993. More varied both in terms of arrangements and songwriting, the album stands out as one of the band's best 90's releases. In 1994, Casiopea was particularly busy. May saw the release of Answers, a new studio album recorded in Hawaii. For its 25th album, released only three months later, the band decided to try something different. The result was Hearty Notes, a kind of "unplugged" recording featuring only acoustic instruments. In December followed Asian Dreamer, a double CD containing new versions of 20 classic Casiopea songs. Not about to slow down even after this busy year, Casiopea returned in 1995 with a new studio recording called Freshness. In 1996, the band appeared at the North Sea Jazz Festival in the Hague, Holland following the recording of a new album in Amsterdam. Later that year, Kumagai left the band, and rather than finding a permanent replacement, the remaining members decided to call upon a couple of old friends for the recording of their next album, Light and Shadows. Reuniting with Harvey Mason, the band recorded three tracks in L.A., while former member Akira Jimbo occupied the drum chair on the remaining eight tracks. With Jimbo back as an "associate member" and even contributing a few songs, Casiopea recorded two more studio albums, including 1999's Material, which marked the 20th anniversary of the band's debut. Following the release of the new CD, the band embarked on a tour of Japan, with a special anniversary concert taking place in Tokyo. With Jimbo behind the drums, the band was joined by some special guests during the second part of the show: former members Tetsuo Sakurai and Noriaki Kumagai, as well as keyboardist Hidehiko Koike, who was a member of the band in the 70's before they got a record deal. The show was recorded and filmed, and a double live CD called 20th came out in early 2000. The first disc is devoted mainly to recent material, but also includes a 37-minute medley structured as a flashback chronicling each year in the band's history. Each song in the medley is a year older than the previous one, until the band ends up playing "Space Road" from their first album in 1979. The second disc is devoted to the guest portion of the show, including some very potent drum and bass battles between the current and former members. The whole show was also released on VHS video and DVD. With new studio albums, Bitter Sweet and Main Gate, having been released in 2000 and 2001, Casiopea has entered the 21st century as prolific and energetic as ever. The band has also entered the world of DVD's: The DVD version of their double live CD has already been mentioned above, and other notable titles available are Casiopea Live History Part 1 and Part 2, which both are double DVD's containing 2 concert recordings each, from 1985, 1986, 1988, and 1992. The first disc in Casiopea Live History Part 2 is the video version of the World Live '88 CD release mentioned above, with recordings from Brazil, Australia, Japan, Mexico, and the USA. Yet another DVD, The Mint Session (1997), contains live performances recorded in a studio and features guest spots by former bassist Tetsuo Sakurai, as well as drummer Akira Jimbo. All the DVD's mentioned in this paragraph are playable in all regions. While Casiopea can be criticized for a certain sameness in their music, rarely straying far from their characteristic sound, the fact remains that their albums exhibit a vigour that is lacking from a lot of typical, run-of-the-mill smooth jazz releases. Another way of looking at it is to say that Casiopea has remained true to their sound and not yielded to the pressures that many American smooth jazz artists are subject to, putting out remarkably consistent albums throughout their 23-year recording career. © Morten Hansen, www.smoothvibes.com/vikingview.html