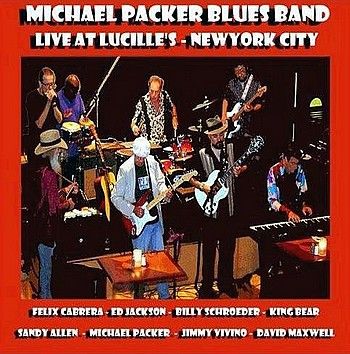 Michael Packer Blues Band
-
Live at Lucille's New York City
-
2007
-
Iris Music Group

The album was recorded live on a steamy August-summer night in 2007 at Lucille s blues club on 42nd Street, in the heart of Times Square, New York City. They came to play and smoked the tunes til they owned them. Born Under A Bad Sign , Sweet Home Chicago , Willie Dixon s The Same Thing , all spectacularly performed by a magical assemblage of players. Led by Iris Music Group recording artist Michael Packer on guitar and vocals, the band consisted of Jimmy Vivino, guitar and additional vocals (he s the Conan O'Brien TV show guitarist and Levon Helm s musical director); pianist David Maxwell (of the James Cotton Band); Iris Music Group recording artist Sandy Allen, playing mandolin (he and Michael founded Papa Nebo and Free Beer); blues harp extraordinaire, Felix Cabrera; Ed Jackson on Bongos; Japan's finest bass player, King Bear; Billy Schroeder on drums (of Louisiana Red); and special guest blues harp and vocalist, Dave ' Snakeman ' Runyan (James Cotton protégé) performing his Snakeman Blues . The live recording session was engineered by Blue Note soundman Everette Ramos for Jack O Hara. The album was produced by Michael Packer for Iris Properties, Inc. Executive producer is Alan Lorber. This album is a companion album to the recording of the opening set, the country/folk part of the evening at Lucille s, Michael Packer/Sandy Allen Reunion Live At Lucille s,performed as a reunion of Michael and Sandy who were the founding members of their early bands, Papa Nebo and Free Beer, also released by the Iris Music Group label. © 1996-2009, Amazon.com
"Live at Lucille's New York City" is a great traditional blues album. The tracks are played with a real feeling and love for the blues. Michael Packer's line-up includes the brilliant Jimmy Vivino on guitar, and the wonderful bassist, King Bear. Listen to the blues as they should be played. Try and listen to Michael's 2007 solo album, "The Sunny Side Of Me".
TRACKS / COMPOSERS
1. Driving Wheel - Roosevelt Sykes
2. Corrina, Corrina - Trad.
3. Born Under A Bad Sign - Booker T. Jones, William Bell
4. Jimmy's Blues - unkmown
5. Sweet Home Chicago - Robert Johnson
6. As The Years Go Passing By - Don Robey, or Peppermint Harris
7. The Same Thing - Willie Dixon
8. Snakeman Blues - Dave 'Snakeman' Runyan
MIUSICIANS
Michael Packer - guitar, vocals
Jimmy Vivino - guitar, additional vocals
King Bear - bass
David Maxwell - piano
Billy Schroeder - drums
Ed Jackson - bongos
Sandy Allen - mandolin
Felix Cabrera, Dave 'Snakeman' Runyan - harp
TONIGHT I MET THE U.S.!!!
Christmas in New York is great! We were in BB Kings Blues Club where a Beatles tribute band was playing in the main room. We decided to have something to eat in the Lucilles restaurant area.Playing that night in Lucille's was a local blues band called the Michael Packer Blues Band.They were so close,so tangible and so awesome.True blues from one of the very finest blues bands i have ever seen and about 5 hours worth of music.The love that was displayed on this Christmas day was so overwelming that i was moved to tears and eventually began to tremble.The band played with incredible feeling and Michael Packer gave up himself entirely to the music the whole night.I got an autograph from Michael but that was not difficult because the stage was about four meters from our table. The cool thing is he played the same guitar i own a Fender Squier stratocaster...Yes, tonight i found America! © LG THOMAS - LG THOMAS - GERMANY (Dec 25, 2008), © 2009 michael packer

BIO
MICHAEL PACKER is a singer-songwriter, guitarist who was born in New York City in 1950. He did his first gig at the Bitter End in Greenwich Village at the age of 15. In 1969 he formed the group 'Papa Nebo" which included saxophonist Bob Mintzer who went on to play with the grammy award winning "Yellowjackets". Papa Nebo recorded an album for Atlantic records.They were personally signed by Ahmet Ertegun.Today it is a collectors item. Packer soon took his sound to the West Coast with buddy Sandy Allen, playing on the streets of San Francisco during the day and The Coffee Gallery in North Beach at night, Michael met George Thorogood and was turned on to the blues. Eventually Packer and Allen made their way back to New York where they started another project "Free Beer"."Free Beer" was born at Gerdes Folk City in Greenwich Village where they added singer-songwriter Bob Potter. Free Beer recorded 3 albums for Buddha and RCA records and toured extensively with the likes of the Atlanta Rhythm Section,Johnny Rivers, Dr.Hook, Clifton Chanier to name a few.All of the albums made the Billboard top 100 and they were well on their way. But nothing lasts forever in the music industry and Free Beer broke up. After the demise of Free Beer in the late 70.'s Michael opened for John Hammond Jr. and sang with the Matt Murphy Band. In 1984 in Boston he fronted a 10 piece band called "Coolstep" and opened for Huey Lewis on a New England Tour.After dropping out of the music scene in the late 80's and early 90's Michael Packer hit the skids.His drinking had escalated and he found himself living on the streets. He did a year in Rikers Island for attempted robbery but that seemed to be the turning point in his life.Even in prison he had a band. HBO did a special "The Prisoners of Rikers Island in which he appears. Michael Packer has been sober 15 years now and life is good especially his music.He has become a well known and respected member of the New York City Blues Scene. The Michael Packer Blues Band has received rave reviews in Living Blues, Blues Matters, Blues Revue magazines for the live @ Sweet Rhythm album (Woodstock Records). A Best of Michael Packer has been released and also reissues of his earlier recordings Papa Nebo and Free Beer. Packer also released a solo album "The Sunny Side of Me" in 2007 featuring lyrics for the title song by a 8 year old girl from Albany NY named Gabby Kasper.Later that year Packer and his band with special guests Jimmy Vivino,David Maxwell,Sandy Allen,Dave 'Snakeman' Runyan and Felix Cabrera recorded a live session @ Lucilles (BB King's) NYC .All of these recordings were released by Alan Lorber's Iris Music Group.A Michael Packer anthology was also released in 2008..In 2009 Michael Packer & percussionist Ed Jackson were semi-finalists in the solo/duo competition @ the International Blues Challenge in Memphis and the Iris Music Group has just released the new CD "Riker Island Blues" which contains intriguing liner notes by Blues Wax editor Don Wilcock. Michael Packer has lived the blues and now he is back playing the blues with style. © 2009 michael packer