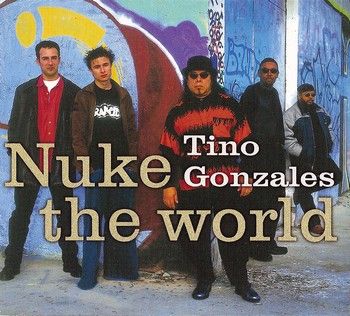 Tino Gonzales
-
Nuke the World
-
2003
-
Dixiefrog
...a bridge between Chicago and Mexico and Latin sounds, always a pleasure to our ears! - Le Cri du Coyote
...the veritable perle of the album is the last track, dedicated to the people of France, who said 'no' to the war, called "Here! My freedom sing". For 9.34 minutes, Tino rivals the best of guitar heroes. One of his best albums recorded. - Zicline
Here is an album that does not lack ambition. Tino Gonzales satisfies his audience with a solid album of blues, rock and funk, all put together in a beautiful package. - La Marseiilaise
The Chicago bornTino Gonzales plays the blues with guts, attitude, and a dynamic force. Some music critics have labelled Tino Gonzales "the Latin-American Stevie Ray Vaughan", and the man plays a mean guitar. The album is not all apolitical blues, as some of the songs' lyrics refer to Tino's views on "Governmental policies". Tino Gonzales is well known for his strong socio-political conscience. Bot fundamentally the album is American blues roots music, with a modern touch. The songs are full of melodic, agressive, punchy and blues/rock grooves. The rhythm section is tight and funky, with Kenny Martin on drums, and Darryl Taylor on bass. Nico Wayne Toussaint plays some great blues harp, and the great Dutch musician, Sjors Nederlof adds some great guitar .Listen to his work on "Heart Full of Sorrow". A good album. Another facet of the Blues genre, and worth hearing. Listen to Tino's great "Double Feature" album.
TRACKS

Heart Full of Sorrow (4:15)
Your're not the One (4:57)
Nuke the World (4:15)
How you play the Blues (6:51)
Raging Blues (4:55)
Higher Ground (4:44)
When Angels Weep (6:01)
Why (4:27)
Iz them da Blues (4:14)
Here! My Freedom sings (9:34)
All songs composed by Tino Gonzales except 'Higher Ground', by Stevie Wonder

MUSICIANS
Tino Gonzales - Guitar and Vocals
Sjors Nederlof - Guitar on "Heart Full of Sorrow"
Darryl Taylor - Bass
Jean Paul Dayde - Bass on "Here my Freedom Sings"
Johan Dalgaard - Piano
Christophe Capelier - Keyboard on "Here my Freedom Sings"
Kenny Martin - Drums and Percussion
Philippe Douron - Drums & Percussions on "Here my Freedom Sings"
Nico Wayne Toussaint - Harmonica
BIO
Born in the Bluestown of Chicago in 1951, Tino Gonzales, grew up with the soul sounds of Black music ­ Blues, R & B, Jazz, and Soul all have contributed to his musical foundations. Having served his apprenticeship with a wide range of blues and jazz greats he eventually set off on his solo Blues career in 1985. But as a Mexican American with a streak of Arabic heritage, the Latin blood flows equally in his veins. His music encompasses all of these varied cultural influences resulting in a unique sound that can not easily be labelled in terms of conventional categories ­ but if one had to sum it up in one word it would have to be passion! Gonzales' incredible virtuoso style is so fluid one gets the impression he pours his soul right into his guitar as he floats up and down its neck, coaxing from it sounds and vibrations hitherto unknown ­ even to the most ardent blues connoisseurs. He changes styles more often than many blues musicians know how to change keys and any direction he chooses, whether latin, jazz or soul, he plays with the same passionate fire and fluidity. As top US westcoast DJ Steve Pringle from KMHD radio in Portland, Oregon recently put it, "I have no frikken idea why you aren't better known. Not for lack of talent, sound, writing…it's all good!" One of the reasons undoubtedly is Gonzales free-spirited and independent way of thinking, which has earned him the reputation of a maverick in the business. He resisted the temptation of signing with major labels on more than one occasion, because he refused to let himself be exploited, run down and spat out by the industry as he has seen happening to so many of his friends and peers. Instead, he decided to go his own way, often a rough and tumble road, but free at least. After years of touring the US and Canada Gonzales grew tired of the same old Club and Festival scene, packed his Hobo bag and decided to sail east. Since his arrival on European shores two years ago Gonzales has certainly made some big waves over here. Having finally found a label he could work with he decided to sign with Dixiefrog, a French Blues label with a human touch. So far he has recorded three albums for them, each one a masterpiece in its own right with the unique Tino Gonzales touch. The last one, "Modern Day Hobo" was recorded in Germany and received rave reviews in thei nternational press. It reflects the beginnings of a process of transformation and artistic growth that is becoming even more apparent in his new album, "A World of Blues". Travelling throughout Europe, from France, Belgium, Holland, Luxemburg and Germany, to Spain, Italy and even Slovenia, Gonzales has become deeply influenced by the Old World roots of the same soulful music he grew up on in the States. Spanish, Gypsy, Arabic and African influences, which originally contributed to both, Latin and Black American music, have all found their way into his repertoire. His new Album, "A The World Of Blues", the 4th for Dixiefrog, pays tribute to these Old World roots of the blues as he masterfully manages to weave gypsy accordion, African kora and world percussion sounds into his unique blend of Latin Jazz/Blues fusion. The result is a phenomenal melange of musical influences all of which speak the same language – passion. Passion for music, passion for love, passion for life ­ and compassion for the blues of the world. Gonzales' passion is not just show. He deeply cares about humanity and planet earth. To him the essence of blues is not only about the sense of desperation rooted in slavery or variations on the theme of personal misery, but instead conveys a message that applies to the human condition everywhere, and throughout all of time. He sings the blues of the American Indians, the Blues of drug addicts, and the blues of the world. One of the songs on the new album, an exquisite slow blues tune ­it gives a message of peace to the blues of the world, appealing to each and everyone of us not to add "No More Misery". www.metisse-music.com