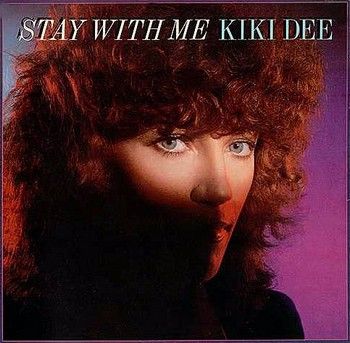 Kiki Dee
-
Stay With Me
-
1978
-
The Rocket Record Company
Kiki Dee's career is very similar to Barbara Dickson. They are both mainly remembered for a few huge hits, as well as TV, and stage work. Check out Barbara Dickson on this blog. In Kiki Dee's case, she is probably most famous for her "I've Got the Music in Me", and her global hit "Don't Go Breaking My Heart", a duet with Elton John. However Kiki, from Bradford, England has been recording since 1963. From the early '60's through the early '70's she sang blues, jazz, and soul, and was the first British Caucasian signed by Motown Records. She was a backing singer for Dusty Springfield, and appeared on numerous TV shows singing classic jazz, soul and R&B standards. There is a TV footage of her singing the BS&T classic "You've Made Me So Very Happy" in 1971. When she signed with Elton John's Rocket label in the mid seventies, her music became more commercial with a strong pop flavour, but pop music of the highest standard. She had already sung some backing vocals on Elton's classic GYBR album. Her connections with Elton John continued into the late '80's, but outside the EJ association she also recorded songs as diverse as The Chanter Sisters' "Star", and "What Can't Speak Can't Lie" recorded by the great fusion band, Casiopea. Again, like Barbara Dickson, she achieved much acclaim for her natural acting talent, and at one stage played the same role previously played by Barbara Dickson in Willy Russell's much heralded musical Blood Brothers, just one of her many acting credits. Kiki still performs and records. "Stay With Me" is a great example of this great lady's vocal talent, and is
HR by A.O.O.F.C.
There is also an album by Kiki Dee entitled "Stay With Me (The Rocket Years)" which was an 18 track compilation released in 1979. The album posted here was reissued on CD in 2008 with two bonus tracks, "The Loser Gets To Win", and "I Want Our Love To Shine". Check out Kiki's "Amoreuse" compilation CD which covers the full range of her vocal and musical spectrum.
TRACKS / COMPOSERS
A1 One Step - Snow, Ballard
A2 Talk To Me - Dee, Lasley, Buzby
A3 Don't Stop Loving Me - Dee, Lasley, Buzby
A4 Dark Side Of Your Soul - Dee, Lasley, Buzby
A5 Stay With Me Baby - Ragavoy, Weiss
B1 One Jump Ahead Of The Storm - Seals, New
B2 You're Holding Me Too Tight - Gold, Weil
B3 Love Is A Crazy Feeling - Boshell, Johnstone
B4 Safe Harbour - Lasley, Morrano
MUSICIANS
Kiki Dee - Lead Vocals
Steve Lukather, Davey Johnstone - Guitar
David Hungate, Bob Glaub - Bass
James Newton Howard - Synthesizer, Keyboards
Steve Porcaro - Synthesizer
Greg Phillinganes, Tom Snow, David Paich, Bias Boshell - Keyboards
Victor Feldman - Keyboards, Percussion
Jeff Porcaro, Jim Keltner - Drums
Chuck Findley, Jim Horn, Steve Madaio - Horn
Venette Gloud, Donny Gerrard, Susan Collins, Carmen Twillie, Brenda Russell, Sharon Robinson, David Lasley, Arnold McCutler - Vocals
SHORT BIO
Kiki Dee kicked around Britain as a white soul singer for the better part of the late '60s and early '70s — even becoming the first British Caucasian signed to Motown — before hooking up with Elton John, who signed her to his Rocket Records label and produced her first notable hit, "I've Got the Music in Me." In 1976, at which time John was the biggest pop star in the world, he wrote and duetted with Dee on the single "Don't Go Breaking My Heart," which promptly topped the charts all over the world. It did not, however, make Dee a long-term star, though she scored a couple of subsequent hits in England and turned to the stage with some success, especially by starring in Blood Brothers in the West End. In 1993, she and John recorded another duet, on Cole Porter's "True Love" (previously recorded as a duet by Bing Crosby and Grace Kelly). © William Ruhlmann © 2010 Rovi Corporation. All Rights Reserved http://www.allmusic.com/cg/amg.dll
BIO
(WIKIPEDIA)
Kiki Dee (born Pauline Matthews, 6 March 1947, Little Horton, Bradford, West Yorkshire, England, is a singer-songwriter, with a career spanning more than 40 years. She is best known for her 1976 duet with Elton John, entitled "Don't Go Breaking My Heart", which went to Number 1 both in the UK Singles Chart and the U.S. Billboard Hot 100 chart. In 1993 she performed another duet with Elton John for his Duets album, a cover version of Cole Porter's "True Love", which reached #2 in the UK. Kiki Dee began singing with a local band in Bradford in the early 1960s. Her recording career began as a session singer. She sang backing vocals for Dusty Springfield, among others, and was regarded by other singers but did not achieve solo success in the UK for many years. However, her 1965 release "Why Don't I Run Away From You" was a big hit on Radios London and Caroline in 1965, and her 1968 release, "On a Magic Carpet Ride", which was originally a B-side, has remained popular with the Northern Soul circuit. Hit songwriter Mitch Murray came up with her stage name, and also penned her first single, "Early Night". In the United States she became the first white British artist to be signed by Motown, releasing her first Motown single in 1970. In the days before BBC Radio 1, Dee was a regular performer of cover versions on BBC Radio, and she starred with a group of session singers in the BBC Two singalong series, One More Time. She also appeared in an early episode of The Benny Hill Show in January 1971, performing the Blood, Sweat and Tears hit, "You've Made Me So Very Happy". Nevertheless, it was only after she signed with Elton John's Rocket Records that she became a household name in the UK. Her first major solo hits were "Amoureuse" (written by Véronique Sanson, with English lyrics by Gary Osborne) (1973) and "I've Got the Music in Me" (written by Tobias Stephen Boshell), the latter credited to the Kiki Dee Band (1974). In addition to her burgeoning career as a lead vocalist, she could sometimes be heard singing backing vocals on various Elton John recordings, such as "All the Girls Love Alice" on "Goodbye Yellow Brick Road" and various tracks on Rock of the Westies. She became a household name with her duet with Elton John, "Don't Go Breaking My Heart" in 1976. In 1981, Dee joined forces again with Elton John, recording a cover of the Four Tops' song "Loving You Is Sweeter Than Ever". In 1983, she supplied backing vocals to Elton John's album Too Low for Zero. Between 1987 and 1990 the theme music to the BBC One programme Opportunity Knocks was Dee's recording of "Star", a song written by Doreen Chanter of the Chanter Sisters. Dee also sang the song "What Can't Speak Can't Lie" (1983), composed and recorded by the Japanese jazz fusion group Casiopea, and with lyrics by Gary Osborne. She has released 39 singles, 3 EPs, 9 LPs and 3 CDs to date. Dee has also appeared in musical theatre - notably in the lead role in Willy Russell's West End musical Blood Brothers, in which she took on the role originally played by Barbara Dickson for the 1988 production and recording. She received an Olivier Award nomination in 1989 for her acting skills. In 1990, she contributed to the last recording studio collaboration between Alan Parsons and Eric Woolfson, on the album Freudiana, performing "You're On Your Own". In 2008, Dee's first DVD was released. Under The Night Sky was a collaboration with guitarist Carmelo Luggeri, filmed live at the Bray Studios in London. That same year, several albums from her earlier 1970s-1980s Rocket catalogue were re-released by EMI Records, including an expanded edition of Almost Naked with extra tracks, including a cover of Neil Young's "Heart of Gold", and a new take on "Sugar on the Floor". The latter song had previously appeared as a full band version by Dee; a piano/vocal version (with slide guitar from Davey Johnstone) by Elton John (a bonus CD track on Rock of the Westies that was the b-side to "Island Girl"); and a jazzy version by Etta James. She also performed at Live Aid, reprising "Don't Go Breaking My Heart" with John, and performing backing vocals on the other songs in his set. She still tours, and occasionally makes guest appearances on television in shows such as Never Mind the Buzzcocks. She has recorded with other artists such as Dave Stewart and guitarist Carmelo Luggeri.