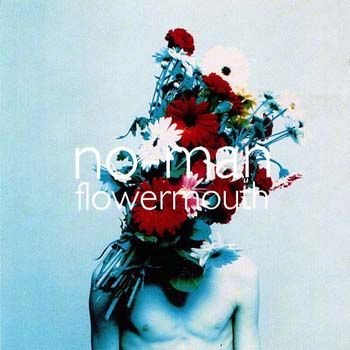 No-Man - Flowermouth - 1994 - One Little Indian

Flowermouth is the second studio album by British duo No-Man, released on April, 1994 on the One Little Indian Records label, and subsequently reissued on September, 1999 by 3rd. Stone Ltd, and in a deluxe format by Snapper Music in February 2005. Flowermouth was considered the band's most ambitious album to date, and remains a fan favourite. Despite being the band's best selling release, it was obvious by now that No-Man couldn't continue along the path which their record company wanted them to follow. Following Flowermouth's release, No-Man parted company with both One Little Indian in Britain and Epic/Sony in the US. Long-term band member Ben Coleman had left prior to the album's release and by 1994, the band had effectively retired from live performance. Considered a vitally important evolution, the album realised the expansive promise of the band's earlier material. Combining dream pop, art rock and moody minimalism, with an epic orchestral scope, Flowermouth was well served by the guest performances of Japan/Rain Tree Crow's Jansen and Barbieri, King Crimson's Robert Fripp and Mel Collins, jazz trumpeter Ian Carr and eerie Dead Can Dance singer Lisa Gerrard. [ from Wikipedia ]

Things were better honed for No-Man on Flowermouth, released a year after the band's debut. Minus Ben Coleman (although you'd never guess because he appears on seven of nine tracks), Tim Bowness and Steven Wilson were aided by Robert Fripp, Ian Carr, Steve Jansen, and Richard Barbieri (who recorded the excellent set Flame with Bowness in the same year). Beginning with the epic "Angel Gets Caught in the Beauty Trap," which is almost ten minutes on the original and longer on the reissue, things flow as Bowness' soothing vocal gives way to solos by Carr and Fripp. "You Grow More Beautiful" is another hit that might have been, while "Animal Ghost" is what Arthur Ransom, the author of Swallows and Amazons, might have sounded like had he chosen music instead of literature — a very English affair with a meandering piano line (removed on the reissue) and flute solo. "Soft Shoulders" is the closest to a throwaway, but "Shell of a Fighter" restores order, an enthralling piece expanding to nearly eight minutes of lilting pastoral verse, quiet passages of electronics, and an all out storm of squally guitars and ferrocious drumming. "Teardrop Falls," one of their best, is a paced yet graceful pop dance tune. Flowermouth has serenity, too, in "Watching Over Me," which may have been better following "Shell." "Simple" uses a sample courtesy of Lisa Gerrard of Dead Can Dance, roaming through contemporary club beats to reach a haunting climax. "Things Change" is the endgame, with the lyrics "You're leaving me behind you, I hate the way things change" sung in earnest. Gentle again, giving way to Wilson's emotionally wrought guitar mimicking the gut wrenching agony of love lost. A masterpiece of writing and playing recommended beyond reason. © Kelvin Hayes © 2010 Rovi Corporation. All Rights Reserved http://www.allmusic.com/cg/amg.dll?p=amg&sql=10:az6tk6rxqkrk

"Conceivably the most important English group since The Smiths..." - Melody Maker
"Can easily be measured with the best work of similarly unclassifiable acts like Japan and Talk Talk..." - OOR Magazine
"The power of great pop." - D.D.D.
"It's hard to say why they affect me this way - the biting melodies? The sheer bliss of the arrangements? the way you simply can never tell where a track is going until it's already gone and you can only just sit there smiling while a shiver runs up yer spine? God knows. All I know is I love them and they deserve so much more recognition than they've achieved to date." - The Beat Factory
"Trippy tunes mingling with deliciously black humour are the fare here. Bowness and Wilson see the world through dark lenses coated with juxtaposition and irony... Like a chameleon changing colors, No-Man transforms itself into a different band in each song with natural ease." - Innerviews
"No-Man's landscape is one of tenderly stroked violins, breathy passions, subdued disco beats, art, death, empty shags in suburban railway stations, decaying English stately homes and grandiose waltzes accompanied by the lonely ghost of 'Stranded'-era Roxy Music. And it is very, very wonderful." - Melody Maker
"No-Man's land isn't just wild (opera) at heart, it's also very fucking weird on top, and you should go and buy it. Now." - Hot Press
"Just as their name implies, they make music that floats towards a place where core identities dissolve." - The Wire
"Talented dream popsters weaving whispered vocals, violins, funky guitars, synths and dancebeats into some of the most sexy, summery, thoughtful and exotic tunes that ever nibbled your ear." - Big Issue
"Euphorically and elegaically, No-Man are incapable of making a duff record." - Melody Maker
"A group that soar arrogantly and gracefully over musical boundaries as naturally as breathing." - Progress
"Essential listening for anyone interested in the possible futures of new music where all boundaries dissolve in a pure love of sound." - I.E.
"Britain's most underrated sorrowful sonic architects." - Uncut
"Jaw-droppingly gorgeous... Unmistakably genius, unmistakably No-Man." - The Artist Shop

Flowermouth is a good example of spacey and psychedelic orchestral art rock, without the complexities. Much of the music is soft, mellow, melodic and balladesque. There are dub, club, and trip-hop elements also. You could call this music "New Age", "Space-Pop", and even "Progressive Rock", but music in this genre is not easy to define. Many of the descriptions given above are arguably overstated. Melody Maker said that "Euphorically and elegaically, No-Man are incapable of making a duff record." (I have not heard all No-Man's work, so I cannot argue with this . I CAN say that all artists are very capable of making a dud recording, and if No- Man can live up to MM's quote, then it is a very rare breed of band - A.O.O.F.C). Having said that, King Crimson's Robert Fripp and Mel Collins play on this album, as well as the late, great Ian Carr (ex-Nucleus). These guys usually associated themselves with music of merit, especially Ian Carr. The album is very reminiscent of The Blue Nile's classic "Hats" album, in some of it's lyrical and musical structures. A.O.O.F.C would be interested in your opinion of "Flowermouth". Try and listen to the band's "Wild Opera" album.

TRACKS

1."Angel Gets Caught In The Beauty Trap" - 10:33
2."You Grow More Beautiful" - 5:26
3."Animal Ghost" - 6:09
4."Soft Shoulders" - 3:59
5."Shell Of A Fighter" - 7:50
6."Teardrop Fall" - 4:39
7."Watching Over Me" - 4:43
8."Simple" - 7:03
9."Things Change" - 7:31

All songs composed by Tim Bowness, & Steven Wilson
MUSICIANS

Tim Bowness - vocals
Steven Wilson - Bass, Guitar, Keyboards
with
Richard Barbieri - electronics (5)
Ian Carr RIP - trumpet (1)
Ben Coleman - violins (1,3,4,5,6,7), electric violin (9)
Mel Collins - soprano saxophone (1), flute (3,6)
Robert Fripp - guitar (1,3,5,6,8), frippertronics (1,5,8,9)
Lisa Gerrard - voice sample (8)
Steve Jansen - percussion (7)
Chris Maitland - drums (1,9), percussion (1,3)
Silas Maitland - fretless bass (1)

ABOUT NO-MAN

No-Man is an island. For nearly 15 years, the UK duo of vocalist Tim BOWNESS and guitarist & multi-instrumentalist Steven WILSON's has existed deep within its own shores, far from the contaminating tides of industry. NO-MAN have produced some of the most intriguing music of the last decade. Theirs is an uncompromising approach that connects the perimeters of rock and pop with a myriad of far-flung influences including neo-classical, jazz, dub and techno. NO-MAN have produced some of the most intriguing music of the last decade. This band glanced to the past to realize its latest album "Speak". The CD is a retooled version of a cassette-only release of late '80s material. Re-mastered in the year 2002 for our exclusive pleasure, "Heaven Taste" is a collection of rare tracks, of new versions and of B-sides from the 1991 to 1995 period. "Returning Jesus" (2001) is simply splendid and includes romantic and sumptuous strings in the first track, something to be remembered! © Prog Archives, All rights reserved http://www.progarchives.com/artist.asp?id=462

BIO (WIKIPEDIA)

No-Man is a British art-pop duo formed in 1987 as No Man Is An Island (Except The Isle Of Man) by singer Tim Bowness and multi-instrumentalist Steven Wilson (the latter also of Porcupine Tree). The band has so far produced six studio albums and a number of singles/outtakes collections (most notably, 2006's career retrospective, All The Blue Changes). The band was once lauded as "conceivably the most important English group since The Smiths" by Melody Maker music newspaper. Originally creating a sample-based proto-trip hop/ambient/electro-pop-styled music, No-Man has pursued a more organic, diverse and band-oriented sound in subsequent years. Drawing from a diverse mix of singer-songwriter, post rock, minimalist, progressive rock, jazz and contemporary ambient sources for inspiration, No-Man's musical style is distinctive yet difficult to categorise. Amongst the many guest musicians the band has employed are:electronic artists Roger Eno, Faultline, Scanner, Muslimgauze and The Shamen; jazz musicians Ian Carr and Theo Travis:;King Crimson personnel Robert Fripp, Pat Mastelotto, Gavin Harrison (also a member of Porcupine Tree), and Mel Collins;ex-Japan and Rain Tree Crow members Steve Jansen, Richard Barbieri (also a member of Porcupine Tree) and Mick Karn ;US pedal steel legend, Bruce Kaphan (ex-American Music Club); Porcupine Tree bassist Colin Edwin. Steven Wilson originally launched the band in 1986 as a solo project called No Man Is An Island (Except The Isle Of Man), recording an instrumental track called "From A Toyshop Window" which blended progressive rock with synth pop. In 1987, he linked up with singer, lyricist and occasional guitarist and keyboard player Tim Bowness, who at the time was singing with Liverpool-based art-pop band, Plenty. Both musicians brought an extremely wide set of influences and ideas to bear on the project and recorded two very diverse tracks on their first day of working together - the epic atmospheric ballad "Faith's Last Doubt" and the abrasive "Screaming Head Eternal". Both songs were later released on underground compilation albums ("Screaming Head Eternal" appeared on Plastic Head Records compilation, "Expose it"). Bowness and Wilson continued working together on recording sessions for the next two years. Some of the results surfaced ten years later on the Speak album. Influences at this point included Minimalism, 4AD artists such as This Mortal Coil, and 1960s singer-songwriters, Nick Drake and Scott Walker. However, as Wilson and Bowness state on the sleeve notes to Speak, the band's music from this period seems surprisingly distinctive and unaffected by the prevailing trends of the era it was recorded in. Violinist Ben Coleman joined the project after becoming involved with recording sessions in late 1988. The band established a four-piece live line-up in 1989 by adding guitarist Stuart Blagden (who had previously played with Bowness in the Manchester-based band, Still). The track "The Hidden Art Of Man Ray" acted as an audition piece for both Coleman and Blagden. No Man Is An Island released their debut single, a waltz time ballad called "The Girl From Missouri", on Plastic Head Records in mid-1989. The band was disappointed with the single and soon disowned it. Subsequent band evolutions saw flirtations with aggressive synth-pop (on the "Swagger" cassette EP) and the departure of Blagden (who would later become a well-respected jazz and Latin music player). By 1990, No Man Is An Island had shortened their name to No-Man and become a voice/violin/guitar-and-tapes trio (with Wilson handling all other instruments and programming in the studio). Inspired by artists such as Public Enemy and A Tribe Called Quest. the band incorporated dance beats and hip-hop influences into its art-pop sound. The first release under the No-Man name was the self-pressed June 1990 single release, "Colours" (a cover of the 1960s Donovan Leich song with crooned vocals and a dub-loop arrangement anticipating the later arrival of trip-hop). The single achieved Melody Maker, Sounds and Channel 4 teletext "Singles Of The Week" accolades and was re-released by Liverpool-based label Probe Plus in October, 1990. The attention which "Colours" had received gained No-Man a recording contract with the high-profile independent label One Little Indian (at the time, famous for The Shamen and Björk) and management by Talk Talk's manager Keith Aspden (who would stay with the band until 1994). During this period, the band received highly positive UK music media support (including more Singles Of The Week in Melody Maker, Sounds and Irish music paper, Hot Press) and had 2 indie top 20 hits ("Days In The Trees" and "Ocean Song") plus a Billboard Top 40 dance hit (the US only single, "Taking It Like A Man", at #34). The band also enjoyed high profile contracts with Hit & Run Publishing and Epic/Sony in addition to their One Little Indian contract. No-Man's debut mini-album (a compilation of EP tracks called Lovesighs - An Entertainment) was released in April 1992, and in October of the same year the band toured England with a six-piece line-up including three ex-members of the band Japan – Mick Karn, Steve Jansen and (most significantly) keyboardist Richard Barbieri. The band's first full-length album (the more pop-oriented Loveblows & Lovecries - A Confession) followed in May 1993. By this time, the live band included bass player Silas Maitland and the (unrelated) drummer Chris Maitland. (The latter would join both Wilson and Richard Barbieri in the live lineup of Porcupine Tree). In 1994 No-Man released their second album Flowermouth. This was a far more ambitious recording than their debut release and featured many guest performers including Barbieri, Jansen, Robert Fripp and Ian Carr. The album also demonstrated Bowness and Wilson's diverse range of influences including New York Minimalism, Miles Davis and progressive rock. Although the band parted company with violinist Ben Coleman during the sessions, he made a significant contribution towards most of the tracks on the record. (Coleman would go on to work with Mick Karn, Alice and Nick Laird-Clowes as well as pursuing a career as a visual artist.) No-Man retired from live performance in 1994 (and would not return to the stage until 2006). Two albums released in 1996 closed the first phase of the band's career - a set of ambient dance reworkings of Flowermouth material called Flowermix and a compilation of the band's more ambient and atmospheric One Little Indian-era B-sides and rarities called Heaven Taste. With each subsequent release the band moved further away from its more conventional pop and rock roots, mirroring the evolution of artists such as Talk Talk, David Sylvian, Radiohead, Scott Walker and Kate Bush. Since the mid-1990s, No-Man has released a steady stream of albums via Snapper Music and 3rd Stone/Adasam, featuring guests such as Fripp, Barbieri, Jansen, Theo Travis and Pat Mastellotto The band has maintained a healthy cult following as well as continued critical acclaim. 1996's Wild Opera and its 1997 companion release Dry Cleaning Ray (both released on 3rd Stone Ltd.) explored a combination of darker dance sounds, experimental art-rock and deep trip-hop, while maintaining No-Man's particular skill with ballads. In 1999, the band released Speak, a compilation of mostly-unreleased early ambient songs recorded a decade previously but which Bowness and Wilson considered to be of equal merit to the music released on One Little Indian or 3rd Stone Ltd. Speak's quieter and more atmospheric approach pointed the way towards No-Man's subsequent output. 2001's Returning Jesus (the last album to be released on 3rd Stone Ltd.) resurrected and expanded the eclectic ballad, jazz and progressive rock influences of Flowermouth and brought the band to a new and revived audience, some of whom had come in via the continued success of Wilson's other main project Porcupine Tree. Signing a new deal with Snapper Music, the band went on to release Together We're Stranger in 2003 - a sombre, moving record with strong tone poem elements detailing (in abstract) the break-up of a relationship and responses to bereavement. In 2006, No-Man made a rare live performance in 2006 at the Norwich Garage (part of a Burning Shed label event). The band released Schoolyard Ghosts on May 12, 2008, receiving some of the most favourable reviews of the band's career (the album was described as "truly sublime" by Classic rock magazine. Guest musicians included Pat Mastelotto, Theo Travis, Gavin Harrison, Colin Edwin, Bruce Kaphan (ex-American Music Club) and The London Session Orchestra (arranged by Dave Stewart). On May 27, 2008, it was announced that No-Man's music will be featured in the film by award-winning student film-maker Dan Faltz, Weak Species. The film is based on the writings of Dennis Cooper and is currently being considered for expanded feature film treatment. No-Man played its first full performance in fifteen years at London's Bush Hall on August 29, 2008. This performance was followed by two more concerts in Zoetermeer (The Netherlands) and Duesseldorf (Germany) on the 3 and 4 September respectively. The Zoetermeer concert was No-Man's first concert outside of the UK. Mixtaped - a double DVD package including a film of the sell-out London performance, a documentary of the group's history and assorted promotional videos - was released in October 2009. Early releases of the DVD ordered from Burning Shed included an audio CD recording of highlights from the Bush Hall show.