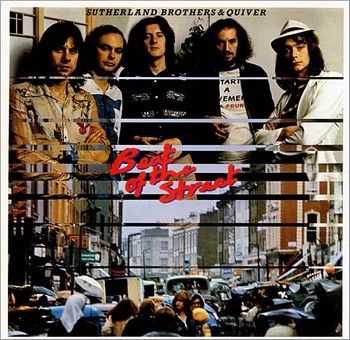 The Sutherland Brothers
&
Quiver
-
Beat Of The Street
-
1974
-
Island
The Sutherland Bros. & Quiver are another seventies band who never got the success and recognition they deserved. The early 70s had many bands like the Sutherland Brothers. They were great songwriters, more than competent musicians and made great records, none of which sold in any great numbers. Iain Sutherland is a remarkably talented songwriter. As an individual, and with his brother, Gavin, he wrote many great songs, the most notable being "Sailing," a massive hit for Rod Stewart, and "Arms of Mary". Yet many of the duo's great songs have never been heard by so many people. The brothers wrote many fine, catchy, and melodic pop songs with tasteful instrumental work and fine harmony vocals. This album is a good mid seventies album by the Scottish band, with at least three excellent songs. There are no songs of the standard of "Arms of Mary" here, but then not all songwriters were in the same class as Lennon & McCartney. It is also only fair to judge albums individually. If you are interested in more of the band's music, check out their "Beat of the Street" and "Dream Kid" albums. For more music in the same vein, listen to Gallagher & Lyle's great "Seeds" album, or the "Ferguslie Park" album by Stealers Wheel. Also check out some of Gerry Rafferty's early recordings. His "Can I Have My Money Back" album is a good example. Search this blog for more SB/SB&Q/Quiver albums.
N.B:
Many albums in this genre from the '70's are not available on CD from the original master tapes. It is possible to buy CD's and "digital" downloads of these albums, but in most cases the tracks are digitized versions of tracks taken from "cleaned up" vinyl. The annoying part of these "cleaned up" tracks, is that in many cases, sound quality could be much better. It is obvious that some music retailers are not using the best vinyl available to digitize these tracks. Be careful that you are not ripped off!
It would be great to hear these albums in remixed and remastered formats. Even though albums like "Beat Of The Street" received poor promotion on their original release, and in many cases were commercial failures, there is a demand out there now for these quality albums.
TRACKS
World In Action
Saviour In The Rain
Devil, Are You Satisfied
Bone Dry
Beat Of The Street
Laid Back In Anger
Hi Life Music
Living In Love
Annie
Last Boy Over The Moon
All tracks composed by Gavin and/or Iain Sutherland, except "Hi Life Music" by Gavin and/or Iain Sutherland & Tim Renwick
MUSICIANS
Gavin Sutherland - Vocals, Bass, Guitar, Percussion
Iain Sutherland - Vocals, Guitar, Keyboards
Tim Renwick - Guitar, Vocals
Terry "Tex" Comer - Bass
Pete Woods - Keyboards, Percussion, Marimbas
Willie Wilson - Drums, Percussion
John Wilson - Drums