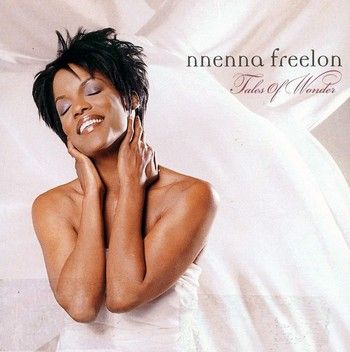 Nnenna Freelon
-
Tales of Wonder
:
Celebrating Stevie Wonder
-
2002
-
Concord Records
Following her double Grammy-nominated CD entitled Soulcall, vocalist Nnenna Freelon has delivered a stunning tribute to master musician Stevie Wonder with Tales of Wonder: Celebrating Stevie Wonder. In addition to being the first vocal CD ever done as a tribute to the legendary Wonder, the recording boasts several guest musicians accompanying her core ensemble. Freelon interprets such well-known Wonder classics as "Overjoyed," "My Cherie Amour," and "Another Star" in a voice that is sensual and personable, yet appealing and expressive. This collection of well-chosen pop standards allows Freelon more freedom to express the jazzier side of her talent than the blues and R&B flavors she sang on Soulcall due to the compositional integrity of Stevie Wonder's songs. These particular songs allow for the improvisational aspects of jazz while balancing their pop essence. By adding the strong work of bassist Gerald Veasley and guitarist Chuck Loeb alongside her working ensemble, her special imprint of languorous tempo that shows off her great time and phrasing is even more appealing. Tales of Wonder: Celebrating Stevie Wonder is sure to garner more support for Nnenna Freelon as a vocalist who can handle more than one side of the musical spectrum. © Paula Edelstein © 2010 Rovi Corporation. All Rights Reserved http://www.allmusic.com/cg/amg.dll?p=amg&sql=10:ajftxql0ldje
"Tales of Wonder" is reminiscent of the late Ella Fitzgerald's 'songbook' albums, and her homage to Stevie Wonder maintains this great tradition. Nnenna is still a very underrated interpreter in the vocal jazz world. She has a beautifully controlled voice. Her vocal range is wide, and she sings twelve great Stevie Wonder songs in a clear, warm voice tinged with gospel, blues, and jazz. One of Nnenna's idols is Nancy Wilson, and like Nancy, Nnenna sings with genuine soul. Nnenna has said that "Jazz needs to open up a little more. We've gotten too comfortable with being so hip. The charge on jazz artists is to re-interpret our environment, to open up the possibilities. Now, I grew up on the standards and Ella and Sarah, but I also love the music of my generation: the ladies of Labelle, Earth, Wind & Fire, Minnie Riperton, Chaka Khan. I don't look at just one genre when I select the songs I sing. It has a lot to do with my own values and morals, the songs I choose to sing."Tales of Wonder" is a superb album - outstanding singing, wonderful instrumentation, especially from bassist Gerald Veasley and guitarist Chuck Loeb, and very, very enjoyable. The album is
VHR by A.O.O.F.C.
You will listen to this album time and time again. Buy Nnenna's great "Soulcall" album
TRACKS / COMPOSERS
01 Overjoyed - Stevie Wonder (4:46)
02 Creepin' - Stevie Wonder (5:02)
03 Lately - Marvin Sease/Stevie Wonder (5:44)
04 Superstition - Stevie Wonder (5:29)
05 The Tears of a Clown - Henry Cosby/Smokey Robinson/Stevie Wonder (5:30)
06 Black Orchid - Cal Tjader/Stevie Wonder/Wright, Lowrene Yvonne (4:57)
07 My Cherie Amour - Henry Cosby/Sylvia Moy/Stevie Wonder (3:49)
08 Bird of Beauty - Stevie Wonder (4:37)
09 All in Love is Fair - Stevie Wonder (6:51)
10 Send One Your Love - Stevie Wonder (5:03)
11 Another Star - Stevie Wonder (3:45)
12 Until You Come Back to Me - Morris Broadnax/Paul, Claurence/Stevie Wonder (5:25)
MUSICIANS
Nnenna Freelon: vocals
Chuck Loeb: electric guitar, acoustic guitar
Gerald Veasley: electric bass, acoustic bass
Brandon McCune: piano, Hammond B-3 organ, Fender Rhodes piano
Woody Williams: drums
Dave Samuels: vibraphone, marimba
Bashiri Johnson: percussion
Gerry Niewood: flute, alto flute, soprano saxophone, tenor saxophone
Ronnie Buttacavoli: trumpet
Andy Stein, Jason Crosby: violin
Enrico Granafei: harmonica
BIO
Nnenna Chinyere Freelon is a world-renowned jazz vocalist; she has recorded extensively and been nominated for numerous Grammy Awards. While this doesn't necessarily set her apart from other more prolific female jazz singers, there is one aspect of her career that does: she didn't begin recording until she was in her late thirties. She was born in Cambridge, MA, in 1954 as Nnenna Chinyere Pierce. She began singing at an early age in church, but didn't pursue music as a career until decades later. She graduated from Simmons College, with a degree in health care administration. She worked for a time in in social services for Durham, NC's hospital corporation. In 1979, she married Philip Freelon, an architect. The couple had three children before she began to consider a career in music. She studied with Yusef Lateef, developing her singing through listening to horn players. Her big break came in 1990 while attending the Southern Arts Federation's jazz meeting, and sitting in with Ellis Marsalis. Marsalis was doing A&R for Columbia Records' Dr. George Butler at the time, and asked the singer for a tape, which he passed on to Butler, who signed her. Her self-titled debut recording was released in 1992 and attracted mixed reviews due to Freelon's heavy stylistic debt to Sarah Vaughan — though this was not entirely the vocalist's fault but her producer's. Her second album, a ballad-heavy collection entitled Heritage, was released in 1993, and was received by critics and fans alike as a jewel. Freelon truly established her own voice and style with her 1994 outing, Listen. it was her final recording for Columbia. In 1995 she signed to Concord (where she was granted far more artistic control over her recordings). She released her first album for the label, Shaking Free, in 1996; for it she received her first Grammy nomination for Best Jazz Vocal Performance. Maiden Voyage, released in 1998, was also nominated for Grammy for Best Jazz Vocal Performance; it displayed her interest in the role of women in music and society as expressed through her sometimes radical but always elegant interpretations of pop and folk songs as well as jazz standards. In 2000, Freelon branched out. She made her acting debut in the feature film What Women Want and released her first self-produced set, Soulcall. The album garnered her two Grammy nominations: one for Best Jazz Vocal Album and another for Best Instrumental Arrangement Accompanying a Vocal for her interpretation of the standard "Button Up Your Overcoat." In 2002 she released Tales of Wonder: Celebrating Stevie Wonder, a tribute recording of songs written by, and associated with, the Motown great, and as a reward, received another Grammy nomination for Best Jazz Vocal Album. She recorded her first live album in 2005, and followed it with her radical Blueprint of a Lady: Sketches of Billie Holiday in 2006; this album is wildly refreshing for the way in which Freelon took great liberties with songs associated with Holiday, reinterpreting them in contemporary settings and in her own bold image. And while some jazz critics took notable exception to messing with Lady Day, Freelon was nonetheless honored by the RIAA with another Grammy nomination for Best Jazz Vocal Album. In 2008, she appeared as the only vocalist on the Monterey Jazz Festival: 50th Anniversary All-Stars album, fronting a band that starred Benny Green, James Moody, Terence Blanchard, Kendrick Scott, and Derrick Hodge. In 2010, Ms. Freelon released her seventh Concord album, Homefree. © Thom Jurek © 2010 Rovi Corporation. All Rights Reserved http://www.allmusic.com/cg/amg.dll?p=amg&sql=11:09foxq95ldae~T1