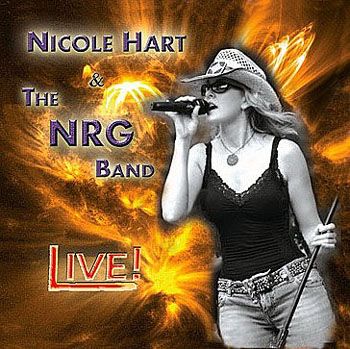 Nicole Hart
&
the NRG Band
-
Live!
NRG
-
2006
-
ONG

Nicole Hart stands at the crossroads of many musical boundaries, undefined by any genre. The sound is a natural evolution of Blues, R&B, Funk & Soul, aggressively combining a seductive, funky feel with the soulful nuances of the Blues. Under the direction of producer, arranger, and keyboardist Lance Ong (David Sanborn, Andre Crouch), the mission of this consortium is to bring an intense, provocative listening experience & a musically enticing & satisfying show to the audience. "I am an artist influenced by all great music, undefined by genre," says Hart. "Our music is inspired by many of the greatest artists of our time...we aspire to create a feeling & a depth of integrity representing those influences, while also conveying a viewpoint toward the world all our own." Nicole's timeless, powerful, intoxicating voice is beautifully soul/sweet – silky, then gritty – classic yet absolutely contemporary – and she is renowned for her electrifying stage presence. Lance Ong's masterful command of the keyboards is undisputed; Ong is one of the most exciting and versatile soloists on the scene today. Nicole's impressive resume includes work with a variety of music greats such as Harry Belafonte, Billy Joel, Michael Bolton, Oscar Winning Film Director Jonathan Demme, Richard Bona, Drew Zingg, Chuck Berry, & Bo Diddley; she has opened for Bernard Allison, Odetta, E.C. Scott & Richie Havens, & has the distinction of being the first-ever Caucasian singer for the R&B super group, The Shirelles. : Lance Ong, Keyboards, Vocals, Musical Director: Lance Ong was part of a team that produced, wrote and arranged over 700 songs and whose credits include a Grammy Award-winning record by Andre Crouch and recordings with David Sanborn, The Pointer Sisters, Grand Funk Railroad, Michael Murphy, Frankie Beverly and Maze, Anne Murray, Johnny Halliday and Sylvie Vartan, Trini Lopez, Erykah Badu & many others. His masterful command of the keyboards is undisputed. : Guest Guitarists: Grammy-nominee Gil Parris (David Sanborn) is one of very few artists who have 5 nationally released albums in over four different genres: R&B, smooth jazz, traditional jazz and blues. He has solo albums on RCA/BMG ("Gil Parris shines through as the brightest star in the genre since Larry Carlton" -Guitar One Magazine), Okra-Tone/Koch ("Parris has the goods and all seven cuts here show it" -Vintage Guitar), and his own "Jam This" release ("When it comes to improvising epic, crowd-pleasing solos in an eclectic range of styles, Parris is more than qualified to deliver the goods" -Guitar Player); Special Guest Stanley Behrens, Harmonica & Tenor sax: Stanley has toured with Ruth Brown, recorded two records with Willie Dixon, three records with Jimmy Smith, "Friends in the Can" for Canned Heat alongside guest artists John Lee Hooker, Taj Mahal, Roy Rogers, Corey Stevens and Walter Trout, & recorded for more television shows & movies than we can name here. For more on Stanley, simply "Google" him! © 2002-2010 bandVillage Inc http://bio.bandvillage.com/nrgband
This live album is mixed and sounds like an in-studio recording. A terrific album of blues, soul, funk, and R&B by the great vocalist Nicole Hart from Atlanta, Georgia, and some fabulous backing musicians including guests, Gil Parris and Rich Cohen on guitar. The album is
VHR by A.O.O.F.C.
Buy Nicole Hart's "Treasure" album, and support these great artists.
TRACKS / COMPOSERS

I Heard - Lance Ong
Voodoo Woman - Koko Taylor
Treasure - Nicole Hart, Lance Ong
Every Night of the Week - Ted Jarrett
Hurt So Bad - Tom Hambridge
Think About Love - Joe Mack
Hot 'Lanta - Allman, Allman, Betts, Johanson, Oakley, Trucks
MUSICIANS
Nicole Hart - Lead Vocals, Harmony & Background Vocals
Gil Parris - Guest Guitar
Rich Cohen - Guest Guitar
Vonnie Hudson - Bass
Lance Ong - Keyboards, Vocals
Joe Piteo - Drums
Stanley Behrens - Tenor Sax, Harmonica
REVIEWS
"This vocalist can be hotter than hot or cooler than cool but, make no mistake, Nicole Hart & NRG lights up the phone lines like a x-mas tree - a treat instead of a treatment, both in person, or on the airwaves...I know talent when I hear it. She has a tremendous future in the music industry...A major star." - Bill Nolan, host of "Antique Blues", WPKN-FM 89.5, Bridgeport, CT
Record label scouts take note: Nicole Hart & The NRG Band gots chops! The independently-released "Live NRG" (***) is a splendid showcase for frontwoman Hart and the trusty NRG Band. Though recorded live the sound is crystal clear and mixed right. They slip into a tight groove on the Jazzy Blues original "I Heard", written by keyboardist Lang Ong allowing Gil Parris (David Sanborn) to flex his guitar digits. Guitarist Rich Cohen is also impressive on the instrumental cover of The Allman Brothers "Hot'Lanta" which also has Ong unleashing layers of icy organ and funky drums by Joe Piteo. A great take! Also noteworthy is the version of Koko Taylor's "Voodoo Woman" with Hart delivering a particularly confident vocal. Visit www.thenrgband.com to learn more.- Dylann DeAnna: BLUESCRITIC.COM
"The musicianship and vocals carry the listener along on a musical journey spanning a cohesive mix of Blues, soul, funk, R&B & Nicole Hart's sultry vocals. If you love your Blues mixed in with a touch of soul & sprinkled with a bit of good old fashioned rock n' roll, The NRG Band delivers! " - Robert John, Correspondent, BARRELHOUSE BLUES
"A top notch band of immense talents...something special in a world cluttered with the 'next best things'...this band IS the next best thing..." - UNITED JERSEY BLUES NETWORK
ABOUT
NICOLE HART

Coming to national attention in 2008 on the Blues, Roots, Soul & R&B scene, Nicole Hart made an impressive beginning completing three highly successful tours: she was the featured female performer of Jacksonville Beach, Florida's "Springing the Blues"; the featured female headline act of Laconia, New Hampshire's Big Three Motorcycle Week; she performed many more prominent festivals, including the Jersey Shore Red Bank Jazz & Blues Fest, among other renowned venues on the national circuit. Her initial independent CD release, "NICOLE HART & THE NRG BAND, LIVE!" received airplay on radio stations worldwide & continues to receive airplay to this day. During a recording session for 2008 Blues Foundation Nominee Albert Castiglia, she met up with Blues Leaf Records label president Joseph Morabia, who soon signed her to the label. Her 2009 Blues Leaf release, "TREASURE," debuted on the Living Blues charts at # 14, and is currently in rotation on XM/Sirius Satellite Radio and the nationally syndicated Music Choice television channel. In May 2009, Nicole became an award-winning vocalist, being recognized as "Female Vocalist of the Year" by the 5th Annual Los Angeles South Bay Music Awards. "Treasure" features a duet with label mate Castiglia, is produced by Grammy award winner Jack Kriesberg (Paquito D'Riviera, Elvin Jones), is mixed and mastered by Grammy award winning engineer Ben Elliott (Eric Clapton, Keith Richards), is distributed by Allegro and available nationwide at Barnes & Noble, Borders Bookstores, J&R Music World, Amazon.com, CD Universe, on this website (see "SHOP!") and at every performance. As a modern day Blues woman, Nicole straddles a diverse musical terrain defined by such icons as Koko Taylor, Susan Tedeschi, Janiva Magness, & Bonnie Raitt. Hart's impressive resume also includes work in television, film & live performance outside the realm of Blues. "As an artist, I am influenced by all great music, and inspired by many of the greatest artists of our time. I aspire to create a feeling & a depth of integrity representing those influences, while also conveying a viewpoint toward the world of my own." Longtime collaborator, music director & keyboardist extraordinaire Lance Ong, who produced her previous CD, shines as musical arranger for "TREASURE" & played baby grand & B-3 organ. His credits include a Grammy Award-winning record with Andre Crouch, a first round Emmy nomination for CBS Sports, and recordings with David Sanborn, The Pointer Sisters, Grand Funk Railroad, Michael Murphy, Frankie Beverly and Maze, Anne Murray, Johnny Halliday and Sylvie Vartan, Trini Lopez, Erykah Badu & many others. His masterful command of the keyboards is undisputed, and as arranger and collaborator for Nicole Hart's Blues Leaf debut, "'TREASURE", his piano & organ work is at its finest yet. Hart and Ong were married on August 8th, 2008. © 2010 nicolehart.com. All Rights Reserved http://www.nicolehart.com/index.php?option=com_content&view=article&id=48&Itemid=53