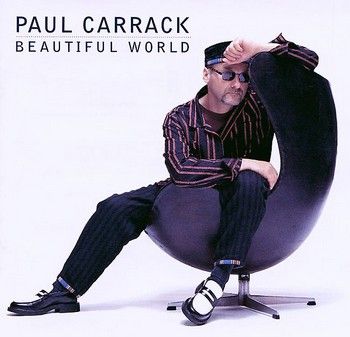 Paul Carrack
-
Beautiful World
-
1997
-
Ark 21 Records

For various reasons "Beautiful World" was poorly promoted and made none of the impact of his previous "Blue Views" album release. "Beautiful World" is another outstanding album from the master of British adult contemporary pop-soul, and
HR by A.O.O.F.C.
Baz "Vinyl man", said on amazon.co.uk, "Paul Carrack is undoubtedly one of the greatest underrated talents this country has ever produced. His list of credits is almost endless yet most people haven't a clue who he is. Best seen live - don't hesitate. he only plays in small venues and is constantly touring so you dont have to wait too long before he will be somewhere near. I must have seen him a dozen times in the last 6 ears or so and he never disapppoints. Fabulous voice, pianist, guitarist and song writer and all accompanied by some very decent musicians. If you like quality soul, pop and soft rock all mixed up Paul is your man". http://66.102.9.132/search?q=cache:72Qr_NAe7YcJ:www.amazon.co.uk/Old-Borrowed-Blue-Paul-Carrack/dp/B000WTNCVI+paul+carrack+groovin+credits&cd=12&hl=en&ct=clnk&gl=ie
This article says a lot about Paul Carrack. Not a household name, but one of the greatest British vocalists, songwriters, and musicians ever born. The guy is a legend. His name may be unfamiliar to many, but his great soulful voice is one of the most recognizable voices in the rock business. He has been a member of several bands including Warm Dust, Ace, Squeeze, Mike + The Mechanics, and Roxy Music, been a session and touring musician for several others, and has enjoyed success as a solo artist as well. His distinctive voice shows up on some of his affiliated bands' best-known hits, two of the most memorable being "How Long" with Ace, and "Tempted" with Squeeze. If Paul Rodgers is "The Voice", then Paul Carrack is the "other voice". Two of his best albums are "Blue Views" and "Suburban Voodoo". Search this blog for other Paul Carrack releases
TRACKS / COMPOSERS

1 The Way I'm Feeling Tonight - Paul Carrack, Graham Gouldman 4:40
2 Time to Let Go - Paul Carrack 5:16
3 Beautiful World - Paul Carrack, T-Bone Wolk 5:31
4 Perfect Love - Paul Carrack 4:08
5 You Give Me Something - Paul Carrack 4:04
6 Satisfied - Paul Carrack, Toby Chapman 4:19
7 Close to Me - Paul Carrack 5:05
8 It Goes Without Saying - Paul Carrack, Chuck Cannon, Maia Sharp 4:59
9 If You'd Ever Needed Someone - Paul Carrack, Mark Hudson, Armand Sabal-Lecco, Greg Wells 4:46
10 Some Kinda Love - Paul Carrack, Mark Hudson, Armand Sabal-Lecco, Greg Wells 3:43
N.B:
Album later released with two bonus tracks, "Into The Mystic" & "Warm And Tender Love"


MUSICIANS
Paul Carrack - Keyboards, Organ (Hammond), Vocals
Tim Renwick - Guitar
Dave Bronze - Guitar (Bass), Vocals (Background)
Toby Chapman - Keyboards, Vocals (Background)
Gary Wallis - Drums
Mark Feltham - Harmonica
Paul "Tubbs" Williams, Beverley Skeete, Tessa Niles, Claudia Fontaine, Tommy Blaize - Vocals (Background)
ABOUT
PAUL CARRACK

Paul Carrack was pop music's ultimate journeyman. A vocalist and keyboardist who enjoyed considerable success over the course of his lengthy career while in the service of bands ranging from Ace to Squeeze to Mike + the Mechanics, his finest work often came at the expense of his own identity as a performer; indeed, of the many big hits on which the unassuming singer was prominently featured, only one, 1987's "Don't Shed a Tear," bore his own name. Carrack was born April 22, 1951, in Sheffield, England; he joined the pub rock group Ace in 1972, eventually writing and singing their debut single, "How Long." After reaching the Top 20 in the group's native Britain, the record hit the number-three position in the U.S.; however, after subsequent material failed to match the success of "How Long," Ace disbanded in 1977, and Carrack signed on with country artist Frankie Miller. He soon resurfaced in Roxy Music, appearing on the LPs Manifesto and Flesh and Blood before releasing his solo debut, Nightbird, in 1980. Carrack next joined Squeeze, replacing keyboardist Jools Holland; in addition to contributing to the group's 1981 creative pinnacle East Side Story, he also assumed lead vocal duties on the single "Tempted," their best-remembered hit. However, Carrack's stay in Squeeze was brief, and after working with Nick Lowe he again attempted to forge a solo career with the 1982 LP Suburban Voodoo, cracking the U.S. Top 40 with the single "I Need You." A tenure as a sideman with Eric Clapton followed, and in 1985 he joined Genesis' Mike Rutherford in his side project Mike + the Mechanics. Their hits include "Silent Running (On Dangerous Ground)" and "All I Need Is a Miracle." While remaining a rather anonymous figure at home, Carrack achieved a higher level of visibility in America as a result of Mike + the Mechanics' success; subsequently, his third solo album, One Good Reason, proved to be by far his most popular effort to date, with the single "Don't Shed a Tear" reaching the Top Ten. Another tenure with the Mechanics followed, and with the title track of 1988's The Living Years, the group scored their first number-one hit. After the 1989 Carrack solo LP Groove Approved, Mike + the Mechanics issued 1991's Word of Mouth, which failed to repeat the chart performance of its predecessors; by 1993, Carrack was again a member of Squeeze, appearing on the album Some Fantastic Place and also resuming lead chores for a re-recording of "Tempted." However, he was once again back in the Mechanics' fold for 1995's Beggar on a Beach of Gold; the solo Blue Views was issued the next year, followed in 1997 by Beautiful World. Satisfy My Soul was issued in 2000, his first album for Compass Records. © Jason Ankeny, allmusic.com
MORE ABOUT
PAUL CARRACK

After years spent bringing a little soul to artists as diverse as Mike & The Mechanics, Nick Lowe, and Squeeze, singer's singer Paul Carrack makes his most persuasive play so far with the release of his stunning new album Satisfy My Soul. Recorded with minimal outside assistance at his Hertfordshire home studio, the album represents a quantum leap beyond Paul's previous work, showcasing his songwriting abilities and allowing his natural soul qualities to shine through with a new clarity and power. In the past, he's often tended to let others mould and direct his considerable talents, but Satisfy My Soul serves to re-establish Paul Carrack as a major solo artist, with both the vision and the capabilities to take control of his own career, and the musical instinct to know which direction it should take. A lot of people are going to be pleasantly surprised by this latest chapter in the life of one of pop music's most distinctive voices. Paul was first bitten by the music bug as a small child back in his native Sheffield, where he would bash away at a home-made drumkit up in his parents' attic, playing along with an old wind-up gramophone. By the time he reached his teens, the Mersey Boom was in full swing, and the young Carrack proceeded to swindle his way into a series of local bands, learning to play the organ and following the gig circuit to Germany, where he underwent the obligatory Hamburg nightclub baptism, as pioneered by such as The Beatles. In the early '70s, his progressive rock outfit Warm Dust released a few albums, but it was only when his pub-rock band Ace had a huge global hit with his song How Long that Paul's career really started to take off. Immediately, the band was catapulted from the British college circuit into huge American arenas, as How Long soared into the US singles chart, eventually reaching #1. When Ace broke up toward the end of the '70s, Paul found himself wrong-footed by the punk-rock boom, but secured some session work, playing on albums by Frankie Miller and Roxy Music, and touring with Roxy, an experience which gave him a taste for the big time. Paul's 1980 solo debut, Nightbird, failed to establish him as an artist in his own right, so he continued playing sessions, biding his time, and honing his talents as a musician and songwriter. As the '80s proceeded, Paul reached a rapprochement with the new-wave scene, playing on albums by The Undertones, The Smiths, and The Pretenders, and joining Squeeze for their masterwork East Side Story, helping redefine the group's profile with his soulful vocal on the hit single Tempted. After leaving Squeeze, obstensibly to pursue a solo career, he hooked up with Nick Lowe, an association which, though resolutely out of step with public taste and radio formats, would nevertheless generate five albums for Lowe and another for Paul, 1982's Suburban Voodoo. Though largely ignored in the UK, the album was a critical success in the US, where it was cited as one of Rolling Stone Magazine's Top 20 Albums of the Year. I Need You, a Carrack composition lifted from the album, provided him with another US Top 40 hit, and was subsequently covered by Linda Ronstadt & Aaron Neville. The biggest break in Carrack's career came in 1985 when he was invited to contribute vocals to a solo album being recorded by Genesis guitarist Mike Rutherford. Despite the apparent differences in their musical styles, the very first track Paul sang on, Silent Running, became a hit on both sides of the Atlantic. Encouraged by such instant success, Mike & The Mechanics developed into more of a group, touring America extensively and securing a string of hit albums and singles over the next decade. Before they could produce a follow-up album, however, Paul found time to sing and play on Roger Waters' Radio KAOS album and record another solo album of his own, 1987's One Good Reason, scoring another couple of hits through the title track and Don't Shed a Tear, which again broke into the US Top Ten, staying on Billboard's Hot 100 for nearly half a year. Even better was to come when Mike & The Mechanics resumed recording. Sung by Paul, the title-track of their second LP The Living Years was a huge worldwide hit, peaking at number one in America, and hoisting the band to megastar status. Further touring was followed by another Carrack solo album, 1989's Groove Approved, whose standout track - the Motown-flavoured Carrack / Lowe composition Battlefield - was later covered by Diana Ross. The following year, Paul was co-opted to perform at Roger Waters' grandiose presentation of The Wall in Berlin, where he sang Hey You in front of over 250,000 people. A third Mike & The Mechanics album, 1991's Word of Mouth, saw Carrack's creative input increasing, with four songwriting credits; and also donated a performance of Ain't That Peculiar recorded with Paul Shaffer's house band on Late Night with David Letterman to Nobody's Child, a charity album for Romanian orphans. Between tours again, in 1993 Paul busied himself with Spin 1ne 2wo, a classic rock covers collaboration with Rupert Hine, Tony Levin, and Steve Ferrone, and rejoined Squeeze for their Some Fantastic Place album. The next year was spent touring the world with Squeeze, working on an ultimately abortive band project with Don Felder, Timothy Schmidt, and Joe Walsh of The Eagles (which nevertheless garnered Paul an award for the most played song in America that year, when the reformed Eagles covered Love Will Keep us Alive, a song he co-wrote with Peter Vale and Jim Capaldi), and recording another Mike & The Mechanics album, Beggar on A Beach of Gold. This contained another couple of Carrack co-compositions, including his collaboration with Mike Rutherford, the hit single Over my Shoulder, which revived the band's flagging fortunes in the UK and Europe, paving the way for a subsequent Greatest Hits compilation. Paul's fifth solo album, Blue Views, appeared in 1995, and despite problems occasioned by the collapse of the record label, it was still highly successful in Europe, earning him a gold disc in Spain. When it was finally released a couple of years later in America on another label, the single For Once in Our Lives became a Top Five hit on Billboard's Adult Contemporary chart, cementing Carrack's growing reputation as a singer-songwriter of class and distinction. He was also developing a parallel reputation as an able and accomplished sideman to the stars, playing keyboards on albums by Eric Clapton, BB King, Simply Red, Mark Knopfler and Elton John, and being invited by Elton to play on Something About the Way You Look Tonight, which, as the B-side of "Candle in the Wind '97," is officially the biggest-selling single ever. Unfortunately, a management change at EMI resulted in his next album, Beautiful World failing to get the promotional push it deserved, and a bitterly dissillusioned Paul elected to take matters more into his own hands. After years spent biding his time, contributing to other musicians' projects and allowing outside producers to impose their designs on his material, it was a long overdue move, and one which reflected Paul's growing belief in himself as a singer-songwriter. Accordingly, he recorded his new album, "Satisfy My Soul" at his home studio, relying on his own musical instincts and playing everything himself, with the exception of the sax parts (which are by Steve Beighton), some backing vocals (by Lindsay Dracass) and some of the drum parts (by Ian Thomas or Paul's old chum Andy Newmark, the former Sly & The Family Stone sticksman.) Steeped in the classic and funk sounds of the '60s and '70s, but with an ear firmly trained on the future, Satisfy My Soul is clearly a labour of love, and features some of Carrack's most accomplished songwriting, with three tracks being co-written by Squeeze lyricist Chris Difford. Carrack's journey to make a record that truly does satisfy his soul has come full circle. "I've been doing this a long time, and I've often made it quite difficult for myself, one way or another, but I'm at the point now where I just want to enjoy my musicality, and I have the technical resources and the stability to be able to follow my instincts more confidently. Alot of the time, I've gone against my own instincts, but I'm not fighting them any more, I'm doing what comes naturally now. I'll be happy just to reach the people who already like what I do, but who knows, by making a more personal record, I might reach more people anyway." Satisfy My Soul brings Carrack to Compass Records, also the American home to other British popsters Robbie McIntosh, Hamish Stuart, Eddi Reader, Boo Hewerdine and Clive Gregson. © 2003-2008 Compass Records. All Rights Reserved