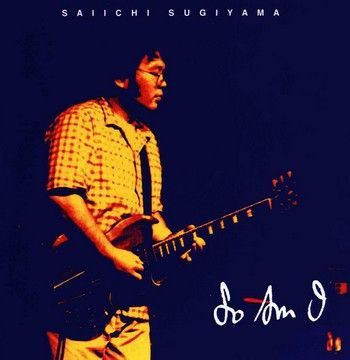 Saiichi Sugiyama
-
So Am I
-
2004
-
Hendrixx Records
In 1975, aged 15, Saiichi Sugiyama saw an Eric Clapton concert at Tokyo's Budokan. Shortly after, while still living in Tokyo, he formed his first blues band. In 1980, he moved to Surrey, England, and is still playing the English blues circuit.
If you have a soft spot for late 60's/early 70's Brit rock, you would be bloody mad to not take a listen to the stunning bluesy, retro jams on So Am I. Born in Tokyo but having spent most of his life in England, Saiichi Sugiyama may seem like an odd candidate to champion this sound, but he clearly has a firm handle on the style. The 14 distinct tracks here cover a lot of ground, from guitar heavy electric blues and acoustic percussion-laced ballads, to anthemic rockers like "The Band Played On." The common bond they all share is breathtaking guitar work topped with intelligent narrative lyrics that take the listener on a journey that builds continuously with the chord progressions. While showcasing the guitar work without relying on solo-heavy wailers, Saiichi has put together an indelible collection of songs that is a must for any fan of the classic rock blues genre. © cdbaby.com
Talking about "So Am I", Saiichi says "I met Pete [Brown] a few years ago through David Hadley-Ray, my bass player, and he began sitting in at my gigs. We then progressed to Pete writing lyrics for my songs, and the Japanese Cream-tribute project came along. After that, we went into the studio to record an album of my original songs, a good part of which Pete wrote lyrics for. We co-produced the session and I was fortunate enough to have Clem Clemson (Coliseum) and Zoot Money (ex-New Animals) backing me, as well as Malcom Bruce and David Hadley. Henry Spinetti was booked to drum for us but the studio dates crashed with the Roger Chapman tour and he was unable to do it. Henry Lowther came in and put down some great horn parts, and Ben Matthews of Thunder, who engineered for us, also made a cameo appearance playing a double lead guitar with me. It is a songwriter's album rather than a blues album, although there is no shortage of guitar solos. Some of the songs on the album are quite personal and it covers a whole spectrum of emotions and music styles." Quite a lot to digest on this album, which contains many musical elements. The songs are melodic with a retro flavour of late 60's/early '70s British rock played with Saiichi's Japanese sensitivity. There are balladic and anthemic rock/pop rock tracks on the album, and also good electric blues tracks with first class songwriting, and the album never sounds "cheesy" or commercial. Mostly the music is composed by Saiichi, with lyrics supplied by Pete Brown (ex-Cream). A very good album with cracking guitar throughout. Buy Saiichi's s/t 1994 album, and listen to his "SAIICHI" album
[

All tracks @ 160 Kbps: File size = 78.8 Mb

]
TRACKS
1. Cellar Full Of Noise 4:41
2. Student Susan 5:17
3. Enough 4:35
4. Middle Of The Night 5:12
5. The Band Played On 4:56
6. Old Samurai 8:19
7. Shimmy 3:04
8. Shining Siren 4:19
9. Seagull 6:04
10. Komachi 4:52
11. I Never Turn 5:42
12. There For Me 5:32
13. The Band Played On (reprise) 1:50
14. Sweet Dreams 4:09
All songs composed by Saiichi Sugiyama & Pete Brown
MUSICIANS
Saiichi Sugiyama - Guitar, Vocals
Mark Horiuchi - Acoustic Lead Guitar, Vocals
Dave 'Clem' Clempson - Rhythm Guitar
Ben Matthews - Guitar
David Hadley-Ray - Bass Guitar
Zoot Money - Keyboards, Vocals
Malcolm Bruce - Keyboards
Simon Edgoose - Drums
Pete Brown - Percussion, Backing Vocals
Henry Lowther - Trumpet
John O'Leary - Harp
Rietta Austin, Jim Stapley, Sue Ballingall - Vocals
BIO
As a young child Saiichi was an inveterate "song inventor," singing songs he made up to amuse himself. One of his earliest memories was singing cartoon title-songs on stage with a full band behind him at a function to which he and his father were invited. Well before he took up the guitar, Saiichi wrote "radio" plays complete with soundtracks, and directed his school friends in recorded productions of them. The Beatles' music was constantly in the background then, even in Asakusa, downtown Tokyo where Saiichi was born and raised. This abiding creative activity with all that wonderful music as the background fabric of his existence was a harbinger of things to come... In 1972 when Saiichi got his first guitar at the age of 12 (a Yamaha acoustic), he was wanting to emulate the sound of Crosby Stills Nash & Young, which obviously took him a bit longer than if he was aiming at something a little more straight forward - but he says he has always followed his heart even from a young age. Saiichi straight away started making up what he later learnt to be open chords right up the neck before he mastered the lower position chords. He then befriended the late Tommy Hidaka, a member of the Tokyo group GARO who had major chart hits and were well-known for their impeccable CSN&Y covers. Tommy showed him a few more open chords and tunings and Saiichi was on his way. Saiichi then "met the blues" when he heard the track "Go Back Home" on Stephen Stills' first album, on which Eric Clapton was playing alongside Stills. Saiichi's quest for more of that "certain something" he found in that track led him to the Layla album, live Cream tracks, and finally to John Mayall's Blues Breakers album, with which the 13 year-old Saiichi found an immediate empathy. He started digging deeper into the blues, via B.B. King on Kent, Freddie King, Albert King, right on through Howlin' Wolf to Muddy Waters. Saiichi saw Clapton perform at Tokyo's Budokan in 1975 and formed his first blues band immediately after. Not satisfied playing with Japanese musicians of the day, Saiichi made plans to live abroad--England was calling. After a couple of summers spent in sunny California, Saiichi bit the musical bullet and moved to this green and pleasant (and rainy) land in 1980, home of his earliest musical influences, and decided to live in Surrey. Since then, Surrey has been his home. In 1990, Saiichi teamed up with the ex-Graham Bond Organization drummer, Paul Olsen, and the former X-Production bassist, Marco Frangos, in a power blues triumvirate known as Bluewater, playing the London blues club circuit. The Bluewater partnership with Maggie Ryder (ex-Eric Clapton), however, never went beyond the rehearsal studios as Maggie moved to New York. In 1993, after the dissolution of Bluewater, Saiichi started playing "solo" gigs backed by the ex-Walk on Fire partners, Phil Williams and Mike Casswell (of the late Cozy Powell Band fame) with Justin Hildreth (ex-Joan Armatrading) on the drums. It was with this line-up, augmented by the veteran of the British blues scene Zoot Money and the rhythm section of erstwhile Cutting Crew, that Saiichi recorded his eponymous album "SAIICHI SUGIYAMA" released in 1994. The album boasted seven of his compositions which, while firmly rooted in the blues and R&B Saiichi absorbed in his formative years, featured his unique sense of melody, particularly in the guise of "China Doll," reputed to be a closet classic for those who are appreciative of his particular style of music. The album was well received and got airplays on Jazz FM and various regional stations. His interview with BBC GLR and the appearance on Live TV alongside James Brown ensured that his gigs were packed out. His memorable jams from the nineties included appearances with the rhythm section of John Healy Band and Otis Grand as well as an evening of blues with Zoot Money. Saiichi's ever-evolving band in the 90's featured Boz Burrell (ex-Bad Company), John Cook (ex-Rory Gallagher), Terry Peak (ex-Champion Jack Dupree) and Sam Kelly (multiple-winner of the "best blues drummer in London" prize in the late nineties) among others. The last incarnation of his band featured Tim Weller and Paul Wassiff who went on to support Eric Clapton's Pilgrim US Tour as Distant Cousins. However, Saiichi was unable to get a record company backing, the typical response being "Great music but don't know how to market it" and the business side took its tool - Saiichi practically stopped gigging in 1996 - concentrating on writing just for himself. Saiichi's knowledge of vintage guitars also landed him the role of adviser to Richard Chapman, Christie's guitar consultant, in the auction sale of Clapton's guitars in 1999. This work resulted in Saiichi being comissioned to write various Clapton guitar related articles by Japanese publishers and eventually, his appointment as a consultant for the 2004 Eric Clapton Crossroads Guitar Auction at Christie's. His love of vintage Marshall amps also led him to the 1999 Ampaholics project, demonstrating the sound of various Marshall amps from the 60's on the Ampaholics CD. In 2001, Saiichi started performing on the London and Surrey circuit again with his own band, featuring new material and a new band with David Hadley-Ray, a bassist from Philadelphia, US, and Darby Todd on the drums. Saiichi first saw David play at a local blues jam when he accompanied his friend's young son, Andy Cortes, still learning to play, for moral support. Saiichi was seen gigging around Kingston and guesting on stage with his friends, John O'Leary--founder member of Savoy Brown, Gary Boner of Roadhouse, and Robin Bibi. Soon, Saiichi was rejoined by Sam Kelly on the drums, who played with him in the early '90s, and Saiichi Sugiyama and His Band was back in business. It was in 2001 through David Hadley-Ray's introduction that a collaboration which was to form the foundation of Saiichi's musical activities in the 2000s came into existence. Saiichi met and performed with the Cream lyricist, Pete Brown, at David's wife's birthday party held in the upstairs room in Paradise Bar, Kensal Rise, coincidentally the venue for the launch party for his first album on his birthday 30 Novemebr 1994. Pete began appearing at Saiichi's shows in 2002 playing percussion, singing backing vocals, and performing Cream classics with Saiichi. Through David's introduction, Saiichi also met Malcom Bruce, Jack Bruce's son, who played keyboards in Saiichi's band for a short period before his solo project took over. A Japanese record company executive happened to hear one such performance and requested Saiichi to let him include a live recording of it in his label's Cream tribute project. Instead of releasing live recording, Saiichi and Pete went into a studio with the live set-up, with Malcom on the keyboards and Darby on the drums, to cut four Cream tracks. These re-interpretations of Cream classics, produced and sang by Pete Brown (complete with the previously unreleased extra verses for Politician) were released on "Sunshine of Your Love"by Funai International/Universal Japan in December 2002. Following a spell in Tokyo after his father's death, Saiichi returned to England just before Christmas in 2002 and with Pete Brown's encouragement, started planning for and writing with him his new solo album since 1994. Pete and Saiichi assembled a team consisting of David Hadley-Ray on the bass, Zoot Money and Malcom Bruce on keyboards, Clem Clempson on rhythm guitar. Henry Spinetti, who was originally going to play the drums, was unable to attend due to the extra dates with Roger Chapman and Simon Edgoose took his place. After a week's preproduction in London, the recording session started at Chapel Studios in Lincolnshire in the spring of 2003 with Thunder's Ben Matthews engineering the session. After 10 days, the session moved to London for overdubbing horn sections, cello, flute and backing vocals. Among others, Henry Lowther played the trumpet. The session also saw Pete and Saiichi traveling to Tokyo to capture contribution from Mark Horiuchi of GARO, Saiichi's early musical influence. During the visit, Saiichi and Pete played a one-off gig in Tokyo. This was the first gig in Japan for Pete (and the first since 1978 for Saiichi) and combined with the fact that it was Mark Horiuchi's first recording in ten years, it resulted in much coverage by the local music press. The album production, which took over one year, finished in May 2004. The resulting 14 track album "So Am I" was released from Hendrixx Records in Japan on 20 July 2004 and features Saiichi's compositions and lyrics by Pete Brown. Advance orders on the album resulted in it reaching #604 on the Japanese Amazon.co.jp ranking on 27 June 2004. It received a critical acclaim from Japanese rock press, British blues publications and tracks from the album have been played on US, English, European and Japanese radio stations. In autumn of 2004, Saiichi and Pete returned to studio to cut Saiichi's re-interpretation of Beatle numbers for a Japanese project with Geoff Allen on drums, Clem Clempson on guitar, David Hadley-Ray on bass and David Munch Moore and Malcom Bruce on keyboards. The resultant four tracks were released on a compilation album "Blackbird" on Hendrixx label on 29 November 2004. Saiichi and Pete returned to Japan to play a 5 day mini-tour, starting in Hiroshima, in December to promote the "Blackbird" release. In the UK during 2004, Saiichi with his band featuring David Hadley-Ray on bass and Paddy Milner on keyboards appeared with the Yardbirds and Stan Webb's Chicken Shack. They also performed a one-off acoustic concert at the Jazz venue, Bull's Head in Barnes which was recorded for a possible release. A 6 page feature in the UK's Blues Matters! and appearing with the Yardbirds at thier Chritmas Party were a fitting conclusion of a busy year that 2004 was. 2005 kicked off with a Surrey date with Zoot Money and Pete Brown in Saiichi's band. In May, a compilation album entitled simply SAIICHI was released in UK featuring more Sugiyama-Brown tracks as well as the Beatles and Cream interpretations from the Japanese Hendrixx compilations. The release coincided with the Cream reunion concerts at the Royal Albert Hall and the album was launched at three London gigs by Saiichi Sugiyama Band featuring Pete Brown. The sell-out gig at the Hard Rock Cafe in London was packed with Cream fans visiting from all around the world. Later in the year, Saiichi started a new World Blues project with Helder Pack, the virtuoso drummer from Mozambique and his friend Mauricio Pena from Venezuela on the keyboard and a percussionist and a trumpet player. This unit with an idea to fuse Latin and African influences with Saiichi's brand of rock music eventually turned into Saiichi's new regular touring band and made its debut appearance to a packed crowd at Ealing Jazz and Blues Festival in August.2006 saw Saiichi continuing to work with his band as well as performing gigs entirely consisting of Cream numbers as a musical tribute. The idea was hatched by his friend Funky Paul Olsen, an artist, a drummer and a Cream fan. In July/August 2006, Saiichi performed in Shana Morrison Band for the 12 date UK leg of her European tour across the country. The band led by Shana, Van Morrison's daughter and an incredible blues singer in her own right, received fantastic reviews at their gigs around the country including a packed night at the Borderline in London. The tour culminated in an appearance at Summer Sundae Festival at De Montfort Hall in Leicester. After the Morrison tour, Saiichi teamed up again with Pete Brown to plan for his next projects - one involving a three way collaboration with Mark Horiuchi of GARO in Tokyo for a studio album and also Saiichi's next album consisting of his own materials. In a meanwhile, Saiichi is scheduled to perform a set of Cream music in a double-bill concert with Pete Brown's Interocetors at BoomBoom Club in September 2006. The story continues... © http://www.cdbaby.com/cd/saiichi2#
BIO (WIKI)
Saiichi Sugiyama (born 1960 in Tokyo, Japan) is a British-based guitarist, singer and composer, best known for his writing and performing collaborations with Pete Brown, the lyricist for Cream since 2002 to date. His previous bands in 1990s featured Mike Casswell and Phil Williams of Walk on Fire, Andy Smith of Hot Chocolate, Zoot Money, Boz Burrell of Bad Company, John Cook of Rory Gallagher band as well as the guitarist, Paul Wassif. Sugiyama was the lead guitarist in the band of Shana Morrison, the daughter of Van Morrison in her UK tour of 2006 and on her return to the UK in 2010. Sugiyama's studio albums in 2000s featured Clem Clempson of Colosseum, Pete Brown (who co-wrote and co-produced the albums), Zoot Money and Ben Matthews of Thunder. His British blues-based lead guitar style as well as his association with 1999 and 2004 Crossroads Centre guitar auctions at Christie's (as a guitar consultant) resulted in Sugiyama being labelled as a "Japanese Clapton" in the London blues clubs despite his remonstrations. Sugiyama plays a Gibson Les Paul guitar and Marshall amplifiers. His fluid and conversational guitar style does have a resmblance to Eric Clapton, Peter Green and has a vibrato technique similar that of Paul Kossoff whereas his singing style is of his own. Sugiyama collaborates with Mark Horiuchi, the former lead singer of the Japanese rock band Garo (Japanese rock group) who had a number of chart hits in the Japanese chart in the early 1970s and the duo recorded several tracks which were included in the album "So Am I" released in Japan in 2004. Sugiyama moved from Tokyo to England in 1980 and has lived in Surrey and London since then. He also runs his legal practice for the Japanese community in London and has one son with his English wife.