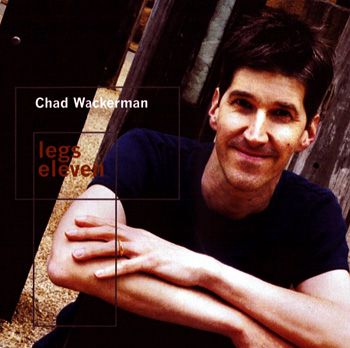 Chad Wackerman
-
Legs Eleven
-
2004
-
Australia Council For The Arts
One of the most skilled and talented drummers in all of rock and modern jazz is Chad Wackerman. Born on March 25, 1960 in Long Beach, California, Wackerman studied with some of the finest drummers in the area (including Chuck Flores). 1978 saw the drummer land his first real gig with trombonist Bill Watrous, before landing a spot with Frank Zappa, which would quickly establish Wackerman among the elite of modern-day drummers. Wackerman toured the world with Zappa and appeared on countless albums, including such acclaimed latter day releases as 1981's You Are What You Is, 1986's Jazz from Hell, 1988's Broadway the Hard Way, plus such multi-volume releases as London Symphony Orchestra and You Can't Do That on Stage Anymore. Additionally, Wackerman recorded a series of albums with guitarist Allan Holdsworth, plus session work with such varied artists as Steve Vai, Andy Summers, Men at Work, Ed Mann, Albert Lee, Colin Hay, Dweezil Zappa, Tom Grant, and even Barbra Streisand. But Wackerman isn't just confined to studio work, as he's toured the world accompanying James Taylor, John Patitucci, Joe Sample, and another ex-Zappa skinsman, Terry Bozzio. Wackerman has also found the time in his busy schedule to sporadically issue his own solo albums -- including 1991's Forty Reasons, 1993's The View, 2000s Scream, and 2004's Legs Eleven -- perform at drumming clinics around the world, and pen his own instruction book, Double Hi Hat Exercises for the Contemporary Drummer. Besides penning most of the compositions on his own albums, Wackerman has also written songs for Holdsworth and for the Dennis Miller Show. © Greg Prato © 2012 Rovi Corp | All Rights Reserved http://www.allmusic.com/artist/chad-wackerman-mn0000192849
The great ex-Frank Zappa percussionist Chad says 'It's very hard for me to separate the music I play with the way I feel and my surroundings - especially music that has improvisational elements in it'. The musicians on "Legs Eleven" have been playing together for the past seven years. James Muller is one of Australia's best young guitar prospects. Bassist Leon Gaer from L.A is an experienced studio musician, and Daryl Pratt, the electric vibraphonist, is a highly respected and very talented jazz and classical percussionist. The album is subtle, spacious, complex, intense, creative, and melodic with Chad's edgy and exciting drumming underpinning the beautifully intricate, and laid back guitar work from James and the magnificent vibes and percussive work from Daryl Pratt. This exceptional jazz fusion album is
HR by A.O.O.F.C.
Listen to Chad's "The View" album.
[
All tracks @ 320 Kbps: File size = 133 Mb
]
TRACKS
1 Sophie's Beach 7:11
2 Spiral 5:59
3 Legs Eleven 1:36
4 Where You Come From 6:23
5 Newtown 8:06
6 No Time Like the Future 6:51
7 Tangara 8:06
8 Field of Mars 5:43
9 Rhythm Clock 1:22
10 Balancing Acts 6:36
All tracks composed by Chad Wackerman
MUSICIANS
James Muller - Guitar
Leon Gaer - Bass
Daryl Pratt - Vibraphone, Marimba, Synthesizers
Chad Wackerman - Drums, Percussion
BIO
(WIKI)
Chad Wackerman (born March 25, 1960 in Long Beach, California) is a jazz, jazz fusion and rock drummer; arguably best known in the United States as a drummer and percussionist in Frank Zappa's band. In addition, he has worked with others as a band member, session musician, sideman, and bandleader of his own jazz trio, as well as his solo career. Chad Wackerman was raised in Seal Beach, California, in a family immersed in music. His father, a drummer, is an award-winning music teacher who has taught at both high school and middle school levels with a specialization in jazz. Chad and his brothers, John, and Brooks Wackerman are all proficient drummers and multi-instrumentalists. John recorded an album titled Drum Duets Vol.1. Wackerman joined the Bill Watrous band in 1978 and later went on to work with Frank Zappa for seven years, from 1981 to 1988. Gaining and keeping a place in Zappa's band was not easy; Zappa demanded high musical standards and imposed exacting discipline in rehearsal and on tour. The auditions for his band were grueling, according to Steve Vai and Wackerman himself. Two pieces of music, "Mo and Herb's vacation", and "The Black Page" were considered exceptionally difficult. Only three drummers throughout Zappa's career were able to play them successfully: Wackerman, Terry Bozzio, and Vinnie Colaiuta. In 1985, he toured, but did not record, with Australian rock act Men at Work. Barbra Streisand Wackerman played on the album and supporting video One Voice album and video with Barbra Streisand. He has also recorded albums and toured with diverse artists such as Allan Holdsworth, Steve Vai, Andy Summers, Ed Mann, Albert Lee, Colin Hay, Dweezil Zappa and Tom Grant. Chad was also the drummer for the house band on the first Dennis Miller late night talk show. Chad has also toured with James Taylor, best friends Mark Linn-Baker and Larry Sweeney, John Patitucci and Joe Sample, as well as fellow Zappa drummer Terry Bozzio in a series of all-percussion concerts. Chad lived in Australia for ten years between 1995 and 2005. Due to changes in the music scene in Australia and an increase in gigs in the United States, Chad decided to move back to California in July, 2005. The current Chad Wackerman Trio consists of Chad Wackerman (drums), Doug Lunn (bass), and Mike Miller (guitar). Wackerman's solo albums include guitar contributions from Allan Holdsworth.