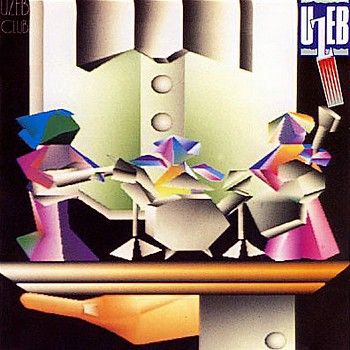 UZEB
-
Uzeb
Club
-
1989
-
B.C.C.L.
The jazz fusion band UZEB from Montreal, Quebec played from 1976 to 1992 releasing quite a few well received albums. They toured extensively in Europe and Asia but rarely played the US. Downbeat magazine considered UZEB one of the world'd best electric jazz groups. When the band broke up, it had earned 9 Felix awards (Jazz Album of the Year in 1983-84-86-87-90-91, Group of the Year 1984-1989, Most Famous Performer Outside Quebec 1990), a Gémeaux prize in 1989 (best original music), a SOCAN prize in 1990 (jazz category), a Musique Plus prize for the UZEB CLUB video, and the Oscar Peterson prize in 1991, awarded by the Montreal International Jazz Festival. In July 1992, UZEB played its last major concert at the Montreal Jazz Festival before 96,000 people. By 1989, international sales of UZEB's first eight recordings had exceeded 200,000 units, which the Encyclopedia of Music in Canada calls "an unprecedented figure for a Canadian jazz group." "Uzeb Club" is a greatl late '80's jazz fusion album by a band with a dazzling blend of instrumental technique and technology.
See if you can find the band's great "Live in Bracknell" album
[
All tracks @ 320 Kbps: File size = 105 Mb
]
TRACKS / COMPOSERS
A1 Uzeb Club - Michel Cusson, A. Caron 4:45
A2 Not Even The Shadow Of The Tail Of A Lizard - Michel Cusson, A. Caron, P. Brochu 6:25
A3 Après Les Confidences - Michel Cusson, A. Caron, P. Brochu 5:13
A4 Loose - Michel Cusson 7:16
B1 Mister Moe - Michel Cusson, A. Caron, P. Brochu 4:13
B2 Perrier Citron - Michel Cusson, A. Caron, P. Brochu 6:46
B3 Time To Go - Michel Cusson, A. Caron, P. Brochu 5:02
B4 Bouncer - Michel Cusson, A. Caron, P. Brochu 7:04
MUSICIANS
Michel Cusson - Acoustic & Electric Guitar
Alain Caron - Bass, Piccolo Bass
Paul Brochu - Drums, Percussion, Cymbals, Stick
Alain 'Chepito' Labrosse, Mario Labrosse, Luc Boivin - Additional Percussion
SHORT BIO
(WIKI)
UZEB was formed in 1976 in Drummondville, Quebec, by guitarist Michel Cusson. After the band's debut in St-Eusèbe, Qc, the name Eusèbe-Jazz was used; this name was later shortened to UZEB. The band soon moved to Montreal. Drummer Jean St-Jacques and bassist Alain Caron joined Cusson in 1978. The drummer's position was next filled by Sylvain Coutu, and then in 1980 by Paul Brochu. Until 1987, UZEB also used a keyboard/synthesizer player. In the 1980s, UZEB had what was then a very technologically advanced MIDI system for its synthesizers. After 1987, UZEB became a trio consisting of Cusson, Caron, and Brochu. UZEB won Quebec Félix awards as group of the year in 1984 and 1989 (in competition with Quebec pop and rock bands). As well, the band won awards for jazz album of the year in 1983, 1984, 1986, and 1987. UZEB did Quebec-wide and several Canadian tours. In 1991 UZEB received the Oscar Peterson Lifetime Achievement Award which was presented at the 1991 Montreal International Jazz Festival. UZEB played its first European concert in 1981 at the Bracknell (England) Jazz Festival. In 1983, UZEB appeared at the Festival de Jazz de Paris and recorded at the Olympia in Paris. UZEB also played in other European countries and in Southeast Asia (in 1990). However, UZEB rarely played concerts in the US. UZEB's most popular songs include Junk Funk, Smiles and Chuckles, Mile 'O', 60 rue des Lombards, Spider, and Uzeb Club.