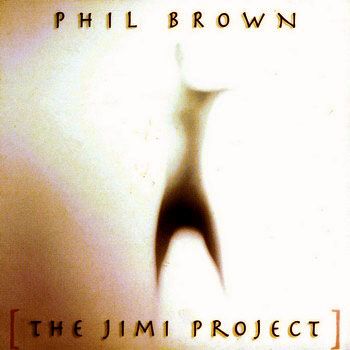 Phil Brown
-
The Jimi Project
-
2006
-
Apaches From Paris
Along with the Beatles, Jimi Hendrix is widely considered -- and with good reason -- to be one of the most sacred artists of rock history. And as a result, it's pretty darn hard to cover Hendrix, since the original renditions of his songs are widely agreed to be definitive, and extremely well-known and instantly recognizable. But that's not to say that admirers haven't taken a crack at Hendrix's catalog, and in 2006, it was Phil Brown's turn, with the appropriately titled The Jimi Project. For those who may not be familiar with his work, Brown is primarily a session guitarist who has played with a multitude of artists, in addition to replacing the late, great Lowell George in Little Feat. Joining Brown for his Hendrix tribute are two players with heavy jazz chops -- bassist Jimmy Haslip and drummer Gary Novak. And the results are what you'd expect -- expertly played renditions, loaded with tasty guitar work courtesy of Brown. For the most part, the trio uses Hendrix's renditions as a starting point, before adding their own personal laid-back stamp (and never straying too far from the originals), especially on such tracks as "Purple Haze" and "Fire." Additionally, Brown and company don't just stick to Hendrix's best-known tracks, as such oft overlooked Axis: Bold as Love gems as "One Rainy Wish," "You've Got Me Floating," and "Ain't No Telling" share the spotlight. © Greg Prato © 2012 Rovi Corp | All Rights Reserved http://www.allmusic.com/album/the-jimi-project-mw0000402744
The brilliant ex-Little Feat guitarist, Phil Brown spent three years making this album. There are many albums of Jimi covers, but this is one of the best albums of Hendrix covers you will ever hear from a guitarist you may never hear. The sleeve notes state that "The Jimi Project" is without a doubt the best and most original "Hendrix Tribute" disc you have ever heard that is guaranteed to trip your brain into the deep, blue outskirts of infinity. Highly recommended to fans of Jimi Hendrix and first rate serious bluesy heavy guitar magic". This guy is a disgracefully overlooked musician. Check out his terrific "Cruel Inventions" album, and please support real music and buy his "Imagine This" album. "The Jimi Project" is
HR by A.O.O.F.C.
[
All tracks @ 192 Kbps: File size = 66.8 Mb
]
TRACKS
1 Manic Depression 4:51
2 Purple Haze 2:56
3 I Don't Live Today 3:56
4 Voodoo Child 4:19
5 Fire 3:29
6 One Rainy Wish 4:17
7 If 6 Was 9 5:12
8 Love or Confusion 3:45
9 Spanish Castle Magic 3:38
10 You've Got Me Floatin 4:00
11 Ain't No Telling 2:28
12 Are You Experienced? 4:02
All songs composed by Jimi Hendrix
MUSICIANS
Phil Brown - Guitar, Vocals
Jimmy Haslip - Bass
Gary Novak - Drums
Phil, Fredie Lopez, Reggie Knighton, Michael Drebert, Bobby Yanez - Background Vocals
BIO
To begin with, Phil's got 40 years of touring and studio work behind him (going back to a stint with Little Feat in the early 80's as Lowell George's successor on guitar and vocals), but plays and sings (his songs, and reinventions of rock standards that he makes very much his own) with the energy of 16 year old kid headlining his first school dance. That said, Phil's musical gifts (guitar/voice) reflect the grace, wisdom and consummate musicanship that can only come from a full and rich lifetime dedicated to rock and roll. (He's also written lots of songs I suspect you know or will recognize on hearing.) Phil started on the violin at age 7. Got his first guitar that year too. Classically trained with lots of lessons and lots of practicing - a guitar slinger was born. He grew up around much of 50's music playing in his parent's house... Chet Atkins, Tony Bennet, opera, classical, jazz. Phil couldn't wait to follow his dream and left home -- which was Los Alamos/hub of the atomic bomb -- at 17 with an electric guitar, a suitcase and a pocketful of dreams. Hitched all around the US picking up one nighters and joining this band only to 'quit it' or be fired - there was always a 'better' band somewhere with more talented players. The end of the road for many musicians is L.A and somehow or not surprisingly Phil ended up in Los Angeles in 1976 where he survived driving a truck delivering gear for recording studios and where he met the likes of Alice Cooper, Joe Cocker, Mad Dogs and The Englishmen where they were rehearsing. . . .He ended up joining "Little Feat" and started writing songs - a lot of songs - thus worked for a few major music publishing houses. Check Phil's discography. Phil's solo career started in 2003 when a French label contacted him and asked him to make a record. "Cruel Inventions", Phil's first solo album was released in France, then throughout several European countries where it did pretty well. Meanwhile, Phil was toying with the idea of recording some of his fav Jimi Hendrix songs, re-arranged of course ala Phil -- Bassist Jimmy Haslip and drummer Gary Novak joined him for a few days, recording [the jimi project] was born. Originally Phil planned to make a few thousand CD's for friends and family, but we all know that there are no such things as 'coincidences'. Friends talking to friends and other friends and [the jimi project] ended on many desks – It all starting going nuts with international and national press and airplay, such as NPR syndicated Sunday Morning Show which noted [the jimi project] as one of the '10 must own" CDs for the 2006 holiday season.... [the jimi project] was recently re-mixed by Frank Filipetti with Nuendo technology. Phil moved to Austin, Texas some time in 2006 where he loves the people who in turn luv music and support the artiste`in a way that defies description. Phil, always involved in projects, creating/developing projects, is featured on the latest Kool and the Gang album, as well as realizing the final touches of his third solo album "Good To Be Back" . Still writing songs and playing "live" in Austin is a must if you want to "let/get your ya-ya's out." He's traveling and producing other artist as well. "The good life" according to Phil is "being open minded and challenging yourself in co-creative ways in order to access the light force that propels us all towards greatness." Not many would disagree with that sentiment. In the meantime, Phil's met a few of the many pedigree musicians in Austin, has big fun and as a "happy accident" an MP.TU recording was created. Phil recently moved to Oklahoma City from Austin and is "tearing up the place" from the standpoint of fans and local critics alike. Phil's working on re-release of several of his most recent independent projects (including his acclaimed 2006 "Jimi Project" tribute to the music of Jimi Hendrix, and a new recording entitled "Imagine This" being produced with Walter Quintus in Germany - Walter is Jack Bruce's long time archivist/producer, and a producer/collaborator with artists as diverse as the Brecker Brothers, Ralph Towner, Pat Metheny and Joe Zawinul, among others). Phil's currently working with a superb power trio (drummer Peter Pollack's got a PhD in percussion and 7 years with The blue man group in las vegas under his belt, bassist dave copenhaver is a veteran of 200 indie and label recording projects as a player/producer).
Phil also has summer festival dates lined up for a new sextet being billed as "Phil Brown's Guitar Army". © http://philbrownrocks.moonfruit.com/#/bio/4549008968