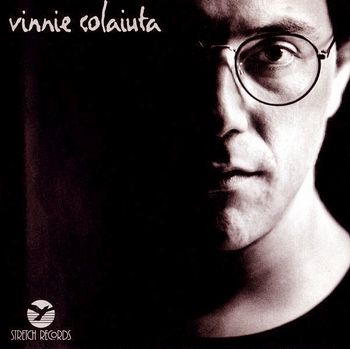 Vinnie Colaiuta
‎-
Vinnie Colaiuta
-
1994
-
Stretch Records
A very versatile drummer, Vinnie Colaiuta is impossible to pigeonhole as just a specialist in only one or two areas. He is capable of playing very credible pop-jazz, or recording with Buell Neidlinger and Marty Krystall in a post-bop quartet. Colaiuta's talents were obvious from an early age. After attending the Berklee School of Music, he worked with Frank Zappa (1978) and then performed with Joni Mitchell for several years. Settling in Los Angeles in 1983, Colaiuta worked for seven years as a very busy studio musician. In 1990 he went back on the road with Sting and in 1994 had his first record date as a leader, the self-titled Vinnie Colaiuta on the Stretch label. © Scott Yanow © 2013 Rovi Corp | All Rights Reserved http://www.allmusic.com/artist/vinnie-colaiuta-mn0000714156
Long-revered session drummer Vinnie Colaiuta jets to fusion's version of The Twilight Zone on his Stretch Records debut, a multi-influential, hardcore player's fiesta rife with moody effects, monster expressions by all his high-powered pals, and decadent experimentation. So, is that good or bad? Depends on your perspective. From a purely artistic point of view, if your listening palette can handle rambling but iron-fisted nuclear power and intrusive samples, then it's a fantastic look into another realm. If organization and focused craft is an issue, if melody is king, it will drive you insane while still provoking you. To focus on the positive aspects: Colaiuta's amazing as an all-around percussionist, serving up a hip-hop, blues atmospheres, even a wailing dance cut ("Momoska"). The guest list, from John Patitucci to Herbie Hancock to Sting, contributes ear-popping extravagance. Michael Landau strokes his strings like an alien comet from Krypton. And the leader even shows a softer side ("Darlene's Song"). Overall, intriguing, though more fun for the musicians involved than for the listener. © Jonathan Widran © 2013 Rovi Corp | All Rights Reserved http://www.allmusic.com/album/vinnie-colaiuta-mw0000626688TRACKS
A producer once told Vinnie Colaiuta that "if you threw Tony Williams and Steve Gadd into a blender, Vinnie would be the tasteful concoction". There is no question that Vinnie Colaiuta is a fabulously talented drummer and percussionist and has a natural born talent for playing the instrument. Vinnie has played with the crème de la crème of modern day musicians and has an unbelievable CV. He remains one of the most in demand studio musicians playing on countless albums. Vinnie has not tried analyzing his unique and compelling playing. The term "Vinnie Stuff" has often been used to describe Vinnie Colaiuta's unique brand of drumming. It includes a lot more than his ability to play the most complex polyrhythms, odd meters, and wild fills, or his uncanny talent to lock into a groove no matter what the time signature. Whatever "Vinnie Stuff" is, it has had a huge impact on contemporary music and a generation of drummers. Vinnie is passionate about post-bebop jazz. He has said that "I like music that is rhythmically funky and has an interesting or beautiful harmonic structure". Listen to Greg Mathieson's "West Coast Groove" Frank Zappa's "Shut Up 'n Play Yer Guitar" and Steely Dan's "Two Against Nature" albums where you can hear hear what Vinnie means.
[
All tracks @ 320 Kbps: File size = 110 Mb
]
TRACKS
1 I'm Tweeked / Attack Of The 20lb Pizza 6:22
2 Private Earthquake: Error 7 7:23
3 Chauncey 9:39
4 John's Blues 5:25
5 Slink 5:57
6 Darlene's Song 5:41
7 Momoska (Dub Mix) 8:04
8 Bruce Lee 6:01
All tracks composed by Vinnie Colaiuta
N:B:
The German version of this album contains an extra track "If One Was One"
MUSICIANS
Guitar – Dominic Miller (tracks: 3, 4, 6), Michael Landau (tracks: 1, 8), Mike Miller (tracks: 4 to 6)
Bass – Neil Stubenhaus (tracks: 1, 8), Pino Palladino (tracks: 2), Sal Monilla (tracks: 7), Sting (tracks: 3), Tim Landers (tracks: 5)
Bass [Acoustic] – John Patitucci (tracks: 6)
Piano – Chick Corea (tracks: 6)
Piano [Solo] – Herbie Hancock (tracks: 7)
Organ – David Sancious (tracks: 2)
Synthesizer, Electric Piano – David Goldblatt (tracks: 4, 5)
Drums, Keyboards, Percussion, Programmed By, Written By, Producer – Vinnie Colaiuta
Percussion – Bert Karl (tracks: 7)
Tenor Saxophone – Steve Tavaglione (tracks: 2 to 7)
Trombone – Ron Moss (tracks: 8)
Trumpet, Flugelhorn – Jeff Beal (tracks: 4, 6)
BIO
(WIKI)
Vincent Colaiuta (born February 5, 1956) is an American drummer based in Los Angeles. Originally from Republic, Pennsylvania, he began playing drums as a child and received his first full drum kit from his parents at the age of fourteen. He is notable for his technical skill and his musical versatility, having played with many artists from a wide variety of genres. After attending the Berklee College of Music in Boston for a year, Colaiuta had his first big break as a member of the Christopher Morris Band in 1976-1977. Playing and recording with the Christopher Morris Band (MCA 2282) in 1977, Colaiuta relocated with the band to Los Angeles. After leaving the Christopher Morris Band, he made a mediocre living playing with lounge bands. His next break came in April 1978 at the age of 22, when Colaiuta auditioned for Frank Zappa, an audition that involved performing the notoriously difficult piece entitled "The Black Page". The audition was successful and Colaiuta went on to work with Zappa as his principal drummer for studio and live performances. He played on the successful Zappa albums Tinsel Town Rebellion, Joe's Garage, and Shut Up 'n Play Yer Guitar. Joe's Garage was named one of the top-25 drumming performances of all time in a 1993 Modern Drummer article. About Colaiuta's ability to play Zappa's notoriously complex music and the complex style of polyrhythms, guitarist Steve Vai told the following story: He's one of the most amazing sight-readers that ever existed on the instrument. One day we were in a Frank rehearsal, this was early '80s, and Frank brought in this piece of music called "Mo 'N Herb's Vacation." Just unbelievably complex. All the drums were written out, just like "The Black Page" except even more complex. There were these runs of like 17 over 3 and every drumhead is notated differently. And there were a whole bunch of people there, I think Bozzio was there. Vinnie had this piece of music on the stand to his right. To his left he had another music stand with a plate of sushi on it, okay? Now the tempo of the piece was very slow, like "The Black Page." And then the first riff came in, [mimics bizarre Zappa-esque drum rhythm patterns] with all these choking of cymbals, and hi-hat, riffs, spinning of rototoms and all this crazy stuff. And I saw Vinnie reading this thing. Now, Vinnie has this habit of pushing his glasses up with the middle finger of his right hand. Well I saw him look at this one bar of music, it was the last bar of music on the page. He started to play it as he was turning the page with one hand, and then once the page was turned he continued playing the riff with his right hand, as he reached over with his left hand, grabbed a piece of sushi and put it in his mouth, continued the riff with his left hand and feet, pushed his glasses up, and then played the remaining part of the bar. It was the sickest thing I have ever seen. Frank threw his music up in the air. Bozzio turned around and walked away. I just started laughing". Colaiuta is mentioned in Frank Zappa's song, "Catholic Girls" by the character Mary. After leaving Zappa, Colaiuta went on to work with a long list of notable rock and pop artists, including Gino Vannelli, Joni Mitchell, Barbra Streisand, Sandy & Junior, Jay Vaquer, Clannad, Wang Chung, Chaka Khan, Megadeth, The Beach Boys, Leonard Cohen and Jeff Beck. He has also appeared with many notable jazz musicians, including Chick Corea, Herbie Hancock, Jimmy Haslip, Quincy Jones, the Buddy Rich Big Band and Buell Neidlinger. He has also played with Chuck Loeb, David Goldblatt, David Sancious, Dean Brown, Jeff Porcaro, Jim Beard, John Patitucci, Mark Egan, Gigi D'Alessio, Robben Ford, and Tim Landers. In 1990, Colaiuta successfully auditioned as drummer in Sting's touring band in support of his album The Soul Cages. Colaiuta remained as a member of Sting's band for the next seven years. He declined the offer to go out on the road for the Brand New Day tour in 1999 due to the considerable length of a typical Sting world tour. Colaiuta's studio work with Sting can be heard on Ten Summoner's Tales (1993), Mercury Falling (1996), three songs on Brand New Day (1999) and two songs on Sacred Love (2003). In September 2003, he returned to Sting's touring lineup in a brief promotional tour of Sacred Love, but once again declined the offer to participate in the world tour. At 10.21.2011 Vinnie Colaiuta rejoined Sting´s tour band for performing on the Back to Bass Tour. So he continues his live collaboration with Sting after almost fifteen years. Colaiuta released a self-titled solo recording in 1994, and still remains one of the most in demand studio musicians playing on countless albums, film soundtracks, TV and radio jingles. His dedication to self-improvement is legendary: Dom Famularo, a famous drum educator and Colaiuta's friend, once told a story about Colaiuta opening his door while practising on a drum pad; after a few minutes of a chat on the door step, Colaiuta said: "I'm such a bad host, I haven't offered you anything! Do you want a pad?" Colaiuta has won a total of 18 Drummer of the Year awards from Modern Drummer magazine's annual reader polls. These include 10 awards in the "Best Overall" category. Colaiuta was inducted into the Modern Drummer Hall of Fame in 1996. The publication also cited Colaiuta as being the most important drummer of our time. In 2006 to 2007, Colaiuta toured with Jeff Beck and Tal Wilkenfeld on bass, with Jason Rebello playing keyboards, in Eric Clapton's Crossroads Guitar Festival. Colaiuta recorded and toured with Faith Hill, recorded with the thrash metal outfit Megadeth on their album The System Has Failed, and toured with Jeff Beck and Herbie Hancock. From October 22 to November 23, 2008, Colaiuta toured Europe with John McLaughlin, Chick Corea, Kenny Garrett and Christian McBride in the Five Peace Band. 2009 was the release of the Zappa alumni all star band The Mar Vista Philharmonic, featuring Tommy Mars, Bruce Fowler, Walt Fowler, Arthur Barrow, among others, on Jon Larsens Zonic Entertainment label.