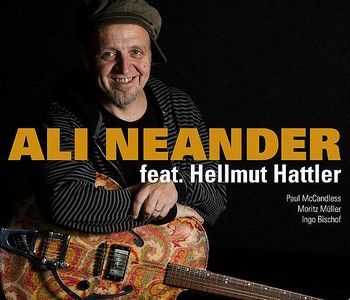 Ali Neander
feat.
Hellmut Hattler
-
Ali Neander
feat.
Hellmut Hattler
-
2010
-
ESC
Hi everybody, welcome to my "labour of love". When I first thought about recording a solo cd after playing on 50+ records of various styles for other people I asked myself: What am I gonna do? Invite famous singers and noodle behind them or what? Well, I thought about the musicians who made me become a professional in the first place, the guys that made you want to play better, period, and so this CD is a tribute to the first generation of jazz rock pioneers of the early seventies, a group of artists who have probably influenced more musicians all over the world than anybody else. In these early days the combination of jazz and rock was not a given thing. It was a hot liason, not a marriage, and I can still recall the feeling of wild euphoria that could be felt at the concerts of the Mahavishnu Orchestra, Return To Forever or Weather Report a.o. You can't compare that to some of the fusion-nerdness of later years that made you leave your girlfriend at home to avoid trouble. But no retro nostalgia here.I tried to put these early influences in perspective and combine them with newer elements. I am particulary proud about the contributions of my fellow musicians, german bass legend Hellmut Hattler, Paul McCandless of Oregon, one of my heroes for a long time, hot new drum talent Moritz Müller and the other guests, Ingo Bischof, Ollie Rubow and Frowin Ickler. So sit back and enjoy something that you might call "NUJaZZroCK" if you want. © ALI NEANDER
German guitar hero Ali Neander was born on July 2nd, 1958 in Hamburg/Germany. He is a highly respected musician both as a session player and leader / composer. This is a good debut solo jazz-rock album from Ali, a founding member of Frankfurt's Rodgau Monotones. The album explores multiple contexts and situations without focusing on any central theme. His musical "culture-mix" combines jazz, rock, fusion, latin, electronica and Krautrock with well crafted and some beautiful quiet musical passages. The music is inventive, and there are some great '70's style jazz rock grooves throughout. Ali is backed by Hellmut Hattler (ex-Kraan/ Tab Two), Paul McCandless (Oregon), and Moritz Müller. Listen to Kraan's "Andy Nogger" album featuring Hellmut Hattler, and see if you can find Flaming Row's "Elinoire" album which features Ali Neander, Billy Sherwood, and Jimmy Keegan.
[

All tracks @ 320 Kbps: File size = 122 Mb

]
TRACKS / COMPOSERS
1 Seventh Sense - Neander 4:44
2 Lassie Gone Bad - Neander, Hattler 4:37
3 Lobanda Walz - Neander 5:08
4 Sweet Confusion - Neander 5:02
5 Flies Neander - 1:40
6 Return Of The Folkhair Rebel - Neander 4:24
7 Spread Your Left Wing - Neander 5:52
8 Celestial Terestrial Commuters - John McLaughlin 3:54
9 Winterlude - Neander, McCandless 1:51
10 The Interior - Neander 4:19
11 Valley View 35 - Neander, Hattler 5:02
12 Fejoada - Neander, Hattler 4:43
13 Positively No Stairway To Heaven - Neander, Hattler 5:41
14 Last Train Home - Neander 5:19
MUSICIANS
Ali Neander - Guitar, Keyboards, Programming
Hellmut Hattler - Bass
Frowin Ickler - Bass on Track 14
Ingo Bischof - Keyboards on Tracks 4, 6)
Moritz Müller - Drums
Ollie Rubow - Drums on Track 13
Paul McCandless - Oboe, Soprano Saxophone
HELLMUT HATTLER
(WIKI)
Hellmut Hattler (born 12 April 1952) is a German jazz and bass player. Hattler took much of his influence from Jimi Hendrix. As a child he learned to play the violin, and in the 1960s played the guitar. Joining Peter Wolbrandt's band marked the debut of his changeover to the bass. In May 1971 with the Wolbrandt brothers Peter and Jan, and Johannes Pappert he founded the pop group Kraan whose early style of Krautrock developed later towards fusion, combining elements of both rock and jazz. Hattler has toured and recorded with may international musicians of the genre including Michael Brecker, Kai Eckhardt, Billy Cobham, Joachim Kühn, Ernie Watts, Alphonse Mouzon, and Nippy Noya. Inspired by young musicians who specialised in electronic music, Hattler began his 'Hattler' project which set a new impulse with the No Eats Yes album that was awarded the 2001 German ECHO prize. With the album Deep-Dive-Corp. he established himself as an electronic musician and recorded albums from 2000 to 2006 followed by the publication of a 'Best of' compilation. since 2006 in a new formation, Fola Dada, with Torsten de Winkel and Oli Rubow the band has been on tour for its CD The Big Flow . In 2001 Hattler founded the 'Bassball Recordings label. In 2011 Hattler was on tour with 'Siyou 'n' Hell' with Siyou. Hattler has published two bass books: the Hip Bass school in which he demonstrates his plectrum technique, and the Hattler Songbook, of chords and scores from his various projects. Hattler's son Max is an award winning film maker. In 1971 Hattler said "We don't have any regular jobs in this society. We concentrate entirely on the music. In this situation we try to make music that separates us from the pop clichés. We strive towards a closed musical experience that touches on all areas of our lives. We follow no one else - we make our own music."
ABOUT
ALI NEANDER
/
ALBUM
ALI NEANDER, guitarist, founding member of Frankfurt Local Heroes RODGAU MONOTONES, plays or played with well known German Acts as: Glashaus, Sabrina Setlur, Moses Pelham, Edo Zanki, Xavier Naidoo, Rilke Project, Neues Frankfurter Schulorchester, Fifty Fingers, Sabine Fischmann .....as well as a session guitarist and producer (Kevin Coyne.Henni Nachtsheim..), Filmscores.. Neander has become a highly respected figure on the scene, both as a ubiquitous sideman and as a leader / composer in the music scene here. His first release as a leader explores multiple contexts and situations rather than relying on or spotlighting a central theme. His "culture-mix" sounds european – combining jazz, rock, fusion, latin, electronica to Krautrock and beautifully crafted and gorgeously quiet musical passages in a unique way… Inventive, fun and grooving…. Backed by Hellmut Hattler (ex-Kraan), Paul McCandless (Oregon), Moritz Müller… © 06.10.2010 http://www.esc-records.de/public/newsfolge_en.php?newsid=113&artist=134