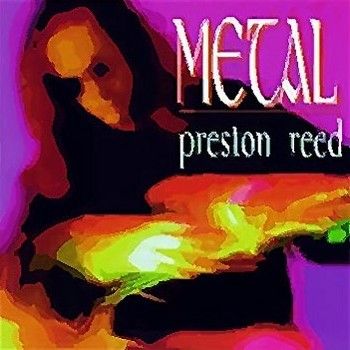 Preston Reed
-
Metal
-
1995
-
Dusty Closet Records
There's a great Simpsons line from the episode in which Homer decides to become an inventor. He's sitting in the basement, "inventing," and he says to Marge, "You look at this table, and what do you see? Just a table. Now a creative person like me looks at this table and sees all kinds of creative things. But no table!" (it turns out it's not a table at all, but their dryer). Preston Reed looked at a guitar and saw all kinds of things. But no guitar. Sure, he saw a rhythm-making, notemaking instrument, but he also saw a percussion section, a bass guitar, a second and third acoustic guitar, and something that could produce all of those sounds-plus harmonics-at the same time. He also saw something that he should hold with both hands above the neck, rather than the chord-making hand being positioned from underneath. The result: he has the busiest hands in the business, and has created a sound uniquely his own. A consequence of this is that he prints a disclaimer inside each album that reads: "All compositions on this recording are complete live takes with no overdubbing." In math form, this would be: 2 hands plus 1 Ovation guitar = a full band. Our first stop in trying to assess why he's not the most listened-to guitarist in America is his album Metal, originally released in 1995, and re-released in 2002 by Outer Bridge records (Reed's own label-that he had to re-release this album himself is additional evidence that the music industry has no idea what it's doing). To begin with, Metal is not his most accessible album for those looking to be introduced to his sound. That honor would probably have to go to 2000's Handwritten Notes, which features tracks such as "Tractor Pull" and "Along the Perimeter," both of which reestablish a goal for many budding fingerstyle guitarists, and such tender fingerpicking tracks like "Crossing Open Water" and "Love in the Old Country." No, Metal is much more aggressive, much more percussive, and represents a more energized side of Reed that first-time listeners might be surprised by. Of course, surprise isn't a bad thing. But hearing the album open with the harmonic slaps of "Blasting Cap" can be a musically altering experience if you aren't prepared for it. Same goes for "Tribes," "Metal," or "Chatanooga," which can all be jarring if one has no prior history with him. One of the joys of listening to Reed is to try and picture how he accomplishes each sound. On "Chattanooga," for example, it helps to picture him on stage, holding a long-neck guitar (one with 24+ frets), with both hands above the neck, in constant motion. This image works when hearing "Stonecutter" for the first time, a track that, tragically, is not available anywhere online, except in the amazingly misleading Amazon.com sound bite. "Stonecutter" represents Reed at his most powerful, as the track has no downtime whatsoever, no slow bridge or simple hook-like chorus to allow for the musician's hands to relax a bit and get in position for the main guitar riff. It's 3:24 of motion. Give the more representative "Slap Funk" a listen for a better available illustration of his "busy hand syndrome." He can be simpler, though. "Far Horizon" succeeds, not because of any intricacy to the style, but because he uses sustained and ringing harmonics and bass notes to create layers underneath what turns out to be a very simple (yet very beautiful) melody line. "Flatonia" begins as a moving, simple ballad, and ends as a finger picking clinic in the style of Leo Kottke or Michael Hedges. "Chattanooga," like "Stonecutter," is also a song of constant motion. Reed uses harmonic slaps, tapping, and occasional fingerpicking to add a very unique atmospheric sound to his arsenal. When one mentions fingerstyle guitar, Leo Kottke is inevitably part of the discussion; most fingerstyle guitarists point to Kottke's "6- and 12-string Guitar" as an influence (the ones who don't have probably been influenced by it through other artists). Kottke's presence is felt in a few of Reed's songs, most notably "Franzl's Saw," in which Reed uses a pinky slide (while fingerpicking, no less) and recalls Kottke's "Poor Boy" and "The Sailor's Grave on the Prairie" (again, though the CD Baby sample is a full 2 minutes, they've inexplicably chosen the most uneventful two minutes of the song). Within 10 seconds of listening to him, you'll realize just how little innovation is on display by the McBands receiving heavy rotation on MTV or Your Local Alternative Radio Station. Reed's Metal was the primary focus here, largely because it's one of the few albums of his that's still available; the majority of his records go for 35 dollars or more as rare or used copies, and the few that are available new-and cheaply-are recent re-issues from his own label. If not Metal, one could just as easily try Handwritten Notes first, before graduating to Ladies Night. The result is the same: Reed is a treasure, an absolute must-listen for those even tangentially interested in acoustic guitar music, and a one-of-a-kind innovator who will change the way you approach the guitar in both your listening and your performing. - You Should Hear Them by & © John Erhardt August 2005 © http://prestonreed.com/press2.html
Towering, lanky and sporting long rivulets of blondish curls, the square-jawed Reed attacks the entire instrument in a never ending search for the orchestra he knows is lurking inside. A not uncommon response to a Preston Reed live performance is "what is he doing up there?" His two hands are a blur of unconventional activity as they simultaneously manage to create a rock/jazz rhythm section, melody line and chordal accompaniment. This does not look like guitar playing as we learned to experience it. But it sounds very cool. "In the last couple years my playing has gotten more intensely rhythmic and percussive…and multi-voiced, multi-textural," says Reed with the fervor and zeal of a true pioneer. His 1995 album Metal was a showcase for this continually evolving style. Although Reed has always been a very rhythmic player, the rhythmic emphasis is very up front on Metal ; overall it has more of a "driving" feel than previous recordings, propelled by such tunes as "Train," "Blasting Cap," "Fat Boy" and the title track, "Metal," which Playboy reviewer Charles M. Young said "will drop your jaw." There is the heart and soul of a rock band in this collection; you have to keep reminding yourself that there are no overdubs and that the tunes were all complete takes. No digital cutting and pasting. In places, you'd swear there was a bass and drums in there somewhere. Reed manages to coax some very un-guitar-like sounds from his instruments. A good example of these sounds can be found in one of his earliest experiments with percussion: "Slap Funk." Originally recorded on his 1991 Blue Vertigo CD (unhappily, long out of print) from Reed's major label era, "Slap Funk" also appears on Metal. Among its engaging sonic oddities are some deceptively real hand-clap sounds that are actually made with the fingerpick-clad fingers of his right hand striking the side of the guitar near the juncture of the top and side. Probably the strangest looking part of Reed's playing is his left-hand-over-the-neck technique where instead of fretting in the traditional manner, he uses this hand to independently create sounds via slapping, tapping, hammer-ons and pull-offs and sliding, among other techniques. "All I did in my first experiments in playing this way," Reed recalls, "was to just have my left hand do what would normally be done by the thumb. I have my left hand doing a simple repeating rhythm vamp and have my right hand syncopate with that. Left hand drum beating or left hand hammering or left hand anything." Easier said than done, although Reed reports some success in teaching these novel techniques to his National Guitar Summer Workshop students. "The first thing I would do is play 'Tribes' [a funky, rhythmic tune that appears both on Metal and Reed's popular instructional video on Homespun Tapes] and get them to do the left hand rhythm voice…to get the left hand doing its part and then get the right hand doing its part. A lot of them would sort of giggle and feel uncomfortable and awkward trying anything." When Reed's left hand is off doing odd-appearing moves, his right is often busy making sounds by tapping on the neck instead of picking over the soundhole. Or as Reed says more precisely: "I'm doing a lot of impact-generated sounds on the guitar." "It's a misnomer to just call this tapping," he explains. "Tapping is one of the maybe twenty or thirty things I'm doing. In fact, for all the things I'm doing, the keyword really is expedient…you're getting several different qualities and textures out of a single gesture. You're getting the sound of the string, you're getting the sound of your finger hitting the guitar neck as it slams the string down and that impact resonates through the body of the guitar. The whole effect of it is more 'pianistic' and more percussive." An essential component of Reed's orchestral playing techniques are altered tunings. A long-time veteran of non-standard tunings, Reed emphasizes the word "altered" as opposed to, say, "open" tunings where the tuning creates a chord. His tunings are designed to support the harmonic quality and playability of the particular song and may bear little sonic resemblance to a recognizable chord. You won't find anything in standard tuning on Metal. In fact, the only immediately familiar-looking tuning is DADGAD, which he uses for the propulsive "Train." In his new Ladies Night CD, most of the tunes are played in an odd tuning - CGDGGD - which Reed calls "double G." "Rhythm propels me forward," says Reed with his characteristic intensity. "It puts me on a train, where I can pick up stuff from the side of the tracks as the train picks up speed. It's a movement kind of thing. There are lot's of different ways to write a tune, but what I've been working in most recently is this kind of propulsive rhythm thing." If you haven't heard or seen Preston Reed, you may wonder whether there might be an excessive focus on technique, rather than how the resulting music sounds. Fair question. Fortunately, Reed is a strong composer with an ability to make the odd and unusual feel natural to the listener; tuneful but not predictable. Even when he was known for being a hot fingerpicker, the tunefulness of his tunes stood out. His second and third albums from the early 1980s - Pointing Up and Playing by Ear (available as a two-albums-on-one CD on Flying Fish) show off his composing talents as much as his playing skills. Even back then his tunes were carefully structured, intricately detailed and spiced with harmonic side trips. Despite his avowed rhythmic emphasis, he can pen soulful ballads with an unmistakable pictorial quality, rendered in a range of subtle moods and emotions. His music is not all strictly propulsive. Reed's compositional skills have matured with time and he continues to expand his horizons, having recently finished his first film score, a work which he both composed and performed. But more on Reed later. - from "Reed & Juber - Groovemasters at the Fringe of the Solo Zone"
By & © Todd Ellison Acoustic Musician Magazine January 1997 © http://www.prestonreed.com/articles/reed_juber.html#top
One of the most unique and challenging guitar albums EVER. Reed runs the gamut of orchestral and multi-textural jazz to bluegrass and down-and-dirty funk, it will slip into your heart after one listen. Drawing on blues, rock, funk and jazz influences among others, Reed weaves and melds genres, rhythms and textures to produce a signature sound that has been likened by critics to Jimi Hendrix for its emotional power and stylistic creativity. Reeds vast range of explosively original music will forever change your expectation of a guitarist. Reed attacks the entire instrument in a never-ending search for the orchestra he knows is lurking inside. His two hands racing up and down the fretboard in a storm of tappings, slappings and hammerings to create a rock/jazz rhythm section, melody line and chordal accompaniment simultaneously. He riffs with the conviction and guts of a rock band, yet plays with the subtlety of that most delicate of jazz pianists, Bill Evans. There are no fancy gadgets or gimmicky FX - just 6 strings (or occasionally 12), two hands and a daring and innovative musical imagination that crosses all boundaries. © Preston Reed 2002 © CANdYRAT Records © http://www.candyrat.com/artists/PrestonReed/Metal/
This is an excellent release from guitarist-extraordinaire Preston Reed. Fans of Michael Hedges may cry foul when first hearing this, however, it should be noted that Reed was playing his percussive, hand-tapping approach in the early '80s, too. Despite being a technical marvel he never sounds mechanical. Rather, Reed creates memorable melodies with shifting percussive patterns that give the selections an organized, but relaxed feel. Whether playing new age ("Stonecutter"), ethnic ("Tribes"), or his own self-defining style ("Metal," "Train"), he proves that his name belongs on the same lists that would include the likes of Tuck Andress or Michael Hedges. Required listening for guitarists of any style, or fans of beautiful acoustic. © Robert Taylor © 2012 Rovi Corporation. All Rights Reserved http://www.allmusic.com/album/metal-r381599
Groundbreaking playing with creative melodic and highly rhythmic compositions from a brilliant guitarist with a startlingly innovative style. Preston's percussive, two-handed fretboard attacking style has been described by Al DiMeola and the late Michael Hedges as "phenomenal" and "inspiring". The tracks on "Metal" are all complete takes, with no editing or overdubs. Preston's "History Of Now", and Laurence Juber & Preston Reed's "Groovemasters" albums can be found on this blog. Buy Preston's "Blue Vertigo" album, and support great acoustic guitar music.
[

All tracks @ 320 Kbps: File size = 112 Mb

]
TRACKS
1 Blasting Cap 3:46
2 Train 4:22
3 Fat Boy 2:53
4 Stonecutter 3:24
5 Tribes 3:51
6 Franzl's Saw 4:46
7 Chattanooga 4:32
8 Metal 3:36
9 Flatonia 3:33
10 Far Horizon 3:14
11 Border Towns 3:33
12 Slap Funk 2:35
13 Overture (For Lily) 4:49
All songs composed by Preston Reed
N.B:
All tracks were recorded with a Washburn EA-45, 6-string acoustic guitar except "Franzl's Saw" (1941 National Duolian metal-body guitar) and "Overture (for Lily)" (Washburn D-2718, 12-string acoustic guitar).
BIO
(WIKI)
Preston Reed (born April 13, 1955, Armonk, New York) is an American fingerstyle and tapping guitarist. Preston Reed learned guitar as a child on his father's guitar and, for a short time, classical guitar with a too-severe teacher. When he was 16 his interest was rekindled by Jorma Kaukonen's acoustic guitar-playing in Hot Tuna. He took the guitar again and began to compose his own songs in the style of Leo Kottke and John Fahey. His first public performance was at Smithsonian Institution in Washington D.C., in a concert with Allen Ginsberg. He continued recording and performing and signed his first major label record deal with MCA Records with the help of his friend Lyle Lovett. Reed has played with various other musicians, spanning the spectrum between Linda Ronstadt and rock band NRBQ. He was featured on American radio and TV broadcasts. Between 1979 and 2007, he recorded 15 albums on several labels - mostly solo acoustic guitar -, guest-starred on other musicians productions, founded his own Outer Bridge label and featured on two solo videos. He has been commissioned for film soundtracks and a suite of original music for the Minneapolis Guitar Quartet. Reed moved to Scotland in 2000. Reed plays with his fingers, thumbs, fists and hands at once, suggesting a whole band at work: drummer, keyboard player, bass guitarist and several guitarists at once. Some of his tunes invoke impressions of rock bands and duelling guitars, but he is also a player of blues or ballads reminiscent of Bill Evans, one of his musical idols. As a teenager, Reed was influenced by Leo Kottke and John Fahey and in the beginning of his career was a fingerpicker with notable technical prowess. In the late 1980s, though, he developed his own, highly individual and percussive style, a short time after Michael Hedges published his first records using technically similar techniques, but creating very different music. He drew not only from fingerstyle, but from rock 'n' roll too, developing a very rhythmic drive in some of his compositions. Other pieces are very melodic and dreamy ballads. His guitar style is characterised by the use of percussive effects he generates with both hands on various parts of the guitar body. He names them, appropriately, rim shots and bongo hits. He uses slap and tap techniques like slap harmonics or the generation of notes or whole chords with his left hand (hammer-on, pull-off). He uses both hands for tapping (two-hand tapping) and frets chords with his right hand (right-hand fretting). He often plays with both hands from above the guitar's neck. In many of his compositions, Reed uses altered tunings characterized by very low bass string tunings, for example BGDGAD or CGDGGD, though he also uses standard tuning on his latest CD, Spirit.
MORE
Preston Reed plays acoustic guitar in a revolutionary, self-created percussive style that organically integrates melodies and drum rhythms. Preston Reed is a guitarist of many parts - so many parts that when he brings them all into play, first-time listeners often find it impossible to believe that they're hearing just the one musician, in real time. At full tilt, Reed's fingers, thumbs, fists and hands at once suggest a drummer, keyboardist, bassist and several guitarists at work. It's a dizzying, exhilarating phenomenon. A portrait of the acoustic guitar as full-on heavy metal band. But impressions of rock bands - and high speed trains and duelling, pulling tractors - are only one side of Reed. While acknowledging that somewhere inside him there is a screaming electric guitarist pacing like a caged lion, Reed is also a player of deep sensitivity who can compose and play a blues or a ballad with a touch reminiscent of his great jazz piano-playing hero, Bill Evans. Reed's entry into this guitar odyssey was inauspicious enough, his path thereafter largely self-discovered. A few chords learned from his guitar playing father, a brief, very brief, flirtation with the ukulele, clandestine practice sessions of his favourite Beatles and Stones songs on dad's guitar .... and then a too-strict classical guitar teacher led to premature retirement. At 16, however, Reed heard Jefferson Airplane's rootsy blues offshoot, Hot Tuna. His interest was rekindled big time. Acoustic guitar heroes John Fahey and Leo Kottke were studied, their styles absorbed but not imitated, and at this point things really begin to get interesting because, at 17, Reed, by now precociously proficient, played his first live gig, supporting beat poet Allen Ginsberg at the Smithsonian Institute. Just getting on a train from his native Armouk in New York state to Washington was a cool adventure. And it was just the first of many, not least of which was the one which resulted from his signing his first deal with a major record company, MCA, through the auspices of his friend, country singer-songwriter Lyle Lovett. Determined to make the most of this opportunity, Reed pushed himself to go beyond the standard fingerpicking styles he'd perfected. The result was the beginnings of the startlingly innovative style, with its percussive, two-handed fretboard attack, that you hear today and which has caused guitar luminaries such as Al DiMeola and the late Michael Hedges to describe Reed as "phenomenal" and "inspiring". Reed's compositional talents extend to film soundtracks and prestigious commissions for the Minneapolis Guitar Quartet, and as well as appearances alongside Bonnie Raitt and Linda Ronstadt his major performances include an historic live satellite broadcast on Turkish National Television in 1997 with renowned saz player and composer Arif Sag which reached an audience of 120 million in 17 countries, prompting a flood of international telephone calls to the station from stunned viewers. Since 1979, he has recorded thirteen albums and three videos and charmed audiences on three continents. He continues to tour with the same hunger and relish that informs his guitar playing and he gives regular workshops where he passes on the techniques he has developed for extending the acoustic guitar's possibilities. The secret, he says, is to relax and let the guitar patterns run by themselves. Which explains how, at full tilt, he may sound like a full-on heavy metal band but he still won't have broken sweat. © http://www.kennedy-center.org/explorer/artists/?entity_id=10944&source_type=B