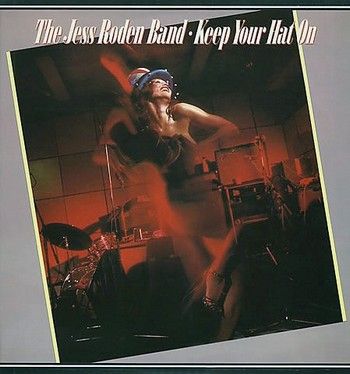 The
Jess Roden
Band
-
Keep Your Hat On
-
1976
-
Island
Jess Roden's second solo album, the first to be credited to The Jess Roden Band was recorded at Island Studios in Hammersmith and features some quality musicians on nine well written tracks which are a mix of band member penned originals and covers. Roden is joined by guitarists Steve Webb and Bruce Roberts, bass player John Cartwright, drummer Pete Hunt and the horn section of Chris Gower and Ronnie Taylor. The album kicks off with a cover of Randy Newman's 'You Can Leave Your Hat On'. This version is perhaps a little slower than the Tom Jones one released many years later but is far better. The Roden penned 'Jump Mama' follows and keeps the tempo high and upbeat. Album highlight 'Blowin' follows and showcases Roden's blues soul vocal ability. Very reminiscent of Free it places Roden in the same bracket as Paul Rodgers, high praise indeed but more than deserved. 'In A Circle' features a great horn arrangement by David Wadsworth and some stellar playing by Ronnie Taylor (Alto) and Chris Gower (Trumpet). 'I'm On A Winner With You' closes side one on a more gentle note but without lowering the quality. Side Two leaps out of the speakers straight away with the classy 'Mama Roux' from the pen of Doctor John Creaux. Once again Wadsworths horn arrangement is top notch. The following 'Desperado', a cover of the Eagles classic, is far superior to the original and Roden nails it as his own, giving it a soul and blues feel that the composers could never have managed. I was lucky enough to see Roden perform this song live without any accompaniment whatsoever to a packed house at his comeback gig in the nineties. To say you could have heard a pin drop would be an understatement. Billy Sherrill's 'Too Far Gone' and another John Cartwright track 'Send It To You' close the album. Roden is in my opinion, along with Frankie Miller, the most under rated of British singers from the seventies. A style which encompasses rock, blues and soul to name but three he really should be mentioned in the same breath as Paul Rodgers and the like. A couple of years before this release Roden had been touted as Ian Gillan's replacement in Deep Purple such was his standing amongst other musicians. Quite why he has never achieved the level of success his ability deserves in quite frankly beyond me. © Martin Leedham. Posted on January 17, 2011 First published on RYM January 2011 © http://martinleedham.wordpress.com/2011/01/17/album-review-the-jess-roden-band-keep-your-hat-on-1976/
Great album by Jess Roden, the very underrated, but supremely gifted British vocalist. As vocalists go Jess is up there with the likes of Paul Carrack, Paul Rodgers, and others. His voice has been described as "one of the quintessential white soul voices of the '70's". For over 40 years, he done just about everything in rock music, except becoming a household name. He has appeared on albums by The Meters, The Doors, Steve Winwood, The Who, Mott the Hoople, Keef Hartley, Sandy Denny, Paul Kossoff, Jim Capaldi, Stomu Yamashta, Peter Green, and many more. He has a voice of pure gold, and to many people in the record buying world, he remains an undiscovered treasure. There are stories circulating that a lot of Jess' work will be remastered and remixed for a CD set issue. The sooner, the better. "Keep Your Hat On" is a vinyl issue, and it would be great to hear this album in all it's sonic glory. Check this blog for related releases. Read http://www.bobharris.org/whispers/topic.asp?TOPIC_ID=1937 for info on Jess Roden albums/sessions.
Support real music
[

All tracks @ 320 Kbps: File size = 85.6 Mb

]
TRACKS / COMPOSERS
1. You Can Leave Your Hat On - Newman
2. Jump Mama - Roden
3. Blowin' - Roden, Cartwright
4. In A Circle - Cartwright, Webb
5. I'm On A Winner With You - Roden, Webb
6. Mama Roux - Dr John, Jessie Hill
7. Desperado - Henley, Frey
8. Too Far Gone - Billy Sherrill
9. Send It To You - John Cartwright
BAND
Jess Roden - Vocals
Bruce Roberts, Steve Webb - Guitar, Vocals
John Cartwright - Bass
Billy Livsey - Keyboards
Pete Hunt - Drums
Ron Taylor - Alto Sax
Chris Gower - Trombone
SHORT BIO
Singer/guitarist Jess Roden was born in Kidderminster in England's West Midlands, and his first band was the Shakedown Sounds. In 1967, he joined the Alan Bown Set as their new lead singer. Although their records never charted nationally, he did pick up a fandom in London (and belatedly became something of a star on the Northern Soul scene) with the release of their single "Emergency 999". He remained with the Bown group through 1970, after which he formed the band Bronco, and later worked on Wildlife, the third Mott The Hoople album, and with Keef Hartley on the album Lancashire Hustler. In the mid-1970's, he teamed up with ex-Doors John Densmore and Robby Kreiger in the Butts Band, and sang on their first album. Roden finally emerged as a solo artist in his own right in the mid-1970's on Island Records, with his 1974 self-titled solo album, which was cut in New Orleans and included Allen Toussaint and Art Neville on keyboards. His albums throughout the 1970's got great reviews but he never saw any significant sales; in between his own work, he managed to sing and play on albums by Carol Grimes, Jim Capaldi, Stomu Yamashta, Sandy Denny, and Grace Jones. He was with the group Rivits on Island, for one album at the outset of the 1980's. © Bruce Eder © 2012 Rovi Corporation. All Rights Reserved http://www.allmusic.com/artist/jess-roden-p20236/biography
BIO
(WIKI)
Jess Roden (born 28 December 1947) is an English rock singer and guitarist. Roden's first band was The Raiders followed by The Shakedown Sound which also included the guitarist, Kevyn Gammond, and keyboard player August Eadon (aka Gus Yeadon). In 1966, he joined The Alan Bown Set as their new lead singer. Although their records rarely charted, Roden and the band did pick up a considerable fans in London, and belatedly became a minor star on the Northern soul scene, with the release of their single, "Emergency 999". He remained with the Alan Bown through to the late 1960s, but left after recording the album The Alan Bown! His vocals were re-recorded by his replacement Robert Palmer for the UK release of the album, although Roden's original vocals remained on the U.S. release. Roden later appeared as a backing vocalist to Palmer on his 1983 appearance on The Tube. In 1970 Roden returned to Worcestershire and formed the band Bronco but left after two albums to embark on a solo album. During this period, he also worked on Wildlife, the third Mott the Hoople album, and sang and played on albums by Carol Grimes, Jim Capaldi, Sandy Denny, and sang lead vocals on Keef Hartley's 1973 album Lancashire Hustler. His solo album plans were sidelined when, in the same year, he was asked to team up with ex-Doors John Densmore and Robby Krieger in The Butts Band, together with Phil Chenn (bass) and Roy Davies (keyboards). The album was recorded in London and Kingston, Jamaica and released in America on Blue Thumb and Island (rest of the world). Roden, Chenn and Davies remained with the group for one album and a brief US tour. Roden finally emerged as a solo artist in the mid 1970s on Island Records, with his 1974 self-titled solo album. It was recorded at Olympia and Basing St Studios in London as well as New Orleans, Louisiana, and included contributions from Allen Toussaint and Art Neville on keyboards. He then formed The Jess Roden Band (originally Iguana - based in Southampton), with whom three further albums were recorded (Keep Your Hat On, Play It Dirty, PLay It Class and Blowin') - the latter recorded live in Birmingham and Leicester during 1976. Always a major touring draw, the band never achieved significant record sales and disbanded in 1977. Following the ending of the JRB, Roden relocated to New York and cut two further solo albums for Island (The Player Not The Game and Stonechaser). He formed The Rivits with Peter Wood (who co-wrote Year Of The Cat with Al Stewart), for one album Multiplay. During initial sessions for a second Rivits album that was due to be recorded at Compass Point Studios, Roden sang back-up vocals for Grace Jones Pull Up To The Bumper. On returning to New York, Roden worked as a graphic artist while, at the same time, recording Seven Windows, an album that was produced by Steve Dwire and Michael MacDonald. Just before the album was released, Roden returned to live and work in the UK. He returned with a new band, The Humans, in 1991. With a line-up featuring Jim Capaldi, Gary Grainger, Bill Burke and Nick Graham, the outfit produced two albums, only for Roden disappear from the music scene once more in the mid 1990s. One rare recent appearance was at Granville's Brasserie, in Stone, Staffordshire. As of April, 2008, according to his brother Nick, "Basically he now runs his own graphic design business, but not in New York. He lives near to London and is enjoying the quiet life. Up until about 4-5 years ago, he sang about once a year with an outfit called the SAS band with other singers and musicians. I believe Roy Wood, Roger Taylor, Brian May, Paul Young, etc. were also involved. I cannot speak on his behalf, but when I went down to see him two weeks ago, I asked him if he would be doing anymore singing, but seeing as he has not sung in such a while, I can honestly say it is most unlikely."