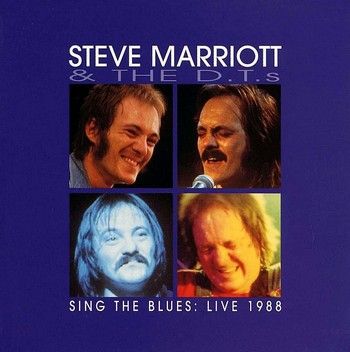 Steve Marriott
&
The D.T.s
-
Sing The Blues:
Live 1988
-
2001
-
Sanctuary/Castle
Being a HUGE Marriot/Pie/Small Faces fan since his days with the Small Faces and some work he did with long time mate David Bowie. Having just seen BOWIE on Storyteller's...my interest in Steve re-surfaced and had me strolling down memory lane as the old vinyl hit the turntable. It was news to me hearing that Steve wanted David to join the SMALL FACES ,but it was during Davids' time with THE SPIDERS FROM MAR'S and they hadn't even tried that persona that would soon end up to be one of DAVID'S BEST. STEVE'S great licks and ability to add great Vocals and back round vocals with a HUGE driving percussion and that GREAT RASPY VOICE, OWN THIS ALBUM ....what HUGE voice from a bloke of such small stature. This album will remind ya WHY HUMBLE PIE was so HUGE, to bad he passed at such a young age. If your a MARRIOT FAN then you NEED this album if you are on the FENCE then get off and BUY THIS....think of his great tone and riffs on HUMBLE PIE EAT IT AND SMOKIN......this is right up there. The only other LIVE album that comes close is HUMBLE PIE ROCKING THE FILLMORE which brought HUGE SUCCESS TO HUMBLE PIE and should give Steve the ratings he deserved as a GREAT GUITARIST...again his untimely death surely is what killed the short yet GREAT career. BUY THIS I"M POSITIVE YOU"LL BE GLAD YA DID ***** By & © St James from MARRIOT PROVES HE WAS HUMBLE PIE< SMALLFACES MAIN MAN, October 23, 2009 © 1996-2012, Amazon.com, Inc. or its affiliates
[

N.B:

Review based on the 14 track CD issue on the Marriott label

]
Simon "Honeyboy" Hickling from the D.T's tells a story about the D.T's playing a gig in Iceland. We went to Iceland with the DTs and the gig manager asked him, "Hey Steve, you do Sha-la-la-la-lee?" "No, sorry mate, don't do that one." "Ah! But you must do it! It has been a hit in Iceland. All the people coming to see you in my club." "I'm very sorry mate we don't do it. Booked as seen. Rhythm and Blues." So we do the gig and we get all these people demanding, "Sha-la-la-la-lee." And Steve's still good humoured and says "Na, na, we don't do it." But they are still going on shouting, Sha-la-la-la-lee. "Why don't you f***ing listen, I don't do it." Several songs later this guy leaps up on the stage and says, "Steve, why don't you do your hit, Sha-la-la-la-lee." The response: "Why don't you f*** off you knob-headed little eskimo." The rest of us could hardly play for laughing.
[

No offence to anybody especially the good Icelandic people! Steve was obviously slightly "over-refreshed" when these "silken" words slipped from his lips! -
A.O.O.F.C
]
The late, great Steve Marriott (ex-leader of the Small Faces and Humble Pie) toured with top Birmingham R&B band The D.T.s during 1988/89. The liner notes on the original album reveal little about the place and exact time of these recordings, only making reference to "A 1989 live performance", but Steve and the band played at Empire Cologne, Germany on 7th September, 1988, The Cricketers, Kennington Oval, London, UK on 9th September 1988, and Civic Centre Berkhamsted, UK on 17th August 1989, and some/all of these tracks are possibly from these gigs. Steve returned to his R&B roots and obviously enjoyed every minute. "Sing the Blues Live" is not the best representation of Steve Marriott & The D.T.s, but Steve's voice still has what it takes on these R&B standards, and the band rocks like few bands can nowadays. The death of Steve Marriott was another all too common tragedy of the often manic rock 'n' roll lifestyle. Sex and drugs and rock 'n' roll isn't all your body needs. Leave out the middle one! Listen to Steve's 1975 "Marriott" album, and Humble Pie's "Smokin'" album. Just prior to his death in 1991, Steve and Peter Frampton had begun writing songs together again, but the project was never completed. Two recorded songs from the sessions, "The Bigger They Come", and "I Won't Let You Down", with Steve Marriott on vocals (and guitar), appear on Peter Frampton's album "Shine On."
[

All tracks @ 320 Kbps: File size = 119 Mb

]
TRACKS / COMPOSERS
1 Watch Your Step - Parker
2 Let's Work Together - Harrison
3 My Babe - Dixon
4 World In A Jug - Hite, Vestine, Taylor, De La Parra
5 Before You Accuse Me - McDaniels
6 Walking the Dog - Thomas
7 Don't Lie To Me - Whittaker
8 Five Long Years - Boyd
9 Walking By Myself - Rogers
10 All Or Nothing - Marriott, Lane
11 Why People Like That - Charles
12 Hi Heel Sneakers - Higginbotham
MUSICIANS
[Not Definitive]
Steve Marriott - Vocals, Guitar
Clem Clempson, Steve Walwyn - Guitar
Jimmy Leverton, Rick Wills, Greg Rhind, Craig Ring - Bass
Tim Hinkley - Keyboards
Chas "Blondie" Chaplin, Alan Sticky Wickett, Ian Wallace - Drums
Simon Hickling - Harp, Vocals
N.B:
This album was originally released in October 2000 on Edel America Records with different track listing. The 2000 release lists Track 4 as "Get Yourself Another Man", Track 5 as "Take a Look at Yourself", Track 9 as "You Know I Love You", Track 11 as "They Take Your Money", and Track 12 as "Put on your Red Dress"(aka "Hi Heel Sneakers") . However there are many different releases of this album, listing different venues, musicians, and composers.
Can anybody please provide definite info on this album?
BIO
The frontman for British hitmakers the Small Faces and Humble Pie, singer/guitarist Steve Marriott was born January 30, 1947 in London; a successful child actor, he played the role of the Artful Dodger in the musical Oliver! as a teen, but by the mid-'60s, he was working in a local music shop. There he met bassist Ronnie Lane, agreeing to jam with his band the Pioneers; Marriott soon joined the group full-time and, after adopting a sound influenced by American R&B and a look inspired by Mod fashions, they rechristened themselves the Small Faces. Though best-known in the U.S. for their hit "Itchycoo Park," at home, the Small Faces enjoyed much greater success, reeling off a series of smashes including "All or Nothing," "My Mind's Eye," and "Lazy Sunday" as well as the 1968 classic LP Ogden's Nut Gone Flake. The chart popularity of "Lazy Sunday" rankled Marriott, however -- he'd recorded the song as a joke and it was released despite his objections -- and when the more thoughtful "The Universal" failed to crack the Top 20, his dissatisfaction only increased. Marriott's tenure with the Small Faces ended after he stalked offstage during a New Year's Day 1969 performance; he soon recruited ex-Herd guitarist Peter Frampton to form the hard rock combo Humble Pie, and after months of woodshedding at Marriott's Essex cottage, the group issued its debut single, "Natural Born Boogie," cracking the U.K. Top Five. The LP As Safe as Yesterday Is followed, but again American success eluded Marriott until the release of the 1971 Humble Pie live album Performance: Rockin' the Fillmore, which went gold. Although Frampton left the band soon after, 1972's Smokin' was a smash, reaching the U.S. Top Ten; subsequent efforts failed to achieve the same heights, however, and Humble Pie disbanded in 1975. After the release of the solo Marriott, in 1976, he joined in a Small Faces reunion, then four years later re-formed Humble Pie with original drummer Jerry Shirley; after two LPs, the group again dissolved. Marriott spent the better part of the decade in seclusion, but was planning to reunite with Frampton when he lost his life in a house fire on April 20, 1991. © Jason Ankeny © 2012 Rovi Corporation. All Rights Reserved http://www.allmusic.com/artist/steve-marriott-p19169/biography