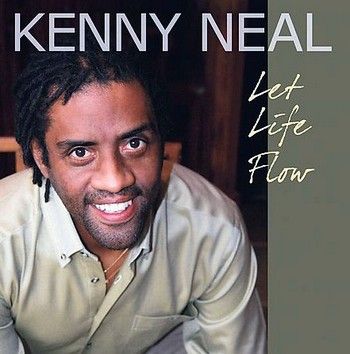 Kenny Neal
-
Let Life Flow
-
2008
-
Blind Pig
"Kenny Neal's new release is full of blues and soul music of the highest standard. In fact, 'Fly Away' alone is worth the price of admission, with it's soaring soul tune with beautiful strings, an incredible lyric about life and it's aftermath, stunning guitar, and a vocal that calls to mind the best of Philadelphia soul. While Neal's always been one of his generation's finest bluesmen, Let Life Flow helps push him into the upper echelon of the genre. His maturity, mastery of the music, and sheer determination show it, making this one of 2008's best - so far." - Vintage Guitar
"The Baton Rouge native has made a series of well-crafted albums, but none was as heartfelt as Let Life Flow. It's a disc worth waiting for." - Chicago Sun-Times
"It's always been said that the best blues are born of adversity, and if that's true, then Kenny Neal's Let Life Flow album should be considered a masterpiece. A wonderful reaffirmation of life and all of its wonders." - About.com
"Kenny Neal's latest effort is a resounding reaffirmation of his talents as a musician, songwriter and singer. While the album has its share of melancholy, Let Life Flow has enough uplifting moments and infectious grooves to keep the party going." - Living Blues
The title track of this CD was given the Jus' Blues Music Award for "Traditional Blues Song of the Year." This is the second Song of the Year award for this title. The CD has won three "Album of the Year" awards since its release, from Living Blues, Blueswax, and the Blues Critics organization.
It's always been said that the best blues are born of adversity, and if that's true, then Kenny Neal's Let Life Flow album should be considered a masterpiece. Since 2004, the charismatic blues musician has lost several family members, including his father, blues harpist Raful Neal. His sister Jackie was tragically murdered, and his brother Ronnie died of hepatitis C. Long-time family collaborator, drummer Kennard Johnson, also died during this time. Then, to top it off, Kenny was also diagnosed with hepatitis C, knocking the hard-touring musician off the road for almost two years. Let Life Flow: Neal used the time that he was sidelined to work up a fine batch of new songs with his son, Kenny Jr. The result is Let Life Flow, a wonderful reaffirmation of life and all of its wonders. The title track offers up some Southern rock-styled guitar licks, along with a generous groove, Neal's gritty vocals, and the spare use of horns for punctuation to help convey the song's positive message. "Blues, Leave Me Alone" is a Chicago-styled funkateer with a clever turn of a phrase, precise six-string leads, and a shuffling lope that accentuates the song's defiant edge. Although it wasn't written by Neal, "You've Got To Hurt Before You Heal" is an entirely appropriate addition to Let Life Flow. Backed by loose, subtle instrumentation with R&B accents, the song highlights Neal's soulful vocals, which are reminiscent of Otis Redding here. The gumbo-and-boudan flavor of "Louisiana Stew" is a stylistic return home for Neal, a sly swamp-blues romp that showcases his mouth harp skills, a talent often overshadowed by the artist's considerable six-string abilities. Two Sides Of Romance: The slow-burning "Starlight Diamond," written by Kenny's brother Raful Jr., is a delightful take on love and romance while "Broken Dreams" offers the other side of the coin. A classic "love-gone-bad" blues song, the heartbroken wordplay is underlined by Neal's elegant guitar lines, tearful vocals, and a steady, cautious rhythm with constant cymbal brushes. Neal's work-out on the timeless Ivory Joe Hunter gem "Since I Met You Baby" is pure gold, beginning with his trembling guitar tone and nuanced phrasing, to his blustery R&B-styled singing. Combine Lucky Peterson's wry piano playing with an energetic guitar solo, and you have a classic take on a great song. "It Don't Make Sense You Can't Make Peace," an ominous Willie Dixon song, was written about another distant war but, in Neal's capable hands, it has just as much relevance today. With a dark-hued soundtrack, Neal's somber vocals, and Latin-tinged horns, it offers a powerful performance to end Let Life Flow. The Reverend's Bottom Line: Kenny Neal's Let Life Flow is so doggone good that it might just win the talented bluesman a second "Best Album" award from the Blues Foundation. Writing, playing, and singing with a renewed sense of purpose and energy, Neal has taken the tragedies of the past few years and, in the best blues tradition, turned them into great songs and performances. His fanciful guitarwork ranges from spry single-note leads that are scattered across the song to meaty riffs and funky rhythms. With an overall lyrical theme of perseverance and hope, Let Life Flow shows that Kenny Neal still has a few tricks left in his gris-gris bag. By & © Reverend Keith A. Gordon, About.com Guide About.com Rating 4.5/5 Star Rating © 2012 About.com. All rights reserved http://blues.about.com/od/cddvdreview1/fr/KennyNealCD1.htm
Son of Louisiana bluesman Raful Neal, young Kenny had some big shoes to fill, but he's been more than up to the task. He plays bass, guitar, trumpet, piano and guitar, and worked in Toronto with the Downchild Blues Band as well as with his siblings in the Neal Brothers Band before returning to Louisiana in 1987 to cut his debut, Bio on the Bayou. Since then Neal has continued to blend his swampy roots with soul and R&B to put his own contemporary spin on the blues. Let Life Flow finds the 50-year-old bluesman in fine voice delivering four originals and seven covers. Neal accents "Louisiana Stew" with a long, jaunty, country flavored harp solo, while on "Fly Away" he drops a bit of sage spiritual advice into the mix. His Memphis-style guitar fills accent the tune, but it's his gospel drenched vocals that standout. The title track has a soulful '70s feel, with Neal's Al Green influenced vocal, and subtle horn accents from Joe Campbell's trumpet and LeRoy Harper's sax. "Since I Met You Baby," the Ivory Joe Hunter chestnut gets taken back to its blues roots by Neal's gritty delivery. His mellow guitar solo, full of slow bent notes and full round tones complement Lucky Peterson's rolling piano work. "It Don't Make Sense, You Can't Make Peace," a Willie Dixon tune, has a swampy groove with a slight Latin tinge, mournful backing vocals, and Neal's sanctified lead vocal. "Another Man's Cologne" tells a familiar story of infidelity. Neal's sneering, slightly bemused vocal and stinging guitar tell the sad story to a funky backbeat. "You've Got to Hurt Before You Heal," another simmering slow blues, lets Neal show off his soulful vocal style with Peterson supplying sanctified organ work. Neal is in fine voice throughout and his understated bluesy guitar works fine, but nothing here really catches fire. © 2012 Rovi Corporation. All Rights Reserved http://www.allmusic.com/album/let-life-flow-r1841727/review
Kenny's music has been called "down-in-the-alley blues." He is a great guitarist/singer/harmonica player, songwriter, and vocalist, and the New Orleans born bluesman is one of the most consistent talents in contemporary blues today. "Let Life Flow" is a great soulful R&B album. It includes a mix of classic standards and original material. If you like guitarists like Robert Cray, you may like this album which is
HR by A.O.O.F.C.
The above review says that "nothing here really catches fire", but the album is not meant to catch fire. If you want that, then listen to Led Zeppelin II ! Kenny still needs to be heard by a wider audience. Listen to his outstanding "Bayou Blood" album and buy his "What You Got" album
[

All tracks @ 320 Kbps: File size = 79.4 Mb

]
TRACKS / COMPOSERS
1. Let Life Flow - Kenny Neal
2. Blues, Leave Me Alone - Kenny Neal
3. You've Got To Hurt Before You Heal - Larry Duane Addison
4. Louisiana Stew - Kenny Neal
5. Starlight Diamond - Raful Neal, Jr.
6. Another Man's Cologne - Joe Campbell, Joyce Smith
7. Broken Dreams - Kenny Neal, Rebecca LeMesnager
8. Bleeding Heart - Raful Neal, Jr.
9. Since I Met You Baby - Ivory Joe Hunter
10. Fly Away - Kenny Neal
11. It Don't Make Sense You Can't Make Peace - Willie Dixon
MUSICIANS
Kenny Neal - Guitar, Bass, Harmonica, String Programming (3,10), Vocals
Darnell Neal - Bass (1,2,4,6)
Kenny Neal, Jr. - Keys (10), Percussion Programming (1,2,4,6,7,11), String Programming (3,10), Bass (3), Additional Bass (11), Horn (3)
Frederick Neal - Keys (2,4,6)
Lucky Peterson - Piano & Organ (3,8,9)
Jimmy Adams - Piano (1)
Bryan Morris - Drums
LeRoy Harper - Saxophone (1,2,4,6,7)
AG (Alfonso Guillory) - Saxophone (3)
Nadege - Saxophone (8)
Joe Campbell - Trumpet (1,2,3,4,6,7)
Boney Fields - Trumpet (8)
Pierre Chabrele - Trombone (8)
Robin Rogers, Shelly Magee - Background Vocals - (11)
BIO
(WIKI)
Kenny Neal (born October 14, 1957, New Orleans, Louisiana, son of Raful Neal, is an American blues guitar player, singer and band member. Neal comes from a musical family and has often performed with his brothers in his band.Neal preserves the blues sound of his native south Louisiana, as befits someone who learned from Slim Harpo, Buddy Guy and his father, the harmonica player, Raful Neal. In 1987, Neal cut his debut album for the Florida record producer, Bob Greenlee — an updated swamp feast initially marketed on King Snake Records as Bio on the Bayou. Alligator Records picked it up the following year, retitled it Big News from Baton Rouge!! In 1991 he also proved to be a talented actor in the Broadway production of the folk musical Mule Bone (by Langston Hughes and Zora Neale Hurston), singing numbers written by Taj Mahal. Neal has played with blues stars including Lucky Peterson and Lazy Lester, and was at one time a member of The Downchild Blues Band, during a period of relocation to Toronto. In September 2006 Neal announced he was taking a year's break from recording and performing, due to an undisclosed illness. He returned to the public eye at the Monterey Blues Festival in June 2007. His illness was also disclosed as Hepatitis C. He has children named Kenny, Syreeta, and Micah. Lately he is touring with Efes Pilsen Blues Festival
MORE
The future of Baton Rouge swamp blues lies squarely in multi-instrumentalist Kenny Neal's capable hands. Along with a select few others (Larry Garner, for one), the second-generation southern Louisiana bluesman is entirely cognizant of the region's venerable blues tradition and imaginative enough to steer it in fresh directions -- as his albums for Alligator, Telarc, and Blind Pig Records confirm. Kenny Neal was born on October 14, 1957 in New Orleans, exposed to the swamp blues sound from day one. His dad, harpist Raful Neal, was a Baton Rouge blues mainstay, whose pals included Buddy Guy and Slim Harpo (the latter handed three-year-old Kenny an old harp one day as a toy, and that was it). At age 13, Neal was playing in his father's band, and he picked up a bass at 17 for Buddy Guy. The guitarist recruited some of his talented siblings to form the Neal Brothers Blues Band up in Toronto (brother Noel later played bass behind James Cotton; five other Neal brothers also play in various bands) before returning stateside. In 1987, Kenny Neal cut his debut LP for Florida producer Bob Greelee -- a stunningly updated swamp feast initially marketed on Kingsnake Records as Bio on the Bayou. Alligator picked it up the following year, retitled it Big News from Baton Rouge!!, and young Neal was on his way. Neal's sizzling guitar work, sturdy harp, and gravelly, aged-beyond-his-years vocals have served him well ever since. An acclaimed 1991 stint on Broadway in a production of Mule Bone found him performing acoustic versions of Langston Hughes' poetry set to music by Taj Mahal. His 1994 Alligator set Hoodoo Moon rates as one of his most satisfying outings for that label; it was also his last for Alligator. Toward the end of the '90s, Neal moved to the blues division of the jazz-based Telarc Records. Among his numerous albums for the label are Blues Fallin' Down Like Rain (1998), What You Got (2000), One Step Closer (2001), Easy Meeting (2003), Double Take (2004), and A Tribute to Slim Harpo and Raful Neal (2005). Three years later, Neal hooked up with Blind Pig Records and released Let Life Flow in 2008, once again incorporating his gritty Louisiana roots with a sophisticated Chicago/Memphis soul approach. A second Blind Pig release, Hooked on Your Love, appeared two years later in 2010. © Bill Dahl © 2012 Rovi Corporation. All Rights Reserved http://www.allmusic.com/artist/kenny-neal-p476/biography