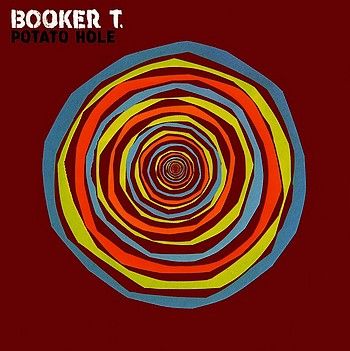 Booker T.
(
Booker T. Jones
)
-
Potato Hole
-
2009
-
Anti-
Bring up the name Booker T. & The MG's, and the majority of people will connect it with the instrumental Green Onions (only the second track the members recorded - and actually first intended as the B-side!). What most people don't realize is that the group was the house band for legendary Southern soul label Stax Records. What that means is that if you listen to almost any track recorded by the label in the 60's, whether it's Sam & Dave, Wilson Picket, The Staple Singers, or countless other Stax artists, you're also listening to Booker T. & The MG's. Notable members of the band included Isaac Hayes (of Theme From Shaft fame - who sometimes played keyboard), Donald "Duck" Dunn, and Steve Cropper (who both can be seen in the 1980 classic The Blues Brothers as members of "The Band"). And while their names have settled into relative obscurity, their influence on Rock & Roll was monumental. Besides being the session musicians that helped their label-mates sound so good, their style of playing (The MG's stood for Memphis Group, and their Memphis sound was what helped defined Southern soul music) was appreciated by many, including The Beatles (John Lennon was a huge Stax fan). © http://mainstreamisntsobad.blogspot.ie/2009/05/sunday-soul-potato-hole.html
Potato Hole is Booker T. Jones' first solo album in two decades and the early buzz in the media has already termed it his most "audacious," but that's not exactly the case with this new set. It isn't audacious so much as it is moderately predictable, which isn't necessarily a bad thing. Recorded quickly with producer Rob Schnapf in Georgia and California, Jones is backed here by Athens, GA's Drive-By Truckers with Neil Young sitting in on electric guitar for nine of the ten tracks, most of which were written by Jones. This isn't the MGs, and nothing here is close to being as timeless as "Green Onions," but the album is a pleasant listen with a nice, funky, and kind of grungy groove that settles into a deep pocket, even if it never really completely catches fire. There's plenty of Jones' Hammond B-3, of course, but he branches out and plays both acoustic and electric guitar on the title track, and with up to five guitars going on some tracks, this is almost as much an instrumental guitar album as it is an organ one. If there's really anything audacious here, it would be the cover of Outkast's "Hey Ya," which sputters around more than it grooves, and Jones' B-3 lines simply can't approximate the sassy joy of André 3000's original vocal. Jones also covers Tom Waits' "Get Behind the Mule," which comes off more successfully, although, again, one misses Waits' vocal. The final cut, "Space City," is a lovely chill-out instrumental while the opening track, "Pound It Out," does exactly that, pounding things out, full of fuzzed-out guitars. Young, for those wondering, doesn't take over anything here but remains the consummate session player, showing a delicate sensibility on guitar that one wishes he'd apply more often to his own work. Again, there's no "Green Onions" track here, and nothing that'll end up as everyone's ringtone. Potato Hole isn't a slab of greasy Stax soul, either. It is what it is, a new Booker T. Jones album, and hopefully it won't take another 20 years to get to the next one. © Steve Leggett © 2012 Rovi Corp | All Rights Reserved http://www.allmusic.com/album/potato-hole-mw0000813833
On January 31 2010, Potato Hole won the Best Pop Instrumental Album award at the 52nd Grammy Awards. The track "Warped Sister" was nominated for for Best Rock Instrumental. Booker T. is backed by the Southern rockers, the Drive-By Truckers led by Patterson Hood, son of the great Muscle Shoals session bassist, David Hood. Neil Young also plays guitar on the album. This all instrumental album does not compare with Booker's 60's work, but neither does Paul McCartney's last few albums!. The album is a great collection of ten really funky Soul and R&B grooves, including eight new Booker T. originals played by a very experienced group of musicians and is
HR by A.O.O.F.C.
Buy Booker T. Jones' great "The Road from Memphis" album and listen to Booker T. and the MG's "Melting Pot" album
[
Tracks @ 224-320 Kbps: File size = 81.4 Mb
]
TRACKS / COMPOSERS
1 Pound It Out - Booker T. Jones 4:18
2 She Breaks - Booker T. Jones 4:22
3 Hey Ya - Booker T. Jones & Benjamin Andre 3:53
4 Native New Yorker - Booker T. Jones 3:47
5 Nan - Booker T. Jones 2:08
6 Warped Sister - Booker T. Jones 4:47
7 Get Behind The Mule - Kathleen Brennan & Tom Waits 4:10
8 Reunion Time - Booker T. Jones 3:49
9 Potato Hole - Booker T. Jones 6:50
10 Space City - Brad Morgan, Jason Isbell, Michael Cooley, Patterson Hood, Shonna Tucker 5:38
MUSICIANS
Booker T. - Hammond B3 Organ, Electric Guitar on "Pound It Out" & "Nan", Acoustic Guitar on "Nan" & "Reunion Time"
Neil Young, Mike Cooley, [Drive-By Truckers], Patterson Hood [Drive-By Truckers] - Guitars
John Neff - Guitar, Pedal Steel Guitar
Shonna Tucker [Drive-By Truckers] - Bass
Brad Morgan [Drive-By Truckers] - Drums
Lenny Castro - Percussion
BIO
Booker T. Jones was one of the architects of the Memphis soul sound of the 1960s as the leader of Booker T. & the MG's, who scored a number of hits on their own as well as serving as the Stax Records house band. But Jones' accomplishments don't stop there, and as a producer, songwriter, arranger, and instrumentalist, he's worked with a remarkable variety of artists, from Willie Nelson to John Lee Hooker, from Soul Asylum to the Roots. Booker T. Jones was born in Memphis, Tennessee on November 12, 1944. Jones developed an keen interest in music as a boy; while working a paper route, he used to pass by the house of jazz pianist Phineas Newborn, and would often stop and listen to him practice as he folded newspapers. By the time Jones was in high school, he helped to direct the school band and was proficient on saxophone, trombone, oboe, and keyboards; he also played organ during services at his church, and would occasionally sneak out and sit in with R&B combos at local nightclubs. In 1960, Jones, a frequent customer at Memphis' Satellite Record Shop, was recruited to play sax on a Rufus and Carla Thomas recording session when the proprietors of the store, Estelle Axton and Jim Stewart, decided to start their own record label. The label soon evolved into Stax Records, and Jones, along with guitarist Steve Cropper (who was managing the record store when he met Jones), bassist Lewis Steinberg (later replaced by Donald "Duck" Dunn), and drummer Al Jackson Jr., would form the MG's, who would back up Stax artists Otis Redding, Sam & Dave, Eddie Floyd, Albert King, and many others, as well as releasing a steady stream of instrumental recordings on their own, including the smash hit "Green Onions." Jones' productivity in the early to mid-'60s is all the more remarkable as he was also a full-time student at Indiana University, where he studied composition and music theory while doing shows and recording sessions during weekends and vacations. Booker T. & the MG's enjoyed considerable success in their heyday -- cutting hits, backing Stax's leading artists, touring Europe and the U.K. with the Stax/Volt Revue, and accompanying Otis Redding for his legendary set at the 1967 Monterey Pop Festival -- but between internal disputes at Stax (mostly regarding the spoils of their successful distribution deal with Atlantic Records) and the increasingly busy schedules of the various members, the group was on the verge of breaking up, and in 1970, Jones relocated to Los Angeles. He had already been branching out, appearing on Delaney & Bonnie's 1969 album Home and Mitch Ryder's ambitious The Detroit-Memphis Experiment, and after 1971's Melting Pot, the MG's quietly broke up. Jones stayed busy with session work, playing on albums by Bob Dylan, Steven Stills, Kris Kristofferson, and Rita Coolidge, and in 1971 he released Booker T. & Priscilla, the first of two albums he would record with his then-wife, Priscilla Coolidge-Jones (the sister of Rita Coolidge). The same year, Jones produced Just as I Am, the outstanding debut album by Bill Withers, which featured the hits "Ain't No Sunshine" and "Grandma's Hands." In 1975, Jones and the MG's were working on a reunion album when Al Jackson Jr. was murdered; the group continued to record with drummer Willie Hall, but they parted ways again in 1977. In 1978, Jones released his first solo album, Try and Love Again, and enjoyed one of his biggest successes as a producer, producing Willie Nelson's Stardust, a collection of pop standards that established Nelson as one of country's biggest crossover acts. Session work and production assignments with Willie Nelson dominated Jones' schedule in the 1980s, though he released a second solo album, I Want You, in 1981, and another followed late in the decade, 1989's The Runaway. In 1992, Booker T. & the MG's were inducted into the Rock and Roll Hall of Fame, and that same year the group reunited for a special, high-profile gig -- they served as the house band for an all-star tribute to Bob Dylan staged in honor of the songwriter's 30th year as a recording artist. Neil Young, one of the artists who appeared at the concert, was impressed enough with the MG's that he invited them to serve as his backing band for a major concert tour in 1993. The tour sparked new interest in the band, and in 1994 Jones and the MG's cut a new album, That's the Way It Should Be, and they supported it with a number of live dates. Jones soon returned to a steady schedule of session work, and he produced as well as performed on Neil Young's 2002 album Are You Passionate? But in 2008, Jones stepped up for one of his most ambitious solo efforts to date, Potato Hole, in which he was backed up by country-influenced hard rockers the Drive-By Truckers, with Neil Young adding additional guitar on several tunes. The album earned enthusiastic reviews, and Jones supported the release with a number of live dates in America, Europe, and the U.K. In 2011, Jones returned with another inspired collaboration, The Road from Memphis, in which he teamed up in the studio with Philadelphia-based hip-hop/modern soul collective the Roots. © Mark Deming © 2012 Rovi Corp | All Rights Reserved http://www.allmusic.com/artist/booker-t-jones-mn0000772976