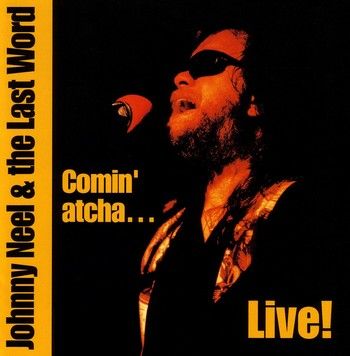 Johnny Neel
&
The Last Word
-
Comin' Atcha...Live!
-
1995
-
Big Mo/Silverwolf
A funky live set of Southern soul, R&B, blues and funk from the great and underrated singer/songwriter and Hammond B-3 specialist Johnny Neel who made a name for himself as keyboard player in various incarnations of the Allman Brothers Band. Johnny is backed by an all-star band featuring guitarist Jack Pearson, bassist Tim Loffin, drummer Scotty Hawkins, special guest Delbert McClinton on harmonica, and Keli Bruce, Nannette Britt-Bohannon, and Vickie Carrico on background vocals. Buy Johnny Neel's "Gun Metal Blue" album, and listen to Blue Floyd's "Begins" album featuring Johnny Neel and Marc Ford
[

All tracks @ 320 Kbps: File size = 109 Mb

]
TRACKS / COMPOSERS
1. Society Hill - Johnny Neel, Rad (Rose Ann Dimalanta)
2. Just My Style - Johnny Neel, Warren Haynes
3. Maydell - Johnny Neel, Warren Haynes
4. Read Me My Rights - Johnny Neel, Delbert McClinton
5. Lost the Will To Love Me - Johnny Neel, Tommy Polk
6. What Am I - Johnny Neel, Warren Haynes
7. Bless My Soul - Johnny Neel, Rose Ann Dimalanta
8. Turn on Your Love - Johnny Neel, Ricky Ray Rector
9. Blues Ain't Nothin' - Johnny Neel, Taj Mahal, Kim Morrison
10. Easy Come, Easy Go - Johnny Neel, Kim Morrison
MUSICIANS
Johnny Neel - Hammond B-3 Organ, Vocals
Jack Pearson - Guitar
Tim Loftin - Bass
Scotty Hawkins - Drums
Keli Bruce, Nannette Britt-Bohannon, Vickie Carrico - Background Vocals
Delbert McClinton - Harmonica
BIO
(WIKI)
Johnny Neel is an American vocalist, songwriter, and musician based in Nashville, Tennessee. He is best known for his songwriting, stage, and session work for the Allman Brothers, Gov't Mule, and Dickey Betts. Keith Whitley, Travis Tritt, The Oak Ridge Boys, Restless Heart, Ann Peebles, Dorothy Moore, and John Schneider. As a studio musician, Neel has lent his talents to recordings by a diverse group of artists including The Allman Brothers, Gov't Mule, Warren Haynes, Dickey Betts, Montgomery Gentry, Michael McDonald, Todd Snider, David Allan Coe, Jeff Coffin, Robert Gordon, Chris LeDoux, Tiny Town, Suzy Bogguss, Joe Diffie, Colin Raye, and The Pirates of the Mississippi. As a songwriter, in addition to the material written, or co-written for the Allman Brothers, Gregg Allman, and Dicky Betts, Neel's songs have also been recorded by Gov't Mule, John Mayall, Delbert McClinton, Montgomery Gentry, Neel was born in Wilmington, Delaware. He cut his first single, entitled "Talking About People", at the age of twelve, as Johnny Neel and The Shapes Of Soul, which was a hit on local radio in the Wilmington/Philadelphia area. As an adult, the Johnny Neel Band had a strong following up and down the east coast and released two well-received independent albums. Neel moved to Nashville in 1984. Performing with various bands in area clubs drew the attention of former Nashville resident Dickey Betts, who asked Neel to join his road band, and he soon began working on Bett's solo LP for Epic Records. That relationship led to seven cuts on the Pattern Disruptive LP released in 1988, including the AOR hit, Rock Bottom. Neel's talented keyboard and harmonica playing on the 'Pattern Disruptive album convinced Gregg Allman to ask Neel to tour with his road band which led to the inclusion of the cut Island on The Gregg Allman Band album (also released in 1988), co-written with Allman, Dan Toler, and Tony Colton. In 1989 Neel was invited to join the reunited Allman Brothers Band. He immersed himself in touring, writing, and recording, which led to four cuts on the Allman's Seven Turns album (released in 1990), and the hit single Good Clean Fun, co-written by Neel with Allman and Betts. In 2002 country stars Montgomery Gentry included Good Clean Fun as part of their My Town album. In 1994 the studio album Johnny Neel & The Last Word was released. This album included the song Maydell which was co-written with Warren Haynes (Allman Brothers/Gov't Mule) and has been covered by the Allman Brothers on their Hittin' The Note album, and by John Mayall on his Wake Up Call album. The album also included the song Read Me My Rights which was co-written with Delbert McClinton, and which was covered by McClinton on his Nothing Personal album, by Ann Peebles on her Full Time Love album, by Dorothy Moore on her Stay Close to Home album, and by Dalton Reed on his Louisiana Soul Man album. This album featured appearances by Jack Pearson (Allman Brothers) on guitar and Delbert McClinton on harmonica. In 1995 Neel's album Commin' Atcha... Live was released and included live versions of Read Me My Rights and Maydell. The album captured a live appearance by Neel and his band The Last Word including Jack Pearson and most of the musicians on The Last Word album. In 2000 Neel released Late Night Breakfast which was recorded at his Straight Up Sound Studio with the members of his band The Last Word along with special guests guitarists Shane Theriot (The Neville Brothers), and Rick Vito (Fleetwood Mac/Zoo), as well as Wayne Jackson (The Memphis Horns) on trumpet. Late Night Breakfast was released on Neel's Breakin' Records label. During the period of time the Late Night Breakfast recordings were made Neel also became a member of Blue Floyd, an all-star jam band performing variations on the material of Pink Floyd. In addition to Neel, the band was composed of guitarist Marc Ford (Black Crowes), drummer Matt Abts (Gov't Mule), bassist Berry Oakley Jr. (OKB Band) and until his unfortunate demise, Allen Woody (Allman Brothers/Gov't Mule) on second guitar. Neel and Abts then went into the Straight Up Sound Studio and recorded the X2 funk/jam duo project. X2 - Johnny Neel / Matt Abts was released in 2002. In 2004 Neel released the album Gun Metal Blue on his Breaking Records label which was also recorded at Straight Up Sound. These sessions included guitarists Chris Anderson (Blackhawk/Outlaws), George Marinelli (Bonnie Raitt/Bruce Hornsby), and Pat Bergeson (Chet Atkins/Lyle Lovett), drummer Vince Santoro (Rodney Crowell/Highwaymen), and vocalists Joanna Cotten, and Neel's wife, Christine Thompson Neel. Also in 2004, the album Johnny Neel and The Italian Experience was released on the Italian label Artesuono. This album included strings and horns as Neel moved in a Jazz direction. The album included members of the Italian blues/rock/jam power trio W.I.N.D. with which Neel has toured and recorded in Europe several times. In addition to the Blue Floyd and X2 projects, Neel was a part of two other all-star collaborations. The group Deep Fried included Neel on keyboards, drummer Matt Abts, guitarist Brian Stoltz (The Neville Brothers/The Funky Meters), and bassist George Porter Jr.(The Meters/The Funky Meters). Their album The Deep Fried Sessions - Live was released in 2004. The other group, The Grease Factor released two live recordings; Off the Cuff in 2004, and Live From Zambifest 2004 in 2005. The Grease Factor included guitarist Shane Theriot (The Neville Brothers), bassist Derek Jones (David Grisman), drummer Jeff Sipe (Leftover Salmon / Aquarium Rescue Unit), and percussionist Count M'Butu (Aquarium Rescue Unit). Neel has provided vocals on five songs included on four Walt Disney Records CD releases related to the Pixar Animation Studios movie releases Finding Nemo, Cars, and Ratatouille. These include Saturday Night Fish Fry from the 2003 release Finding Nemo: Ocean Favorites, My Old Car from the 2006 release Lightning McQueen's Fast Tracks, One Meat Ball and Banana Split for My Baby from the 2007 release Ratatouille: What's Cooking?, and Hot Rodder's Lament from the 2009 release Mater's Car Tunes. Most recently he has been recording and performing with his band The Criminal Element. Three albums have been released by Johnny Neel and The Criminal Element; Volume 1 (2007), Volume 2 (2008), and The CSI Chronicles (2010). In 2010 Neel also released Harmonius, a solo project featuring only his vocals and keyboards.
MORE
Although not a household name, Johnny Neel is a Grammy award nominee recognized in the music world for his work with the Allman Brothers, Lonnie Mack and Gov't Mule, among others. In addition to his soulful vocals, harp, piano and B-3 proficiency, Johnny is an accomplished songwriter whose tunes have been recorded by the likes of the Allman Brothers, Joe Louis Walker, John Mayall, Irma Thomas, Ann Peebles, Marie Osmond, the Oak Ridge Boys and Travis Tritt. Born and Raised in Wilmington, Delaware, Johnny Neel cut his first single at the age of twelve, as Johnny Neel and The Shapes Of Soul. As an adult, the Johnny Neel Band had a strong following up and down the East Coast and released two well-received independent albums. Neel moved to Nashville, the premiere song writing city, in 1984, where he immediately became recognized as an "A" session studio player. Others began to notice Neel's songwriting talent and decided to take advantage by recording his songs on their albums. Performing with various bands in area clubs drew the attention of former Nashville resident Dickey Betts, who asked Neel to join his road band, and begin working on Dickey's solo LP for Epic Records. That relationship led to seven cuts on the "Pattern Disruptive" LP including the Top 10 AOR hit, "Rock Bottom." Neel's talented keyboard and harp playing on that album convinced Gregg Allman to ask Neel to tour with his road band. Neel decided to join the reunited Allman Brothers Band, immersing himself in a successful tour, which led to a number one AOR smash hit during the summer of 1990. Car radios all across America blasted "Good Clean Fun", from the Seven Turns Album, co-written by Neel with Allman and Betts. The chart topping hit provided the reunited Allmans with their highest charting single since "Ramblin' Man" fifteen years prior. Following that tour, Neel released "Late Night Breakfast", which was recorded at his studio, Straight Up Sound Studio, with the members of his band, "The Last Word", and special guests such as Shane Theriot (The Neville Brothers), Rick Vito (Fleetwood Mac) and Wayne Jackson (The Memphis Horns). This record was released on Neel's label, Breakin' Records, which showcased his pleading vocals as well as brilliant piano, B-3 and harp work. During that same period of time the recordings were made, Neel also became a member of Blue Floyd, a premiere jam band with variations on the material of Pink Floyd. In addition to Neel, the band was comprised of Marc Ford (Black Crowes), Matt Abts (Gov't Mule), Berry Oakley, Jr. (OKB Band) and until his recent and unfortunate demise, Allen Woody (Gov't Mule). Neel and Abts then went into the Straight Up Sound Studio and recorded the X2 project which was graciously received by fans and the media. More recently, some of Neel penned songs have been recorded by Travis Tritt, Montgomery Gentry and Delbert Mc Clinton. Neel is also excited about his latest release on Breakin' Records titled Gun Metal Blue, which was release in April, 2004. As a man with boundless energy, Neel still manages to juggle studio work, local club gigs, road work and hit song writing, and somehow between the chaos maintains his sanity. "They say that you can't do it all; Hell, I'm trying to prove 'em wrong." - Johnny Neel. © http://www.cdbaby.com/artist/JohnnyNeel