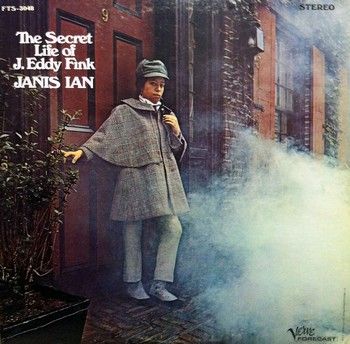 Janis Ian
-
The Secret Life Of J. Eddy Fink
-
1968
-
Verve
Janis Fink is Ian's real name, and her concerns moved more toward the personal on her third album. "42nd St. Psycho Blues" was her unhappy commentary on what having a pop music career had been like, while "When I Was a Child" found her reminiscing regretfully about what had happened to her. Other songs waxed poetic, and producer Shadow Morton kept recreating the folk-rock sound of "Society's Child," but nothing here caught fire, and this album failed to chart, seeming to confirm that Ian would be a one-hit wonder, over the hill at 17. With a few years to think about it, of course, she'd have some trenchant things to say about that age. William Ruhlmann © 2011 Rovi Corporation. All Rights Reserved © http://www.allmusic.com/album/the-secret-life-of-j-eddy-fink-r41164
"The Secret Life of J. Eddy Fink" is an 11 track collection of "challenging" folk rock songs by the great Janis Ian. This album is now 43 years old. In 1968 Janis Ian was only 17, and this album was her third release. The album barely registered with the American record buying public. Some people called the album "pretentious", a word that really doesn't fit in with the character of Janis Ian. Her songs are intense, passionate, intelligent, and powerful, and often concentrate on serious social and personal themes. There are few songwriters who can write about these topics, while backing her often serious lyrics with beautiful, wistful melodies. Janis' songs were never overly commercial, and perhaps this aspect of her songwriting has halted the success she has always deserved, but never really achieved. Like so many great songwriters who have many great songs to their credit, Janis Ian is unfortunately best remembered for her two songs, "Society's Child", and "At Seventeen". Yet, this great New York songstress, has released many great albums, some of them classics, but not recognized as such. She has never fully received the recognition she deserves for her utterly brilliant songs, and marvellous guitar technique. The late, great Chet Atkins once called Janis "a genius", not just for her guitar talents, but also her songwriting ability. Janis Ian remains one of today's great singer/songwriters. From her teenage days she has remained faithful to her uncompromising songs, and has never sold out to commerciality. There are enough well structured and melodic songs on the album to make it
HR by A.O.O.F.C
[

All tracks @ 320 Kbps: File size = 97.4 Mb

]
TRACKS
1 Everybody Knows
2 Mistaken Identity
3 Friends Again
4 42nd Street Psycho Blues
5 She's Made of Porcelain
6 Sweet Misery
7 When I Was a Child
8 What Do You Think of the Dead?
9 Look to the Rain
10 Son of Love
11 Baby's Blue
All songs composed by Janis Ian
MUSICIANS
Janis Ian - Guitar, Piano, Organ, Vocals
Carol Hunter - Electric Guitar, Bass Guitar
Buddy Saltzman - Trap Drums
Richie Havens - Conga Drums
Joe Price - Bongo Drums
Phil Ramone - Mixer
BIO
(WIKI)
Janis Ian (born Born Janis Eddy Fink in New York City on April 7, 1951) is a Grammy Award-winning American songwriter, singer, multi-instrumental musician, columnist, and science fiction fan-turned-author. She had a highly successful singing career in the 1960s and 1970s, and has continued recording into the 21st century. At age thirteen, she legally changed her name to Janis Ian, her new last name being her brother's middle name. At the age of fifteen, Ian wrote and sang her first hit single, "Society's Child (Baby I've Been Thinking)," about an interracial romance forbidden by a girl's mother and frowned upon by her peers and teachers; the girl ultimately decides to end the relationship, claiming the societal norms of the day have left her no other choice. Produced by melodrama specialist George "Shadow" Morton and released three times between 1965 and 1967, "Society's Child" finally became a national hit the third time it was released, after Leonard Bernstein featured it in a TV special titled Inside Pop: The Rock Revolution. The song's lyrical content was too taboo for some radio stations, and they withdrew or banned it from their playlists accordingly. In the summer of 1967, "Society's Child" reached #14 on the Billboard Hot 100. Apparently "Society's Child" was too hot for Atlantic Records as well at the time. Ian relates on her website that although the song was originally intended for Atlantic and the label paid for her recording session, the label subsequently returned the master to her and quietly refused to release it. Years later, Ian says, Atlantic's president at the time, Jerry Wexler, publicly apologized to her for this. The single and Ian's 1967 eponymous debut album were finally released on Verve Forecast; her album was also a hit, reaching #12. In 2001, "Society's Child" was inducted into the Grammy Hall of Fame, which honors recordings considered timeless and important to music history. Her most successful single was "At Seventeen," released in 1975, a bittersweet commentary on adolescent cruelty and teenage angst, as reflected upon from the maturity of adulthood. "At Seventeen" was a smash, receiving tremendous acclaim from critics and record buyers alike — it charted at #3 on the Billboard Hot 100 and hit #1 on the Adult Contemporary chart. It even won the 1975 Grammy Award for Best Pop Vocal Performance - Female beating out the likes of Linda Ronstadt who was nominated for the classic Heart Like A Wheel album, Olivia Newton-John and Helen Reddy. Ian performed "At Seventeen" as a musical guest on the very first episode of Saturday Night Live on October 11, 1975. The song's album, Between The Lines, was also a smash and hit #1 on Billboard's Album chart. It was quickly certified Gold and later earned a 'Platinum' certification for sales of over one million copies sold in the US. Another measure of her success is anecdotal - on Valentine's Day 1977, Ian received 461 Valentine cards, having indicated in the lyrics to "At Seventeen" that she never received any as a teenager. "At Seventeen" can also be heard playing in the background in one scene in the 2004 movie Mean Girls. The movie, like the song, addresses the topic of teenage cruelty and alienation; the film features a character named "Janis Ian" who was not a lesbian but was called one nonetheless by some of her classmates in an attempt to demean her. The character was played by actress Lizzy Caplan. "At Seventeen" is also mentioned in Jeffrey Eugenides's 1993 novel The Virgin Suicides, where the song is used by four girls imprisoned in their own home and essentially cut off from normal adolescent experiences to communicate with the narrator and his friends. "Fly Too High" (1979) was her contribution to the soundtrack of the Jodie Foster film Foxes. It earned her a Grammy nomination and became a hit single in many countries, including South Africa, Belgium and the Netherlands. Another country where Ian has achieved a surprising level of popularity is Japan. She had two top 10 singles on the Japanese Oricon charts, "Love Is Blind" in 1976, and "You Are Love" in 1980; and her album Aftertones was a #1 best-seller there in October 1976. By contrast, in the U.S., Ian made the pop charts only once more after "At Seventeen" ("Under the Covers," #71 in 1981), though she had several more songs reach the Adult Contemporary singles chart through 1980 (all failing to make the Top 20, however). Ian spent much of the 1980s and early 1990s without a record deal; her label dropped her in 1981 following the disappointing sales of Miracle Row (1977), Night Rains (1979), and Restless Eyes (1981). "Basically, I didn't do anything from 1982 to 1992. Ian finally resurfaced in 1993 with the album Breaking Silence, its title song about incest. She came out as a lesbian with that release. Also in 1993 was her infamous Howard Stern Show appearance where she performed a "new" version of "At Seventeen" about Jerry Seinfeld. Ian has released five albums since (including one live album, 2003's Working Without A Net). Ian's most recent album, Folk Is The New Black, was released jointly by the Rude Girl and Cooking Vinyl labels in 2006. It is the first in over twenty years where she did all the songwriting herself. She still tours and has a devoted fan base. Other artists have recorded Ian's compositions, most notably Roberta Flack, who had a hit in 1973 with Ian's song "Jesse" (also recorded by Joan Baez; Ian's own version is featured on her 1974 album Stars). Ian also co-wrote "What About The Love?", featured on Amy Grant's 1988 album Lead Me On. She is an outspoken critic of the Recording Industry Association of America (RIAA), a record industry organization which she sees as acting against the interests of musicians and consumers. As such, she has willingly released several of her songs for free download from her website. She was not only one of the first artists to do this but also was one of the first, along with author Eric Flint, to show conclusive evidence that free downloads dramatically increased hard-copy sales, contrary to the claims of RIAA and NARAS. Ironically, Ian's signature tune At Seventeen sold over two million singles in the United States alone yet was never certified. "I've been surprised at how few people are willing to get annoyed with me over it," she laughs, "there was a little backlash here and there. I was scheduled to appear on a panel somewhere and somebody from a record company said if I was there they would boycott it. But that's been pretty much it. In general the entire reaction has been favorable. I hear from a lot of people in my industry who don't want to be quoted, but say 'yeah, we're aware of this and we'd like to see a change too'." In addition to being an award-winning singer/songwriter, Ian writes science fiction. A long-time reader of the genre, she got into science fiction fandom in 2001, attending the Millennium Philcon. Her works have been published in an assortment of anthologies, and she co-edited, with Mike Resnick, the anthology Stars: Original Stories Based on the Songs of Janis Ian, published in 2003. When her schedule permits, she occasionally attends science fiction conventions. Ian has been a regular columnist for, and still contributes to the LGBT news magazine, The Advocate. She has a selection of her columns available on her website. On July 24th 2008, Janis Ian released her Autobiography: Society's Child (published by Penguin Tarcher) to much critical acclaim. An accompanying double CD "The Autobiogrphy Collection" has also been released with all Ian's best loved songs. Ian currently lives in Nashville, Tennessee, with attorney Patricia Snyder, whom she married in Toronto, Canada on August 27, 2003.
MORE ABOUT
JANIS IAN
A singer/songwriter both celebrated and decried for her pointed handling of taboo topics, Janis Ian enjoyed one of the more remarkable second acts in music history. After first finding success as a teen, her career slumped, only to enter a commercial resurgence almost a decade later. Janis Eddy Fink was born on May 7, 1951, in New York City. The child of a music teacher, she studied piano as a child and, drawing influence from Edith Piaf, Billie Holiday, and Odetta, wrote her first songs at the age of 12. She soon entered Manhattan's High School of Music and Art, where she began performing at school functions. After adopting the surname Ian (her brother's middle name), she quickly graduated to the New York folk circuit. When she was just 15, she recorded her self-titled debut; the LP contained "Society's Child (Baby I've Been Thinking)," a meditation on interracial romance written by Ian while waiting to meet with her school guidance counselor. While banned by a few radio stations, the single failed to attract much notice until conductor Leonard Bernstein invited its writer to perform the song on his television special Inside Pop: The Rock Revolution. The ensuing publicity and furor over its subject matter pushed "Society's Child" into the upper rungs of the pop charts, and made Ian an overnight sensation. Success did not agree with her, however, and she soon dropped out of high school. In rapid succession, Ian recorded three more LPs -- 1967's For All the Seasons of Your Mind, 1968's The Secret Life of J. Eddy Fink, and 1969's Who Really Cares -- but gave away the money she earned to friends and charities. After meeting photojournalist Peter Cunningham at a peace rally, the couple married, and at age 20, she announced her retirement from the music business. The marriage failed, however, and she returned in 1971 with the poorly received Present Company. After moving to California to hone her writing skills in seclusion, Ian resurfaced three years later with Stars, which featured the song "Jesse," later a Top 30 hit for Roberta Flack. With 1975's Between the Lines, Ian eclipsed all of her previous success; not only did the LP achieve platinum status, but the delicate single "At Seventeen" reached the Top Three and won a Grammy. While subsequent releases like 1977's Latin-influenced Miracle Row, 1979's Night Rains, and 1981's Restless Eyes earned acclaim, they sold poorly. Ian was dropped by her label and spent 12 years without a contract before emerging in 1993 with Breaking Silence (the title a reference to her recent admission of homosexuality), which pulled no punches in tackling material like domestic violence, frank eroticism, and the Holocaust. Similarly, 1995's Revenge explored prostitution and homelessness. Two years later Ian returned with Hunger; God & the FBI followed in the spring of 2000. A live set, Working Without a Net, appeared from Rude Girl Records in 2003, and a DVD, Live at Club Cafe, saw release in 2005. Folk Is the New Black appeared as a joint release from Rude Girl and Cooking Vinyl in 2006. © Jason Ankeny, All Music Guide