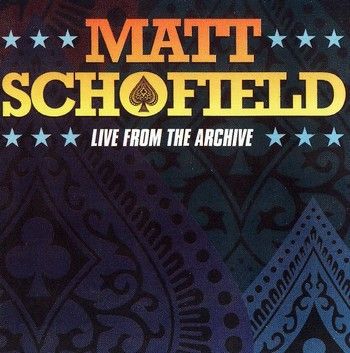 Matt Schofield
-
Live From The Archive
-
2010
-
Nugene
Recorded live without overdubs or sweetening in the Netherlands, this 2007 date was first made available in 2010 to coincide with Matt Schofield's U.S. and Canadian tour. The trio format works efficiently for the U.K. guitarist as keyboardist Jonny Henderson also picks up the basslines. Henderson's organ lines mixed with Schofield's guitar are a combustible combination that makes this trio sound like a larger band. The effect is a blues-jazz hybrid, heavier on the former, that allows Schofield to strut his stuff on extended versions of songs. That's a distinct change from his studio albums, where his sharp guitar solos are compact and in service of the tune. While that's an appropriate avenue to follow in the more confined environment of the studio, the live setting lets Schofield unwind and show just how powerful and accomplished a soloist he is. He's impressive on relatively short, six-minute workouts such as the sleazy shuffle of "On My Way," but is nothing short of explosive when charging through a ten-minute version of Albert Collins' "Lights Are on But Nobody's Home" and a set-closing, near 20-minute cover of the Box Tops/Joe Cocker hit "The Letter." His tone shifts from smooth to biting, often within minutes, and his sense of timing makes his playing tough and taut yet fluid. He's a better guitarist than vocalist, but puts across the songs with conviction and never tries too hard or oversings. Echoes of Hendrix open "Siftin' Thru Ashes" and Schofield even references "Smoke on the Water"'s classic riff in the improv section of "The Letter," all of which shows how much fun he's having unwinding at his own pace. The sound is crisp and as sharp as the playing and the audience stays in the background where it belongs, making this a near-perfect live recording, even granting the practically inevitable drum solo. It's a terrific concert album that captures a hot band nailing its groove with intensity and professionalism. © Hal Horowitz © 2012 Rovi Corp | All Rights Reserved http://www.allmusic.com/album/live-from-the-archive-mw0002004149
Inspired by the Blues, infused with the funk rhythms of New Orleans and topped-off by virtuoso musicianship, Matt Schofield is being talked of as the finest Blues guitarist to have emerged in Europe for several generations, perhaps even in the World. His "Siftin Thru Ashes" album (Nugene Records) has received rave reviews on both sides of the Atlantic. Britain's Guitarist magazine describes Schofield's guitar playing as "Dynamite", picking him as the only non-American in their review of the future of Blues guitar; while America's Blues Revue calls him "The entire package – a singer with range and soul, and a guitarist who delivers with devastating tone and superb dynamics". BBC Radio 2 presenter Paul Jones picked Schofield as one of his highlights of 2005, commenting "I think it's time he became a big star." The LA Daily News describes Schofield as "Head and shoulders above the herd" while music bible AllMusic.com marks Schofield's approach "an enjoyable demonstration of what can happen when blues-rock and blues-jazz are united". Music magazine, MOJO, gave Siftin' Thru Ashes a four star (excellent) rating, something rarely given to UK Blues artists. In 2006, just two years after his debut CD, Schofield gained the distinction of being one of only two living British artists to be given a four star (excellent) rating in the Penguin Book of Blues Recordings. The band line-up harks back to the classic organ trios of the fifties and sixties. Jonny Henderson on Hammond organ gives sleazy texture and dynamics while holding down left hand bass lines, and "drummers' drummer" Evan Jenkins provides compelling grooves. But that's where any comparison with a traditional organ trio ends. With their huge sounding, multi-layered and rhythmically infectious delivery this band redefines the meaning of "power trio" and are unlike anything else on the Blues scene today. In the Beginning… Born in Manchester, Matt's family moved to Fairford in Gloucestershire when he was a youngster. He first started playing guitar seriously at 12. It was not the guitar heroes of that period (the late-eighties) that inspired him. Rather it was seeing a video of BB King, Albert Collins and Stevie Ray Vaughan playing together that fired Matt's imagination. The call of music was strong. As soon as Matt finished college he ventured to London to check out the music scene, visiting the Blues jams around town, and was soon playing professionally. After touring and recording with the Lee Sankey Group, Matt was recruited by British Blues Diva, Dana Gillespie, to form part of her 'London Blues Band'. While all this was happening Matt consciously avoided being labelled a teenage wonder. "When I started playing on the Blues circuit I was never comfortable with the 'hot young guitarist' label. Instead of being 'good for my age' I just wanted to be 'good'. So I decided to learn my trade first. I learned so much by backing other artists. What to do, and not do".Working in the house band at many international festivals, including the Mustique Blues Festival for several years (often an exhausting 6 hours a night for 14 days) saw Matt backing a long list of artists, providing tremendous experience. "The Trio came together almost by accident. Not having a bass player for a gig one night, we thought we'd give it a go with Jonny doing left-hand bass on the organ, and from the first note we knew we were onto something. People kept coming back to hear more and asking if we had a CD and where else they could see us. One of those 'if it feels good, it is good' things. "The unique format of the organ trio allows an unusual freedom of improvisation and interaction. It's exciting because it's different every time! It's a very collaborative, sum of the parts thing. "Jonny's extremely talented and the perfect keyboard foil for me. He has learned from many of the same musicians as I did, so he knows how to back me up perfectly, but can also really tear it up in his own right. His left hand bass gives The Trio such a distinctive groove plus, like me, he's a real 'tone' guy and has nailed that vintage Hammond sound. "I'm very proud to have Evan involved. He's one of my favourite drummers anywhere. I have played together with him more than any other drummer, in many different situations. His feel and timing are second to none. Evan can play it all - Jazz, Rock, Pop, but he also has a natural feel for blues, and he always does it his own way." © 2005 Nugene Records. All rights reserved
Another name that may be unfamiliar to many rock/blues/jazz fans. Only thirty five years old, Mancunian, Matt Schofield plays like a blues veteran. This is a wonderful live album of blues rock and jazz. Matt is a sublime guitarist, and "Live From The Archive" is a sublime album. Matt's small back up band are also superb musicians. The following quote is taken from the Nugene record label, "Schofield's guitar tone and distinctive phrasing have become highly influential, culminating in Guitar & Bass magazine (3/07) listing Schofield in their Top Ten British Bluesmen of All Time, an accolade that places him alongside the likes of Eric Clapton and Peter Green (although some 30+ years their junior!)". This quote cannot be argued with, and it goes some way to explaining Matt Schofield's importance as a musician today. There is no need to say any more about Matt Schofield, or "Live From The Archive". This great album should be heard by anybody remotely interested in great music and is
VHR by A.O.O.F.C.
Check out the Matt Schofield Trio's "Live at The Jazz Cafe!", Matt Schofield's "The Trio, Live", Jan Akkerman Feat. Matt Schofield's "Live At De Bosuil Muziekcentrum, Weert, Holland", and The Matt Schofield Trio's "Ear To The Ground" albums on this blog. Buy Matt's great "Heads, Tails & Aces" release. Support real music
[

All tracks @ 320 Kbps: 2 x rar files: Pt. 1 (Tracks 1-6) File size = 83.2 Mb] & Pt.2 (Tracks 7-9) = 82 Mb

]
TRACKS / COMPOSERS
1 All You Need - Matt Schofield, Sam Hare 6:13
2 Siftin' Thru Ashes - Matt Schofield 6:15
3 Band Intro 0:46
4 Lights Are On But Nobody's Home - Albert Collins 10:37
5 Room at the Back - Henderson, Jenkins 4:18
6 On My Way - Schofield, Whittick 6:13
7 Black Cat Bone - Semine, Harding Wilson 9:50
8 Sitting On Top of the World - Chatman, Vinson 7:15
9 The Letter - Thompson 18:46
BAND
Matt Schofield - Guitar, Vocals
Jonny Henderson - Keyboards, Hammond C3
Evan Jenkins - Drums
SHORT BIO
The leader of the Matt Schofield trio (obviously) and a well traveled and talented blues guitarist, Matt Schofield was born in Manchester, England on August 21, 1977. Spurred into the world of the blues guitar by legends such as Stevie Ray Vaughan, B.B. King, and Albert Collins, Schofield took his curiosity to London after graduating college, and started to jam with various musicians in the scene. Catching the ear of one Dana Gillespie -- after a successful stint as part of the Lee Sankey Group -- Schofield won a spot in that blues diva's London based band. From there, Schofield eschewed the quick road to fame, instead choosing to work as part of the house band at festivals all over Europe. Eventually, through this rather unglamorous gig, the trio that would bear his name eventually came together, and Schofield became a bona fide solo presence. His first album, a live affair entitled The Trio, Live, was released in 2004, and was a critical success. The unique vibe that Matt and his trio captured was due in part of their use of organ for bass lines rather than a bass guitar -- somewhat of a rarity in the more traditional electric blues rulebook. Comprised of Schofield, keyboardist Jonny Henderson and drummer Evan Jenkins, the trio went on to record a studio record, Siftin' Thru' the Ashes after releasing the second live collection Live At the Jazz Cafe -- both in 2005. In 2007, Schofield returned to the shelves with studio album number two, Ear To the Ground. © Chris True 2012 Rovi Corp | All Rights Reserved http://www.allmusic.com/artist/matt-schofield-mn0000387505
BIO
(WIKI)
Matt Schofield (born 21 August 1977) is a UK blues guitarist and singer whose music blends blues with rock and funky jazz rhythms. His band, The Matt Schofield Trio, play their own material, which is a blend of blues, funk and jazz, along with covers of blues classics such as Albert Collins' "Lights Are On, But Nobody's Home". Schofield's guitar playing is often likened to Robben Ford in reference to his melodic and fluid style, and jazzy lines. However, Schofield was also majorly influenced by B. B. King, Freddie King, Albert King, Muddy Waters, Eric Clapton, Albert Collins, Jimi Hendrix, Billy Gibbons, Stevie Ray Vaughan and Jimmie Vaughan. The influence of funk bands such as The Meters and Soulive can also be heard in his music. Schofield has two studio albums and two live albums. The first of the live discs, The Trio, Live was recorded at the Bishops Blues club at The Half Moon, Bishops Stortford in 2004 and, funded and released by Richard Pavitt on his Nugene record label, gave the band their first breakthrough. The first studio album, Siftin' Thru Ashes was released in 2005. This album showcases not only Schofield as a virtuoso contemporary blues player, but also as a very competent songwriter, writing or co-writing eight out of eleven of the tracks on this album. AllMusic.com calls Schofield's approach "an enjoyable demonstration of what can happen when blues-rock and blues-jazz are united". The second live album, Live At The Jazz Cafe! was recorded at the London Jazz Cafe in April 2005, and was made available as a web only release. Schofield is one of only two living British artists to be given a four star (excellent) rating in the Penguin Book of Blues Recordings. The release of The Trio, Live prompted Schofield to be featured in a Guitarist magazine article listing the nine notable up and coming blues guitarists, Schofield being the only non-American. Of the album they said 'britblues meets jazz via N'Orleans - all played with the kind of sizzling guitar that just doesn't often surface in Fairford, Gloucestershire'. In 2007 Guitar & Bass Magazine picked Schofield as one of the "Top 10 British Blues Guitarists of All Time". Schofield performs with an organ trio (guitar, organ, and drums), which is an unusual format for blues bands. Organ trios are mostly associated with the 1950s and 1960s U.S. jazz groups led by organists such as Jimmy Smith. Blues bands more commonly use trios of guitar, bass and drums, quartets (guitar, keyboards, bass, and drums) or quintets (guitar, rhythm guitar, keyboards, bass, and drums). In Schofield's organ trio, organist Jonny Henderson plays a Hammond organ, performing basslines using his left hand, and playing chords and lead lines with his right hand. The trio's drummer is Evan Jenkins. Jeff Walker played bass on the final track of Siftin' Thru' Ashes. In 2009, as of the recording of 'Heads, Tails & Aces', The Matt Schofiled Trio became The Matt Schofield Band, a four-piece, featuring Jeff 'The Funk' Walker on bass, and also replacing Evan Jenkins with Alain Baudry.