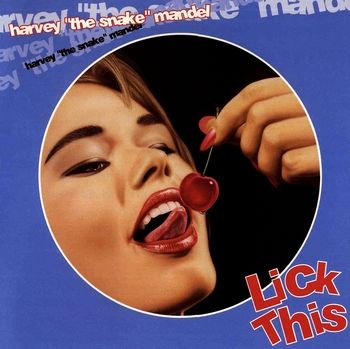 Harvey Mandel
-
Lick This
-
2000
-
Electric Snake Productions
Harvey Mandel (born March 11, 1945, in Detroit, Michigan, is well known for his innovative approach to electric guitar playing. A professional at twenty, he played with Charlie Musselwhite, Canned Heat, The Rolling Stones, and John Mayall before going solo. He is one of the first rock guitarists to use two-handed fretboard tapping.
"I was around him while he was recording the music for this CD. I am not going to reveal any of his secrets; I will just say that Harvey has completely jumped into the digital age of making music. He produces everything in his digital music studio and has become a hopeless computer junkie. He has also completely changed his sound and moved on from the sound and techniques from his Canned Heat and early solo days. (He can't be bothered to touch a Les Paul or Stratocaster anymore.) I also think his general technique on the guitar has, if anything, expanded from those days. He taught me a lot in the time I was with him. Guitarists: don't bother trying to figure out his compositions by ear. He uses innovative tunings that literally no one has ever used on the guitar, to my knowledge. As a result, the chord voicings on this CD do not resemble anything in the standard 12-tone diatonic scale. I think the biggest change on this disc is the rapid growth in his composition skills. He has written some very nice melodic compositions that stand up to almost anything written lately. He also keeps his ears open, which frankly can't be said for a lot of his cohort from those days. Harvey is not one for nostalgia. – from ***** "Support this guy, he deserves it. This is good stuff." July 25, 2003 By & © Rich Grace © 1996-2013, Amazon.com, Inc. or its affiliates http://www.amazon.com/Lick-This-Harvey-Mandel/dp/B00004S364
The 1999 CD release from guitar master Harvey "The Snake" Mandel (the world's premier psychedelic guitar player), is entitled Lick This, a modern contemporary techno recording which offers body-moving instrumentals and hip-hoppin' trance vocals from collaborator Sonny Reece. The bulk of the CD features instrumental tracks with Mandel spicing up the sonic stew with his unique guitaristic flavorings -- plenty of effects are used to enhance and humanize the techno backdrops. Lick This cuts a new musical path for Mandel, showing the boundless nature of his ideas and talent © Harvey Mandel; All Rights Reserved 2004-2010 http://www.harveymandel.com/solo_snake.html
The underrated Harvey Mandel is one of the most innovative guitarists to emerge from the late '60's psychedelic blues boom. He was among the pioneers of electric fusion guitar and his music has always had a strong jazz and blues influence. In his early career, he played many of Chicago's clubs and bars where only really good musicians were tolerated by the very discerning audiences. Nicknamed "The Snake" by his fans because of his fantastic signature snake-like guitar licks, he has always been ahead of his time. He has a unique sound and has always introduced very original effects into his music. He is constantly exploring new musical territory and is as unorthodox and unconventional a music as you will ever hear. Rich Grace reviewing the album on Amazon said that "He uses innovative tunings that literally no one has ever used on the guitar, to my knowledge. As a result, the chord voicings on this CD do not resemble anything in the standard 12-tone diatonic scale". If you are a blues or jazz purist, you will possibly give this album a miss, but please don't dismiss it until you hear it! "Lick This" demonstrates HM's exploratory electronic approach to rock, blues, and jazz using a mixture of many different music genres. It's really great to hear musicians trying something different and still producing great music while doing so. Musicians like Harvey Mandel are badly needed to nurture the evolution of music. It was a giant leap from "Love Me Do" to "Strawberry Fields Forever". We'll never have another Beatles or Zappa but thankfully there are still real musicians out there creating original, creative and inspiring music. Without experimentation, music would become stagnant. The music scene at the moment is full of 22 carat unadulterated horseshit and badly needs a good kick in the rectal area. "Lick This" is
HR by A.O.O.F.C.
Buy Harvey's outstanding "Baby Batter" album and support real music
[
All tracks @ 320 Kbps : File size = 134 Mb
]
TRACKS
1. Mad Dog
2. Lost Out on the Street
3. Jack Hammer
4. Bugs
5. Black Magic
6. Cherry Dream
7. Freeflow
8. Another Days' Gone
9. X-Factor/Star Jam
10. Lick This
11. Honey Bunny
12. In the Mist
13. Whatcha Talkin' About
14. Nite Whisper
15. Rambolaya
16. Rainbow Bridge
17. Members Only
Tracks 1, 3, 5, 7, 9, 10, 11, 12, 14, 15, 16, 17 composed by Harvey Mandel:
Tracks 2, 4, 6, 8, 13 by Harvey Mandel & Sonny Reece (Lyrics)
MUSICIANS
Harvey "The Snake" Mandel - Guitars, Bass, Drums, Percussion, Various
Sonny Reece – Vocals
SHORT BIO
In the mold of Jeff Beck, Carlos Santana, and Mike Bloomfield, Mandel is an extremely creative rock guitarist with heavy blues and jazz influences. And like those guitarists, his vocal abilities are basically nonexistent, though Mandel, unlike some similar musicians, has always known this, and concentrated on recordings that are entirely instrumental, or feature other singers. A minor figure most known for auditioning unsuccessfully for the Rolling Stones, he recorded some intriguing (though erratic) work on his own that anticipated some of the better elements of jazz-rock fusion, showcasing his concise chops, his command of a multitude of tone pedal controls, and an eclecticism that found him working with string orchestras and country steel guitar wizards. Mandel got his first toehold in the fertile Chicago white blues-rock scene of the mid-'60s (which cultivated talents like Paul Butterfield, Mike Bloomfield, and Steve Miller), and made his first recordings as the lead guitarist for harmonica virtuoso Charlie Musselwhite. Enticed to go solo by Blue Cheer producer Abe Kesh, Harvey cut a couple of nearly wholly instrumental albums for Phillips in the late '60s that were underground FM radio favorites, establishing him as one of the most versatile young American guitar lions. He gained his most recognition, though, not as a solo artist, but as a lead guitarist for Canned Heat in 1969 and 1970, replacing Henry Vestine and appearing with the band at Woodstock. Shortly afterward, he signed up for a stint in John Mayall's band, just after the British bluesman had relocated to California. Mandel unwisely decided to use a vocalist for his third and least successful Philips album. After his term with Mayall (on USA Union and Back to the Roots) had run its course, he resumed his solo career, and also formed Pure Food & Drug Act with violinist Don "Sugarcane" Harris (from the '50s R&B duo Don & Dewey), which made several albums. In the mid-'70s, when the Rolling Stones were looking for a replacement for Mick Taylor, Mandel auditioned for a spot in the group; although he lost to Ron Wood, his guitar does appear on two cuts on the Stones' 1976 album, Black & Blue. Recording intermittently since then as a solo artist and a sessionman, his influence on the contemporary scene is felt via the two-handed fretboard tapping technique that he introduced on his 1973 album Shangrenade, later employed by Eddie Van Halen, Stanley Jordan, and Steve Vai. © Richie Unterberger © 2013 Rovi Corp | All Rights Reserved http://www.allmusic.com/artist/harvey-mandel-mn0000668511