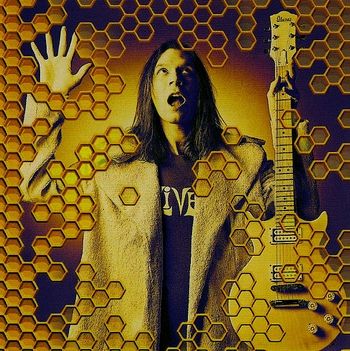 Paul Gilbert
-
Beehive Live
-
1999 -
Shrapnel
Metal guitar virtuoso Paul Gilbert was born November 6, 1966 in Carbondale, IL and raised primarily in Greenburg, PA; he began playing music at age five, and by age 15 was not only touring local clubs with his band Tau Zero but was even spotlighted in Guitar Player magazine alongside fellow up-and-comer Yngwie Malmsteen. In 1984 Gilbert relocated to Los Angeles to attend the Guitar Institute of Technology, becoming an instructor there the following year; concurrently he formed the band Electric Fence, which by 1986 evolved into Racer X. Their debut album Street Lethal appeared later that year, but in the wake of the follow-up, 1987's Second Heat, Gilbert exited to join Mr. Big, which in 1992 topped the pop charts with the ballad "To Be with You." Mr. Big disbanded in 1996, and a year later Gilbert made his solo debut with King of Clubs; Flying Dog followed in 1998, trailed by Beehive Live in 1999 and Alligator Farm in fall 2000. © Jason Ankeny © 2013 Rovi Corp | All Rights Reserved http://www.allmusic.com/artist/paul-gilbert-mn0000747761
The great Paul Gilbert is now one of the world's most accomplished, respected and talented guitarists. Paul has respect for all musical genres and will play anything from The Archies to Richard Wagner. He plays pop, rock, fusion, jazz and everything else in between. He will take the melody of any song and embed it in a hurricane of the most complex and searing guitar licks. He is a true music lover. Listen to his playing on the two "Yellow Matter Custard" Beatle tribute albums. Listen to Paul with Mike Portnoy, Kasim Sultan, and Neal Morse play the Abbey Road medley on YouTube @ http://www.youtube.com/watch?v=U5m8k5UBbVQ&list=PLD30D7EE9A3E322DFA .....Magical stuff! Paul is a great Beatles fan and "Beehive Live" recorded in Japan is in the light pop rock vein with some Beatlesque tunes and also some insanely brilliant guitar. Paul is in whimsical mode here and even plays the Osmond's "Hold Her Tight". You read that right! Don't laugh until you hear it! If you enjoy shredding and want to hear more of this guitar genius, buy his "King of Clubs" album. If you think you've heard all the best guitarists, check out Paul Gilbert. For what it's worth, the guy is in the top five of "
A.O.O.F.C's
list of All Time Favourite Guitar Players". Check out his guitar solo on George Harrison's "WMGGW" @
http://www.youtube.com/watch?v=AsK30xHb7mk
and he might be in your list too!
[
All tracks @ 320 Kbps: File size = 151 Mb
]
TRACKS
1. Heavy Disco Trip 3:25
2. Be My Wife 5:25
3. Get It 2:33
4. Mr. Skin 4:48
5. Down to Mexico 3:44
6. Girls Who Can Read Your Mind 3:26
7. Tell the Truth 7:41
8. Bumblebee 4:22
9. Million Dollar Smile 2:18
10. Hold Her Tight 3:31
11. I'm Just In Love 2:39
12. Red Rooster 5:36
13. To Be With You 5:41
14. Karn Evil 9 5:15
All tracks composed by Paul Gilbert except Track 4 by Jay Ferguson, Track 10 by Alan, Merril & Wayne Osmond, Track 13 by Eric Martin & David Grahame, and Track 14 by Greg Lake & Keith Emerson
MUSICIANS
Paul Gilbert - Guitar, Vocals
Billy Morris - Guitar, Background Vocals
Scotty Johnson - Guitar, Keyboards, Background Vocals
Mike Szuter - Bass Guitar, Background Vocals
Jeff Martin - Drums, Background Vocals
BIO
Paul Brandon Gilbert (born November 6, 1966 in Illinois, U.S.) is an American musician, best known as the guitarist for Racer X and Mr. Big, as well as many solo albums and numerous collaborations and guest appearances with other musicians. Gilbert has been voted number 4 on a list in GuitarOne magazine of the "Top 10 Greatest Guitar Shredders of All Time", as well as a spot in Guitar World's "50 Fastest Guitarists of All Time" list. Gilbert was raised in Greensburg, Pennsylvania. Around 1981-82, he first contacted Mike Varney, founder of Shrapnel Records, asking for a gig with Ozzy Osbourne. At the time, Varney couldn't think why Osbourne would want a 15 year old guitarist, but after listening to his demo he changed his mind. Gilbert was featured in Guitar Player magazine at the age of fifteen. They talked for the next 3 years, until Paul went to L.A. for the GIT (Guitar Institute of Technology), and then was ready to record Racer X's debut album Street Lethal. Formed in Los Angeles in 1985, Racer X originally comprised Paul Gilbert (guitar), Juan Alderete (bass), Harry Gschoesser (drums) and Jeff Martin (vocals). They were heavily influenced by Judas Priest and Gilbert's playing was reminiscent of Yngwie Malmsteen, displaying fast-driven solos with extreme-level technique. Gschoesser was replaced by Scott Travis (later known for being the drummer for Judas Priest) in 1986, and Bruce Bouillet was added as a second guitar player. Bouillet was a very skilled player, as he had to play over Gilbert's always difficult and challenging phrases. Paul Gilbert gained recognition as one of the fastest guitar players in the world due to incredibly technical pieces like "Technical Difficulties" "Frenzy", "Scarified", "Y.R.O." and "Scit Scat Wah". Gilbert left Racer X in 1988. Racer X carried on for a short time with guitarist (and fellow GIT alum) Chris Arvin and vocalist Oni Logan (later of George Lynch's Lynch Mob) when singer Jeff Martin departed to play drums in Jake E. Lee's Badlands, in which he replaced Eric Singer who left to join Alice Cooper. Shortly thereafter, the members of the re-invented Racer X went their separate ways. The original band would eventually reform (although without Bruce Bouillet, who in-turn did produce the first reunion record). Paul contacted the members of Racer X, and all agreed to return, with the exception of Bruce Bouillet. In mid-1999 the band recorded the album Technical Difficulties. Technical Difficulties went gold in Japan, and Racer X's new record label requested a follow-up. In late 2000, the band released another album, Superheroes. The record was mixed by former Racer X guitarist, Bruce Bouillet. In order to further capitalize on their new-found success in Japan, Universal Japan requested that the band record a live show for another live CD and DVD. On May 25, 2001, the band played their first live performance in thirteen years to a sold-out crowd at the famed Whisky a Go Go in Los Angeles. The show was recorded for both audio and video, and in 2002, both the CD and DVD were released under the name Snowball of Doom. In January 2002, in support of Superheroes and Snowball of Doom, Racer X toured Japan and Taiwan. The band performed these shows in their Superheroes costumes, and the final show, in Yokohama, was hastily recorded in two tracks on the sound board and was to be later released as Snowball of Doom 2. Later that year, Universal Japan pushed for another Racer X release. In October 2002, all four members of Racer X gathered at Gilbert's house in Las Vegas to record Getting Heavier, which was sold alongside Snowball of Doom 2 in a package deal. Although the album was a successful release in Japan, some fans were disappointed with the lighter tracks, which resembled a Paul Gilbert solo album more so than a traditional Racer X album. Racer X performed at the 2009 NAMM show at the Anaheim Convention Center in Anaheim, California. Andy Timmons and his band opened the show, followed by a solo set from Paul Gilbert, and finally Racer X. The Racer X lineup consists of Paul Gilbert, Scott Travis, Jeff Martin and John Alderete. When Billy Sheehan left David Lee Roth's band in 1988, he joined with Paul Gilbert, who had left his former band, Racer X. They founded Mr. Big, with Pat Torpey on drums and singer Eric Martin. The band was initially a huge success in Japan, and became famous internationally in 1991, with the release of their second album, Lean Into It. This album featured the ballad "To Be With You", which received strong media play and reached #1 on the Billboard Hot 100. Gilbert continued playing in Mr. Big until the late 1990s. He left the band in 1997 to pursue a solo career, and was replaced by Richie Kotzen. Mr. Big disbanded in 2002. In June 2009, Paul Gilbert reunited with original Mr. Big members; Eric Martin, Billy Sheehan, and Pat Torpey, for a world wide reunion tour. They recorded a new album with producer Kevin Shirley titled What If.... The album was released in Japan on Dec. 15th, 2010, in Europe on Jan. 21st, 2011 and in the U.S. in Feb. 2011. A tour to support the album kicked off at The House of Blues, in Hollywood, CA on April 2, 2011, followed by several dates in Japan in the same month. In May and June 2011, the tour continues in China, Korea, The Philippines and Europe. In May 2003 he played in an only twice-performing project called Yellow Matter Custard, a Beatles cover band consisting also of Mike Portnoy (ex-Dream Theater), Neal Morse (ex-Spock's Beard), and Matt Bissonette. In February 2011 Yellow Matter Custard re-formed for 3 Nights Across America. Kasim Sulton replaced Matt Bissonette in the 2011 shows due to other commitments. They took their name from a Beatles lyric in "I Am the Walrus": "Yellow matter custard, dripping from a dead dog's eye". He rejoined Portnoy along with Dave LaRue and Daniel Gildenlöw for a Led Zeppelin tribute band called Hammer of the Gods in November 2003. The same year, he toured Japan with Linus Of Hollywood, TJ Helmerich, and Scot Coogan in support of his solo albums Burning Organ, Paul the Young Dude/The Best of Paul Gilbert, and Gilbert Hotel. In September 2005, he joined Portnoy, Sean Malone, and Jason McMaster in the Rush tribute band Cygnus and the Sea Monsters. In May 2006, he joined Portnoy, Gary Cherone, and Billy Sheehan to form Amazing Journey: A Tribute to The Who, playing three shows. The band (excluding Sheehan) destroyed their equipment after the show in homage. He was also revealed to be the guest guitarist on the Neal Morse solo album, Sola Scriptura. In 2007, Paul Gilbert toured with Bruce Bouillet for promotion of his first instrumental album, Get Out of My Yard, which was released in 2006. Also joining him was his wife, Emi Gilbert, on keyboards. Paul Gilbert also joined Joe Satriani and John Petrucci in the 2007 G3 tour. This was the 5th North American G3 run and the 12th tour worldwide since its inception. On January 23, 2008, Paul released an instrumental CD titled Silence Followed By A Deafening Roar. It was released in Europe on March 31, 2008, and in America on April 8, 2008. This is Paul's second instrumental album. On October 22, 2008, Paul released an album with vocalist Freddie Nelson entitled United States. The collaboration has been described as a cross of Queen and Mr. Big. Paul with Racer X performed at the 2009 NAMM show at the Anaheim Convention Center in Anaheim, California. Andy Timmons and his band opened the show, followed by a solo set from Gilbert, and finally Racer X. This Racer X lineup consisted of Gilbert, Scott Travis, Jeff Martin and John Alderete. Gilbert also joined George Lynch and Richie Kotzen on the Guitar Generation tour. On June 30, 2010, Gilbert's new album Fuzz Universe was released in Japan, with a release in America and Europe soon after. It is Paul's 3rd solo album being entirely instrumental. A cover of Johnny Cash's "Leave That Junk Alone" is featured as a Japanese bonus track. Talking about his influences, Paul mentions many different artists, including: Randy Rhoads, Kim Mitchell, Eddie Van Halen, Yngwie Malmsteen, Tony Iommi, Alex Lifeson, Jimmy Page, Robin Trower, Ritchie Blackmore, Pat Travers, Gary Moore, Michael Schenker, Judas Priest, Akira Takasaki, Steve Clark, Jimi Hendrix, Kiss, and The Ramones. Paul has stated many times that he was heavily influenced by his uncle Jimi Kidd who was instrumental in getting Paul interested in playing the guitar. He is also a great fan of The Beach Boys and The Beatles. He states on the Space Ship Live DVD that George Harrison is one of his favorite guitar players. Guitar World magazine declared him one of 50 of the world's fastest guitarists of all time, along with Buckethead, Eddie Van Halen, and Yngwie Malmsteen. Gilbert composes music in a wide variety of styles including pop, rock, metal, blues and funk, but is perhaps best known for his versatility and speed. He is noted in particular for his efficient picking and his tendency to pick many notes rather than relying on legato for fast passages. Paul Gilbert wrote his own section of the British guitar magazine, Total Guitar, where he normally demonstrated guitar techniques in the magazine and accompanying CD. Even before that, he contributed instructional articles to Guitar Player Magazine in a late 1980s/early 1990s series entitled "Terrifying Guitar 101". His period of working with Total Guitar spanned thirty-one issues until the November 2006 issue. Paul also teaches at the Guitar Institute of Technology (GIT) regularly, and is also an "honorary dean" of the GIT division in Japan. Paul visits Japan, enjoying the lifestyle like his Shrapnel labelmate Marty Friedman, who still lives in Japan and speaks Japanese fluently. Gilbert is known for his instructional videos, which are often comical in nature. One of his instructional videos includes him pulling a rabbit out of his guitar, putting his guitar in a straightjacket and having presents thrown at him by members of the film crew. Paul also was, for a short time, the guitar teacher of Buckethead, Joey Tafolla, Russ Parrish (A.K.A. Satchel from Steel Panther), Michelle Meldrum (The late wife of Europe guitarist John Norum) and Nicole Couch of Phantom Blue. Gilbert now writes a column for Premier Guitar entitled "Shred Your Enthusiasm".