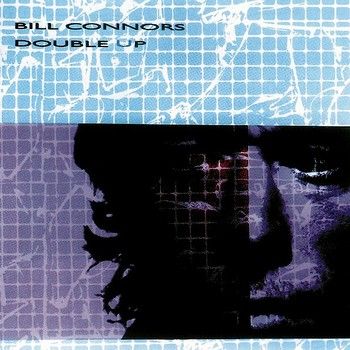 Bill Connors
-
Double Up
-
1986
-
Pathfinder Records
Bill Connors (born September 24, 1949) is an American jazz musician notable for being a legato technique master, adept at both the acoustic and electric guitar, and successfully played jazz-rock, free and fusion material in the '70s and '80s. His best early solos were in the jazz-rock genre, where his use of distortion and electronics was balanced by fine phrasing and intelligent solos. His first great moment of fame occurred when he joined Chick Corea's Return to Forever in 1973, recording Hymn of the Seventh Galaxy, though he quit in 1974 and was followed by Earl Klugh, who was then replaced by Al Di Meola. His decision to leave Return to Forever to concentrate more on acoustic guitar was satisfying artistically: he recorded three acoustic albums and then three electric albums as a leader/soloist, and recorded and performed with others. The quality, innovation and thoughtfulness of his work has always garnered strong praise. – WIKI.
Jazz guitarist Bill Connors is an accomplished performer whose finely developed musical sense and technical expertise have been honed over years of hard work and experience. Connors began to play guitar at the age of fourteen and, after three years of extensive self-study of the rock and blues influences that were his first inspiration, he began to play gigs around the Los Angeles area. He soon found his way to jazz, the music that would lead to a life-long commitment. With Chick Corea's Return to Forever on Hymn of the Seventh Galaxy (1973), Connors spearheaded a new direction for guitar in jazz, and the guitarist soon became an established figure on the national and international scenes. Connors is equally adept at acoustic, electric and jazz guitar. On acoustic in the 1970's, he recorded solo albums Theme to the Gaurdian (ECM, 1974) and Swimming with a Hole in My Body (ECM, 1979), as well as with groups: Of Mist and Melting (ECM, 1977) with Connors as guitarist and leader, Jan Garbarek, Gary Peacock and Jack DeJohnette. Connors also recorded with Lee Konitz, Paul Bley and Jimmy Giuffre in New York, and toured Europe, performing with composers Luciano Berio and Cathy Berberian. Returning to electric guitar, Connors performed and recorded with Jan Garbarek, Jack DeJohnette and John Taylor in 1977 (Places, ECM), with Garbarek, Taylor, Jon Christensen and Eberhard Weber in 1978 (Photo with Blue Sky, White Cloud, ECM), and with Tom Van Der Geld and Richard Jannotta in 1979 (Path, ECM). In the 1980's, Connors as leader recorded three albums on electric guitar for the Pathfinder/Evidence label: Step It (1985),with Connors, Steve Kahn, Tom Kennedy and Dave Weckl, and Double Up (1986) and Assembler (1987) with Connors, Tom Kennedy and Kim Plainfield. On jazz guitar in 2005, Connors recorded and released Return (ESC/ Tone Center): "Bill Connors has always lived and played ahead of the times...... masterful playing and infectious grooves... (Ari Messer, Guitar Player, June 2005). – from "The most precisely-made strings, by the leading innovator in string making". © 2008 D'Addario & Co. All Rights Reserved http://www.daddario.com/DaddarioArtistDetails.Page?ActiveID=3777&ArtistId=41584&sid=05f1f456-ea96-447f-92a4-d2b88e3b612a
Guitarist Bill Connors has forged a successful career by mixing light, pop-oriented fusion cuts with more ambitious works that showcase his considerable solo abilities and compositional skills. This was a trio date with Connors (who doubled as producer) playing in an introspective vein, showing his funk and rock side, and then playing with more imagination and style. The playing time was quite short (35 minutes-plus), but there was enough of Connors' guitar work presented to satisfy his fans and fusion/pop/light jazz followers. © Ron Wynn © 2013 AllMusic, a division of All Media Network, LLC. | All Rights Reserved http://www.allmusic.com/album/double-up-mw0000193744
For another fine example of blazing, burning, incendiary (did we mention fiery) legato guitar playing, look no further than Bill Connors work on "Double Up". A fan favorite, Connors hooks up with bassist Tom Kennedy and drummer Kim Plainfield to deliver fluid fusion in a trio setting in the Holdsworthian vein. Many remember Connors with Return To Forever (predating a young Al DiMeola), and his pedigree helped bring attention to this 1994 release. Six tracks, none less than about five minutes, means plenty of time to stretch, develop themes and -- solo! Which Connors handles with style and fire. Kick yourself if you've not discovered this fusion guitar delight. © 1996-2013 Guitar Nine All Rights Reserved http://www.guitar9.com/doubleup.html
Another great guitar based jazz fusion album from one of the best guitarist you may never have heard!
HR by A.O.O.F.C.
Listen to Bill's "Return" album and check out this blog for more music by Bill Connors. Read a detailed bio at http://en.wikipedia.org/wiki/Bill_Connors and read some detailed and very interesting info about him @ http://www.angelfire.com/oh/scotters/connors.html
[
All tracks @ 320 Kbps: File size = 81.6 Mb
]
TRACKS
1. Subtracks (4:58)
2. Tud (5:30)
3. Floor To Floor (6:40)
4. Crunchy Cuts Up (5:45)
5. Long Distance (5:53)
6. Out By Twelve (6:39)
All tracks composed by Bill Connors
MUSICIANS
Bill Connors - Guitar
Tom Kennedy - Bass
Kim Plainfield - Drums