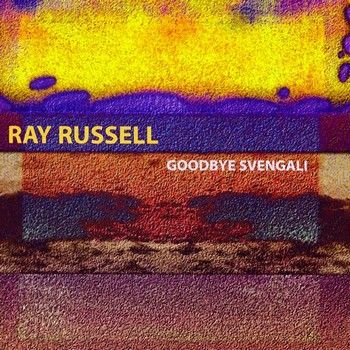 Ray Russell
-
Goodbye Svengali
-
2006
-
Cuneiform Records
"Like contemporaries Sonny Sharrock and Terje Rypdal, Russell makes it sound as if the guitar is not enough, as if he's reaching for something wilder, something that can't be contained within the 6 string cage" - Jim O'Rourke.
Goodbye Svengali is influenced by and dedicated to visionary jazz arranger Gil Evans, and includes one of Gil's final recordings. It is an album that mixes dark fusion, lyrical guitar pieces and icy soundscapes. Ray's playing style can be compared to such great players as Sonny and Terje, as Jim noted, but also to John McLaughlin, John Abercrombie and Jeff Beck! Includes performances by noted U.K. fusion/rock players such as Mo Foster, Gary Husband, Tony Hymas, Simon Phillips and others. © http://cuneiformrecords.com/bandshtml/russell.html
Guitarist Ray Russell has been a professional musician since he was 15 and he joined the John Barry Seven (famous for their James Bond soundtracks). Not hugely known to the general public, for over four decades he has worked with artists as diverse as Nucleus, Gil Evans, Van Morrison, Cat Stevens, Bill Fay, Jack Bruce, Michael Gibbs, Tina Turner, Bryan Ferry and many, many others. His wide-ranging solo career got into gear during the late 60s and can be viewed as a simultaneous and wilder variant of the same path towards electric jazz that Miles Davis and others took during this time, releasing a number of very collectable and ahead of their time albums, and becoming one of the earliest truly 'out' guitarists of the late 60s in the process. © http://cuneiformrecords.com/bandshtml/russell.html
On the strength of this CD, it's a mystery why Ray Russell has been so severely under-recorded throughout his career. As part of an exploratory group of British musicians in the late '60s, Russell released several acclaimed experimental jazz fusion albums, but he has made only a handful of recordings under his name since 1973, although he has always been in huge demand (for obvious reasons) as a session player. Unlike countryman and fellow guitarist John McLaughlin, who connected with Miles Davis, founded the Mahavishnu Orchestra, and made a name for himself as a jazz fusion pioneer, Russell has remained in the shadows, doing his session work, bringing a few of his projects to small labels, and playing with a number of high-quality but little-known British jazz-rock, fusion, and experimental bands. However, Russell did make one influential contact in the 1980s, playing with legendary bandleader Gil Evans' British band when Evans toured Europe, and developing a personal friendship with Evans over the years. This recording was put together as homage to Evans ("Svengali" is a nickname given to Evans by baritone saxophonist Gerry Mulligan, the name of a 1972 Evans recording -- and an anagram for the name Gil Evans). Gil Evans' son Miles Evans (named, of course, after Miles Davis) even plays some blistering trumpet on the title track, sounding almost like he's channeling Davis. Overall, the 11 pieces on this CD do not attempt to break new group stylistically; they are firmly in the jazz-funk/fusion tradition, with obvious nods to the great electric Miles Davis bands. Several gorgeous ballads are perhaps more reminiscent of Pat Metheny's oeuvre, while a solo drone piece, "Wailing Wall," has a strong element of Frippertronics (the ambient loop system and style developed by experimental guitarist Robert Fripp). One very touching, personal piece, Charles Mingus' "Goodbye Pork Pie Hat," has Russell improvising over a solo Fender Rhodes piano track recorded by Evans in 1983, which Russell found recently while digging through his tape archives. Relating Russell to "name" guitarists such as Metheny, Fripp, and the highly influential McLaughlin in no way serves to reduce Russell's stature as a musician. Rumor has it that Russell also can (or could) shred with the weirdest and wildest, but this CD was not conceived as a post-Hendrix display of monster chops. Nonetheless, Russell's technical and creative facility is nothing short of jaw-dropping throughout. He twists notes up, down, and sideways, executes flawless, intricate runs, and displays an excruciatingly pure electric guitar tone that pierces the heart. He is also supported on this recording by very capable, longtime musician friends and associates, including drummers Simon Phillips and Gary Husband and bassist Mo Foster, who serve to make the session much more than a guitar showcase. Truly an excellent recording. But please, somebody get Russell in the studio again (and again) so that he can share more of his singular talents with the world. William Tilland © 2013 AllMusic, a division of All Media Network, LLC. | All Rights Reserved http://www.allmusic.com/album/goodbye-svengali-mw0000702976
"Ray Russell's back with his first solo record in 14 years and, man, it's good. What began as an idea for a series of duets expanded into a much grander project. From a lovely Goodbye Pork Pie Hat with just Russell and Gil Evans (recorded back in the eighties) to the out-and-out rock of Blaize, this is a staggeringly wide-ranging album. There's some of the free jazz/rock Russell pioneered in the sixties and seventies on Everywhere and in the wild guitar/drums section on the title track. But there's also a softer, tender side present on Without a Trace and Wailing Wall and a filmic quality to So Far Away. Yet it never sounds cluttered or fragmented. Instead it moves always easily and convincingly through styles and modes. It's Russell's sound that dominates but that takes nothing from the bravura playing of Gary Husband and, Russell's daughter, Amy Baldwin (fabulous on double bass) or from Miles Evans' touchingly emotional trumpet on Goodbye Svengali. Fusion or jazz/rock rarely sounds this good." © Jazzwise/Duncan Heining
Guitarist Ray Russell has kept a relatively low profile in the music world since the late '60's. He has worked with artists including Gil Evans, Van Morrison, Bryan Ferry, Georgie Fame, Jack Bruce, Chris Spedding and many more. He has played in various bands, including the John Barry Seven, the Mike Gibbs Band, Stackridge, Georgie Fame & the Blue Flames, Chopyn, and the great fusion band Nucleus founded by the late Ian Carr. He has been compared to Pat Metheny, John McLaughlin and other fusion guitarists but jazz and jazz fusion guitarists will always be compared to each other. John McLaughlin and Allan Holdsworth's playing seem to be the standard by which many fusion guitarists' qualities are rated. Regardless of these usually meaningless comparisons, Ray Russell has a unique guitar style and is possibly one of the best guitarists you have never heard. On this album you will hear guitar stylings which you may never have heard from any other guitarists. The album is
HR by A.O.O.F.C.
Try and listen to Ray's outstanding "Why Not Now" album
[
All tracks @ 320 Kbps: File size = 150 Mb
]
TRACKS
1 Everywhere 10:50
2 Without A Trace 4:39
3 Goodbye Svengali 8:13
4 Goodbye Pork Pie Hat 5:24
5 Wailing Wall 3:22
6 Prayer To The Sun / The Fashion Police 11:20
7 So Far Away 5:40
8 Now Here's A Thing 6:06
9 Afterglow 2:00
10 Blaize 8:33
Tracks 1,2,3,5,8,10 composed by Ray Russell: Track 4 composed by Charles Mingus: Tracks 6,9 composed by Gary Husband: Track 7 composed by Ray Russell & Mo Foster
MUSICIANS
Ray Russell: electric guitar, EBow, acoustic guitar, 7-string guitar, classical guitar, Roland guitar synthesizer, keyboards
Mo Foster: bass guitar (6)
Amy Baldwin: double bass (1,3,8)
Anthony Jackson: contrabass (10)
Robin Aspland: Fender Rhodes, Hammond B3 organ (1,8)
Phil Peskett: keyboards (2)
Gil Evans: keyboards (4)
Tony Hymas: keyboards (10)
Ralph Salmins: drums (1,8)
Gary Husband: drums (3,6), keyboards (6, 9)
Simon Phllips: drums (10)
Miles Evans: trumpet (3)
BIO
Guitarist Ray Russell may be the most successful member of the final lineup of the John Barry Seven, having gone on to a serious and highly regarded career in jazz and rock in England over the ensuing decades. Russell's introduction to the John Barry Seven came when he read in the music press that the group's longtime lead guitarist, Vic Flick, was leaving the group -- he auditioned on a day off his regular job and won the spot by pretending that he could read music, and learned musical notation as a member of the band, after establishing his virtuosity. The corpulent, stockily built Russell (who resembled Roy Kinnear or Robbie Coltrane) was an improbable looking guitar hero, but his talent was incontestable. He made a good successor to Flick and stayed with the band to the end, in early 1965. He next played with Georgie Fame & the Blue Flames, and by the end of the 1960s he was working in tandem with Chris Spedding in the Mike Gibbs band, alongside bassist Jack Bruce and reedman Alan Skidmore. During the 1970s, Russell passed through such ensembles as the Rock Workshop and the avant jazz-rock combo Nucleus, and co-founded Chopyn (featuring Simon Phillips on drums) with keyboard player Ann Odell. He also played with Roxy Music's Andy Mackay on the soundtrack of the British television series Rock Follies, and became a member of Stackridge for a time. Russell was also the guitarist for the group Smith & D'Abo, and played a role in the benefit performances known as The Secret Policeman's Ball, alongside Eric Clapton, Neil Innes, et al. As a member of the fusion group the British Orchestra in the early '80s, he played and recorded the music of Gil Evans, and he also made his West End debut playing in the musical Time, starring Cliff Richard, in 1986. Russell later formed his own group, the Ray Russell Band. He was a regular participant at the Montreux Jazz Festival throughout the 1980s and 1990s working in various group contexts, and has also played with the Simon Phillips Band. Although Russell is best known for his abilities as a jazz player, he has worked successfully across a vast range of musical idioms, including R&B/soul and heavy metal. Various recordings under his leadership have been issued over the years, including such career highlights as 1987's Childscape featuring appearances by Gil Evans and Mark Isham on the Theta label (reissued as Why Not Now on Melt 2000 in 1999 and with bonus tracks in 2004 on Angel Air), 1990's A Table Near the Band on Last Chance Music (reissued by Angel Air in 2008), and 2006's Goodbye Svengali on Cuneiform. © Bruce Eder © 2013 AllMusic, a division of All Media Network, LLC. | All Rights Reserved http://www.allmusic.com/artist/ray-russell-mn0000586961/biography