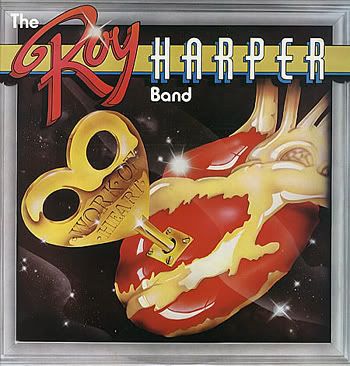 Roy
Harper
-
Work Of Heart
-
1982
-
Public
"Roy is one of the greatest English songwriters we've had, and people just don't realise it. And I really think that when they do we're going to have another top songwriter up there. He's brilliant." - Kate Bush
A good album from one of the great unsung heroes of British folk rock. A man with a soft, unique singing style, and a hugely underrated guitarist. Although his musical influences include people like Woody Guthrie, and Josh White, Roy has always created his own unique style of British Folk Rock, for want of a better classification. His music can be very complex, and unmelodic, but there is a lot of talent embedded in his songs, and he is a hugely creative artist. It is hard to compare any other musician to him. His music has influenced many great artists, as diverse as Led Zeppelin, and Kate Bush. He has been backed by Paul McCartney, and many more influential artists throughout his long career. He also sung lead vocals on "Have a Cigar" on Pink Floyd's "Wish You Were Here" album. Roy Harper is a creative genius. Again, like so many other great artists, he still has not "hit the big time." But there again, to give him credit, he has never sold out to commercialism, and has never compromised his music. In 1982, this album was voted the British Sunday Times 1982 Album Of The Year award., but awards don't always "put the bread on the table." In 2005, in London., Jimmy Page, a lifetime friend of Roy, presented him with the Mojo Hero Award on behalf of the influential Mojo magazine. Give his music a hearing. "Work of Heart" may not be one of Roy's great albums, but neither is it a bad album, as Roy Harper never made any "bad" music. This is a 128 bit version, so don't expect perfection. Listen to his stunningly original "Stormcock" and "Bullinamingvase" albums, and buy his tremendous 1990 "Once" album, on which Dave Gilmour and Kate Bush play.
TRACKS
1 Drawn to the Flames 6:34
2 Jack of Hearts 4:14
3 I Am a Child 3:10
4 Woman 4:42
5 I Still Care 4:51
6 Work of Heart
All songs composed by Roy Harper
MUSICIANS
Roy Harper Synthesizer, Guitar (Acoustic), Guitar, Guitar (Electric), Vocals
Jimmy Page Guitar
Steve Broughton Guitar, Keyboards, Vocals
Bob Wilson Guitar (Acoustic), Guitar, Guitar (Electric), Vocals
Dave Morris Synthesizer, Piano, Violin, Keyboards
Paul Cobbold Bass
Tony Franklin Bass, Percussion
David Lord Synthesizer
Dick Morrissey Saxophone
Ray Warleigh Wind
Tony Carr Drums
Brian Davison Drums
Dorian Healy Drums
Brian Hodges Bass
Darrel Lockhart Drums
Charlie Morgan Drums
Yvonne d'Cruz Vocals
John David Vocals
ALBUM NOTE
Work of Heart is a 1982 album by Roy Harper and perhaps the most produced album of his career, featuring a full backing band. The original album was released on Harpers own label, Public Records, formed with Mark Thompson, (son of nuclear campaigner E.P. Thompson). Additionally, the album was chosen by Derek Jewell of the The Sunday Times as "Album of the Year" in 1982. The demo version of this album was later released (in 1984) on a limited edition (830 copies) vinyl release, entitled Born in Captivity. The sound of Born in Captivity being more typical of Harper, featuring him and guitar only. Work of Heart together with Born in Captivity form the Double CD version of this album currently available. N.B. The songs "Jack of Hearts" and "No Woman is safe" are basically the same, containing identical lyrics.
BIO
Rusholme-born Roy Harper is one of the greatest British songwriters of all time. His guitar work has influenced many including Led Zeppelin and Jethro Tull to name but a few. At the age of 15, life at home with his devout Jehovah's Witness mother became too much and he left, lying about his age to join the RAF. He performed skiffle at camp concerts until he suffered a nervous breakdown that led to his committal in the Lancaster Moor Mental Institute. Roy escaped in his pyjamas through a bathroom window and was later arrested in London, where he was sentenced to jail for trying to climb the clock tower at St. Pancras Station. During 1964, after getting out of prison, he toured the World, busking in Africa, mainland-Europe and London for a year, before graduating to the folk clubs where he earned the chance to record his first album. 1966's "The Sophisticated Beggar" , included "Committed" , a song which celebrated his mental condition. The album attracted the attention of Columbia Records, for whom he went on to record "Come Out Fighting Ghengis Smith" in 1967. With the release of his next album, "Folkjokeopus", in 1969, he was already gaining a reputation that earned him a contract with EMI's Harvest Records. He recorded "Flat Baroque and Berserk" in 1970, which included the track later covered by Kate bush and Peter Gabriel, "Another Day" . 1970 also saw Led Zeppelin pay tribute to Roy on their album, "Led Zeppelin III" with the track "Hats Off To Harper" and as a result 1971's "Stormcock" also featured Jimmy Page as guest guitarist. In a productive period, Roy found the time to write the script and music for the film 'Made' , in which he also starred opposite Carol White. The soundtrack was also released in 1973 under the title 'Lifemask'. In 1974, roy found chart success with the album "Valentine" (UK number 27) and on Valentine's Day, February 14th, of the same year, Roy performed at London's Rainbow, backed by Jimmy Page (Led Zeppelin), Keith Moon (The Who) and Ronnie Lane (The Rolling Stones). Material from the concert was included on the live double album "Flashes From The Archives Of Oblivion" which also appeared David Bedford, Ian Anderson (Jethro Tull), John Bonham (Led Zeppelin) and Ronnie Lane (Small Faces). In 1975, Roy appeared on Pink Floyd's UK and US Number 1 hit " Wish You Were Here" album, singing "Have a Cigar" before releasing his own "HQ" album. In promoting the album though, too many excesses caught up with Roy and he collapsed on stage, as a result for the time since 1966, the World went without a Roy Harper release. In 1977, Roy returned in fine form with the "Bullinamingvase" album, which included guest vocals from Paul and Linda McCartney on "One Of Those Days In England" . The album reached UK Number 25, representing Roy's most succesful period. Roy however fell out with his record company who insisted he released more material quickly to capitalise on his new-found fame. As a result, in 1978, the compilation "Roy Harper 1970-1975" album was released and much of Roy's other work remained un-released until 1988's rare "Loney On The Bus" album - (The "Commercial Breaks" album was eventually released in 1994). In Harper 1970-1975' (Harvest), kept his name in front of the public whilst he was out of action and introduced him to many new fans. ' In 1980 the acclaimed "The Unknown Soldier" album included 'You' , a duet with Kate Bush who later thanked him on the cover of her 1980 Number 1 "Never For Ever" album for "holding onto the poet in his music" . In 1982, Roy harper split from Harvest and formed his own record company (Public), releasing "Work Of Heart" which was chosen as The Sunday Times 1982 Album Of The Year. In 1985, Roy joined Awareness Records and recorded "Born in Captivity" . which included the acoustic demos for "Work of Heart". In the same year, Roy collaborated with Jimmy Page on the Top 20 album "Whatever Happened To Jugula" which was released on the Charlatans ' Beggar's Banquet label. Roy forgave EMI and re-signed for them in 1986, releasing the live album "In Between Every Line" , followed by 1988's "Descendants Of Smith", which he criticised as being 'ruined' by the record company! After such heavy criticism of EMI, Roy returned to Awareness Records in 1990 with the brilliant "Once" album which featured Dave Gilmour and Kate Bush. whilst, true to Harper-style, Roy failed to receive sales success he did enjoy widespread media approval. He also released the 2-track "Burn The World" album which again failed to chart. In 1991 Roy's son Nick, a superb guitarist himself, became a part of Roy's touring band. "Death Or Glory?" , Roy's 1992 album release was perhaps his most personal yet and was quickly followed by the re-release of the entire back-catalogue on his own Science Friction label. In 1998, Roy returned to the fore with the brilliant new album "The Dream Society" , again winning rave reviews and attracting the interest of fellow musicians without stealing the hearts and cash of the mass record-buying public. Roy Harper probably ranks alongside The Bee Gees as Manchester's most productive and respected act since the 1960's - if only he had their sales! © 2003 prideofmanchester.com
BIO (Wikipedia)

Roy Harper (born June 12, 1941), is an English rock / folk singer-songwriter / guitarist who has been a professional musician since the mid 1960s. His earliest musical influences were American blues musicians, Huddie William Ledbetter, Josh White, Big Bill Broonzy and folk musician Woody Guthrie. As a musician, Harper is known for his distinctive, sophisticated fingerstyle playing and lengthy, complex compositions. He has released a large catalogue of albums as an artist, most of which are available on his own record label Science Friction. His career and influence have been respected by many musicians including; Jimmy Page and Robert Plant, both members of the 1970s band Led Zeppelin, Ian Anderson of Jethro Tull and more recently Californian harpist Joanna Newsom. Harper is also known for his guest lead vocals on Pink Floyd's song "Have a Cigar". Harper has been referred to as "the longest running underground act in the world". Harper was born in 1941 in Rusholme, a suburb of Manchester, England. After the death of his mother, Muriel, during childbirth, he was raised in Blackpool by his father and stepmother, with whom he did not get along because of her beliefs as a Jehovah's Witness. Harper's anti-religious views would later become a familiar theme within his music. At the age of 10, he began playing skiffle music with his older brother David, ("Davey" on the album Flat Baroque and Berserk), as well as becoming influenced by blues music. Harper left school at the age of 15 and joined the Royal Air Force. This resulted in his rejecting the rigid discipline, feigning madness in order to obtain a military discharge and receiving Electroconvulsive therapy as a result. Upon his eventual discharge, he busked around Europe until 1964 when he returned to England, gaining a residency at London's famous Soho folk club, Les Cousins. Harper's first album, Sophisticated Beggar, was recorded in 1966 after he was spotted at Les Cousins, and signed to Peter Richards' Strike Records. The album consisted of Harper's poetry backed by acoustic guitar and recorded with a Revox tape machine by Pierre Tubbs. CBS Records recognised Harper's potential and hired producer Shel Talmy to arrange Harper's second album, Come Out Fighting Ghengis Smith, released in 1968. The 11 minute track "Circle", was notable for marking a widening of Harper's musical style away from the more traditional folk music heard at the time. In May 1968, Harper began to make regular appearances at free concerts in London's Hyde Park attracting a cult following of fans from the underground music scene. Harper also toured the UK, performing at numerous venues that would later become recognised for the variety and quality of their musical acts; Mothers was one venue near Birmingham to which Harper would frequently return. 1969's Folkjokeopus (Harper's third album), in a similar vein to his previous album, included an extended 17-minute track called "McGoohan's Blues", which Harper referred to as the "main statement" within the album. The track's title referred to actor Patrick McGoohan, who was at the time starring in the UK TV series The Prisoner. Harper's first tour of the United States followed the release of his fourth studio album, Flat Baroque and Berserk, in 1970. The album also featured The Nice on the track "Hell's Angels". Its ethereal sound was achieved by a wah-wah pedal attached to Harper's acoustic guitar. This album also marked the beginning of Harper's long and sometimes confrontational association with EMI, whose subsidiary Harvest Records he was signed to. After the Bath Festival of 1970, Led Zeppelin paid tribute to Harper with their version of the traditional song, "Shake 'Em On Down", the definitive version of which was originally recorded by blues artist Bukka White. "Hats Off to Harper" (titled "Hats Off to (Roy) Harper"), appeared on the album Led Zeppelin III. According to Jimmy Page, the band admired the way Harper stood by his principles and did not sell out to commercial pressures. In mutual appreciation of their work, Harper would often attend live performances by Led Zeppelin over the subsequent decade, contribute sleeve photography to the album Physical Graffiti and appear, albeit uncredited, in the 1976 film, The Song Remains the Same. Harper's critically acclaimed 1971 album was a four song epic, Stormcock. The album featured Jimmy Page on guitar (credited as "S. Flavius Mercurius" for contractual reasons) and David Bedford's orchestral arrangements (Bedford would also collaborate on future Harper releases). Johnny Marr, The Smiths' guitarist, said that Stormcock was "intense and beautiful and clever." In 1972, Harper made his acting debut playing Mike Preston alongside Carol White in the John Mackenzie film Made. The soundtrack for this film appeared the following year as the album Lifemask. At the time, Lifemask was created as Harpers final bow; a rare illness incapacitating the singer. The cover art shows Harpers 'deathmask'. Recovered, Harpers next album Valentine, was released on Valentine's Day, 14 February, 1974 and featured contributions from Jimmy Page. A concert to mark its release was held at London's Rainbow Theatre with Page, Bedford, Max Middleton (of The Jeff Beck Group) on keyboard, Ronnie Lane on bass and Keith Moon on drums. The live album Flashes from the Archives of Oblivion soon followed. Pink Floyd's 1975 release Wish You Were Here saw Harper sing lead vocals on the song "Have a Cigar" after bassist Roger Waters lost his voice while recording another song, "Shine On You Crazy Diamond". David Gilmour returned the favour by appearing on Harper's next album, HQ, along with Harper's occasional backing band called Trigger (Chris Spedding on guitar, Dave Cochran on bass guitar, Bill Bruford on drums) and Led Zeppelin's John Paul Jones. The single "When An Old Cricketer Leaves The Crease", taken from the album, is Harper's biggest selling and best known song to date. Harper also co-wrote the song, "Short and Sweet" with Gilmour for Gilmour's first solo record, David Gilmour released in 1978. Controversy soon followed the release of 1977's Bullinamingvase. Watford Gap service station objected to the lyrics in the song "Watford Gap" criticising their food ("Watford Gap, Watford Gap / A plate of grease and a load of crap..."). Harper was forced to drop it from future UK copies of the album, though it reappeared on a later CD reissue and remained on the U.S. LP. The album also featured the song "One of Those Days in England", with backing vocals by Paul McCartney and Linda McCartney, an edited version of which became a Top 40 hit. In April 1978, Harper began writing lyrics for the next Led Zeppelin album with Jimmy Page, but the project was shelved when Robert Plant returned from a self-imposed sabbatical after the death of his five year old son Karac (from a stomach infection in 1977). Between 1975 and 1978, Harper spent a considerable amount of time in the United States. During this period Harper signed with the US division of Chrysalis Records, who released HQ with a different title (When an Old Cricketer Leaves the Crease) and cover. Chrysalis also modified the title of Harper's next album, Bullinamingvase, changing it to One of Those Days in England. In 1978, US Chrysalis reissued Harper's first four Harvest albums, only one of which (Flat, Baroque and Berserk) had been previously released in America. For much of the Seventies, Harper was managed and produced by British manager and record producer Peter Jenner. Harper began the decade with the release of The Unknown Soldier which was to be his final Harvest release. The album contains a duet with Kate Bush on the track, "You". (Harper also sang backing vocals on the song "Breathing", on the Kate Bush album Never For Ever). Of Bush, Harper later stated - "Kate is a fantastic musician and very professional as well. Working with Kate is a very smooth operation because she always knows what she wants to do, surprising you too, which is what good musicians always do." A decade later, Harper and Bush would collaborate again on his album Once. Harper's 1982 album, Work of Heart, marked the formation of Harper's own record label with Mark Thompson, (son of English historian, socialist and peace campaigner. E.P. Thompson) entitled Public Records. The album itself was chosen by Derek Jewell of the The Sunday Times as "Album of the Year" in 1982. The original demo version of this album was later released (in 1984) on a limited edition (830 copies) vinyl release entitled Born in Captivity. Contrarily (though perhaps more to do with Harper's financial situation at the time) of this period, Harper stated - "There is no doubt in my own mind that the early eighties were the nadir of my life in music." Throughout 1984, Harper toured the United Kingdom with Jimmy Page, performing a predominantly acoustic set at folk festivals under various guises such as The MacGregors, and Themselves. In 1985, they released an album called Whatever Happened to Jugula?. This album caused a resurgence of interest in Harper and his music. (Tony Franklin, bass player in Harper's group at this time would later join Page in The Firm). In April 1984, Harper and Gilmour performed "Short and Sweet" (the song they co-wrote) during Gilmour's three night run at The Hammersmith Odeon. This version later appeared on the David Gilmour Live 1984 concert film. Harper also provided backing vocals on Gilmours newly released album, About Face. Perhaps due to the popularity of Whatever Happened to Jugula?, Harper resigned to EMI and in 1986 released a live album, In Between Every Line, containing recordings from his performances at the Cambridge Folk Festival and in 1988 the studio album, Descendants of Smith. The relationship between Harper and EMI did not last and from 1985 more of his earlier albums became available on the Awareness Records label. 1988 also saw the release of Loony on the Bus, a collection of tracks intended for release in 1977 as Commercial Breaks but held back because of disputes between Harper and EMI. The Nineties was a highly productive decade for Harper that saw the release of 4 studio albums: Once (1990), Death or Glory? (1992), Commercial Breaks (1994), The Dream Society (1998) and 8 live albums: Unhinged (1993), Live At Les Cousins (1996), and six individual CDs of concerts recorded by the BBC (1997). In addition, Harper released a live video Once (1990), an EP Burn the World (1990), a CD single The Methane Zone (1992), a limited edition live cassette Born in Captivity II (1992), a compilation album An Introduction to ..... (1994), a collection of poetry and spoken word tracks Poems, Speeches, Thoughts and Doodles (1997), and a reissue of Descendants of Smith (his 1988 release) renamed Garden of Uranium (1994). In 1994 much of Harper's back catalogue became available on CD through his own record label Science Friction. If Harper's public profile had been relatively low since 1986, 1990's Once was a tour-de-force, featuring contributions from David Gilmour, Kate Bush, Nigel Mazlyn Jones, and brought him more attention. In 1992 the spotlight was also on Harper after the end of his marriage to Jacqui. 1992's melancholy Death or Glory? contains a number of songs and spoken words that reference his loss and pain. On tour, Harpers' emotional reactions to his loss were clearly, and very publicly, visible. Throughout the decade, Harper's musical influence began to be recognised by a younger generation of musicians some of whom covered his songs or invited him to make guest appearances on their albums. In 1995 Harper contributed spoken words on The Tea Party's 1995 album The Edges of Twilight. In 1996 Roy recited "Bad Speech" from the album Whatever Happened to Jugula? on the album Eternity by Anathema (the album also contains a cover version of "Hope" from the same album). The track "Time" from The Tea Party's 1996 multimedia CD, Alhambra, was sung and co-written by Harper. Roy sang the Jethro Tull song "Up the 'Pool", on their 1996 tribute album, To Cry You A Song - A Collection Of Tull Tales, and in 1998, Jethro Tull singer Ian Anderson contributed flute to the song, "These Fifty Years" on Harper's The Dream Society, a concept album based on Harper's life, particularly his youth. Reportedly, Anderson said that the only reason he originally left Blackpool was because Harper did. Other artists who covered Harper's songs (or songs on his albums) throughout the decade include, Dean Carter, Ava Cherry & The Astronettes (People from Bad Homes), Green Crown, The Kitchen Cynics, The Levellers, Roydan Styles and Pete Townshend. Harper also undertook a small tour of the USA, where some performances were supported by Daevid Allen; former Soft Machine and Gong band member. In 2000, Harper released an almost entirely acoustic album, The Green Man, accompanied by The Tea Party's Jeff Martin on guitar, hurdy gurdy and numerous other instruments. The Following year (2001) Harper celebrated his 60th birthday with a concert at London's Royal Festival Hall. Harper was joined by numerous guest artists, including David Bedford, Jeff Martin and John Renbourn. A recording of the concert Royal Festival Hall Live - June 10th 2001 was released as a double CD shortly afterwards. In 2003, Harper published The Passions of Great Fortune, a large format book containing all the lyrics to his albums (and singles) to date, including a wealth of photographs and commentary on his songs. In April 2005, Harper released a lengthy CD single, The Death of God. The 13 minute song, a critique of the 2003 Gulf War, featured guest guitarist Matt Churchill, who has also joined Harper on-stage at his live performances. The same year saw the release of Harper's latest album Counter Culture, a double compilation album featuring songs from a 35 year songwriting period. Counter Culture received a five star review from UNCUT (magazine). Harper also contributed a recital of "Jabberwocky" for The Wildlife Album, an 18 track compilation CD to benefit the World Wide Fund For Nature and the Ulster Wildlife Trust. 2006 saw Harper release his first DVD, Beyond the Door. Composed of live footage recorded in 2004 at Irish folk club "De Barra's" in Clonakilty, Cork, the package includes an additional 10 track audio CD and received a 4 star review from both Mojo, UNCUT (magazine) and Classic rock, who made it their DVD of the month. In September 2007, Harper supported Californian harpist Joanna Newsom at her Royal Albert Hall performance. Newsom had been impressed by Harper's 1971 album Stormcock and it served as an inspiration for her second album, Ys.On the night, Harper played Stormcock in its entirety. This was Harpers last live performance, and he announced on his website that he "...is now taking a break from the live scene... that he has retired from gigging and just wants the time and space to write..." Harper has dedicated the last few years to collecting and compiling his life work in various formats. One of his future projects is likely to be the making of a documentary DVD to round off this process. In 2008, plans were announced for a Roy Harper Tribute album. The album, All you Need is What You Have (named after songs on Harper's 1969 release Come Out Fighting Ghengis Smith), is compiled by Laurel Canyon Folk singer Johnathan Wilson and features Chris Robinson (The Black Crowes), Gary Louris (The Jayhawks), Johnathan Rice, Eric Johnson (Fruit Bats, The Shins), Benji Hughes and others. At present, the unfinished collection is planned with a 2009 release date.