Stealers Wheel
-
Ferguslie Park
-
1973
-
A&M

Ferguslie Park is the second of the three albums from Stealers Wheel. Gerry Rafferty & Joe Egan were at the height of their musical creativity on this album. The material is excellent, ably performed by a large assortment of session musicians but never sounding tired or robotic (check out the piano solo on 'Star', for example - as perfect as you could possibly imagine). Rafferty & Egan's songs reflect upon the dubious delights of fame, managers and the celebrity machine, finding plenty of dissatisfaction and bitterness along the way ('Good Businessman', 'Star', 'Wheelin', 'What More Could You Want'). Melodically and sonically, it's a delight for the ears, utilising all sorts of interesting instruments. The albums ends questioningly on the hit single 'Everything Will Turn Out Fine', at first glimpse a three-minute burst of optimism, yet closer inspection suggests more than a touch of ironic cynicism, which perhaps sums up Stealers Wheel as well as anything. An additional charm is the inclusion of more John Patrick Byrne artwork, typical for a Rafferty release as afficionados will know. This time round, his painting is as dark and disturbing as some of the music within ('Who cares'). For my money, a really strong album. Rating: 5 out of 5, © REVIEW by ANONYMOUS, © www.absoluteradio.co.uk/music/artists/stealers_wheel/shop/CDs/1164.html
Often called Britain's answer to Crosby, Stills and Nash, the short lived Stealers Wheel with their "main man," the brilliant songwriter, musician and vocalist, Gerry Rafferty, were at one time signed to A&M Records and worked with the legendary producers , Jerry Leiber and Mike Stoller. Ferguslie Park (named after a district in Paisley, Scotland), even with some great session players, barely made the USA Top 200 for Stealers Wheel. It sold very poorly and heralded the decline of the great band. The album is pretty good, with upbeat, melodic, and original pop-rock songs from the two great songwriters, Gerry Rafferty, and Joe Egan. Stealers Wheel's classic pop song "Stuck in the Middle With You," from the band's s/t album has got to be one of the most popular songs of all time. Listen to two of Gerry Rafferty's great albums, "City To City" and "North & South." Check out Gerry's great "Sleepwalking" album, and biography @
GRAF/SWKNG
and there is info on Stealers Wheels' "Right Or Wrong" album @
ST/WH/ROW
Also, if you can find it, buy Joe Egan's great "Out of Nowhere" album from 1979, which includes some brilliantly written songs, and Joe is helped out on the album by another great Scottish songwriting duo, Benny Gallagher and Graham Lyle, who penned some brilliant songs like "Heart on My Sleeve," "Breakaway," and "I Wanna Stay with You."
TRACKS
1. Good Businessman
2. Star
3. Wheelin'
4. Waltz (You Know It Makes Sense)
5. What More Could You Want
6. Over My Head
7. Blind Faith
8. Nothing's Gonna Change My Mind
9. Steamboat Row
10. Back On My Feet Again
11. Who Cares
12. Everything Will Turn Out Fine
Tracks 1, 3, 7, & 12 composed by Gerry Rafferty & Joe Egan: Tracks 5, 6, 9, & 11 composed by Gerry Rafferty: Tracks 2, 4, 8, & 10 composed by Joe Egan

N.B:
On some later issues of the album, an extended version of Track 6, "Over My Head" is substituted for the shorter version included on this '73 A&M release.

MUSICIANS
Gerry Rafferty (Guitar), (Mandolin), (Piano), (Kazoo), (Vocals)
Joe Egan (Guitar), (Mandolin), (Piano), (Kazoo), (Keyboards), (Vocals)
Gary Taylor (Synthesizer), (Bass), (Bass (Electric)), (Moog Synthesizer)
Peter Robinson (Keyboards), (Piano), (Organ (Hammond)), (Piano (Electric)
Mike Stoller (Harpsichord), (Keyboards)
Joe Jammer (Guitar), (Guitar (Electric)
Bernie Holland (Guitar), (Guitar (Electric)
Steve Gregory (Saxophone), (Sax (Tenor)
Chris Mercer (Saxophone), (Sax (Tenor)
Andrew Steele (Percussion), (Chimes), (Drums), (Sound Effects), (Tambourine), (Triangle)
Chris Neill (Harmonica)
Corky Hale (Harp)
REVIEW
Ferguslie Park was recorded after a dizzying string of changes in Stealers Wheel -- co-founder Gerry Rafferty's exit soon after finishing the group's first LP, his replacement by Luther Grosvenor and the delayed climb of "Stuck in the Middle With You," Rafferty's return, and the firing of all involved and the reduction of the group to its founding duo of Rafferty and Joe Egan. The resulting album, recorded with some nine support players (including ex-Herd members Gary Taylor and Andrew Steele, plus guitarists Joe Jammer and Bernie Holland) and conductor/arranger Richard Hewson in support and Jerry Leiber and Mike Stoller producing, is an upbeat if somewhat less focused work than its predecessor -- the mix of hard rock ("What More Could You Want") and lean, melodic songs ("Good Businessman") highlighted by lush choruses, and augmented with occasional spacey digressions such as the shimmering percussion-based interlude between "Wheelin'" and "Waltz (You Know It Makes Sense)," makes this a surprisingly diverse body of music. There wasn't a hit single to be found here, however, which meant that listeners had to find the album on their own; there are moments that anticipate (albeit distantly) Rafferty's solo work, including some well-placed sax breaks, and also jagged, bluesy guitar in all sorts of unexpected places, such as behind the tuneful organ on "Blind Faith" (and the "Shakin' All Over" riff even makes a veiled appearance on "Good Businessman"). © Bruce Eder, All Music Guide
BIO (Wikipedia)
Stealers Wheel was a Scottish folk/rock band formed in Paisley, Scotland in 1972 by former school friends Joe Egan and Gerry Rafferty. In the beginning of the 1970s, the band was considered as the British version of Crosby, Stills, Nash & Young and, after two unsuccessful singles, came to worldwide fame with their hit "Stuck in the Middle With You". The track in the style of Bob Dylan and The Beatles reached the top ten of the single charts in Great Britain and the US in 1973 - number 6 in the USA, number 8 in UK - and sold over one million copies worldwide. Some decades later a dance version was a September, 2001 UK Top 10 hit for Louise, with a music video that drew heavily on the original song's appearance in the sound track of Reservoir Dogs. The first two albums were produced by the well-known Leiber & Stoller, the last because of disagreements and managerial problems by Mentor Williams. All three had particularly striking, slightly surrealist sleeve designs by artist John Byrne. Although the band's self-titled debut album sold quite well, (number 50 in the US-album-charts) and was critically acclaimed, Stealers Wheel could not repeat this success with following releases. In 1973/1974 the two singles "Everyone's Agreed That Everything Will Turn Out Fine" (the single version is different from the version on their albums and all subsequent CDs) and "Star" would also reach the top 30 of both the UK and US charts, but only the latter track is still relatively popular today. Former Spooky Tooth member Luther Grosvenor (later of Mott the Hoople) participated in the recordings for "Everyone's Agreed That Everything Will Turn Out Fine" and replaced Rafferty who left the band for quite some time. By 1973, Coombes, Pilnick and Williams had all left en masse, Williams later went on to tour with Jethro Tull in 1978 teaming up with old acquaintances from Blackpool Ian Anderson and Barriemore Barlow. Because Rafferty and Egan could not agree whether they should continue as a full band or duo, and because of artistic differences, there was a delay of over 18 months in the release of their third and last album. After frequent changes in the line-up, Stealers Wheel broke up in 1975, and their last album Right Or Wrong was released without a band to promote it. Almost two years after Ferguslie Park (1973), the group was hardly known and the two last single releases silently faded away in the charts. In 1992 director Quentin Tarantino used the track "Stuck in the Middle with You" in the soundtrack of his debut film Reservoir Dogs, bringing new attention to the band. All three albums have been unavailable for years, but in 2004/2005 the British independent label Lemon Recordings (of Cherry Red) re-released them with remastered sound and new liner-notes.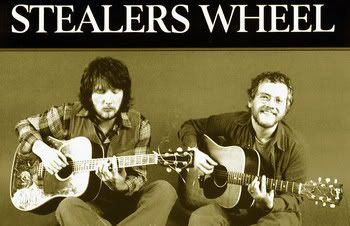 MORE ABOUT STEALERS WHEEL
Although remembered today primarily for one or two songs, Stealers Wheel in its own time bid fair to become Britain's answer to Crosby, Stills, Nash Young. Only the chronic instability of their line-up stood in their way after a promising start. Gerry Rafferty (b. Paisley, Scotland, Apr. 16, 1946) and Joe Egan (b. 1946) had first met at school in Paisley when they were teenagers. Rafferty had seen three years of success as a member of the Humblebums before they split up, and he'd started a solo recording career that was still-born with the commercial failure of his album Can I Have My Money Back? (Transatlantic, 1971). He'd employed Egan as a vocalist on the album, along with Roger Brown. Rafferty and Egan became the core of Stealers Wheel, playing guitar and keyboards, although their real talent lay in their voices, which meshed about as well as any duo this side of Graham Nash and David Crosby-Brown joined, and Rab Noakes (guitar, vocals) and Ian Campbell (bass) came aboard in 1972. That line-up, however, lasted only a few months. By the time Stealers Wheel was signed to AM later that year, Brown, Noakes, and Campbell were gone, replaced by guitarist Paul Pilnick, bassist Tony Williams, and drummer Rod Coombes (ex-Juicy Lucy and future Strawbs alumnus). This band, slapped together at the last moment for the recording of their debut album in 1972, proved a winning combination working behind Rafferty's and Egan's voices. The self-titled Stealers Wheel album, produced by Jerry Leiber and Mike Stoller, was a critical and commercial success, yielding the hit "Stuck In The Middle With You" (top 10 in America and the UK). Even this success had its acrimonious side. Rafferty had quit the band by the time Stealers Wheel was released, replaced by Spooky Tooth's Luther Grosvenor, who stayed with the groupon tour for much of 1973. Delisle Harper also came in for the touring version of the band, replacing Tony Williams. With a viable performing unit backing it, the Stealers Wheel album began selling and made No. 50 in America, while "Stuck In The Middle With You" became a million selling single. As all of that was happening, the group's management persuaded Rafferty to come back-whereupon Grosvenor, Combes, and Pilnick left. Having been through a dizzying series of changes in the previous year, Stealers Wheel essentially ended up following a strategy-employed for very different reasons-that paralleled Walter Becker and Donald Fagen in the American band Steely Dan (funny, the similarity in the names, too). Egan and Rafferty became Stealers Wheel, officially a duo with backing musicians employed as needed in the studio and on tour. There was pressure for more hits. "Everyone Agreed That Everything Will Turn Out Fine" was a modest chart success, the mid-tempo, leisurely paced "Star" somewhat more widely heard, cracking into the top 30 on both sides of the Atlantic. A second album, Ferguslie Park (named for a district in Paisley), completed with session players as per the duo's plan, barely cracked the top 200 LPs in America (although it was somewhat more popular than that number would indicate, among college students), and that would lead to a poisonous internal situation for the duo, as the pressure on them became even greater. In fact, the record was first rate, made up of lively, melodic, inventive pop-rock songs. The commercial failure of the second album created a level of tension that all but destroyed the partnership between Egan and Rafferty. Coupled with the departure of Leiber and Stoller, who were having business problems of their own, and the inability of the duo to agree on a complement of studio musicians to help with the next album, Stealers Wheel disappeared for 18 months. Ironically, the contractually mandated final album, Right Or Wrong, that emerged at that time came out a good deal more right than anyone could have predicted, given the circumstances of its recording. The group had ceased to exist by the time it was in stores. The break-up of Stealers Wheel blighted Rafferty's and Egan's careers for the next three years, as legal disputes with their respective managements prevent either man from recording. After these problems were settled, Egan made a pair of albums for the European-based Ariola label. Rafferty, in the meantime, emerged as a recording star with a mega-hit in 1978 in the form of "Baker Street" and the album City To City. Stealers Wheel disappeared after 1975, its name and identity retired forever by its two owners (although, ironically, Rafferty did an album in the mid-1990's, Over My Head, on which he re-invented several Stealers Wheel-era song that he'd co-written with Egan. He and Egan have both made records that refer in lyrics to the troubled history of Stealers Wheel, immortalizing their acrimonious history even as at least three best-of European collections of Stealers Wheel material immortalize their music, and "Stuck In The Middle With You" remains a popular '70s oldie, revived most recently on the soundtrack of Quentin Tarantino's movie Reservoir Dogs, and was recut by the Jeff Healy Band. © Bruce Eder, All Music Guide
JOE EGAN BIO (Wikipedia)
Joe Egan (Irish name: Seosamh MacAodhagain) (born Joseph Egan, 18 October 1946, in Paisley, Scotland) is a Scottish singer and songwriter. In the 1960s Egan, together with former school mate Gerry Rafferty, played in various smaller British bands, for example The Sensors and The Mavericks, and worked as a session musician. In 1972 he and Rafferty founded the folk / rock band Stealers Wheel. After two unsuccessful singles the track "Stuck in the Middle With You", which he had co-written with Rafferty, surprisingly became a hit in 1973 and reached the Top Ten of both the UK Singles Chart and the U.S. Billboard Hot 100 chart. Subsequently the band had a few smaller successes, amongst others with the Egan penned song "Star", but stagnating sales figures and artistical differences finally led to the band's break-up in 1975. Egan eventually recorded his solo debut album Back On The Road, but this did not occur until 1979 as he and Rafferty were contractually obliged not to release any recordings for three years. In 1978 Rafferty had a worldwide hit with "Baker Street" and the following year Egan registered a minor hit with his first single release, also named "Back On The Road". The same year Egan's second single "Out Of Nowhere" turned out to be a flop. 1981 saw the release of his second album Map, which was not a critical or commercial success. Egan disappeared from the music industry and has not released any new recordings. According to the Wikipedia-biography for Gerry Rafferty, Joe Egan was involved in the recording of Rafferty's solo album 'On a Wing and a Prayer'. As of 2005, Egan lives in Renfrewshire and runs a publishing company from his home.
GERRY RAFFERTY BIO (Wikipedia)

GERRYRAFFERTY/WIKIPEDIA