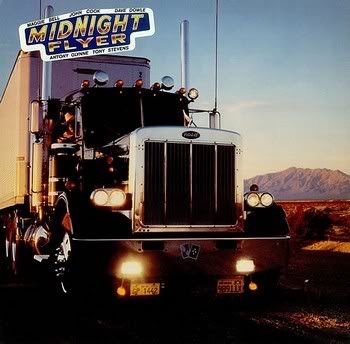 Midnight Flyer - Midnight Flyer (With Maggie Bell) - 1981 - Swan Song

A brilliant album of well-played and crafted soul blues rock from the short lived Midnight Flyer, featuring the great Scottish vocalist, Maggie Bell. The line-up also included the original Whitesnake drummer Dave Dowle and future Rick Wakeman guitarist, Antony Glynne, plus Bad Company's Mick Ralphs who produced this album, and added a little guitar. The band never made a second full studio album as they were overseen by the Led Zeppelin manager Peter Grant, who retired from the music business after the death John Bonham which contributed to the demise of Midnight Flyer as well. A great album for anybody who appreciates classic blues rock. Check out Maggie Bell's "Maggie Bell - Live Boston Usa 1975" album @ MBELL/LIVEBOSTON75 and "British Blues Quintet (Featuring Maggie Bell) - Live In Glasgow" album @ BBQ/MBELL/GGOW Buy Maggie's 1974 "Queen of the Night" album, and Stone The Crows' great 1971 "Teenage Licks" album.

TRACKS

Hey Boy
Love Games
French Kisses
In My Eyes
Over & Over
Last Resort
Do You Want My Love
Sweet Loving Woman
What Ever I Want
Midnight Love
Rough Trade
Rock 'n' Roll Party (Bonus track on the 2005 Angel Air label CD reissue )
Waiting For You (Bonus track on the 2005 Angel Air label CD reissue )

BAND

Maggie Bell - vocals
Antony Glynne - guitar
Tony Stevens - bass guitar
John Cook - keyboards
Chris Parren/Dave Dowle - drums
Mick Ralphs - guitar/producer

ABOUT MIDNIGHT FLYER [ Keith Smith November 2004. Taken from the CD reissue of "Midnight Flyer" (Angel Air, SJPCD198, 2005) www.alexgitlin.com/npp/mf.htm ]

While the name Midnight Flyer may not be instantly recognizable to most casual students of rock music, one only has to take a cursory glance at the pedigree of the players concerned to reveal that, prior to the formation of the band, the musicians had already been involved with such well known artists as Stone The Crows, Streetwalkers, Whitesnake, Savoy Brown, Foghat, Hudson Ford, Jim Capaldi and Leo Sayer among many others. The fact that Midnight Flyer did not become a household name and go on to sell truckloads of albums cannot in any way be attributed to a lack of talent within the band. Far from it! Fronted by one of the finest female vocalists Britain has ever produced, Midnight Flyer was made up of vastly experienced musicians who, in the years since Midnight Flyer, have continued to work with the cream of British rock.

Formed in 1980, Midnight Flyer was composed of Maggie Bell (lead vocals), Dave Dowle (drums), Anthony Glynne (guitars), Tony Stevens (bass guitar) and John Cook (keyboards), who left soon after the recording of the band's only album to be replaced by Chris Parren. Before we tell the Midnight Flyer story, it might be worth looking at the CVs of the individual members prior to the formation of the band.

Maggie Bell

At the time of Midnight Flyer's formation, Maggie Bell was one of Britain's best-loved and most highly regarded singers, regularly voted Best Female Vocalist by the readers of Melody Maker and the New Musical Express in the early and mid-seventies. Maggie's career began in Glasgow in the early 1960s where as a young teenager she would occasionally join Alex Harvey (later to find fame as the leader of the Sensational Alex Harvey Band) onstage to sing. Alex introduced Maggie to his younger brother Leslie, then playing guitar in his own group, the Kinning Park Ramblers, and Maggie joined them for a spell performing the latest American soul hits. By the time she was 17, Maggie was singing professionally with a 15-piece big band at Sauchiehall Street's Locarno Ballroom, before moving over to the rival Dennistoun Palais Band. In 1966, she made her vinyl debut, recording two singles with Bobby Kerr ('I'm Never Gonna Leave You' and 'Climb Every Mountain') under the name Frankie And Johnny.

In 1967, Maggie was working on the Continent playing clubs and touring American air force bases in Germany, playing five hours a night, seven nights a week, a grueling experience, but one that helped her gain valuable experience and learn her craft. During this period, Maggie again hooked up with Leslie Harvey and, upon their return to Glasgow in 1968, the pair began to look for musicians to form a new band. "We heard about a couple of guys who were really good musicians," remembers Maggie. "John McGinnis was the keyboard player and Jimmy Dewar was bass player and singer." Maggie and Leslie went down to see McGinnis and Dewar rehearsing at a club called the Burns Howff and, after a jam, a decision was made to join forces and form a new band - Power.

Power quickly became one of Glasgow's most popular attractions, gaining a strong local following, and, in 1969, Peter Grant, Led Zeppelin's manager, came up to Glasgow to see the band. Legend has it, when Grant first saw them in action, he shouted, "Cor! Stone The Crows!" His exclamation was swiftly adopted as the group's brand new name, and, within a few months, with the addition of ex-John Mayall drummer Colin Allen, they had management and recording deal with Polydor Records. The band's first two albums, 'Stone the Crows' and 'Ode to John Law' were notable for their earthy, soul-based sound, Maggie's passionate, heart-felt vocals and Harvey's fluid, imaginative guitar playing. However, Dewar and McGinnis eventually became unhappy with the group's lack of success, and that, combined with what they perceived as their own diminished role in the group, led them both to quit in February 1971. A talented singer in his own right, Dewar went on to work with Frankie Miller and Robin Trower in the short-lived Jude, before enjoying international success as the bass player and singer with Robin Trower.

With replacements Steve Thompson (bass) and Ronnie Leahy (keyboards) now on board, the group's next album, 'Teenage Licks' (1971) ironically proved to be their most successful. Stone The Crows had become a popular touring band and appeared on the bills at all the major UK rock festivals. A live album featuring Stone The Crows from this period was released back in 2002 on the Angel Air label. 'Live In Montreux 1972' (Cat No SJPCD116) shows just what a great band Stone The Crows were.

As the band's profile improved, so did Maggie's. In 1971, she guested on 'It Ain't Easy', an album by Long John Baldry, and famously added "vocal abrasives" on the title track of Rod Stewart's breakthrough album, 'Every Picture Tells A Story', credited as "Mateus Rose Maggie Bell." Maggie even won the Best Female Vocalist award in that year's annual Melody Maker Readers Poll. Maggie also sang on two albums by Ellis, the group fronted by ex-Love Affair vocalist Steve Ellis, 'Riding On The Crest Of A Slump' (1972) and 'Why Not?'(1973). Confirmation of Maggie Bell's standing among the rock fraternity was her inclusion among the cast for the 1972 recording of Lou Reizner's orchestral version of The Who's rock opera 'Tommy', where she earned critical acclaim for her portrayal of Tommy's mother. Maggie was asked to reprise that role in December that year when members of The Who were joined by an all-star cast (which included Rod Stewart, Steve Winwood and Ringo Starr) for a live performance of 'Tommy' at London's Rainbow Theatre.

Tragically, just when Stone The Crows were on the verge of becoming a major international attraction, Leslie Harvey died on stage during the sound check for a gig at Swansea's Top Rank Ballroom on the 3rd May, 1972. "I remember Leslie saying, 'There's something wrong here," recalls Maggie. "He put his hand on the mike, and he was gone. It was just as quick as that." After Leslie's death, the heart went out of the group, but they bravely decided to carry on and recruited fellow Scots guitarist Jimmy McCulloch from Thunderclap Newman. This enabled them to complete their fourth album, 'Ontinuous Performance', which was released later that same year to critical acclaim, reaching number 33 in the UK album charts. Despite Peter Grant's continued encouragement and the public's support, by June 1973 the band had broken up. "When Leslie died, it was never the same," explains Maggie. "The band continued for a while, then we agreed it was the end of an era. Colin Allen, our drummer, was offered a job with Focus and Jimmy joined Wings. Meanwhile, Peter Grant and co-manager Mark London said they would help me to make a solo album."

Unfortunately, Maggie's solo career did not have the easiest of starts. She recorded two albums for the Atlantic label in New York, one produced by Felix Pappalardi of Mountain fame and the other with Felix Cavaliere of the Young Rascals. Sadly, neither album was granted a release as, according to Maggie, "The record company said they weren't good enough!" Maggie was upset by Atlantic's stance, but was convinced that it was record company politics and not the quality of the recordings that were to blame. Just when Maggie seemed to be lost up a blind alley, Atlantic exec and veteran producer Jerry Wexler (Aretha Franklin, Ray Charles, Lulu, Dusty Springfield) stepped in and offered to produce an album for her. Maggie and Jerry Wexler spent hours wading through tapes and listened to over two hundred songs in order to select the right material for the album. Backed by the cream of New York City's session musicians, Maggie recorded a superb solo album which certainly proved her doubters at Atlantic wrong. 'Queen Of The Night' received rave reviews upon its release, earning Maggie notices in the American press and even an article in Time magazine.

Maggie spent much of the following year on the road before recording her next solo album, 'Suicide Sal', again with Jerry Wexler in the producer's chair and recorded at Ringo Starr's studio at Tittenhurst Park in England. The album was her first for Led Zeppelin and Peter Grant's Swan Song label and even featured an appearance on guitar from Zeppelin's Jimmy Page. On its release, 'Suicide Sal' sold reasonably well but it did much better in the US and Germany than in Britain. Again Maggie and her band hit the road playing a number of tours in Europe and America, even supporting Peter Grant's newest supergroup, Bad Company, which featured Paul Rodgers and Simon Kirke from Free, Mick Ralphs from Mott The Hoople and Boz Burrell from King Crimson. Two live albums from this period have recently been released on the Angel Air label, 'Live At The Rainbow 1974' (SJPCD100) and 'Live Boston USA 1975' (SJPCD128). Both feature great performances and are well worth checking out.

Unfortunately, with the best will in the world, Peter Grant could not devote as much of his time to Maggie's career as she would have liked him to. "I'd phone Peter and go down to his office. He kept saying he had to find the right producer for me, and time went by without much happening, and he kind of lost the plot with me. He spent most of his time with Bad Company and Led Zeppelin. But then I never had a contract with him, only with Atlantic. I was on Swan Song too, and we tried a couple of recordings with Dave Edmunds, but the material wasn't right."

In 1977, Maggie appeared on Eric Burdon's 'Survivor' LP alongside Zoot Money, Geoff Whitehorn and Alexis Korner. Guitarist Whitehorn had been a member of Maggie's band in 1975 and he was also part of an all-star band that appeared with Maggie at London's Royal Festival Hall on 16th July, 1978. The other musicians were Tony Ashton, Jon Lord, Andy Mackay, Paul Martinez and Ian Paice.

1978 also saw Maggie have a one-off hit single with the theme tune from the popular TV series 'Hazell', which reached number 37 in the UK singles chart. Maggie's only other hit single was 'Hold Me', a tongue-in-cheek duet with B.A. Robertson which reached number 11 on the UK single chart in October 1981. 'Hold Me' had originally reached number three for PJ Proby in 1964. Tony Stevens

Tony (Tone) Stevens was born in London on 12th September, 1949, and by the age of eight he had developed an interest in playing the guitar. Aged 11, he formed a band with two school pals called The Invaders, which, two years later, with the addition of a singer and another guitarist, became The Down And Outs, who played at weddings, birthdays and working men's clubs around the Willesden area. By the time he was 16, Tony was playing bass in a four-piece band called Zebedee, who wrote most of their own material.

In October 1967, Tony saw an ad in Melody Maker for Savoy Brown who were looking for a bassist. He got the job and spent the next couple of years either recording or on the road in the US where the band had some success. Tone is featured on four Savoy Brown albums, 'Blue Matter' (April 69), 'A Step Further' (September 69), 'Raw Sienna' (June 70) and 'Looking In' (October 70). At the end of 1970, Tone, together with Roger Earl (drums), and Dave Peverett (guitar/vocals) walked out of Savoy Brown and with guitarist/vocalist Rod Price they formed Foghat. Through sheer hard graft the band and their boogie style became very successful in the States, although they remained virtually unknown at home in the UK. Again, Tone recorded four albums with the band, 'Foghat' (June 72), 'Foghat II' (March 73), 'Energized' (January 74) and 'Rock and Roll Outlaws' (October 74).

Tony left Foghat in 1975 to concentrate on a career as an actor. He got a part in 'Rock Follies', an English TV show about the adventures of three girls in the rock business, which surprisingly became a hit. Roxy Music's Andy Mackay composed the music for the series, and, in addition to playing the role of the fictional group's bass player, Tone also appeared on the two soundtrack albums released to tie in with the programme, 'Rock Follies' and 'Rock Follies of '77'. The rest of the band was Ray Russell (guitar), Peter Van Hooke (drums) Andy Mackay (sax) and Brian Chatton (keyboards). For the second Rock Follies album, Chatton was replaced by Chris Parren, who we shall be seeing more of later.

Tone also appeared on two other recordings during this time. In 1975, he appeared on the film soundtrack to The Who's 'Tommy' along with musicians such as Roger Daltrey, Pete Townshend, John Entwistle, Nicky Hopkins, Eric Clapton and, interestingly, Mick Ralphs. In 1978, Tone contributed to the cast soundtrack to 'Evita' playing with Chris Mercer, Neil Hubbard, Henry McCullough, Ray Russell, Mo Foster, Mike Moran and Simon Phillips. Also in 1978, Tone appeared on Andy Mackay's solo album, 'Resolving Contradictions' with Ray Russell, Mo Foster and Chris Parren.

After two years on Rock Follies, Tone formed a band called Nobody's Business with the great guitarist Joe Jammer and vocalist Bobby Harrison, and they recorded a powerful LP ('Nobody's Business') in France in 1978. The album was only released in Japan, and the band split in 1979. Tone had already recorded with Jammer before, appearing on his 1973 album, 'Bad News'. Jammer had also worked with Maggie Bell on a US Tour in 1974 following the release of the 'Queen Of The Night' album.

Dave Dowle

Drummer Dave Dowle was born in North London and, aged just 13, he joined his first band, Canterbury Glass, playing alongside future Genesis guitarist Steve Hackett. According to Dave, the band recorded a Radio One session after meeting the late John Peel DJ-ing at a gig. Following Canterbury Glass, Dave worked with a variety of artists including Doris Troy and PP Arnold before forming a band called Curly who also recorded a John Peel session in November 1973. Steve Farr and Stewart Blandameer from Curly both ended up in the Q-Tips with Paul Young, with Blandameer also working with Status Quo. Dave next worked with Brian Auger's Oblivion Express, touring the US and appearing on the 'Reinforcements' album in 1975.

In September 1976, Dave joined the Streetwalkers replacing Nicko McBrain, and this line-up of Dowle, Brian Johnstone, Roger Chapman, Charlie Whitney, Bobby Tench and Micky Feat released a studio album, 'Vicious But Fair' in January 1977. By the end of '77, however, the band had run out of steam, and a live album, released in December 1977, proved to be their final release.

January 1978 saw David working with ex-Deep Purple singer David Coverdale in his new band Whitesnake. After two solo albums recorded with session musicians, Coverdale had decided to put a band together to play live. Joining David Dowle in the band was another ex-member of the Streetwalkers, keyboard player, Brian Johnstone, although he would be replaced within a couple of months by Pete Solley. The rest of the band was Coverdale on vocals, Micky Moody and Bernie Marsden on guitars and Neil Murray on bass. This line-up recorded the 'Snakebite' EP, which was released in June 1978. By August 1978, another change of keyboard player was announced with Coverdale's old Purple buddy Jon Lord adding his considerable experience to the band. This line-up undertook a major UK tour in October and November 1978 and released an album 'Trouble' in December of that year. Whitesnake then undertook a world tour, which served notice of a major new band on the scene. Another album, 'Lovehunter', was recorded, but in July 1979, even before the album was released, Dave Dowle was replaced by Ian Paice, yet another ex-member of Deep Purple. Dave finally played on two sides of "Live… In The Heart Of The City" in 1980.

Irrespective of whether he happened to be working with a band or not, Dave Dowle would continue to play on sessions. "I was really a session player. With any band I was working with I'd always carry on doing sessions." In 1978, he appeared on an album called 'Sailing Down The Years' by Kevin Lamb, which also featured musicians such as Andy Summers, Chris Thompson, B.J. Cole, Ray Cooper and Mickey Feat. Dave also recorded an album in 1978 as a member of Runner along with Mickey Feat, Steve Gould and Alan Merrill, formerly a member of The Arrows and writer of 'I Love Rock'n'Roll', as recorded by Joan Jett. Their eponymous debut album did quite well in at the US, but Dave does not appear on the follow-up. Also in '78, Dave played on the soundtrack for the Bee Gees' film version of 'Sgt. Pepper'. Anthony Glynne

The lead guitarist in Midnight Flyer was a brilliant young musician called Anthony Glynne. Anthony, or Ant, as he is more commonly known, started his career at just 16 playing in Leo Sayer's backing band. In 1978, Ant was a member of punk band Razar, who released a single, 'Idle Rich'/'One Room Doom', on the Charisma label. The single was produced by Kit Lambert. Razar also featured former Third World War/The Attack/Thunderclap Newman member Jim Avery on bass and vocals. In 1979, Ant was to join Avery in another venture, this time as a member of the Darryl Read Band.

John Cook

Keyboard player John Cook had been a member of Octopus, who were discovered by Troggs bassist Tony Murray. John joined the band during the recording of their debut album, 'Restless Night', in 1969, an album that unfortunately, was not a success. The band supported Yes, Status Quo and Humble Pie and played at the Marquee, but never quite made it. They continued for another couple of years, regularly touring Europe, but finally ground to a halt in 1972. John was next sighted as a member of the Love Affair, but at this time, they contained none of the original members and were appearing on the cabaret circuit, trading on past glories.

During 1973, John joined Mungo Jerry along with bassist Bob Daisley (Chicken Shack, Widowmaker, Ozzy Osbourne, etc.) and played on the 'Long Legged Woman Dressed In Black' album and single, which reached number 9 in the singles chart in April 1974. Later that same year, John became a member of the rock band Slack Alice, who released a self-titled album for Phillips. In 1975, John worked with the band Stretch playing on their 'Elastique' album and their hit single, 'Why Did You Do It?', which reached number 16 in the UK singles chart in November of that year. In 1979, John appeared on the Bernie Marsden album, 'And About Time Too', along with guests such as Jack Bruce, Neil Murray, Jon Lord, Don Airey, Ian Paice, Simon Phillips and Cozy Powell. The following year, John worked with Bernie again on 'Look At Me Now' (1980), which featured a similar line-up.

Chris Parren

By 1980, when he joined Midnight Flyer as a replacement for John Cook, Chris Parren was already a veteran of a number of bands, and his keyboard skills ensured he was much in demand as a session musician. One of Chris Parren's first bands was Forever Amber, who released an album 'The Love Cycle' back in 1969. Chris was also a session musician on an album by J.J. Jackson, 'J.J. Jackson's Dilemma' (1970) as well as on Jack McDuff's 'To Seek A New Home' (1970).

In 1973, he appeared as a session musician on 'Nickelodeon', an album by Hudson-Ford, after which he was asked to join the band: Chris remained with them until 1977, playing on 'Free Spirit' (1974), 'Worlds Collide' (1975) and 'Daylight' (1977). In 1978, Chris Parren first played with Jim Capaldi in his backing band, The Contenders. Chris stayed with Jim for around a year and, as well as touring Europe, he played on Capaldi's 1978 LP, 'The Contender', along musicians such as Paul Kossoff, Barry Beckett, Roger Hawkins, David Hood, Jimmy Johnson and Dean Parks. Chris also played keyboards on a number of subsequent Jim Capaldi albums such as 'Electric Nights' album from 1979, 'The Sweet Smell Of Success' (1980), 'Let the Thunder Cry' (1981), 'Fierce Heart' (May 83), 'One Man Mission' (1984) and 'Some Come Running' (December 88). Other musicians appearing on these albums were Steve Winwood, Van Morrison, Steve Marriott, Carlos Santana, Snowy White, Eric Clapton, George Harrison, Mick Ralphs and Simon Kirke among many others.

In 1977, Chris Parren appeared in the second series of 'Rock Follies', alongside bassist Tony Stevens and played on the 'Rock Follies of '77' LP. Through his connection with the show, Chris also appeared with Stevens on Andy Mackay's 1978 solo album 'Resolving Contradictions'.

Midnight Flyer

"At the time I joined, Maggie and Tony Stevens were just putting the band together," remembers Dave Dowle. "Maggie had been a solo artist and she was ready to do something different. It did feel like a band though, as opposed to Maggie's backing band. But you always felt that Maggie was the bee's knees. She was marvellous. Peter Grant loved her. He'd known her for years. They just phoned me up. Funnily enough I'd been called by Ozzy Osbourne, who was getting together with Randy Rhodes and I went up and played with them for a little while, but I didn't really like it. Judas Priest phoned me up too. In those days, because I'd been in Whitesnake, I had a bit of a name, and there weren't that many drummers around. Ant Glynne had been recommended to Tony Stevens by a friend of his. The band lasted a couple of years. We had a marvellous time, and Maggie and I are still in contact."

Once the line-up of Midnight Flyer was complete, the band entered into a lengthy period of rehearsal and song writing in preparation for the recording of their debut album. Dave Dowle: "We rehearsed for quite a long time before recording the album and we were quite relieved when we got signed to Swan Song. Because you never really knew how it was; Swan Song was all about Peter Grant and Led Zep, so it took quite a while to come about. Maggie was signed to them as a solo artist. But in a way that delay was good. By the time we went into the studio we were really well-rehearsed."

'Midnight Flyer' was recorded at Startling Studios, a.k.a. Tittenhurst Park, Ascot. Startling had been built by Ringo Starr in the house previously owned by John Lennon. The fine twenty-six room Georgian house and 72-acre estate was purchased by Lennon on 4th May, 1969, and after moving in on the 11th August, John and Yoko lived here for just over two years. The gardens, named Tittenhurst Park, date back to 1763 and had been open to the public until the Lennons moved in. Tittenhurst Park was also the location for the final Beatles photo session on 22nd August, 1969, to promote their forthcoming 'Abbey Road' album. Throughout 1970, John Lennon had gradually installed an eight-track recording studio at Tittenhurst Park as well as film editing equipment. The recording of John Lennon's 'Imagine' album took place at the studio, now named Ascot Sound, between 23rd June, 1971 and 2nd July, 1971. The house, its spacious grounds, and, most especially, the large, empty white living room, had featured in Lennon's 'Imagine' promotional film. Ringo Starr bought Tittenhurst Park from Lennon in 1973 and moved his family in, renamed the recording studio Startling Studio and opened it for hire. Ringo eventually sold the property in 1988.

Maggie Bell had recorded her 'Suicide Sal' album at Starling Studio and had happy memories of working there in 1974. "It was a beautiful house with incredible gardens. It had a great atmosphere. We all stayed there in these little cottages, and of course Ringo and his wife Maureen made us feel part of the family. They were wonderful people. It was also a great studio to work in, and you could go in at anytime of the day or night and there were no restrictions about noise or parking."

Dave Dowle agrees with Maggie's assessment of Starling Studio. "The recording of the 'Midnight Flyer' LP was a wonderful experience. The house was exactly the same as it was when they made the promotional film for 'Imagine' with the white piano. It was an interesting place, cause Ringo's wife Maureen was still living there and running the studio, and Zak Starkey, Ringo's son, was about 14, I suppose, and he had this massive drum kit set up which he used to always be playing. Typical teenager, he never used to say much, but he used to come in and watch what we were doing."

The album features all original material with songs written by each band member. Tone Stevens and Dave Dowle contributed three songs apiece. There was a John Cook composition plus a song John had written with Maggie, 'Rough Trade', one of the highlights of the album. Ant Glynne also wrote a song with Maggie and two others with Dave Dowle. It was a real group affair and one that Dave Dowle particularly enjoyed. "One of the reasons I joined was that Maggie allowed me to write. I wanted to be able to write. She gave me a chance. In Whitesnake, everybody was writing. I didn't have a chance. There were lots of egos. So this was much more free. It was very enjoyable."

Production duties on 'Midnight Flyer' were handled by Mick Ralphs, Bad Company's guitarist and writer of some of their most enduring classics such as 'Can't Get Enough', 'Ready For Love', 'Movin' On' and 'Good Lovin' Gone Bad', among many others. Mick was assisted by engineer Martin Adams. Dave Dowle remembers the recording of the album as a relatively painless affair: "Mick Ralphs was great! You used to think you were doing your own thing, but he was totally in control. There was a great engineer as well. Mick put it together really well. The way he did the guitars, it sounded terrific. I think Mick did actually contribute some guitar. I can't tell you exactly where, but I hear bits that sound like Mick. My big regret was that we didn't ask Mick Ralphs if he had a couple of songs 'cos he's such a great writer."

After the album was completed, John Cook moved on and returned to playing sessions. He was replaced by Chris Parren. "I don't think John really liked what we were doing," explains Dave Dowle. "He was a nice enough chap, but Chris Parren was better for what we were doing. I'd known Chris through the session work that I'd been doing."

Towards the end of 1980, Midnight Flyer were invited to be the support act on Bob Seger and the Silver Bullet Band's 'Against the Wind' European Tour. The tour started with two dates at the Wembley Arena on the 20th and 21st November, 1980, before moving on to shows in Paris, Munich, Frankfurt, Brussels, Rotterdam, Hamburg and finishing in Dussledorf on 6th December. Dave Dowle remembers the experience to be a happy one. "When we toured with Bob Seger, we went down really well. We weren't really a hard rock band and had a slightly softer blues-rock sound, which went down well with Bob Seger's audience. The Bob Seger tour was right up our street. He was a lovely bloke."

January 1981 saw the band supporting AC/DC on a number of dates on the European leg of their 'Back In Black' Tour. Taking over from Whitesnake, who supported the Aussie rockers during the early part of the tour, Midnight Flyer played shows in Spain, Belgium and France. Dave Dowle believes a chance encounter at a London rehearsal studio was the reason Midnight Flyer ended up on the tour. "The only reason we got the AC/DC tour was that I was working on my own on some songs down at John Henry's. It was only a little rehearsal studio. I used to go in there and record on my own and AC/DC's Malcolm Young used to go in when I wasn't around. And he heard our stuff and really liked it."

'Midnight Flyer' was released on the Swan Song label in February 1981, followed in March by a single, 'Rough Trade' b/w 'Midnight Love'. Midnight Flyer played a number of European dates of their own over the next few months including an appearance at the Montreux Jazz Festival on the 8th July, 1981, on a bill with Albert Collins, John Lee Hooker, Magic Slim and Taj Mahal. Their set that night included a number of songs that had not appeared on the album such as 'Danger Money', 'Don't Tease Me', 'Too Much To Loose' and the old Stone The Crows favourite, 'Penicillin Blues'.

Midnight Flyer were asked to be the support band for AC/DC on a massive North American tour, which ran from 14th November, 1981 to 25th February, 1982. The 'For Those About To Rock' Tour, as it was known, played at mostly big arenas including New York's Madison Square Garden, the Spectrum in Philadelphia and the Cow Palace in San Francisco. At the time of the tour Maggie Bell told the American press that opening for AC/DC on the first night of the tour at Detroit's Cobo Hall had been a pretty frightening experience before going on stage, but Maggie stressed how helpful the AC/DC guys had been. "They've been very kind, letting us use their P.A. system and their lights. They're a modest bunch of guys off stage; they've been around for ten years now and they deserve their success." According to the article, Maggie had known the Young family back in Scotland before they moved to Australia. "That US tour was an incredible tour and a lot of fun," recalls Dave Dowle. "Those AC/DC guys were great. I expected them to be these wild men, hard drinking, whatever, bul after what happened to Bon Scott they did everything to keep that stuff away. I knew Cliff Williams back in the days when he was in a band called Home with Laurie Wisefield."

While the relationship between headliners and support act was one of warmth and respect, the same cannot be said for the interaction between Midnight Flyer and AC/DC's fans. At the time, Tone Stevens described the audience reception during the tour to have been everything from impatient and unfriendly, in New Jersey and Florida, to mostly receptive audiences as in Salt Lake. "AC/DC were a hard act to open for, but Midnight Flyer held their own for many of the shows. But I still have the bruises and lumps from where bottles and stuff hit me at the rest of the shows!" "The AC/DC gigs weren't all bad," Dave Dowle is keen to stress. "We did pretty well in a lot of places."

Live Midnight Flyer played most of the tracks off their album plus an encore version of the Spencer Davis Group hit, 'Gimme Some Lovin'. At the time, Maggie described the band's sound as "Good, healthy rock'n'roll. We put a hell of a lot of energy into our show!" A review of the Midnight Flyer show in Salt Lake City described Maggie Bell's performance thus: "Her style and voice is not typical or other females performing these days. Bell can traverse in a throaty soul, heartful blues, and she shows especially fine spirit when singing the Midnight Flyer ballad, 'Rough Trade'. In the same article the reviewer described how "Midnight Flyer kept building momentum with solid rock and roll, chunky and sliding guitar bridges, a melodic bass line and soulful vocals from Bell. They persisted through a set of songs from their debut album to an exceptional cover of 'Gimme Some Lovin'."

An American newspaper article stated at the time that, following the AC/DC tour, Midnight Flyer would take a month-long holiday, before recording a new album back at Startling Studio. Once the tour was over, however, it was decided to release another single. 'Waiting For You' and 'Rock'n'Roll Party' were two unfinished tracks from the 'Midnight Flyer' sessions that were dusted off and completed. Records of just when the tracks were released are confusing. It appears that a 'Rock'n'Roll Party' EP was released in January 1982, with a regular single of 'Waiting For You' b/w 'Rock'n'Roll Party' apparently coming out in April 1982. I cannot confirm whether both of these records were actually released. Unfortunately, events elsewhere were to have a bearing on the career of Midnight Flyer, and these releases were to be the band's last.

Following the death of Led Zeppelin drummer John Bonham in September 1980 and the resultant demise of Led Zeppelin, Peter Grant had suffered depression and became a virtual recluse. Zeppelin's Swan Song label mates, Bad Company, suffered from Grant's absence; unable to contact him for months on end, they missed his direction and advice. Virtually left to their own devices, they finally ground to a halt after the disappointing 'Rough Diamonds' album in 1982. Although Midnight Flyer had never been as high on Grant's list of priorities as Zeppelin or Bad Co, they, too, felt as if they were cast adrift and fell apart around mid-1982. "After John Bonham died, I didn't think it would continue," Dave Dowle remembers. "It just sort of fizzled out." Swan Song finally ceased operations in October 1983. Peter Grant died of a heart attack on 21st November 1995. Ironically, after years of ill health, the nineties had found him recovered from his demons and appearing at music business functions.

In the immediate aftermath of the Midnight Flyer split, Tone Stevens, Dave Dowle and Ant Gynne worked briefly with Cheetah, a hard rock duo consisting of Australian-bred sisters Chrissie and Lyndsay Hammond. Cheetah were looked after by AC/DC's management and had enjoyed some success in Australia before deciding to try their luck in Europe. Cheetah played a major UK tour with Saxon in the autumn of 1982 as well as a number of European Festivals including the 1982 Reading Festival, but after a year or so the sisters returned to Australia where they vanished without trace.

The talented musicians who made up Midnight Flyer all continue to work in the music business to this day. In fact, you will see that since the Midnight Flyer period, former members of the band have gone on to work on an amazing variety of projects with some of the biggest names in rock.

Chris Parren

Around 1983, through his Hudson-Ford connection, Chris was drafted into the Strawbs as a replacement for Blue Weaver, who was unavailable for a reunion tour. He contributed to both the 'Don't Say Goodbye' (1987) and 'Ringing Down The Years' (1991) albums plus 'Greatest Hits Live' (1993). Parren, together with the Strawbs members Rod Demick and Richard Hudson also formed another band, Turkey Leg Johnson, which used to gig when the Strawbs were not active. In August 1989, Chris Parren played with the ex-Frankie Miller guitarist Ray Minhinnett in his band UK Busters. Coincidently, the line-up featured the same Stuart Blandameer who had worked with Dave Dowle in Curly back in the early seventies!

During 1990, Chris Parren was involved in a re-recording of The Rocky Horror Show, which resulted in a 2LP set, 'The Rocky Horror Show (The Whole Gory Story)', featuring performances from such performers as Tim Mclnnerny, Gina Bellman, Adrian Edmonson and Eddie Tudor-Pole. Six years later, Chris took The Rocky Horror Show on the road, which was recorded for prosperity on the live album, 'The Rocky Horror Show 1996/1997 European Tour'. In May 1997, Chris also joined Roger Chapman & The Shortlist for a few gigs, as a stand-in for their usual keyboardist, Ian Gibbons, who was unavailable.

For the past thirty years or so, Chris has been a much in-demand session player and apart from the artists already mentioned he has also worked with George Michael, The Eurythmics, Bobby Womack, Lulu, Judie Tzuke, Albert Hammond, Mike Batt, Dave Davies, Jim Diamond, Chris Farlowe, Labi Siffre and The Three Degrees. John Cook

After 'Midnight Flyer', John played keyboards on Cozy Powell's 1981 album 'Tilt' which featured Jack Bruce, Jeff Beck and Gary Moore. John also played on Graham Bonnet's 'Line Up' album from 1981 with Russ Ballard, Micky Moody, Francis Rossi, Rick Parfitt, Jon Lord and Cozy Powell. John hooked up again with Mick Ralphs when he played keyboards on the original Bad Company's final album, 'Rough Diamonds', which was released in 1982. John continued to work into the nineties, recording sessions with Jackie Lynton in 1997 and appearing with Rory Gallagher on 'Leaving Town Blues' and 'Showbiz Blues', two tracks from the Peter Green tribute album, 'Rattlesnake Guitar - The Music of Peter Green', from 1997.

Ant Glynne
In more recent years, Ant has worked with Mike Oldfield, Asia, Roger Chapman, Albert Collins, Taj Mahal, Nina Simone, Judy Tzuke, Simon Phillips, Nicko McBrain, Mick Abrahams and, most recently, Rick Wakeman's English Rock Ensemble. Ant has also worked as a demonstrator for Marshall guitar amplifiers, including playing a Marshall concert with Slash (of Guns'n'Roses fame). In addition, Ant has played in several theatre productions in London's West End including 'Rent', 'Fosse', 'Stop In The Name Of Love' and 'Winter's Tale'.

Dave Dowle

Since working with Cheetah, Dave has continued with his session work, recording adverts and jingles for film and television as well as recording with artists such as Renaissance, Kiki Dee, David Essex and Chris Rea and playing live with acts like the Moody-Marsden Band.

Tony Stevens

In 1984, Tony was asked to join former Family singer Roger Chapman, who was enjoying considerable success in Europe. Tone played for nearly four years with Roger recording 'The Shadow Knows' (1984), 'Zipper' (1985) and 'Live in Berlin' (1989). With Chapman, Tone toured Europe, playing major festivals in Western Europe, but also in Eastern bloc countries. Incidentally, the guitarist in Roger's band at this time was Geoff Whitehorn, who had toured with Maggie Bell back in 1975. Isn't it amazing how many times Roger Chapman's name has come up in this story?

After Roger Chapman, Tone returned to his acting, enrolling in a drama school and signing up with an agency, which led to small parts in major soaps in the UK, 'The Bill' and 'East Enders', as well as other work. In December 1998, Tone Stevens released a solo album, 'Don't Blame Me... I Just Play Bass' together with his old Roger Chapman buddies Geoff Whitehorn and Nick Pentelow.

In 1993, Tone answered the call from Foghat's former manager Tony Outeda, who was putting the original band back together. They released an album, 'Return Of The Boogie Men' (September 94) and returned to the road, as documented in a live album released in May 1998, 'Road Cases'. Despite Rod Price's retirement from touring and the sad and untimely loss of 'Lonesome' Dave Peverett, who died in February 2000, Foghat are still out there playing. [Rod Price has sadly died earlier this month - Ed.]

Maggie Bell

Although the frantic pace that Maggie set in the seventies and early eighties eventually slowed a little, enabling her to spend precious time with her family, she has remained active, spending her time recording and playing live as well as acting and writing music for films and TV.
In 1982, Maggie appeared in a musical adaptation of Kenneth Grahame's children's story, 'Wind In The Willows', along with Tony Ashton, Donovan, John Entwistle, Joe Fagin, Ray Fenwick, Steve Hackett, Eddie Hardin, Chris Thompson, Don Airey, Graham Bonnet and Jon Lord. The recording was eventually released in 1985. In June 1991, 'Wind In The Willows' was performed live at the Zeltfestival in Freiburg with many of the same musicians, including Maggie. This was released as 'Wind In The Willows: A Rock Concert' in 1992 on the German Akustik label and re-released in the UK by Angel Air in 1998, credited to Eddie Hardin. (A DVD was released of the concert credited to Hardin & York, 'Wind In The Willows Rock Concert', NJPDVD601 on the Angel Air label.)
Maggie released a number of singles during 1982/83, all on the Swan Song label, but unfortunately neither 'Goosebumps' b/w 'Key To Your Heart' (September 1982) nor 'Crazy' b/w 'All I Have To Do Is Dream' (January 1983) managed to make the charts. Nor the did the US-only duet with Bobby Whitlock, 'Put Angels Around You' b/w 'Here There And Everywhere' (1983). In 1984, Maggie appeared on the soundtrack to the film 'Crimes Of Passion' with Rick Wakeman, singing 'It's A Lovely Life' and 'Dangerous Woman'. Another soundtrack that Maggie contributed to is for 'The Raggedy Rawney' from 1988 which features Maggie singing her own brilliant composition, 'The Funeral Lamentation'. Another appearance by Maggie in the eighties was on 'Hometown Girls', a 1985 album by Denny Laine.
Since 1983, Maggie's name has also become forever linked with the TV police series, Taggart, which is set in Glasgow. Maggie's great rendition of the show's suitably gritty theme tune, 'No Mean City', became a firm favourite with fans and also led to her making a guest appearance on the show as a character called Euphemia Lambie on the episode called 'Evil Eye', which was first broadcast on 4th September, 1990. Maggie also released another solo album in 1987, but unfortunately 'Crimes Of The Heart' received little in the way of promotion and many fans were even unaware of its existence!
In 1997, Maggie appeared on a Japanese-only release of Eddie Hardin's 'Wizards Convention 3' alongside other artists such as Denny Laine, Zak Starkey, Roger Glover, Ray Fenwick, David Coverdale, Glenn Hughes, Mo Foster and Ronnie James Dio. Maggie sings 'Maggie's Theme' and duets with Billy Ocean on the track, 'I'm Looking Forward To Tomorrow'. Also in 1997, Maggie appears on an album entitled, 'Knights Of The Blues Table', which was a tribute to Cyril Davies, who fathered British blues with Alexis Korner. Maggie appears with Big Jim Sullivan on the track 'Blind Man'. Other artists involved on the album were Chris and Mick Jagger, Mick Taylor, Jack Bruce, Georgie Fame, Miller Anderson, Peter Green, Tony McPhee, Nine Below Zero, The Pretty Things and Paul Jones. Maggie also appeared in the Hardin & York 'Wind In The Willows Rock Concert' recently released on Angel Air.
Maggie now lives in Rotterdam, Holland, and continues to perform live and record, one of her most recent appearances being on 'A Tribute To Frankie Miller' (2003), where she contributed a marvellous rendition of Frankie's 'Jealousy'.