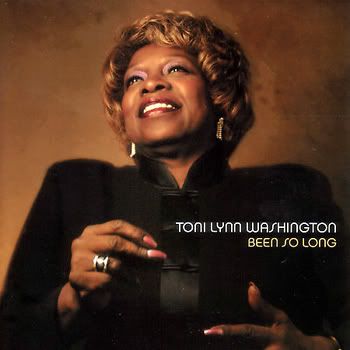 Toni Lynn Washington
-
Been So Long
-
2003
-
NorthernBlues Music
A great, classy soul blues album from Toni Lynn Washington, who may be unfamiliar to many, but is still one of the best contemporary blues vocalists of modern times. She sings somre great classic songs here in her unique low-key style. "Everyday Will Be Like A Holiday," "Willow Weep For Me," and Bessie Smith's "Back Water Blues" really demonstrate her great vocal talents, and backed up by greats like Duke Robillard, Gordon Beadle, and Kevin Belz, Toni Lynn Washington has recorded a wonderful album with "Been So Long." Buy her great "Good Things" album, for more soul blues brilliantly sung.
TRACKS / COMPOSERS
1. I Don't Want Nobody (To Have My Love But You) - Buddy Johnson
2. It's Love Baby (24 Hours A Day) - Ted Jarrett
3. It's Been A Long Time (Been So Long) - Butler; Gamble; Huff
4. Back Water Blues - Bessie Smith
5. Are You Happy Now? - Ernie Cate, Leroy Preston
6. Everyday Will Be Like A Holiday - William Bell, Booker T. Jones
7. Three Can Play The Game - Earl King
8. Shake Me - Jon Pousette-Dart Band
9. I Don't Hurt Anymore - George Ducas, Ty Tyler
10. Willow Weep For Me - Ann Ronell
11. Guilty (Witness To The Crime) - De Metruis; Diamond; Schroeder
12. Angel Eyes - Matt Dennis, Earl Brent
13. Down In The Basement - Parham, H. Strathedene
MUSICIANS

Toni Lynn Washington Primary Artist, Vocals
Duke Robillard Guitar
Gordon Beadle Baritone Saxophone
Doug James Baritone Saxophone
Chuck Langford (tenor saxophone)
Scott Aruda Trumpet
Bruce Bears Keyboards
Warren David Grant Drums
Mark Texeira Drums
Louise Ulrich Bass
Jesse Williams Bass
Kevin Belz Guitar
Steve Cuoco Bass
REVIEWS
I listen to a lot of blues, but it's mostly older stuff, and mostly out of Chicago, Memphis and the rural South. Toni Lynn Washington was new to me when I heard this disc. She's out of Boston, whose blues scene I thought -- pretty naively, I learn -- consists more or less in its entirety of white artists such as Chris Smither and the Tarbox Ramblers. I am pleased to learn, morever, that Washington is a real pro. Her roots are in the country church in North Carolina, but her mature sound -- and Been So Long is every inch a grown-up record -- claims big-city bars and clubs as its natural habitat. That doesn't make her different from many other African-American performers, of course, but she does remind you of what this sort of personal journey and musical odyssey have given the world: an art for all times and places. It's not possible to believe, for example, that a splendidly sung and perfectly swung "Willow, Weep for Me," however often tackled, will ever sound less than welcome. Washington's version makes me smile, and I have no doubt that the east and west edges of your lips will slip northward should you be fortunate enough to hear it, too. After her young years as a gospel singer, Washington turned to jazz, then on to the sort of classic R&B that comprised black America's popular music from the late 1940s into the '60s. All of these inform her approach, and she's integrated them into an organic whole that seems at times to encapsulate all of blues history. In her extended treatment of the Bessie Smith classic "Back Water Blues," she begins with a solo acoustic country-blues guitar quietly plunking behind her, then moves on to pick up other stringed, electrified and brass instruments, comfortably and unhurriedly, until shotgun shack is ghetto-Chicago public housing and finally sleek penthouse, all in 6:14. It's one of the most remarkable and innovative blues pieces I've heard this year, something that, with one false step, could collapse into absurdity and pretentiousness, but never comes close. Washington has lived it all, and it shows. "Back Water Blues" is the one cut that'll knock you across the room, then get you back on your feet lurching in the direction of the CD player so that you can hear it again. But the other cuts are good, too, the kinds of solid, no-nonsense songs, arrangements and performances that only the hardest working -- and most gifted -- can make sound like a friend confiding the most private secrets into your ear. (A particular treat is "I Don't Hurt Anymore." Hank Snow songs are seldom covered by R&B artists, and Washington's reading at once honors its source and takes it elsewhere.) Let's heap praise, too, on the inspired arrangements by producers Duke Robillard and Bruce Bears. © Rambles, written by Jerome Clark, published 20 December 2003, www.rambles.net/washington_been03.html
Toni Lynn Washington has just received her 5th W.C. Handy Award nomination for Soul/Blues Female Artist of the Year, and we are super excited about her new CD, Been So Long. Produced by Duke Robillard, Been So Long is Toni's bluesiest album to date, and features a ton of superb old material from the likes of Bessie Smith. Of course, Toni's band is just superb - and Duke also chimes in with some nifty guitar picking! Here's what Duke had to say about working with Toni: "Working with Tony Lynn Washington on her latest CD "Been So Long" has been pure pleasure! Armed with great material and a studio full of expressive musicians, Toni wailed her way through rocking Blues, Soul and Jazz in a way no newcomer to the scene could even think about doing! She proves here that her presence is powerful — and lasting — as she squeezes every ounce of emotion out of each lyric with confidence and grace. Toni Lynn is simply the embodiment of all that is great about Blues, Soul and Jazz vocalizing!!!" Jazzloft, LLC Copyright © 1999-2008. All Rights Reserved.
This CD serves as my introduction to blues vocalist, Toni Lynn Washington. Forty years of experience on musical stages have honed her talents to a keen edge. It's nice to hear a performer who's totally relaxed and confident. The North Carolina born W.C.Handy Award nominee now calls Boston her home while she belts the blues at venues around the nation. Some years ago, Toni Lynn Washington had a couple of hits in the form of Dear Diary and Satisfaction on Atlantic Record's Kon-Tiki label. This release on NorthernBlues was preceded by three others for Tone-Cool. Been So Long is a well-planned recording and begins to impress from the first track. Washington comes on with the demeanor of Ruth Brown as she warms up the old Buddy Johnson classic, I Don't Want Nobody and some great honking' R&B tenor sax by Gordon Beadle helps set the mood. The title song is taken at a burning tempo and the singer's roots are revealed. The lady belts it out in style. Toni Lynn Washington has fronted a blues band in Boston for ten years but this recording unit is quite special. Musicians on this session are from Washington's own band and Duke Robillard's fine group. Robillard is another W.C.Handy Awards nominee for 2003. His guitar passages and production skills are a real asset to the album and enhance the singer's exceptional talent. Toni Lynn's regular pianist / arranger, Bruce Bears is another key figure and his considerable talents are put to good use. The album is a nicely organized blend of styles including soul, R&B, blues and jazz. Washington is equal to the challenge and renders some great stuff. I loved the "delta" tinged Shake Me where she is backed by Bears, Robillard and the very impressive Kevin Belz. An updated version of Bessie Smith's Back Water Blues is Toni Lynn's tribute to the Queen. Mainstream jazz is not forgotten. Washington offers her unique versions of Willow Weep For Me and the beautiful Angel Eyes. Both ballads are delivered in a slightly up-tempo style. The singer's jazz style is convincing and satisfying. Once again, Kevin Belz and Bruce Bears are given room to stretch out. Been So Long will hit the shelves in mid June. Toni Lynn Washington deserves your attention and we wish her luck this coming weekend at the W.C.Handy Awards for 2003. © Richard Bourcier, © 1997 - 2008. All Rights Reserved. jazzreview.com
The jazzy sound of the CD Been So Long creates a wonderful pillow to embroider the voice of Toni Lynn Washington, whose soulful sound oozes with all the things that makes a woman powerful. "Back Water Blues" strips things down to its simplest elements, with a jive that grabs you and makes you sway like a willow in a strong wind. The band backing Washington can play some dynamic stuff like the assertive guitar solos of "Are You Happy Now?" provided by Kevin Blez. Mrs. Washington taps deep into her soul to deliver "Everyday Will Be A Holiday", providing a classic feel mixing the early jazz/blues of Ella Fitzgerald and the sweet soul sound of the great Motown era. "Shake Me" on the other hand, is a sultry song that struts around, swaying hips in a way that makes thinking dirty feel so good. Been So Long is a CD that should be in the collection of anyone who loves blues. You can tell by her music that Toni Lynn Washington is one of those powerful, sexy, awesome women who knows a ladies strength is not found in how much skin they show, but by knowing who they are and how they carry themselves. Too bad no one ever taught this to the women singing in the music world today. Rating: A © Mark A. Lawrence the IV , © 1997-2008, In Music We Trust, Inc. All Rights Reserved
Since coming back on the national blues/R&B scene in the mid 1990s, Toni Lynn Washington has released an album every two or three years, working mainly with members of the thriving scene around her home base of Boston. Her first album for the Canadian Northern Blues label finds her collaborating with guitarist and producer Duke Robillard, on what amounts to a tribute to her forebears, performing classic songs associated with the likes of Ruth Brown, Ma Rainey and Dinah Washington. As always, she shows herself to be equally at ease on slow-rocking blues numbers like Bessie Smith's"Back Water Blues," the sassy, strutting "I Don't Hurt Anymore," the Memphis-style R&B "Everyday Will Be Like a Holiday," and spiced-up jazz standards, as on an interesting mid-tempo arrangement of "Willow Weep for Me." Her rendition of the Gamble and Huff song "It's Been a Long Time (Been So Long)" is, well, a bit too long; it doesn't have enough musical or lyrical substance to sustain a rendition that lasts over five minutes. But that's just about the only weak moment on this fine album. At an age when most people are settling into retirement, Toni Lynn Washington appears to just be hitting her stride. © Rick Anderson, All Music Guide
ABOUT TONI LYNN WASHINGTON
Toni Lynn Washington's youth was spent in Southern Pines, North Carolina where she loved nothing better than a chance to sing with her school and church choirs. Her education in the language and lifestyle of music continued when her family moved to Boston, where she finished her formal education and went about building her career. Toni Lynn Washington first took the stage in Boston where, after sneaking past the door of as many clubs as she could (being underage at the time), she was soon wowing musicians and audiences all over the city. Toni Lynn Washington had, of course, been doing this for quite some time, until one fateful night, when she proceeded to bring the house down with her performance of Ruth Brown's "5, 10, 15 (Hours Of Your Love)". Marriage at 18, to a military man, soon found our heroine in New Orleans. Once settled, Toni Lynn Washington befriended, worked with and opened for such blues/soul legends as Jackie Wilson, Johnny Adams, Big Joe Turner, Sam and Dave and Bobby Blue Bland. Toni Lynn Washington worked regularly in clubs all over New Orleans and soon found herself traveling more and more. Her early recordings for Kon-Tiki produced the moderately successful single Dear Diary and a truly heartfelt version of the ballad Satisfaction. A military transfer brought her young family to a still-segregated Pensacola, Florida. Toni Lynn Washington managed to find a few regional bookings, and she actually fronted a 35 piece, Military Band. A few moves and a few groups later, Toni Lynn Washington found herself in Hollywood. Almost immediately upon her arrival, she became the sole female in a Fifth Dimension-esque group called Sound 70. Travel with this band took her all over the country and world, and even led to television appearances. The breakup of Sound 70, a move to the East Coast and a short stint with some ex-Raelettes solidified her disenchantment. Toni Lynn Washington moved back to Boston in the early 80's and got a office job so that she could provide for her family. She sat in with a number of local artists, including jazz vocalist Eula Lawrence. During this period, Toni Lynn Washington performed at virtually every music room in Boston. Toni Lynn Washington soon gained the opportunity to sing the blues she so loved, as front woman of Boston Baked Blues. This provided her introduction to blues audiences all over the Northeast. After a few successful years with BBB, Toni Lynn Washington made the break, with no ill will, from Boston Baked Blues, and with the help of BBB band mate Bruce Bears as her musical director and keyboardist, she formed her own band. Signed to Richard Rosenblatt's Tone-Cool Records, she has begun to see some reward for her efforts. She's been nominated for two W.C. Handy Awards, had her music used in feature film soundtracks, and appeared on National Public Radio in the company of Etta James and John Lee Hooker. Toni Lynn Washington has recorded radio performances has been a featured artist at a number of prestigious festivals. In 1999, she won the Boston Blues Festival's Lifetime Achievement Award. © www.smokestacklightnin.com
MORE ABOUT TONI LYNN WASHINGTON

Boston-based blues singer Toni Lynn Washington recorded and released Blues at Midnight for the Tone-Cool subsidiary of Rounder Records in 1995. Washington is considered Boston's "queen of the blues,'' where she has a long and storied history on the club scene. Raised in a procession of gospel choirs in Southern Pines, North Carolina, Washington performed with classic R&B artists like Sam and Dave and Jackie Wilson throughout the South in her youth. Washington also made USO tours of the U.S. and Asia in the 1960s and recorded the Top 50 single "Dear Diary" for the New Orleans-based Conti label, then a subsidiary of Atlantic Records. After two decades off the road and out of the recording studio, Washington returned to performing in 1992 with a ten-piece band. On her debut for Tone-Cool, Blues at Midnight, Washington comes across best as an interpreter: she tackles B.B. King's "Ask Me No Questions," Jimmy Reed's "Ain't That Loving You Baby,'' and a tune popularized by Jimmy Rushing and the Basie Orchestra and T-Bone Walker, "Evening.'' It's My Turn Now followed in 1997, and in early 2000, Washington returned with Good Things. © Richard Skelly, All Music Guide
BIO (Wikipedia)
Toni Lynn Washington (born Dorothy Kearns, 6 December 1937, Southern Pines, North Carolina) took to music at an early age, singing with her school and church choirs. She has had seven Blues Music Award nominations. Washington received the 1999 Boston Blues Festival Lifetime Achievement Award. In 2003 she released her fourth CD since 1997, and her first on the NorthernBlues label.